DECATUR – The Decatur City Council on Monday narrowly voted against rezoning an area that would have been the site of a new Aldi store on the city's north side.
The 4-3 vote came as a relief to more than 100 residents who filled the Decatur Civic Center theater for the council meeting, which lasted more than three hours.
Mayor Julie Moore-Wolfe cautioned the residents that the site near the intersection of West Ash Avenue and U.S. Business 51 would continue to be a target for developers because of its high visibility and traffic count.
In announcing her support for the rezoning, Moore-Wolfe cited the city's strained financial position, which would be worsened by the loss of sales tax dollars if the company opens its new store in Forsyth instead.
"My big concern is for the future. We've got some pretty dire numbers coming at us as far as expenses versus what revenues we're bringing in," she said. "I don't think it would be responsible of me to say I could vote 'no' for this project, primarily because of our fiduciary responsibility."
Ed Flynn, a local attorney representing the developers, told the council that the Aldi store on Pershing Road brings $84,000 in sales tax annually. The company planned to close that store and build one that is 3,000 square feet larger on the new site.
The new store was estimated to bring in $120,000 in sales tax annually, Flynn said. It would also generate increased property tax revenues for the city, the Decatur School District and Decatur Park District.
Aldi representatives have said that the company wants to locate along U.S. Business 51 on the city's north side, and Forsyth officials have expressed interest in attracting the store.
"To foreclose this development is a shot in the foot in regard to the economic issues we're facing," Flynn said.
But in the end, neighbors' concerns about traffic, safety, quality of life and property values proved compelling to the majority of council members.
"Our homes will definitely go down in value, which means less tax money for the city. This will also make our homes harder to sell in the future, if ever," said Julie Bresnan, whose house is across the street from the proposed site.
"Our own safety will come into play every time we try to leave or return to our homes. We will no longer be able to walk or ride bikes down our sidewalk for fear of being hit.
"I want what every other homeowner wants and deserves, and that is a safe neighborhood to live in."
Council members Jerry Dawson, Bill Faber, Lisa Gregory and Pat McDaniel voted against the rezoning.
Dawson, who used to live in the affected neighborhood, said the vote was the toughest one he had taken in six years.
In the end, he said it came down to safety: "Nobody lets their kids play on Ash. I know what it's like. It's a racetrack. That's a lot of people's fault and it's nobody's fault.
"Until somebody brings me plans that would alleviate creating a bigger problem than what we already have, I just cannot support this development."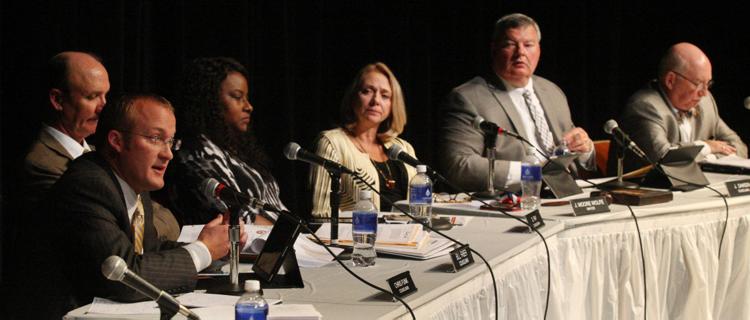 Faber thanked residents of the neighborhood for speaking to him about the issues over the past few months. 
"The neighbors have convinced me that the proposed Aldi project would commit commercial vandalism out of an exceptional neighborhood," he said.
Gregory acknowledged that the city will face difficult budget decisions over the next few months. But she said the economic ramifications did not outweigh the environmental and social aspects.
She added that she did not want the vote to be construed as anti-business.
"It really is going to take all of us working together in a very strategic, sustainable economic method to make Decatur be a greater Decatur," she said.
McDaniel said council members have a responsibility for economic development. "We also have a responsibility to the quality of life of our citizens," he said. "Because if we didn't have the citizens, we wouldn't have to worry about economic development."
Moore-Wolfe was joined in her "yes" vote by Councilman Chris Funk and Councilwoman Dana Ray, although Ray said she had concerns about traffic that would have prevented her from approving site plans unless they were addressed.
"I know sometimes you have to look at the common good of the entire community and not just one individual or one segment," Ray said, adding that she had gone back and forth on her position.
Funk said he and his wife decided against buying a house on Ash Avenue in 2002 because of the high traffic.
"I empathize. I saw it. We have kids. I hear what people are saying about the kids not playing in the front yard," he said. "But that's not a change that is gonna happen today. That happened a long time ago."
He pointed out that the Decatur Plan Commission had recommended the rezoning, and said developers would not spend millions of dollars to build a new store in a location where disastrous traffic would make it fail.
After the vote, resident Alan Elsass thanked the council members and asked if there was a way to protect the neighborhood from future attempts at rezoning.
"I'm hurt by this. I've only lived there for two years, but if I put my money into a house and expect it to mean something – I depend on the zoning for the foundation of my family," he said. "Is there some way we can say, until the year 2040, that's 25 years, nobody will enter this box and remove the residential zoning from any property there?"
In a statement released after the meeting, Aldi's director of real estate, Mike Rosch, said the company had been part of the Decatur community for 24 years and was committed to its customers, employees and neighborhoods.
"We are disappointed by the city council's decision, and we plan to evaluate our options in an effort to identify the best solution for our customers and our business," he said.