DECATUR — A seminar planned Saturday seeks to educate those with criminal records about ways to seal or erase information about their legal histories.
The Greater Decatur Black Chamber of Commerce is having the free event at 2:30 p.m. at the Mrs. K Community Center, 249 S. Webster St. in Decatur. The speaker is paralegal Emily Ochs, of the Land of Lincoln Legal Assistance Ready to Work program.
Black Chamber of Commerce of Illinois President and Decatur resident Anthony "Corey" Walker said the event is the first of its kind locally. Criminal histories are often roadblocks for people to get jobs and housing.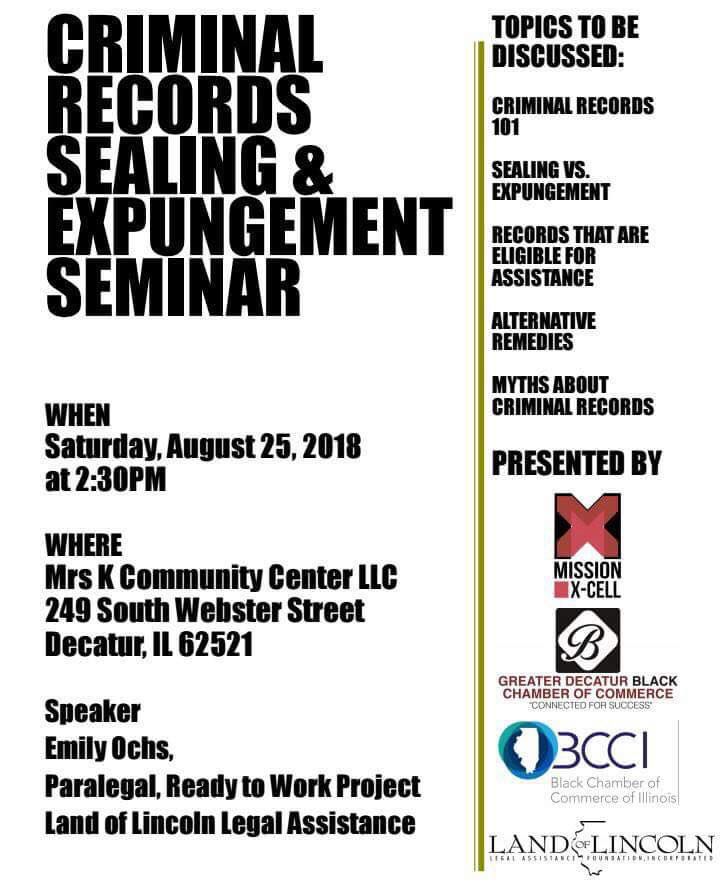 The presentation will give more information on which records can be sealed or expunged, two avenues for people with criminal records. Under state law, certain arrests and convictions can be removed from records if conditions are meant. The process involves filing paperwork with the courts.
Sealing records means crimes do not appear on routine background checks. Active criminal cases are not eligible for the process, Ochs said.
An expungement removes some information from the record, including arrests, court supervisions and certain probation sentences. Arrests and charges that did not result in a conviction can be expunged.
Criminal convictions cannot be expunged, but the records can be sealed so that they cannot be viewed by the general public. An exception would be certain employers, like hospitals, schools, places with children, fire and police departments and other public or government jobs.
Police, prosecutors and court officials can still view the record. All other requests to view the record would require a court order.
Anyone with a criminal record is invited to attend on Saturday, Ochs said. People are encouraged to bring a pen and paper to write down information. There will also be time to ask questions about closed cases.
The rules vary for each case and there are many options. Ochs will explore other opportunities for people whose records do not qualify to be sealed. These are targeted at providing relief for people in regards to housing and employment background checks.
"You still have a record but not have a conviction, and for some employers that can still impact" decisions, Ochs said. "We want to still help those people for sure."
Sometimes "you have to wait a certain time period, but you can still know there is light at the end of the tunnel," Ochs said.
The Macon County Circuit Clerk also will host a Sealing and Expungement Summit in Macon County on Feb. 2. This will be a one-day event to assist people in the process of addressing their criminal records. More information will be available on the circuit clerk website as the date gets closer. The sign-up for the summit will begin this fall, Ochs said.
The Champaign County Circuit Clerk has hosted a similar summit for the past three years, Ochs said.
Because of the high number of attendees expected, Ochs will not provide individual assistance, she said. But people will learn how to move forward if they desire and are eligible, she said.
Walker's Facebook post about the event was shared 758 times the first day, and 152 people messaged him for more information, he said.
"We are looking that we are going to have 100 or more people that are going to be present for help at this event," he said.
Walker recently went through the same seminar in Bloomington and began the process to get the records sealed from a felony conviction from years ago.
This is what inspired him to host the seminar in Decatur. The Greater Decatur Black Chamber of Commerce can now begin the referral process to seal records. The legal service from the Land of Lincoln Legal Assistance is pro bono.
This is going to be groundbreaking not only for the recipients but also for the community, Walker said.
"If we can get these people employed, employable, and working, it is a win-win for the city, the community, everybody," he said.
Editor's note: This story has been updated to reflect Anthony "Corey" Walker's title as the president of the Black Chamber of Commerce of Illinois.