"For many people, life will not change — that is always the most difficult part for me to accept. Poverty, hunger and suffering have no boundaries, and that is what compels me to push forward." Howard G. Buffett in his book, "Fragile, The Human Condition"
DECATUR – Howard G. Buffett was riding in a helicopter about 1,800 feet above Virunga National Park, during a recent visit to the war-torn Democratic Republic of Congo.
Buffett heard an explosion, which sounded like a firecracker going off right next to his ear, despite the fact he was wearing a headset.
"I couldn't believe how loud it was," said Buffett, 61, who is best known in Decatur for his efforts to support myriad local causes, especially social services and law enforcement. "I'm thinking: Five seconds, 10 seconds, 15 seconds, we're still flying, so we should be OK."
The park ranger's helicopter was hit by a large-caliber round from a Kalishnikov machine gun. It dented the fuselage right beneath where Buffett was sitting but did not penetrate because of the altitude. He could see several men carrying long guns wading quickly through shallow water on the ground.
"We went right back to base, located the hit. It hadn't done any real damage, so we fueled up and went right back out," said Buffett, in a cheerful, matter-of-fact tone, during an interview at the downtown Howard G. Buffett Foundation office building.
The foundation supports the efforts of park rangers to protect the habitat of the endangered mountain gorilla. The rangers are in conflict with about 40 rebel groups, which have taken the lives of 134 rangers. The foundation also recently completed a hydroelectric plant in the area, to provide energy and employment.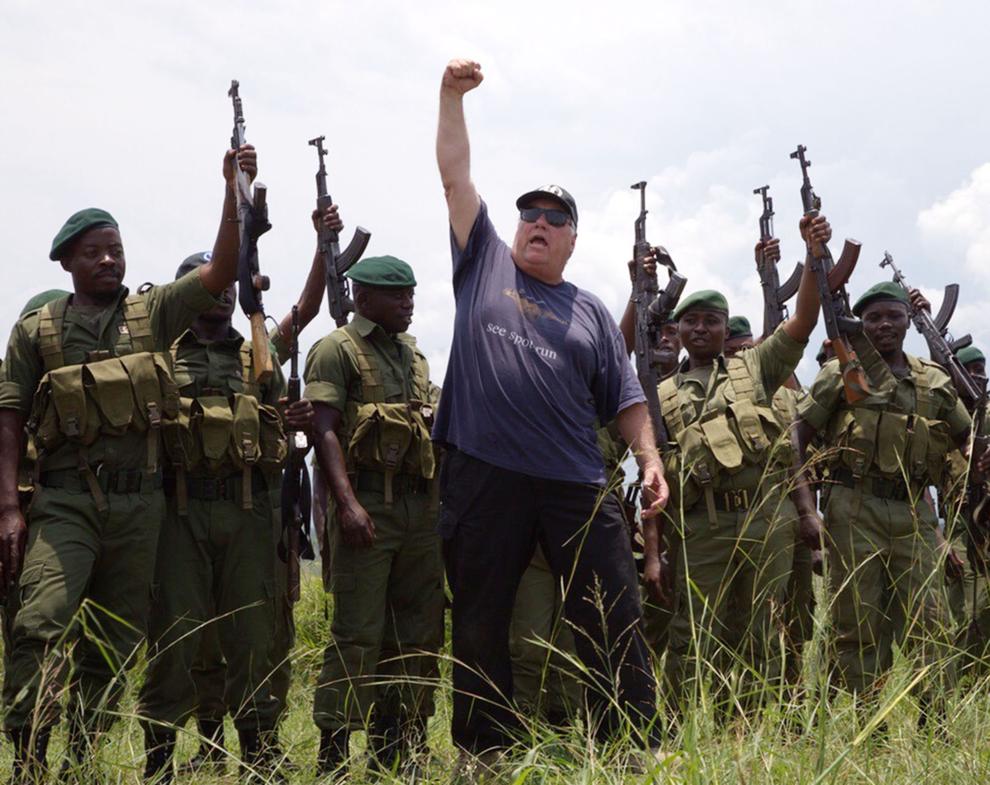 Buffett, who launched his foundation in 1999, is known worldwide as a philanthropist who specializes in helping the poorest of the poor, especially those who live in dangerous areas, including combat zones. While there are organizations that offer aid to people in high-risk areas, it is unusual for a philanthropist of Buffett's stature to continually put himself in harm's way.
"I don't think much about it," he said. "I'm going to go where I need to go. I feel that if something happens, it happens. But I do feel it is something I have to do to understand their conditions."
Buffett, son of Warren Buffett, one of the world's wealthiest men, has made his home in Decatur for nearly 25 years, since moving from Omaha, Neb., to accept a position at Archer Daniels Midland Co.
Buffett, who worked as a farmer and served on the Douglas County Board in his native state, was invited to join the ADM board in 1991 by Chairman Dwayne Andreas, who invited him to join the executive staff the following year. 
"Dwayne was the reason I moved to Decatur," said Buffett, who served as vice president and assistant to the chairman. "He was a great teacher and he gave me some amazing opportunities."
It was a tough decision to move away from his extended family.
"I loved Omaha and really didn't want to move," Buffett said. But he saw it as an adventure, an opportunity to earn a better living for his family, which included four girls and a boy. "It was a little bit of a shock."
He has been here ever since.
"Decatur has been great to me because I don't want recognition, I just want anonymity," Buffett said, adding that when he patrols as an auxiliary sheriff's deputy, sometimes he is recognized. "A big part of why I stay is the sheriff's office and the sheriff himself. I've got this whole new interest in the sheriff's office, which is a huge part of what I do now.
"And the sheriff is such a phenomenal guy, I just can't bring myself to move. You could not have a better sheriff in this country than Tom Schneider. As long as he is there, I want to be involved. That has really kept me here."
Buffett plants and harvests crops on farmland near Pana, as well as in Nebraska and South Africa. The foundation has research farms near Elwin, Moweaqua and Dalton City, as well as Southern Arizona.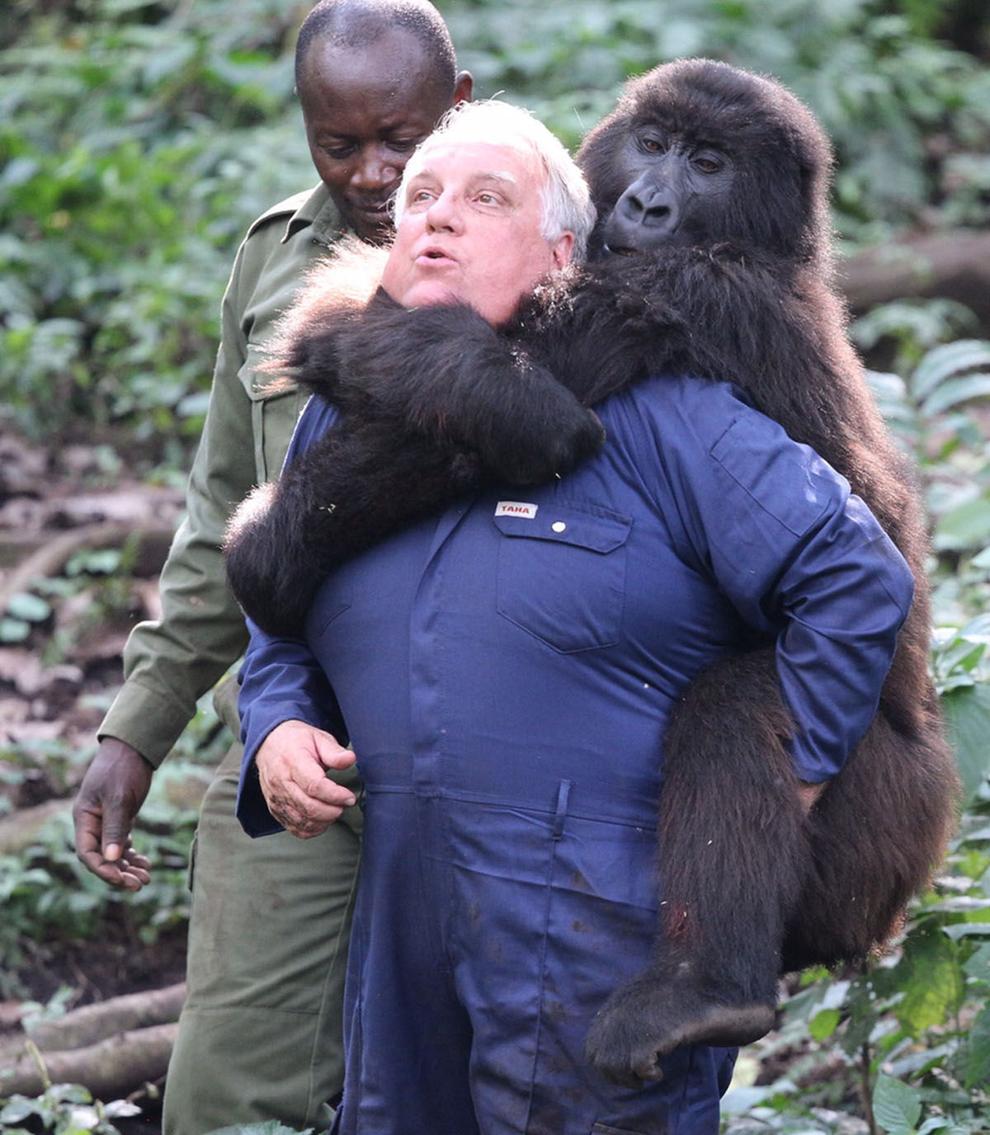 Tom Sloan, a co-owner of Sloan Implement Co., has been his neighbor and friend since the 1990s. Buffett, a top customer of the Assumption John Deere shop, served on the company board for two decades. Sloan said Buffett is a hands-on farmer, who empties seed bags into his planter himself and is as knowledgeable about farming as anyone he knows.
"He is very receptive to the latest in farming, the latest in technology," Sloan said. "He's very passionate when he gets into a project, whether it's in farming or law enforcement. He's a real common down-to-earth guy. He's not ostentatious. He has common sense; he's street smart."
Buffett is a unique individual who was raised in a great family, Sloan said.
"He's given back a lot more than he's been given," his friend said. 
The third hat Buffett has been wearing with increasing regularity is that of a law enforcement officer. Buffett began serving as an auxiliary deputy for the Macon County Sheriff's Office in 2012.
He has racked up about 1,800 hours of street patrol and training since then. That translates to 45 weeks of full-time service. He has also performed a total of 1,000 hours, or 25 full-time weeks, of volunteer service for sheriff's offices in Shelby and Christian counties and Cochise County, Ariz.
In addition to his auxiliary role, Buffett also serves as Macon County's undersheriff, an administrative role to work on special projects such as the Macon County K-9 facility, which opened in 2015 to train statewide police dog units.
The foundation, originally established by gifts from his parents, Warren and Susan Buffett, in 1999, has funded public safety projects totaling more than $57 million, mostly to assist police and fire departments in Central Illinois.
There are other philanthropists who distribute money to myriad causes, but Buffett is unique in matching his passion for the most impoverished and endangered with a drive to help officers enforce the rule of law.
Buffett became a law enforcement officer as the result of a discussion he had with Schneider following a traffic stop in Arizona, in which he was stopped and detained without probable cause, he said.
"In the places where we work in the world, what is missing is the rule of law," Buffett said. "I thought this would be a good thing for me to understand."
The sheriff told him he could become an auxiliary officer, but he would have to devote time to the certification process and pass a firing range test.
Since 2012, he has become the most active auxiliary officer, going on patrol with many different deputies, racking up more hours than anyone else in the volunteer force.
"He's the first one to go out and direct traffic whenever there's a need for a public event," Schneider said. "Whenever there is a menial task, he will go out and do it without complaining about the job he's doing."
Buffet said he appreciated the opportunity to experience law enforcement from the inside.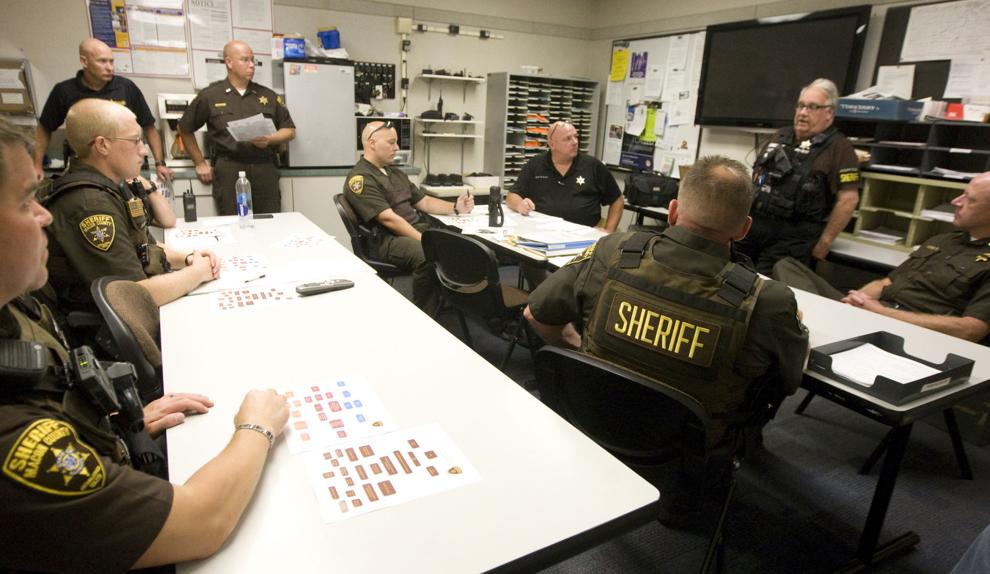 "This has been the greatest education of my life," he said. "You see a lot of things that aren't very good. You see a lot of things that are disappointing, in people, in how they live, and how they treat their kids. It's a difficult job, because you see the worst in people."
For example, he sees young people, who are "not bad kids," who are heading to prison because of bad choices.
"I don't like that part of the job because it is very depressing," Buffett said.
"I'll never forget the first fatality I saw. It was this man in his late 60s, and his wife was killed by someone running a stop sign. And he's still holding her hand and he won't believe that she's gone," he added. "And it just kills you, because you think that here's someone who died because someone else has made a mistake and this guy can't imagine someone he has lived with for 50 years is not going to be there."
He enjoys solving problems and helping people. Opportunities arise while responding to calls for service.
"Even in a domestic abuse situation, you can get someone out of harm's way, you can get kids away from parents that are mistreating them. You are really rescuing people, and that's what you feel good about."
One of the main benefits of being an officer is the many good friends he has made.
"I enjoy being with them and I learn from them," Buffett said. "That's a huge part of it. It's actually the part that keeps drawing me in. I'm going to see things and learn things, that give me insight I could only have by doing this job."
He occasionally gains insight into his own physical limitations, as he takes off running after suspects, most of whom are decades younger.
"I've been in two foot chases this week, which is unusual. Obviously, I didn't catch anybody, I'm a little old and slow," he said, with a chuckle. "With 25 pounds of gear on that doesn't help. That's my excuse. So I'm able to try to identify the suspect and add to that clarification. Also, he might fall down and I get lucky."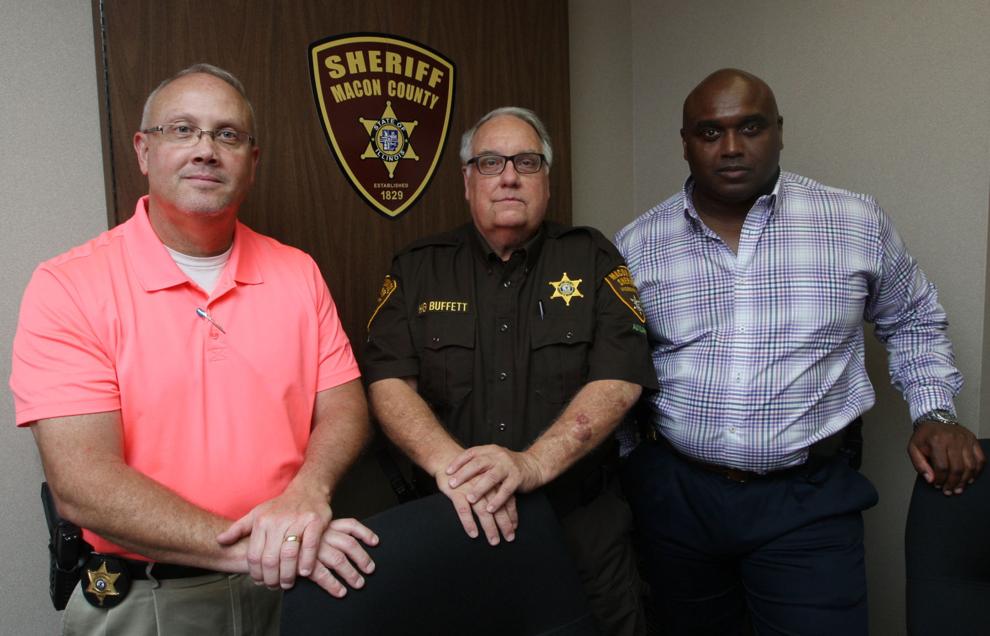 He backs up the full-time officers in all traffic stops, but most importantly in potential felony cases.
"I am capable of backing up that officer and assisting in whatever consequences there are of that stop," Buffett said. "A lot of stops are not serious offenses, so I can have a pleasant visit with somebody while the other officer is writing out a warning ticket and try to make that person feel less upset.
"To me, success is having someone drive away from a traffic stop feeling good about it."
Schneider said whenever Buffett is on patrol, he is looking for ways to turn a bad situation into a good one, to make a positive connection with someone who might be having a terrible day.
"Howard is not only an ambassador for the United Nations, he's an ambassador for the Macon County Sheriff's Office and the community that we serve," Schneider said. "He is always looking for better ways to improve our department and the community."
Chad Larner, a detective with the Decatur Police Street Crimes Unit, which includes sheriff's deputies, has spent many patrol hours working alongside Buffett. Larner said Buffett is a hard-working police officer, with an exceptional ability to defuse potentially explosive situations through his compassionate approach.
"I've never had an auxiliary or reserve ride with me that could touch his dedication," said Larner, a nationally recognized expert on criminal interdiction. "He is truly one in a million. He has a relentless approach to police work, but is so compassionate and is so caring as a person, which is sometimes hard to find in someone in a uniform."
On the 4th of July, they were riding in the inner city, when they saw young people playing basketball in the street. They got out of the car and Larner told a teen girl he would give her $20 if she could make a shot that he couldn't make.
"Howard, being as competitive as he is, had to double that. So naturally I missed the shot, and she made the shot, so I gave her $20 and Howard gave her $20. We were both in uniform. Later, he looked at me and said, 'We didn't arrest anyone today, but that was better. That made the day worthwhile.' "
Larner, a 14-year police veteran, said he is always glad when Buffett rides with him.
"He has been with me in high-profile criminal arrests," Larner said, adding that Buffett brings an abundance of life skills to his police position, including the times he has faced death in Africa. "He has the heart of a lion, but is as as soft as they come as to his heart.
"Howard is a hell of a shot. He is a firearms guru. He is very skilled at manipulating weapons. He was heavily engaged in martial arts in his younger years. His passion for law enforcement is extreme."
Decatur Police Chief Jim Getz said Buffett is a knowledgeable officer, who takes his training and patrol duties very seriously.
"He's dedicated," Getz said. "He's out there to help take the drugs off the street. He knows what's going on; you wouldn't know he has access to a lot of money. He's just a down-to-earth, humble guy who really cares about us, cares about people. He's not in it for people to stand up and clap for him.
"When he goes out on the street, he's out there to do the job just like the other guys are."
Former Decatur Police Chief Todd Walker, who was at the helm when the foundation purchased the department's armored vehicle, said he is committed to helping law enforcement any way he can. He said the new police training center, scheduled to open in Decatur next year, could not have been accomplished without Buffett's generosity.
"I think the training center is fantastic," Walker said. "This man has a huge heart for law enforcement. Because he has such a great respect for what the police are doing, he can also help them out with their everyday mission."
Buffett, an accomplished photographer and author with eight books to his credit, realized that endangered species are threatened partly because people are starving, and people are starving partly because nobody is protecting them from criminals, warlords or soldiers.
When Buffett was 14, he visited a former foreign exchange student in Prague, Czechoslavakia, and witnessed food shortages as the Czech people suffered from the occupation of the Soviet Union.
He discovered he could visit places that were considered dangerous without fear, enjoying the generous hospitality of those in need, while bringing them some form of help and hope.
He has had AK-47s pointed at him in Ethiopia and been detained by authorities during the war in the Democratic Republic of Congo. He has visited areas controlled by the most violent gangs and cartels in Central America and Mexico.
When Buffett worked as vice president and assistant to the chairman at ADM, he began traveling frequently to Mexico, to purchase corn and flour plants, as well as to Central American nations.
"I had a good lesson in how corrupt Mexico was," Buffett said, adding a bid ADM made on a plant, with a Mexican national partner, was rejected because of a corrupt deal.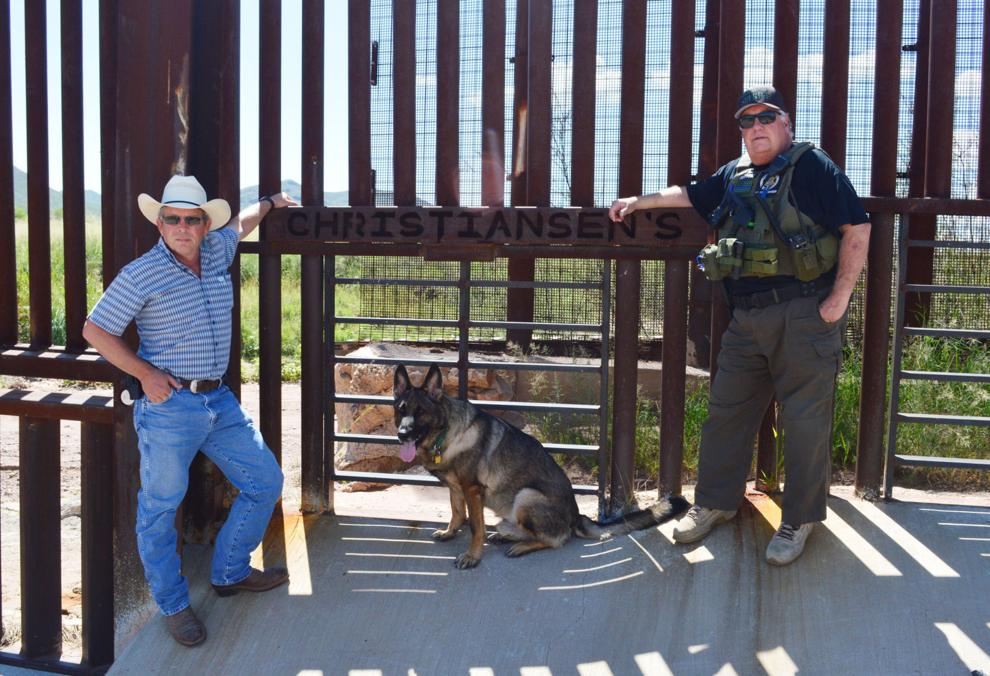 Buffett also witnessed the stark wealth disparity among the Mexican people, with 50 percent living in extreme poverty.
"There is that contrast in a lot of the countries south of us," he said. "That's a hard gap to overcome; that's a challenge."
Some of the worst conditions Buffett observed were in the 54 nations in Africa he has visited. Some of them he first visited out of a passion for endangered animals, including cheetahs and other big cats, and the thrill of photographing them in their natural habitats.
"The dynamics of poverty are different in Mexico, Central America and Africa, but the consequences are the same," Buffett said.
After his mother died in 2004, and his foundation received a large financial gift from his father, Buffett proceeded to donate more than $200 million to fund agricultural projects to alleviate hunger, with the majority going to Africa. Sizeable contributions have also been made within the United States, Central America and Mexico.
"My compassion comes from my Mom," Buffett said. "She was always helping other people. She always had my sister, brother and I involved in something. My dad was the same way, but he was also building a business empire."
Warren Buffett, 86, CEO of Berkshire Hathaway, is considered one of the world's top philanthropists. He has slated Howard Buffett to succeed him as non-executive chairman of the Omaha-based holding company.
Howard G. Buffett Foundation President Ann Kelly Bolten, who has traveled widely with Howard Buffett during the past decade, said the attack on the helicopter in the Congolese park was an excellent illustration of how real the risks are in the places they work.
"We went to Mogadishu, Somalia, together," she said. "That was a bit dicey. We went with a defense contractor. It's not a safe area at all."
Bolten, who created her own international charitable organization before she was hired by Buffett, said he is unique because he sees his commitments through despite the fact places he works often descend from bad to worse.
"Howard is a very hands-on guy," Bolten said, adding he likes to touch and feel the environments where he invests. "He meets with farmers where they're farming and meets with the people living in poverty facing homelessness, food insecurity, water insecurity and conflict. He hears from them what works and what doesn't work.
"He is literally going to front lines living where they are living and asking what can we do to improve their lives."
Buffett has been to every country in Africa and invested in projects in many of them. He brings aid to people living in dismal conditions, in refugee camps and conflict zones.
"It is hugely commendable," Bolten said. "How quick aid agencies pack up to leave when bullets fly. If Howard comes and makes a commitment, they know he's going to see it through."
She said many groups promise to help but change their minds when the shooting starts.
"When Howard says something it happens," Bolten said. "It not only happens, but it happens right away. I can't tell you what that means to people in the most desperate circumstances that have been let down by other aid organizations.
"It is a great privilege to work for Howard, and it is a great learning experience."
Buffett goes all out in everything he puts his mind to and has the energy of 10 20-year-olds, Bolten said.
"Decatur has taught him so much about poverty and public safety in the United States that has helped inform some of our giving," she said.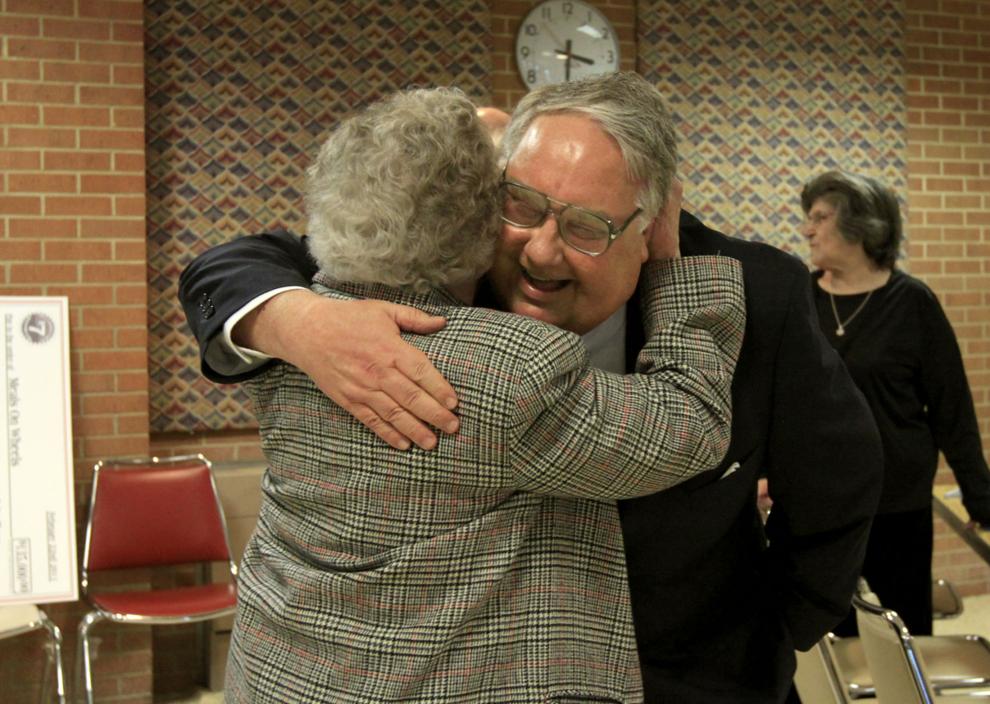 Kevin Breheny, a local philanthropist and longtime friend of Buffett's, said he was impressed when he first met him more than 20 years ago at how he presented himself like an ordinary businessman.
"Howard's life is multidimensional," Breheny said. "He deals with presidents and world leaders; he saves lives in Africa. He's a world-class photographer. And he's still a down-home ordinary business guy in Decatur, Ill."
Breheny said Buffett dislikes news conferences and accolades, anything that throws him into the spotlight.
"He is incredibly humble," Breheny said. "He is in it because he is blessed with being a philanthropist. He is very careful as to how he spends his money, but careful in an incredibly generous way every time I've dealt with him.
"He increases my faith in humanity."