DECATUR – At a time when Decatur firefighters are busier than ever, they work in stations with leaky roofs, plumbing backups and other structural problems that could cost millions to fix.
An architectural firm's report commissioned by the Decatur City Council showed problems in all of the city's seven fire stations and estimated that it would cost $8 million to solve them all. Some issues are in danger of causing more serious, expensive damage if they are not addressed.
Three stations have too many problems and should be rebuilt, the firm recommended.
It's not a question of comfort, Fire Chief Jeff Abbott said, or one of aesthetics. The firefighters work hard to maintain their stations and keep conditions as good as possible. After all, they live there when they're working.
But not addressing these problems could cost the city more in the long run.
"We make do with what we've got. There's just some stuff that is beyond what we can do," Abbott said. "We just need square buildings that drain water off the roof in an appropriate manner, that's all we're looking for, and that the plumbing doesn't back up every other day."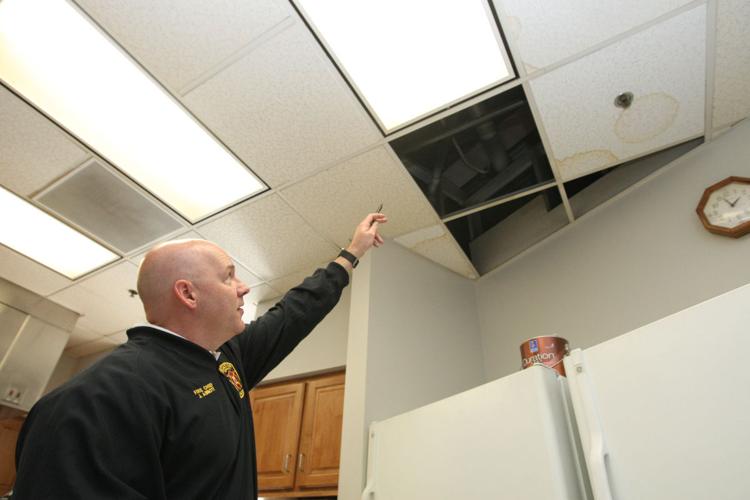 Why seven stations?
The city's fiscal woes contributed to the backlog of fire station maintenance and repairs. There is less money, in part, because there are substantially fewer people living in Decatur than there used to be.
So, do we really need seven fire stations?
Here's the issue: Declining population did not translate to declining geographical boundaries. Decatur sprawls over 47 square miles. Firefighters evaluate themselves by how fast they can be there, wherever the emergency is, and they aim to meet national standards of less than four minutes, 90 percent of the time.
Each fire station covers about seven square miles, Abbott said. Eliminating one station would mean slower response times in at least part of the city.
"Where do you close? And who are you going to determine gets the worst coverage, even though they're a taxpayer in the city of Decatur?" he said.
Compared to other cities, Decatur lags behind.
Springfield, with its 54 square miles, has 12 fire stations, one for every 4.5 square miles. Bloomington has similar coverage with five fire stations in 22 square miles. In fact, all of Decatur's comparable communities cover less ground per fire station, on average.
The workload for Decatur firefighters is also greater than ever.
Last year, they responded to a total of 10,317 incidents, according to city records. More than half were emergency response calls. There were "good intent" calls, service calls, hazardous conditions and more than 600 false alarms. Just 265 of the calls were fires.
Abbott said the number of calls has doubled in 20 years, even as the number of structure fires has decreased. It is not clear why.
Because firefighters respond to so many different types of emergencies, their trucks are outfitted with plenty of resources to make them versatile.
"It can answer an EMS call. It can fight a fire. It can help extricate somebody out of a car accident. It can provide monitors to test your house to see if you have a gas leak or a carbon monoxide leak," he said. "It's not just a fire truck. There's so many tools that allow us to cover those 10,000 calls."
Slew of problems
The city council hired Dewberry Architects Inc. in November to assess the fire stations and deliver a report. Dewberry sent a team of engineers to each station, with the findings presented to the council in April.
The results were sobering.
In general, there are constant problems with plumbing and heating, ventilation and cooling systems. All of the stations have structural issues and accessibility compliance problems. Three have leaky roofs.
Some vehicle bays are too small, which makes it impossible for the department to extend the lifespan of certain expensive vehicles by moving them to different stations. Part of the ceiling collapsed in the dorm room of Station 5 last summer, revealing mold that had to be removed.
Dewberry recommended rebuilding three of the stations: Station 3 in Fairview Park, which is 89 years old and cramped; Station 5 near Brettwood Village, which has several serious issues and also would be more beneficial in another location; and Station 7 at the Decatur Airport, which is not owned by the city and also could be moved to decrease response times.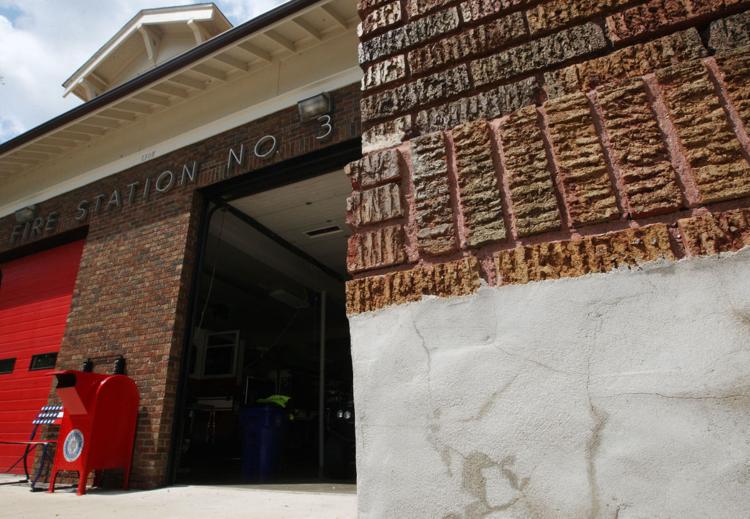 Firefighters do what they can. Abbott and City Manager Tim Gleason have praised the department's employees for taking pride in their stations.
"They've allowed us to keep our head above water, even though it might be only slightly, and now it's my turn to get things taken care of, and I am," Gleason said.
The fire department, like all the other areas of city government, suffered during the budget crisis of the past six years. Only about $40,000 to $50,000 has been allocated for station maintenance each year, and that includes paying water and garbage bills, Abbott said.
When emergency repairs arise, the department has been forced to take money from other line items. The blow has been cushioned by a few grants for equipment, but those can only go so far.
"You're trying to be a good steward with the money and replace only what needs to be replaced, when you can do it," Abbott said. "In an unexpected situation like the roof falling down or the furnace going out, when that happens, there's something else down the line that you then cut out."
City moves toward fixes
Dewberry identified a total of $8.1 million in renovation and rebuilding costs for the fire stations, though $1.8 million would cover the most immediate needs in the next one to three years.
Gleason said he had directed Abbott to identify repairs that are most crucial to be done in the next two years. Beyond that, the city will look to develop a plan for the three stations that need to be rebuilt.
"Do we have opportunities for relocation, given what the city looks like today and what we expect the city to look like 20, 30 years down the road?" Gleason said.
In the future, the council could seek a bond of $8 million to $9 million, for which Gleason said a revenue stream is already in place because of a property tax increase the council approved in December.
Mayor Julie Moore Wolfe said it was unfortunate that the problems were not limited to one station.
She said the council did not want to raise any more taxes and would find a way to fix the problems without doing that.
"We need to be strategic in where they're placed so we can get to businesses and homes and people as quickly as possible, but we have to do our job of making sure they have the facilities they need," she said. "We're not talking about the Taj Mahal. We're talking about leaks in the roof and things functionally not working."