DECATUR — In what has become one of the most-watched congressional races in the country, incumbent U.S. Rep. Rodney Davis, R-Taylorville, is hoping that his results in Congress will help him overcome an upset-minded challenge from Springfield Democrat Betsy Dirksen Londrigan.
The district is one of at least 23 that Democrats nationally are looking to flip as they seek to retake the House of Representatives, part of a so-called "Blue Wave" of opposition to President Donald Trump. Because of its size — stretching from Champaign-Urbana to Madison County, and including all or parts of Decatur and Bloomington-Normal — the district is hard to predict, said Brian J. Gaines, a political science professor at the University of Illinois in Urbana-Champaign. 
"I think in a normal year, with equally matched candidates with equal amounts of money, it's a district both candidates could win," said Gaines, adding that Davis benefits from all the advantages of incumbency. 
Both candidates have stressed the importance of turnout in this election, and each has set up their own closing argument for the home stretch.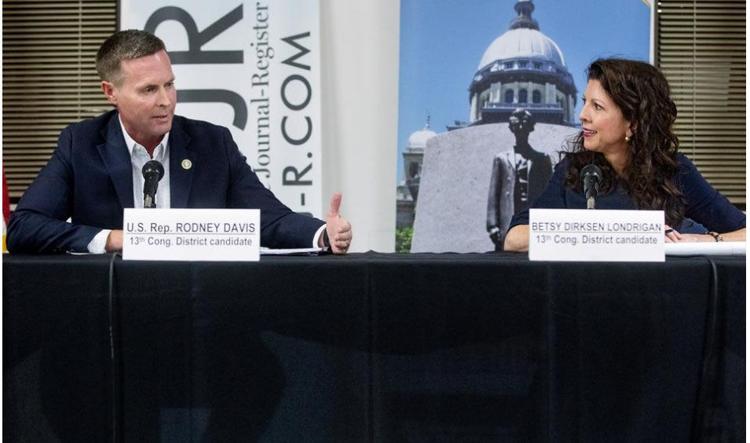 Davis, who was first elected to the seat in 2012, has focused selling the accomplishments he and the Republican Party have pulled off since President Donald Trump was elected in 2016, especially tax reform. He also points to a national unemployment rate of 3.7 percent and what he calls historic economic growth.
"If you like the results that a Republican Congress, working with this Republican administration, has given us ... then vote for me because we're delivering on the promises that we made," he said after a debate Monday night in Decatur. The debate was hosted at Millkin University and co-sponsored by the Herald & Review, NAACP Decatur Branch, WAND and WSOY. 
Londrigan has presented herself as someone who will protect health care and fend off any future cuts to Social Security, Medicare or Medicaid. She has cited health care as her reason for running and particularly stressed the need to protect those with pre-existing conditions.
"I understand that Congressman Davis cannot run on his record on health care, because it is terrible," Londrigan said after Monday night's debate. "When you vote to repeal the (Affordable Care Act) and eliminate protections for those with pre-existing conditions repeatedly, I guess you have nowhere to go but change the record. But the fact remains."
The two have also sparred on the Trump administration's trade war with China, which has created uncertainty in the soybean market that is vital to the state and the district. According to the Illinois Soybean Growers Association, China is the largest importer of the state's soybeans, taking in about 1.1 billion bushels.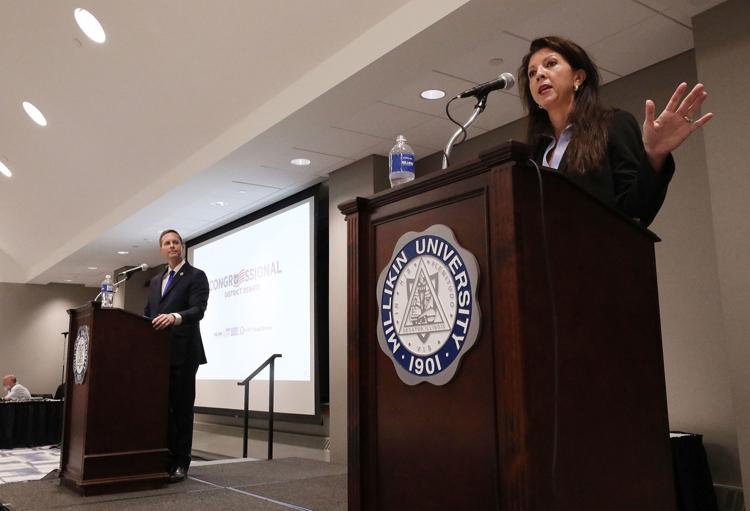 Londrigan said the district needs a representative willing to stand up for farmers who have been unable to sell their crops because of the market uncertainty.
"I would expect a representative that is sitting in the middle of soybean country to stand up to this administration and say, 'You cannot do this,' and to use their Congressional abilities and authority to do something about it," she said.
Davis said he has continued to voice the concerns of local farmers to members of the Trump administration, including Agriculture Secretary Sonny Perdue. From his conversations with area farmers, Davis said they are not ready to give up on Trump.
"The farmers are with me. That's why I have the support of nearly every agriculture group in Illinois and in this country; they know I'm working on their behalf," Davis said. "And our farmers are happy with the results that the Trump administration is giving them with the preliminary trade agreements that we've seen."
While no deal has been reached with China, the Trump administration has announced a preliminary United States–Mexico–Canada Agreement, or USMCA, trade deal and preliminary deals with the European Union, South Korea and Japan.
More competitive race
The fact the two candidates have gone after one another so vigorously is another sign that the 14-county district is more competitive than it has been in years.
Nonpartisan forecasters at Inside Elections and Cook Political Report have ranked the district as "lean Republican," with both saying Davis could be hurt by outside factors like the unpopularity of incumbent Republican Gov. Bruce Rauner. Earlier polls have shown Davis ahead of Londrigan anywhere from 1 percentage point to 13 percent.
A New York Times poll conducted last week shows Davis with a 46 percent to 41 percent lead on Londrigan, with 13 percent undecided. The sample was 501 residents and "the margin of sampling error on the overall lead is 9 points," The Times said. New York Times reporter Nate Cohn tweeted that the results suggested that the 13th district was one of the more vulnerable of the "lean Republican" races that were polled.
National Democratic and Republican groups have also pledged to spend more than $1 million on television ads and other efforts to support their respective candidates.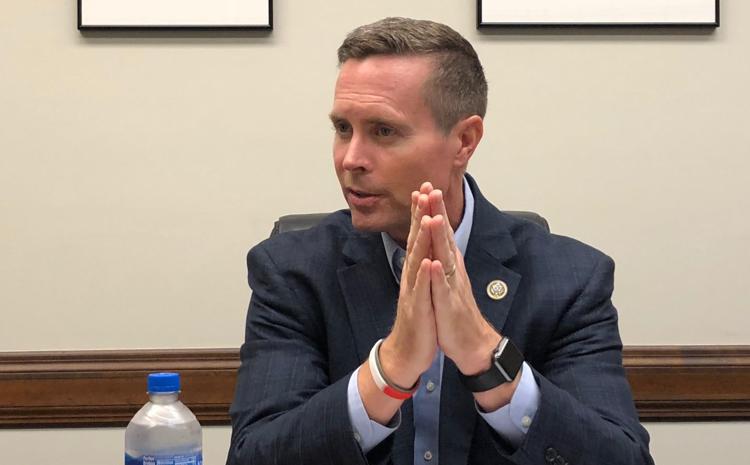 You have free articles remaining.
When the district was drawn before the 2012 election, it was considered potentially favorable for Democrats. Despite Davis winning by just 1,002 votes in his inaugural run, Democratic candidates have been unable to gain traction since then. 
Ann Callis, a former Metro East judge backed by the Democratic Congressional Campaign Committee, was unable to muster much of a challenge to Davis in 2014, despite raising nearly $2 million. Davis won with 58 percent of the vote.
The committee did not run a candidate against Davis in 2016, and he garnered 59 percent of the vote against Democratic challenger Mark Wicklund, a former Macon County board member who had little support from the party.
This year's race is much closer to what Democrats had in mind when they drew the district before the 2012 election, Gaines said. 
While it was hard to take anything away from the 2016 election, Gaines said the 2014 race showed Davis could hold his own against a well-funded candidate who, at least on paper, looked like a threat.
And with nearly six years in office, Gaines said Davis has only built upon the advantage that typically comes from incumbency.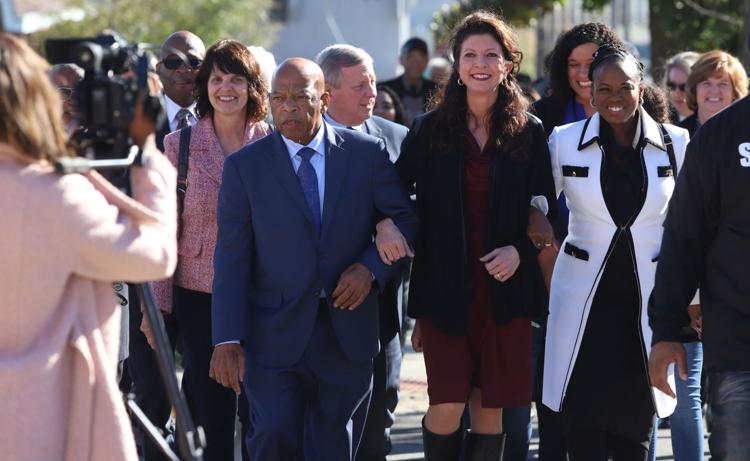 "Incumbents still have all the advantages, from building up familiarity to getting people to vote for him because they say, 'Well, I'm not a Republican, but he or his staff helped me out that one time,'" Gaines said. "And for all the challenges to him — that he won't hold town hall meetings, he's detached from the district — I don't think that's really true. I think he's about average, if not a little more than that, in regard to connecting with the district in a way that builds personal votes."
What has helped Davis has been the shift of rural areas away from the Democratic Party. Despite criticism that he is not nearly as moderate as he lets on, Davis said he is doing his best to represent a district that Trump won by nearly 6 percentage points in 2016, taking more votes than Democratic opponent Hillary Clinton in 13 of the district's 14 counties. Republican presidential candidate Mitt Romney won the district by about half-a-percentage point in 2012.
Ground-floor optimism
Along with television advertisements, flyers and public appearances, both campaigns also have dozens of canvassers working throughout the district, knocking on doors and helping get people investing in voting in the election.
Those canvassing in Macon County are feeling good about their candidate's chances next month.
Tom Robson, a faculty member at Millikin University who for about two months has been canvassing in the Decatur area for Londrigan, said this is the first time he's worked on a campaign before, but felt motivated by what he saw occurring at the national level with Republicans in control.
From his conversations with residents, Robson, 38, said he continually hears how important health care is and the idea of electing an outsider like Londrigan is an appealing alternative to Davis.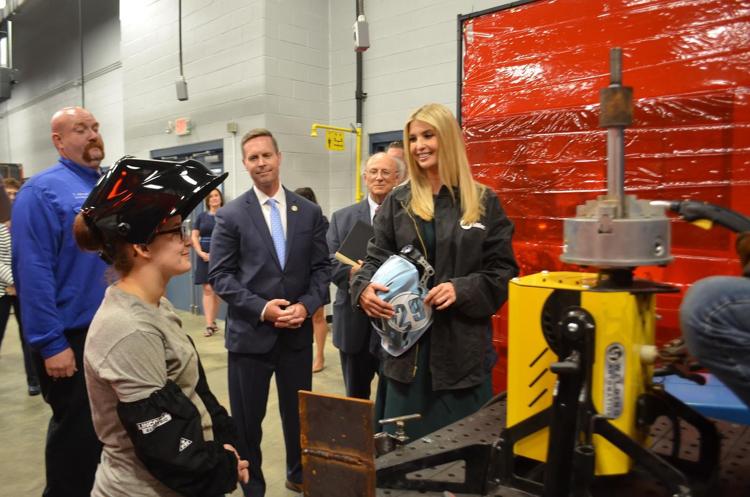 "I think people are often centrist, moderate, who want to listen to a different voice," Robson said. "Health care and education, these are the things that people are interested in."
When she knocks on doors for Davis, Madeleine Hubbard said the main issue she hears from residents is taxes and what can be done to continue to grow the economy.
Hubbard, 20, previously campaigned for Rauner when he first ran for office in 2014. A student at the University of Illinois in Urbana-Champaign, Hubbard said she is taking online courses this semester to focus on helping with both Davis and Rauner's re-election campaigns.
For the most part, Hubbard said the people she talks to find Davis an affable guy who is willing to work with constituents whenever they have concerns.
"His nickname is Hometown Rodney, and he very much shows it," Hubbard said. "He's just a wholesome, good person."
Both Robson and Hubbard said there is a certain energy heading into this year's election, as constituents of all political leanings seem motivated to turn out and vote.
While he cautiously predicts a Davis victory, Gaines said that Londrigan could pull the upset if talk of the "Blue Wave" and energized Democrats comes through.
If she does pull out the win, Gaines says it will likely be because of high turnout from students at the colleges inside the district, such as University of Illinois Urbana Champaign, Illinois State University and Southern Illinois University Edwardsville. The goal to get college students to vote in non-presidential years has been a long and often unfruitful effort.
"But if (Londrigan) does have a secret sauce, it's going to be volunteers," Gaines said, "and just old-fashioned hard work of going door-to-door and just asking people to vote."