DECATUR — Reaction to Gov. J.B. Pritzker's State of the State speech broke mostly along party lines among Central Illinois lawmakers Wednesday, with the sides having some common ground on calls for property tax and ethics reforms.
Democrats praised investments in infrastructure and efforts to improve public education. Republicans said the first-term governor was light on specifics and did not focus enough on some key issues, like property tax relief.
"It is a perfect storm of high taxes, bad economic policies and a far-left social agenda that are driving people out of the state in droves," said Rep. Brad Halbrook, R-Shelbyville, who has been part of an effort to split Chicago from the rest of the state. "Instead of addressing these problems, the only thing I heard today is the governor's commitment to do more of the same.
"It is no wonder that so many people are interested in the process to separate from Chicago."
Pritzker during the address highlighted the efforts of Sen. Andy Manar, a Bunker Hill Democrat who worked with the governor on legislation that capped the price of insulin. Skyrocketing costs have been a major challenge for diabetics who need insulin to survive. The law Pritzker signed earlier this month caps the cost at $100 for a 30-day supply.
"The governor expressed his support for that bill really early on, and that was critical," said Manar, whose district includes Decatur. "... It just caps the out-of pocket-cost. It's an insurance reform."
He said the bill was passed quickly and won't cost the state anything.
The measure was among policy achievements listed by Pritzker, who said he and lawmakers had worked together to do "big things to help people, real people who live and work here every day."
Manar said Pritzker made a strong case for bipartisanship accomplishments over the past 12 months and laid the foundation for this year's goals.
Ethics reform and redistricting
Pritzker stressed his intention to root out corruption in state government, saying bribery, extortion and under-the-table deals must come to an end — along with the culture that tolerates them.
He was speaking a day after Democratic Sen. Martin Sandoval pleaded guilty to accepting $250,000 in bribes.
Manar said Pritzker appropriately highlighted the need for meaningful ethics reform in the General Assembly and state government. Republican lawmakers felt differently, saying there was a major omission: a commitment to a proposal they call "fair maps," which would take the power of drawing legislative districts out of the hands of lawmakers and give it to an independent commission.
State Sen. Chapin Rose, R-Mahomet, said Pritzker should have addressed the issue. As long as legislators draw districts for their own self-interest, problems will continue, he said.
"His speech didn't have a single word devoted to Fair Maps and I think he missed a major opportunity," said Rose. "It is beyond time to give the people of Illinois their state back."
State Rep. Dan Caulkins, a Decatur Republican, said he appreciated the governor's attention on the subject. But he said Republicans had already proposed solutions that should have been acted on during the fall legislation veto session.
"Unfortunately, we proposed every one of those (ethics reforms) in November and the Democratic, and the majority refused to allow discussion," Caulkins said. "Now here we are in January and we are waiting on some ethics reform commission that won't come back until the end of March."
"The governor that is the head of the party that is literally drowning in investigations, in subpoenas, in indictments, in guilty pleas, in soon-to-be federal prison time, spent two and a half minutes talking about ethics and corruption which is half as much time as he spent talking about the flags outside of the Thompson Center," he said.
Economic growth, property taxes
Pritzker said the state's economy is strong and growing every day. The economy supports 6.2 million jobs, he said, and every major region is growing. He touted the $45 billion statewide construction program approved by lawmakers last spring, as well as new investments in job creation, healthcare and education in the state's $40 billion budget.
Manar and Rep. Sue Scherer, a Decatur Democrat, lauded the progress on infrastructure and education.
Scherer said the investment is vital. "The plan will create 500,000 jobs, and that is a wonderful thing," she said.
Scherer also commended the forward progress on the statewide teacher shortage. Pritzker during his speech said in order to combat the shortage, they raised the minimum teacher salary and made it easier for high school graduates to get a skilled wage by expanding vocational training, career and technical education for the first time in a decade. Shortages in Decatur Public Schools are prevalent with over 70 open positions in the district as of November.
"I am happy about additional funding for public schools and also putting a lot more into our public universities in Illinois," Scherer said.
Manar referred 2019 as a "banner year" for education, citing the minimum teacher salary wage raise.
"All of the things that we did were driven by conversations with educators across the state," he said, giving the example of ridding of the hurdle of licensure tests deemed expensive and redundant. Manar said they were bipartisan efforts coupled with suggestions of educators.
But Halbrook said the state's job growth was a result of the economy under Republican President Donald Trump, and the state's economy could have seen more growth if the government did a better job balancing the budget.
"The reason we do not see the governor outlining any specific ideas on how to fix pensions or how to lower property taxes is because the only we can legitimately accomplish these goals would be to reduce spending," he said, "and the Democrat majority in the House and the Senate, along with the governor, have no interest in meaningful spending reforms."
Property tax relief for homeowners has been a major focus for Republican lawmakers, and Pritzker said it is a high priority for his administration. In December, he signed legislation that he said will help alleviate the burden by consolidating 650 downstate and suburban pension systems into two. Decatur city officials, who have struggled for years with the rising cost of public safety pensions, have praised the move.
Caulkins, however, said the measure might not solve the problem. "He thinks that this consolidation we did last year is going to be a solution to our property taxes and in fact, we are not even sure it is going to work," Caulkins said.
Righter also said the governor did not spend enough time talking about property taxes.
"The governor has repeatedly expressed concern for property taxes and how they are crushing the middle class," Righter said. "The governor spent 30 seconds talking about property taxes."
Rose said he had hoped to hear more emphasis on the issue. "I definitely would have liked to hear more specifics from the governor on the issue of property tax relief for working families," he said.
---
PHOTOS: Governor Pritzker tours Richland Community College
DOMINANT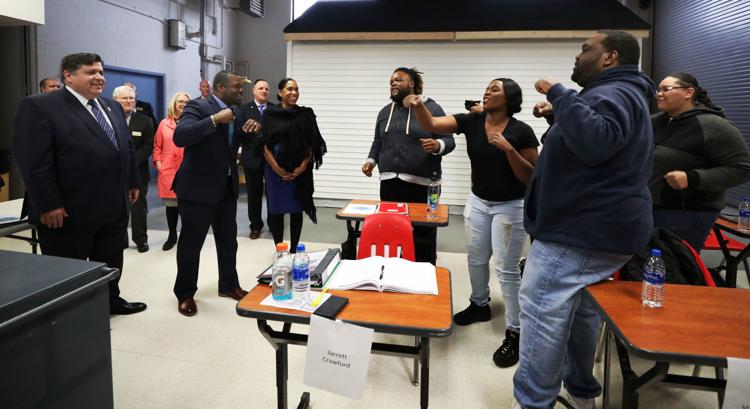 Agostini_Logan 3.21.19.jpg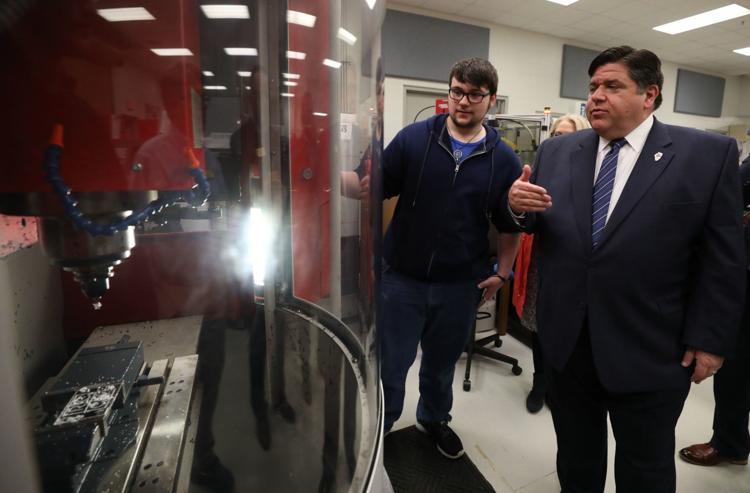 SECONDARY
Pritzker_JB 3 3.21.19.jpg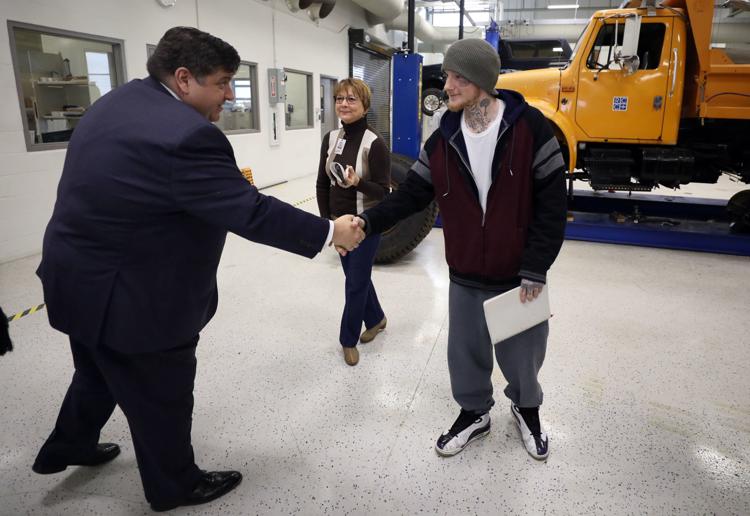 Pritzker RCC Tour 1 3.21.19.jpg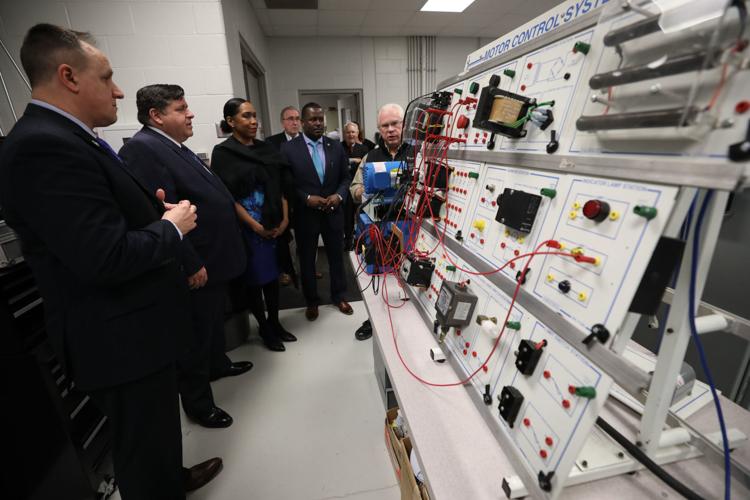 Pritzker RCC Tour 2 3.21.19.jpg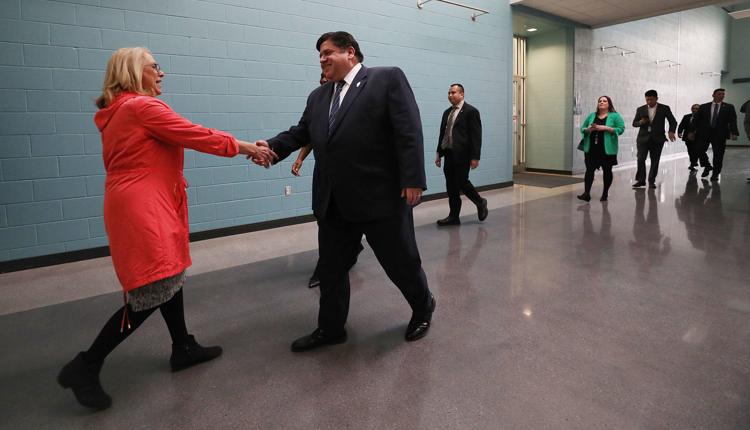 Pritzker RCC Tour 3 3.21.19.jpg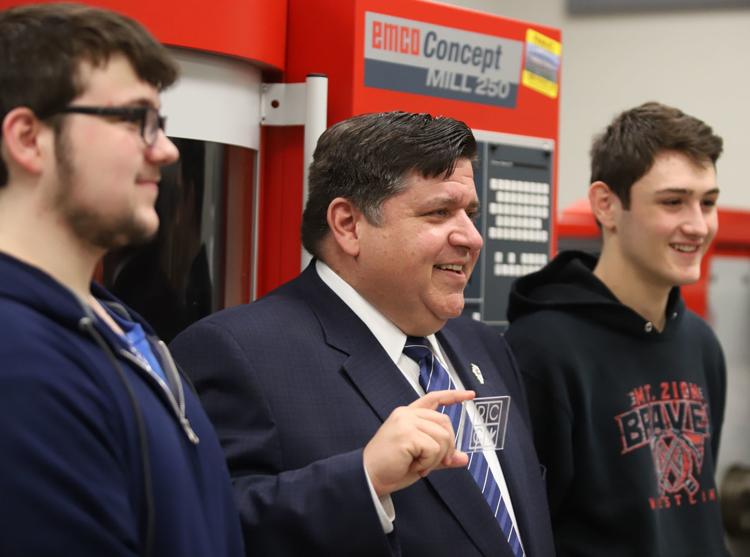 Pritzker RCC Tour 4 3.21.19.jpg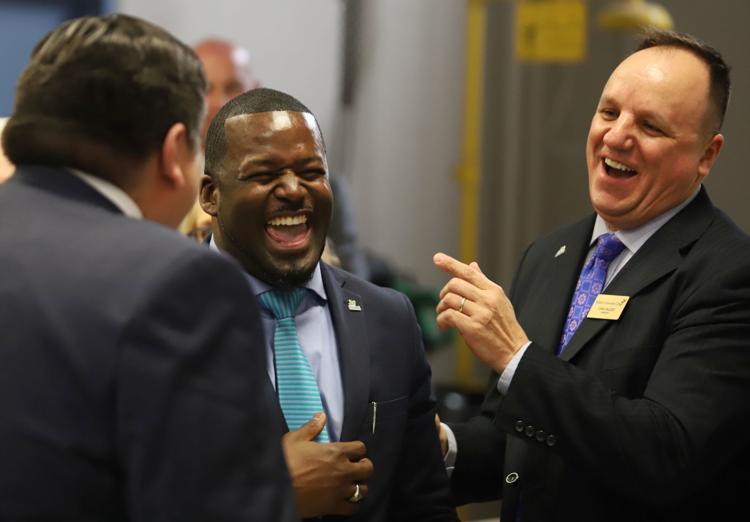 Pritzker RCC Tour 5 3.21.19.jpg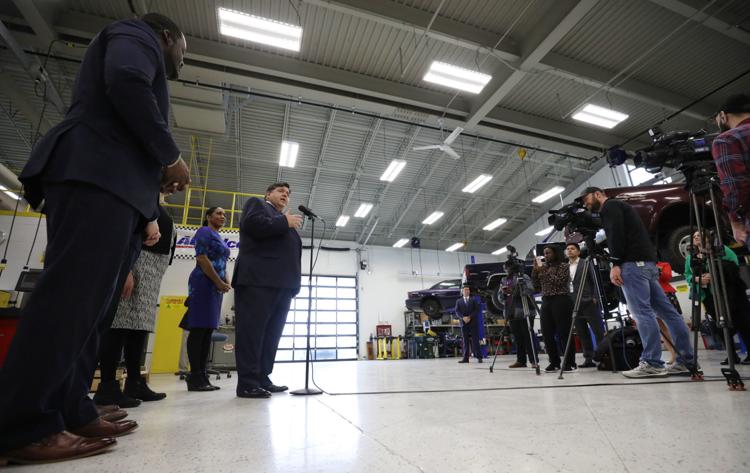 Pritzker RCC Tour 6 3.21.19.jpg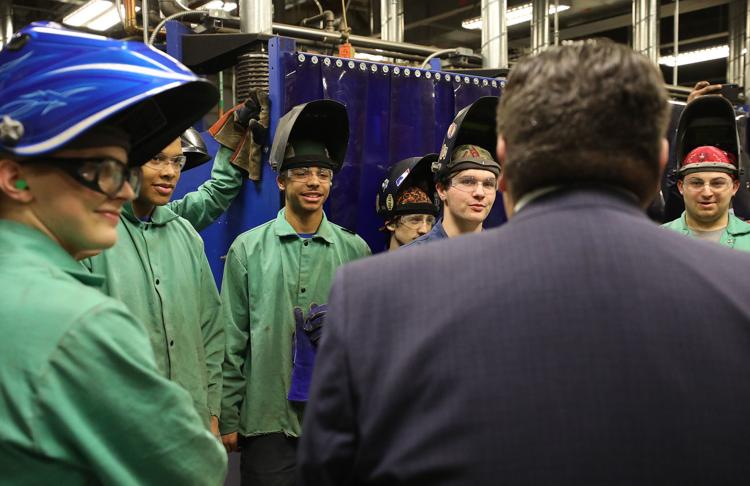 Pritzker RCC Tour 7 3.21.19.jpg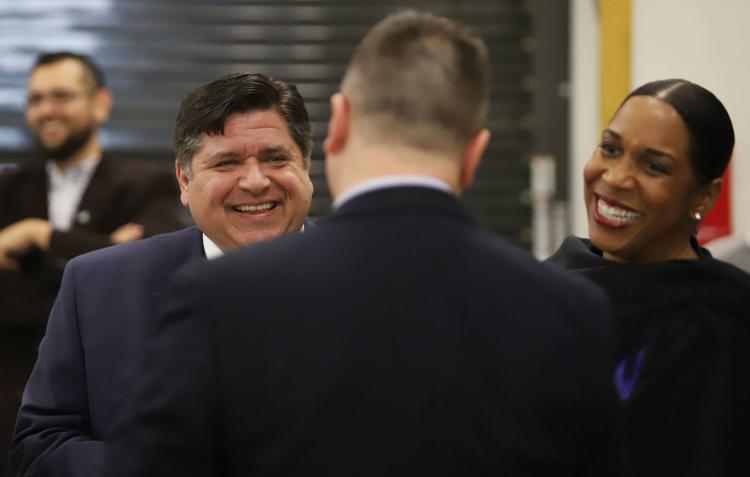 Pritzker RCC Tour 8 3.21.19.jpg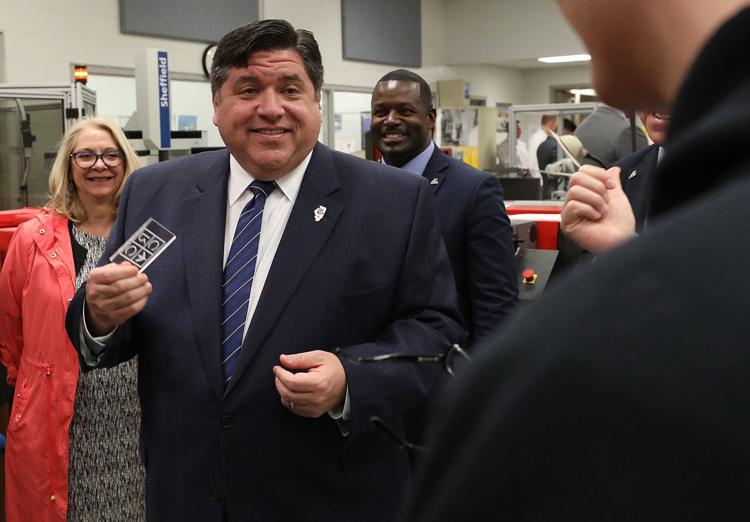 Pritzker RCC Tour 9 3.21.19.jpg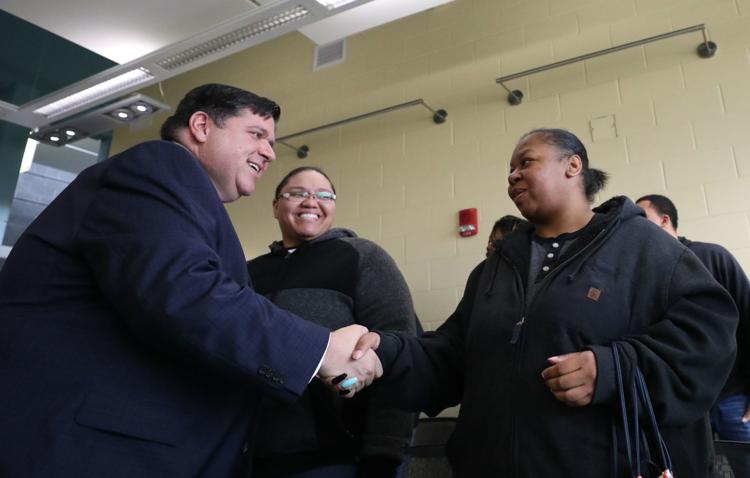 Pritzker RCC Tour 10 3.21.19.jpg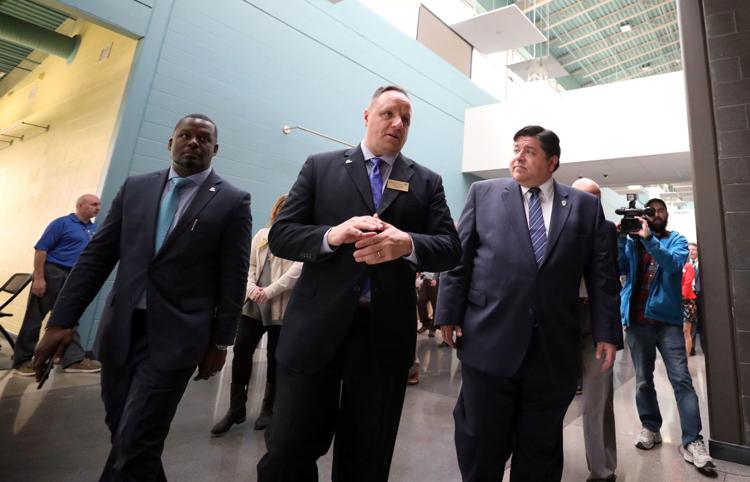 Pritzker RCC Tour 11 3.21.19.jpg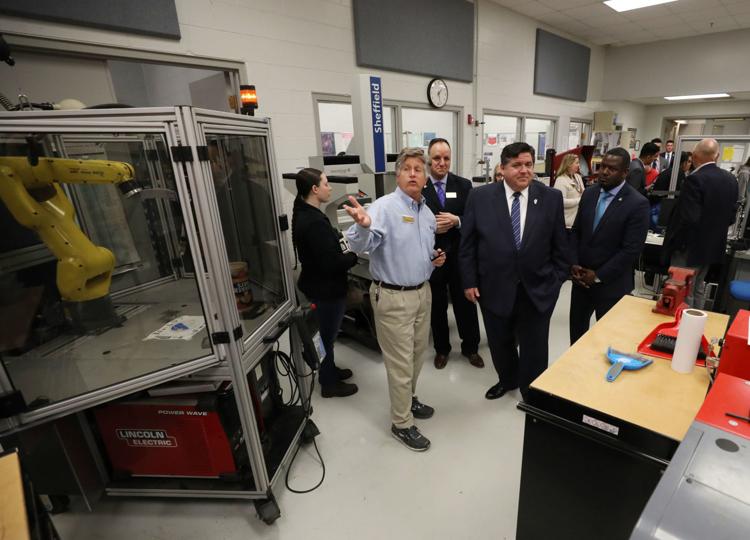 Pritzker RCC Tour 12 3.21.19.jpg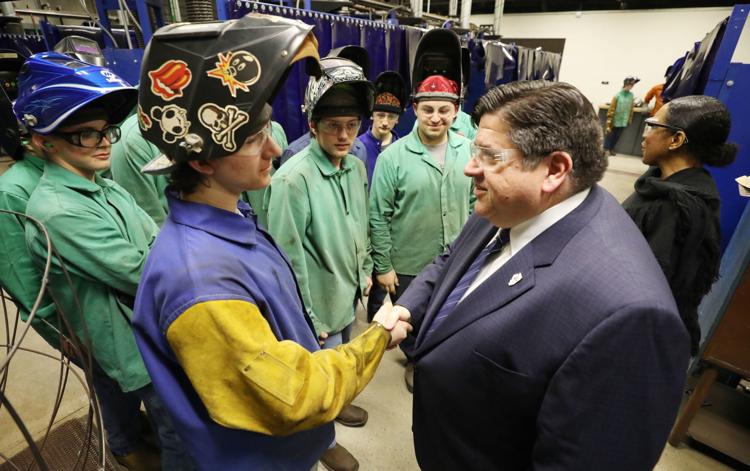 Contact Analisa Trofimuk at (217) 421-7985. Follow her on Twitter: @AnalisaTro
We must take urgent action to restore the public's trust in our government.

That's why we need to pass real, lasting ethics reform this legislative session. pic.twitter.com/g2P4KBTL65

— Governor JB Pritzker (@GovPritzker) January 29, 2020
Get Election 2020 & Politics updates in your inbox!
Keep up on the latest in national and local politics as Election 2020 comes into focus.