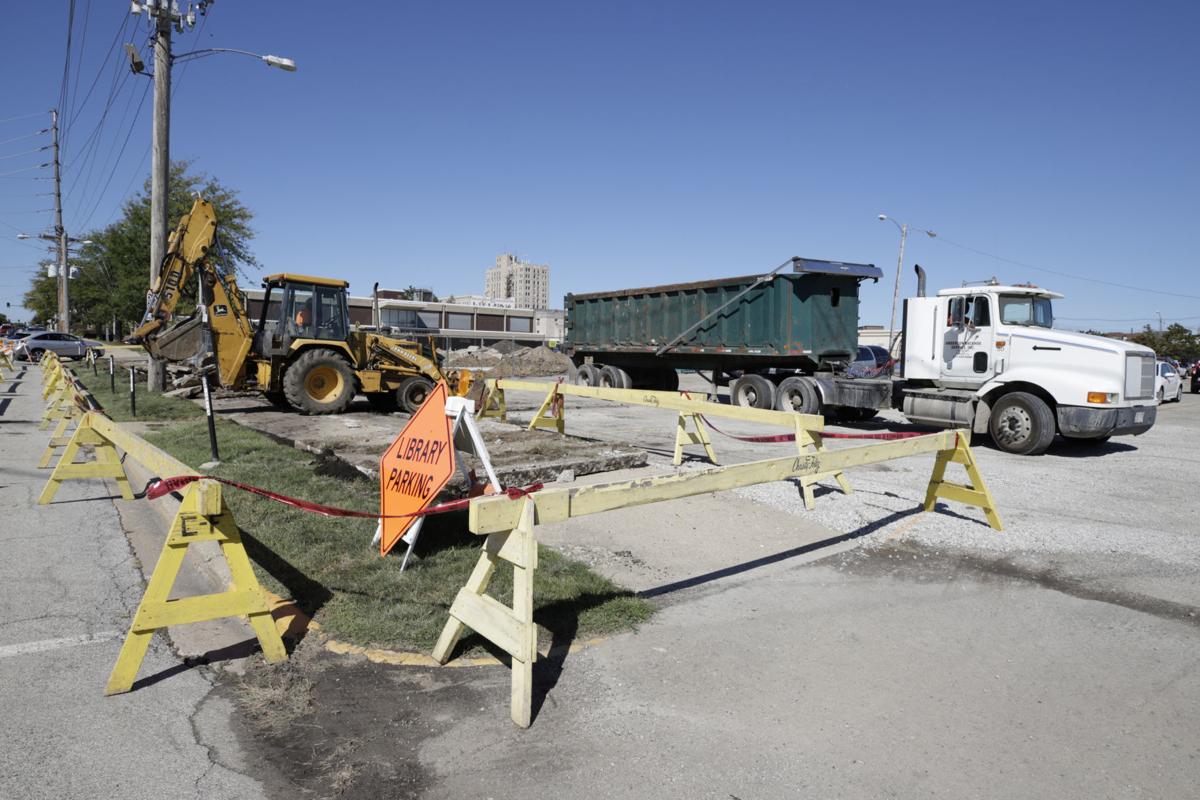 City Manager Scot Wrighton said he's had discussions with Kim Soman Deatherage, co-owner of Novel Ideas at South Martin Luther King Drive and East Main Street, about her being able to purchase parcels that are part of the Decatur Public Library parking lot. Any purchase would require council approval. 
Crews since August have been renovating the city-owned asphalt lot east of the library building, which for years had numerous potholes. Until its demolition last fall, the lot also housed the library annex, a two-story building that had fallen into disrepair. 
The council in July voted 6-1 on a plan that called for replacing pavement and adding open lawn areas on east Prairie and Main streets. There would be 104 parking spaces. The city says there are 70 spaces available on adjacent streets.  
Crews work at the Decatur Public Library on Sept. 23. A $1 million project to overhaul the parking lot touched off criticism from a nearby bus…
The approved blueprint, one of multiple options considered by the council, also had an L-shaped green space just west and north of the Novel Ideas bookstore. That piece would remove pavement "and green space created for future development and storm water detention," according to a rendering of the proposal from the city. 
However, Deatherage, who has owned Novel Ideas for 18 years, said she was unaware of the plans to take out pavement near her store. She took to social media and wrote a column in the Herald & Review that took issue with the reduction in parking spaces and the impact on her business. 
Councilman David Horn said it's now clear missteps were made. 
"There was a missed opportunity in including Novel Ideas in the planning," he said. "But the hope is that local businesses will be able to utilize and enjoy the green space."
'Taj Mahal of parking lots' 
The move caps an unusual turn of events related to the dilapidated lot, the primary parking area for the 130 N. Franklin St. library. The building, a former Sears store, is owned by the city, which leases it to the library. The annex was the store's automotive building and later housed the Village Mall. 
Additional parking is in the city lot at East Main and South Franklin streets, where library employees are parking during construction. 
At the time of the vote, the council considered four construction options with price tags from $400,000 to $1.3 million. The decision came down to incorporating a large amount of green space that would serve as a place for community events and programs, a priority for the library board. 
The approved rendering shows two lanes of parking running east and west, a new north-south road aligned with Mill Street and improved entrance off East Prairie Street. The green space will occupy a large portion of what was previously asphalt, including the space where the annex once sat. 
Pat McDaniel was the only council member who voted against the plan, stating there was "no need to build the Taj Mahal of parking lots."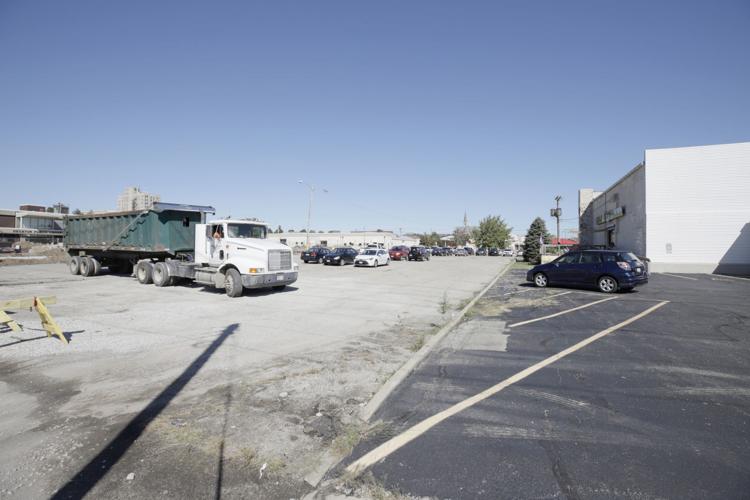 "I'm a friend of the library and yes it is our responsibility to fix that lot, but spending a million dollars on a parking lot is ridiculous," McDaniel said during an interview. "In good conscience, I cannot support that."
In order to fund the $1 million, the city had to borrow the money, he said.
Wrighton said the funds are borrowed but will be repaid over time using the library's rent funds. 
City officials have said there was ample time to express concerns.
"We always want to hear from the public," Mayor Julie Moore Wolfe said. "In this instance, there was enough time to do so between the council considering the plans and the final vote."
Deatherage said she was taken aback at the approval. 
"We didn't know they were moving forward with plans until it was voted on in July and construction started immediately after," she said. 
She said her customers raised concerns about there not being enough parking for special events and the safety of employees walking to the parking garage. 
City Librarian Rick Meyer said the patrons could have benefited from an alternative plan with more parking than the plan currently under construction, but the library board is happy for a new parking lot either way.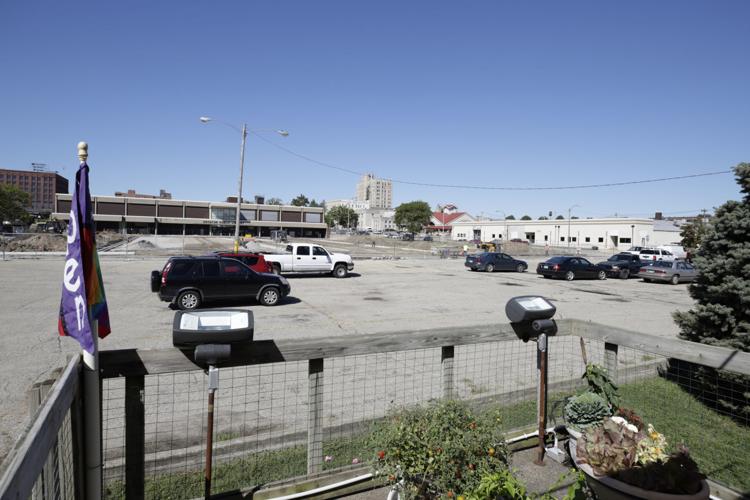 "We are grateful that we are getting a new lot because quite frankly, it was very much needed," Meyer said. "And we are excited to use the green space."
Meyer also said they've addressed the safety issue related to the garage. 
"We are taking precautions like allowing the employees to move their cars in the evening, and we ask that employees walk out together," Meyer said.
Set for December finish 
Deatherage said she talked with Wrighton about possible solutions. Wrighton last week confirmed that the city was asked to consider selling a portion of the land. He could not share more details related to land acquisition, sale or lease.
"Any such sale of city-owned real estate would have to be approved by the city council in an open session," Wrighton said in an email.
Councilman Chuck Kuhle also said they have the option to remove the green space to meet future needs.
"We could add more parking if we have to," he said. "It could cost a bit more, but nothing would stop us from paving over some of the green space if need be."
No date has been set about when the council will discuss or vote on the matter, but Public Works Director Matt Newell said construction on the parking lot is on track to finish by December.
Deatherage said she's hoping to have council members address her concerns. 
"If we can work something out where we have a bit more parking and it is shared, that would be helpful," she said. 
Contact Analisa Trofimuk at (217) 421-7985. Follow her on Twitter: @AnalisaTro
Get Government & Politics updates in your inbox!
Stay up-to-date on the latest in local and national government and political topics with our newsletter.