DECATUR — City leaders will decide today whether to allow development of a shopping center that includes Chipotle Mexican Grill at West Ash Avenue and U.S. 51, weighing neighbors' concerns about traffic and the city's need for growth and sales tax revenue.
The intersection is in a residential area, across the highway from high-volume retail that includes Walmart, Walgreens and Panera. Neighbors vehemently oppose the proposal. Most of the Decatur City Council members have not said how they plan to vote.
In the Ash Avenue decision, interim Public Works director Matt Newell said Friday that the city conducted its own traffic study in the area. Results matched that of the study by the developer, Deerfield-based GMX Real Estate, LLC.
"The developer noted no major traffic accident concerns," Newell said. "Our review verified that we have seen no major traffic accident concerns."
About 250 to 300 vehicles travel each direction on Ash Avenue during the peak hour each day, which is 4:30 to 5:30 p.m., he said. Average speeds are about 35 mph.
Neighbors have said they already face heavy congestion and safety concerns from the volume of cars traveling to the retail centers across the street. The addition of a Chipotle and other retail would only bring more cars and concerns, they say.
The city is facing a $3.2 million deficit in the budget the council approved in December. Changes in state law accounted for some of the gap, but city leaders have said for years that stagnant sales tax revenue also presents a fiscal challenge.
GMX representatives estimated the site could yield $3 million to $4.5 million in annual sales, $20,000 to $30,000 in property tax revenue and 15 to 30 full-time jobs, according to documents provided to the council.
City staff have recommended approval of the proposal with some conditions. Raymond Lai, economic community development director, said that determination had nothing to do with revenue and the city did not analyze potential proceeds.
"They gave some information, but looking at land-use decision, we're not looking at how much sales tax will be generated, or basing a decision based on that," he said Friday. "That could be a consideration by others."
The proposal
GMX is asking the city council to rezone the 1.6-acre site from residential to a planned development, a type of zoning that allows for uses outlined in a specific plan.
Plans submitted to the city show a 10,400-square-foot commercial center. It would include two restaurants, two retail stores and a medical office, according to the documents, and have 82 parking spaces.
GMX representatives have said they were pointed to this site by Chipotle, the only tenant that has been identified. It would be a freestanding restaurant with a drive-through.
Entrances to the center would be off of West Oak Lane and West Ash Avenue.
Hours of operation would only be allowed from 6 a.m. to 11 p.m., city staff said in a memo to council members.
Fourteen parking spaces on West Ash Avenue would be removed, a left turn lane into the shopping center would be added, and the bus stop would be moved. City staff said West Oak Lane would be strengthened, with curb and gutter added, to accommodate more traffic.
If other changes are needed in the future, such as more stop signs or speed limit changes, Newell said, the city could consider those.
"Anybody in the community who sees a problem with traffic on their street or parking can petition the traffic and parking commission to have those fixed," he said, adding that there are some situations in which the city does not wait for the commission. "If there are safety issues, we try to act immediately."
Traffic, safety concerns
Neighbors object to the proposal, citing worries about traffic, safety, parking, quality of life and what they fear will be a drop in their property values.
Developers have sought the intersection in part because of it is highly trafficked and visible, and residents say that the added volume would create an unsafe area and lead to more accidents.
Several also pointed to the stability of the neighborhood, where many residents have been established for years or decades.
"Decatur is filled with rezoned residential property that was never developed or lies empty from short-lived businesses," residents Edward and Leslie Dawson wrote to the plan commission. "This is not the image we want to project to our current or future residents."
Residents raised the concerns both at the plan commission meeting and a public meeting held by the developers Nov. 27 to discuss the proposal with neighbors. Some questioned why GMX didn't build the shopping center somewhere else, suggesting multiple vacant retail spaces elsewhere in the city.
GMX co-manager Andrew Goodman has said many of those locations are no longer appealing for potential businesses. Additionally, he said, Chipotle officials directed the developer to the corner site.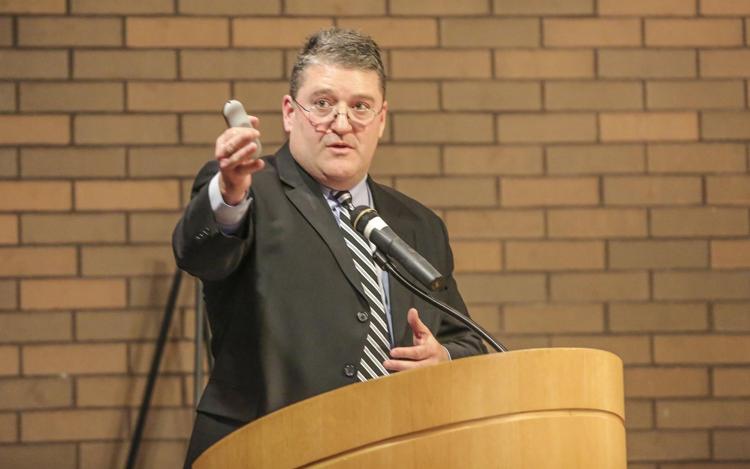 The same concerns surfaced in 2015 over a hotly contested proposal to allow an Aldi grocery store on the site. The council ultimately sided with the residents and voted 4-3 to reject that proposal.
Two new members — Chuck Kuhle and David Horn — have joined the council since that decision.
New fire station
Fire Chief Jeff Abbott has said the new station would help the fire department reach the north side of the city faster in an emergency. The northernmost station now is Station 5 on East Christine Drive. It dates to 1962, though a large section of the dorm ceiling was rebuilt in 2015 after it collapsed without warning in an area where firefighters could have been sleeping.
The building would span 5,450 square feet, with a 3,050-square-foot basement. It would have one vehicle bay, according to city documents.
Residents voiced their concerns at the plan commission meeting Dec. 7 and an earlier public meeting in October. The commission voted unanimously to recommend approval of the proposal.
Abbott has said the planned cost to build the new Station 5 would be $2 million, part of an $8.5 million plan to renovate or replace the seven fire stations in the city.
City Manager Tim Gleason told the Herald & Review in October that the money is already accounted for in the city's current spending levels, taking $400,000 to pay debt service annually over 20 years.
Editor's note: This article has been corrected to reflect that 250 to 300 cars travel each direction on West Ash Avenue during the peak hour each day. The Herald & Review received incorrect information. It has also be corrected to reflect the number of parking spaces that will be removed; the newspaper erred.
Herald & Review staff writer Tom Lisi contributed to this story.
Download the full council packet below: