DECATUR — The city's council, park board and board of education agree that they'll need to work closer together than ever to accomplish major long-term goals each has set to revitalize Decatur.
The three entities reached that conclusion and discussed potential plans of action Wednesday evening during an unprecedented intergovernmental work session held at the Millikin University Commons. All members of each board were present.
"I think that we've all got a lot of really, really good things going on, but as you know, we're all busy and there are times when those things happen in silos," said Interim City Manager Billy Tyus. "I think it's really important for us to work together so that we (the city) know what everyone is doing and so that we can plan as a part of our work to make sure that what we're doing works in tandem with some of the other things that are happening,"
Much of Wednesday's discussion was used to brainstorm ways that the government bodies could partner to achieve their goals. Some priorities outlined by several members of the panel included determining what needs to be done to keep people living in Decatur, finding ways to be more efficient with taxpayer dollars and providing health and recreation amenities to attract families and younger people to Decatur. 
Mayor Julie Moore Wolfe suggested that representatives of the city, park district and school district form a "working group" to identify action steps and address short-term priorities. School board President Dan Oakes said it could be beneficial if such a group met either quarterly or annually.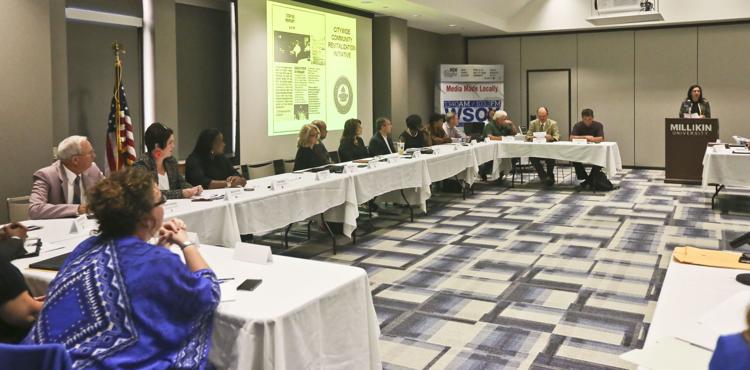 "That doesn't mean that we should stop looking at the big things we can do," Moore Wolfe said, "but we need a vision together and to process it to make this work and stick."
Park board Commissioner Stacey Young and City Councilwoman Lisa Gregory agreed that the agencies should continue meeting and communicating in some way beyond Wednesday's work session.
A strong focus on laying out common priorities and intentions should also be a key part of any future intergovernmental sessions, Young said. 
"The park district has a lot going on right now," she said. "Sometimes we have a hard time establishing what our priorities are. So, it would be beneficial if we looked at what do we think really are the underlying issues and what are the major priorities?"
Another topic of consideration posed by school board Vice-President Beth Nolan involved the support the city, school district and park district have received from the Howard G. Buffett Foundation. 
Buffett, a Decatur-based philanthropist, has been a frequent donor to many area projects and agencies in recent years. He was sworn in as Macon County sheriff on Sept. 15, after the retirement of former Sheriff Thomas Schneider.
Among the projects that Buffett has funded include the school district's Dwayne Andreas Ag Academy, the park district's Nelson Park amphitheater and the city's revitalization plans.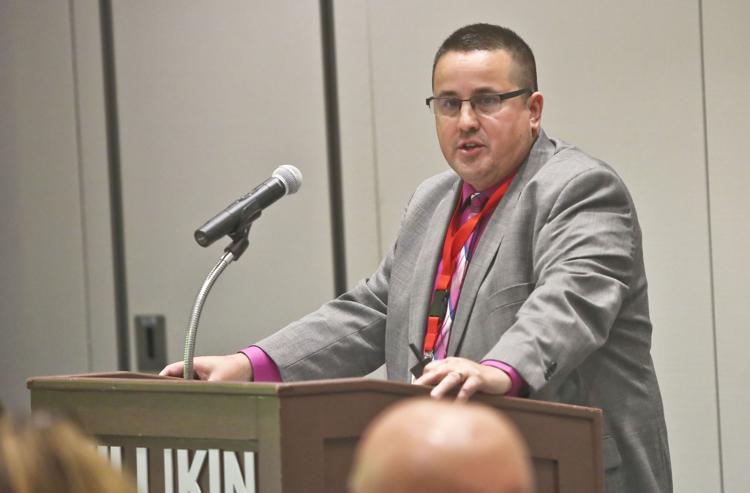 "Some of those projects have come with seed money for things for the first initial years, and they're doing great things," Nolan said. "But the sustainability of that is going to require all of us to step up to the plate."
School board member Courtney Carson said cooperation would also be key if the school district demolishes or rebuilds the aging Johns Hill Magnet School building, 1025 E. Johns Ave. He asked if, in that situation, the city and park district would be willing to revitalize the area and invest in nearby Johns Hill Park. 
"It sounds like everyone is in agreement that we need to work together, and I'm not sure if I'll be living in a week to wait for another meeting," Carson said. "I think we should really starting having the conversation so that all of us aren't involved in a hundred meetings a week."
If the city council were to approve that sort of revitalization effort, Tyus said, the city could potentially use federal Community Development Block Grant program funds to support housing redevelopment in the area, or fund street improvements with gas tax proceeds. 
Park district Executive Director Bill Clevenger said that the district has had a longstanding relationship with the school district, and doesn't see that changing anytime soon.
He also referred to the concept of community schooling, which relies on a series of partnerships between schools and other community resources to provide an integrated focus on academics, health and social services. 
"I'm a product of that school system," Clevenger said. "... So, I think what's old might be new."