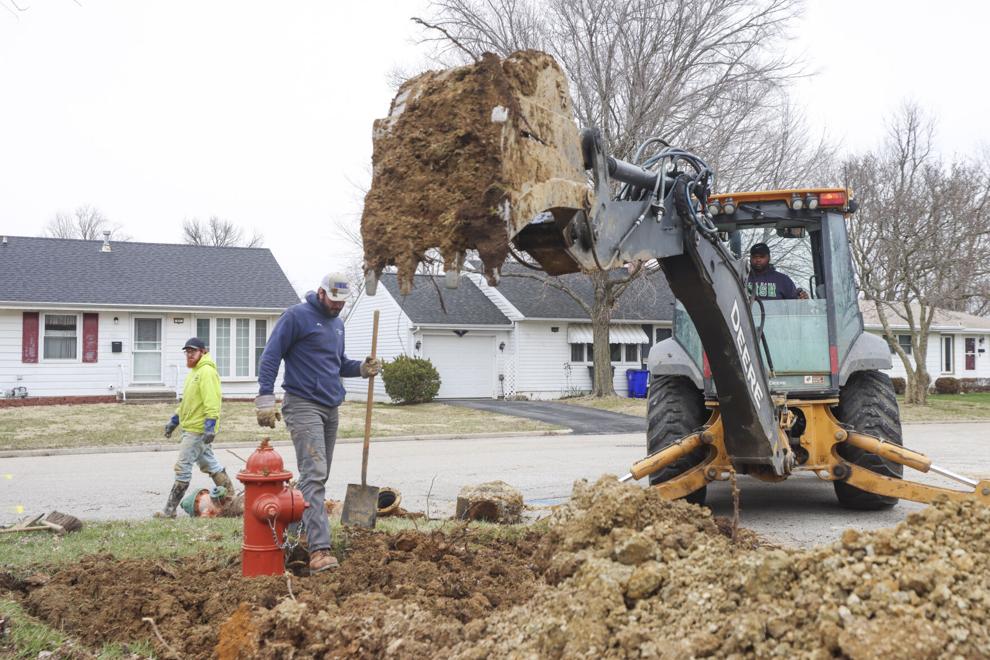 DECATUR — City sewer rates are on the rise and water rates could be too.
The Decatur City Council voted unanimously Monday night to raise sewer rates 5% effective May 1. However, a companion piece for water rates was put on hold amid concerns about other changes included in the proposed ordinance.
The city in 2016 built in automatic annual water and sewer rate increases in order to keep up with water-related infrastructure projects. Prior, rates were kept artificially low, which led to the need for a massive raise in rates all at once.
But in response to sky-high inflation last year, the council opted to hold the increase to 2.5% instead of the 8% inflationary increase that would have taken effect automatically. The council then directed staff to draw up an amendment to the ordinance mandating a vote if the annual inflationary increase were to exceed 5%.
City manager Scot Wrighton said a repeat of the reprieve the council offered ratepayers this past year would not be wise as water and sewer costs "have gone up astronomically."
"It is not uncommon in periods of inflation for construction costs to be much higher than the normal consumer cost increases that we face at the grocery store and normal life consumer costs," Wrighton said. "This even exceeds that."
For example, according to data compiled by Wrighton, the cost of six-inch watermains increased more than 100% while the cost of chlorine increased more than 80% year-over-year. 
"Maintaining access to good infrastructure is a key part of our economic development program," Wrighton said.
Also added was a $50 monthly surcharge to sewer bills for customers who have refused to allow the city to line their lateral pipes to prevent infiltration and inflow.
However, the council put a pause on changes to city water rates. 
Among the concerns: a proposed $100 water deposit requirement for new customers who are renting and for customers who are renting and have two or more delinquencies in the last year.
"I think council wanted a better understanding or better discussion time on the landlord issue and making sure that the landlords are comfortable with the $100 deposit that tenants would have to have," said Mayor Julie Moore Wolfe.
Another concern was that the proposed water rate increase would include the city's large industrial users like Archer Daniels Midland Co.
These users already receive a significant discount on water. But they use raw water for industrial purposes, which is untreated. Some council members argued that they should not be subject to the same rate increase if that increase is used to pay for chemicals to treat drinking water. 
"I'm for 5% percent here and I'm for 5% on water, but what I'm not for is increasing 5% possibly on one of our biggest customers," said Councilman Chuck Kuhle. "They shop at Sam's and we're shopping at Walmart, OK? That's how I'm looking at it."
However, the council will have to take action soon. If they do nothing, an automatic inflationary increase of 6% will take effect in May. 
The water rate increase will likely come back at the next council meeting in April. 
New daycare facility
The council approved the purchase of the former Wee Folk Childcare building, 1170 E. Orchard St. for $180,000, with plans to turn it over to a new childcare business. 
Wee Folk closed during the height of the pandemic, leaving a significant childcare gap in the community and creating a significant barrier in addressing the city's workforce development needs. 
The new entity will be Love Learning and Laughter Daycare, operated by Cherri Johnson out of her home since 2019. 
Quickly after opening, she was at 75% capacity and had a waiting list. The additional space, Wrighton wrote in a memo, will allow Johnson to expand.
The project is one of four "catalyst" projects the city plans to spend its remaining $1 million in federal COVID-19 CARES Act funds on. 
Among the other projects slated to receive funding is the rehabilitation, expansion and conversion of the old Garfield School building into 63 affordable apartments for people 55 and over who are living independently.
This daycare project is located near the Jasper Street corridor, long the focus of the city's "Great Streets, Great Neighborhoods" initiative, an offshoot of the city's larger neighborhood revitalization pillar that will likely include property repurposing, beautification, infill development and non-motorized transportation options.
Transportation
The council approved an agreement with Alfred Benesch & Co. to conduct a comprehensive operations analysis for the city's fixed bus route system and provide recommendations for "micro-transit" operations. 
"It's going to be a overall look at how we provide public transportation and how we should be providing it today and looking forward to the future," said deputy city manager Jon Kindseth. "And incorporating probably smaller vehicle and using a more point-to-point system as opposed to just a route system."
The council also voted to formally make transportation its own department in city government. Until now, responsibilities were largely under the direct purview of the city manager's office. 
Famed Dorset Cliffs collapse in the U.K., and more of today's top videos
Recent rains have caused one of Britain's most famous seaside sights to fall, Peru's 'water people' are protesting on boats against the government, and more of today's top videos.