DECATUR DEVELOPMENT
Desired location: Will Chipotle open floodgates to U.S. Business 51 development?
DECATUR — The corner of U.S. Business 51 and West Ash Avenue has beckoned developers for more than a decade. Now that one has finally laid claim, will other commercial growth follow? 
City officials say they are not pushing business toward the west side of the highway, where the Decatur City Council voted 5-2 on Jan. 2 to allow a new 10,400-square-foot shopping center anchored by Chipotle Mexican Grill — but they're not ruling it out. 
"Businesses are feeding off of one another, almost like 1-plus-1 equals 3," City Manager Tim Gleason said Wednesday, noting Chipotle's desire to locate off the intersection. "It's a great opportunity for us, and we understand why that intersection was so appealing to them."
The corner, across the highway from Walmart and other high-volume retail, is residential. Neighbors vehemently opposed the Chipotle, expressing concerns about traffic, safety, quality of life and property values. Many worry that it is the first domino to fall and more business will encroach on their quality of life. 
Pam Ambeau, who has lived at her home since 1977 and will be next to Chipotle's drive-through, said it would not surprise her if commercial developments start moving further into the neighborhood now that they have their "foot in the door." Such decisions would require more rezoning by the city council, but Ambeau said Tuesday's vote has her believing the city will do what's best for its bottom line.
"I think whatever is going to bring Decatur some money and tax revenue, I think they will go for it, I really do," she said.
A long-desired corner
Developers have long sought the corner for its high visibility and traffic count. Mayor Julie Moore Wolfe said during Tuesday's meeting that she remembered proposals from more than a decade ago. Two years ago, she was one of three council members who voted to allow an Aldi grocery store on the site.
When that proposal was defeated, she predicted that developers would continue to seek the site. On Tuesday, she didn't rule out the possibility that more businesses would follow Chipotle's lead: "If it's as successful as we're hoping it is ... we'll just wait and see," she said. 
Gleason said there is no truth to rumors that there are already plans to move forward with other developments. He acknowledged the possibility that more could occur on the west side of U.S. Business 51 from West Ash Avenue to Mound Road, but said the city would leave businesses to make their own decisions and come to agreements with the necessary landowners to buy property.
"Do we believe there is a possibility for future developments in that general area?" Gleason said. "The answer is yes, we do believe it is. But that is going to be a discussion between the businesses and the private property owners."
The vote Tuesday came the same night Forsyth approved a tax-increment financing district across a wide section of the village. The economic development tool is meant to lure in new business, including a grocery store that village officials have long sought. The draw of businesses to Forsyth over Decatur was a reoccurring factor in the discussion about the Chipotle and strip mall. 
Stephanie Brown, a former development planner for the city of Decatur, said that while neighborhoods are sometimes overtaken by commercial development, they can also coexist in relative peace.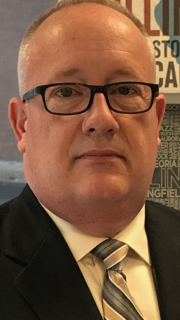 The determining factor is what local leaders see as best use for the land.
"It's really up to the city on how they want the future of that land to be used and developed," said Brown, now a planner for MSA Professional Services in Champaign. "It is easier to rezone, traditionally, if there is a similar use in the area. ... Cities and counties look at what's existing, what's nearby and whether it is compatible."
Strategic planning can create a successful relationship between residential and commercial properties, she said. That means providing plenty of buffer space, attractive landscaping that fits in with existing greenery and a plan that has the interest of both sides in mind.
"If done right, mixed use is always a great way to go, because you have your residents and your businesses working together," Brown said. "Businesses need people to eat, shop and frequent them, and residents need places to go."
Revenue drives decision
The bustling intersection is a stark contrast to the Pershing Road corridor, just two miles south, which has struggled to keep retail. Both Hobby Lobby and TJ Maxx left storefronts along the road last year for spots in Hickory Point Mall in Forsyth, taking with them sales tax dollars that city leaders have said they desperately need. 
Council members who voted for the Chipotle development pointed to Decatur's financial situation. The 2018 budget includes a $3.2 million deficit, with changes in state law and stagnant sales tax revenue among the major sources of the gap.
The developer did not request tax incentives. City officials said they have not offered any, and none were included in the measure the council approved
City officials are not pretending the shopping center will eliminate the deficit, but Gleason said it will at least be a net positive for their bottom line.
Owners of the five parcels that currently reside at the 1.6 acres, which includes four homes and one vacant lot, paid a total of $10,852.44 in property taxes last year, according to records kept by the Macon County Supervisor of Assessments.
Representatives from GMX Real Estate, LLC., the Northbrook-based developer behind the project, have estimated the site could yield $3 million to $4.5 million in annual sales, $20,000 to $30,000 in property tax revenue and create 15 to 30 full-time jobs.
GMX Co-Manager Andrew Goodman previously told the Herald & Review that the property owners had agreed to sell, though he declined to provide the price. He did not return multiple messages left at his office and cell phone seeking further comment.
Traffic worries continue 
Neighbors voiced the most concern about traffic on West Ash Avenue. Deputy City Manager Billy Tyus said there have been no discussions about closing the street to through traffic or adding more roads to handle the extra vehicles coming to the new shopping center. Tyus said the highway and intersection have the capacity to handle the expected traffic. 
"We are completely sensitive to the questions and concerns here and we do know that there will be additional traffic but (we) want to say that this development is not a large development, comparatively speaking, that would generate the kind of traffic that might generate a need for additional roadways, etc.," Tyus said in an email.
He added the city "can and will" adjust the timing of the traffic light at the intersection if traffic flow changes are needed. 
The city conducted its own traffic study in the area, with the results matching those done by GMX. About 250 to 300 vehicles travel each direction on Ash Avenue during the peak hour each day, which is 4:30 to 5:30 p.m., Interim Public Works Director Matt Newell said. Average speeds are about 35 mph.
At Decatur City Council, residents taking turns speaking up against Rezoning at US Business 51/W Ash Ave. If approved, current residential area would become home of 10,400 sq. feet shopping center, anchored by @ChipotleTweets pic.twitter.com/U7kHnx0e3s

— Ryan S. Voyles (@RVVoyles) January 2, 2018
Entrances to the shopping center would be off of West Oak Lane and West Ash Avenue. It would only be allowed to operate from 6 a.m. to 11 p.m.
Fourteen parking spaces on West Ash Avenue would be removed, a left turn lane into the shopping center would be added, and the bus stop would be moved. City staff said West Oak Lane would be strengthened, with curb and gutter added, to accommodate more traffic. Newell said GMX would cover the costs of infrastructure updates, with his office to supervise the work.
It is still not known when ground will break on the Chipotle-anchored shopping center. The developers, Northbrook-based GMX Real Estate LLC., have previously said they hope to finish construction by the end of the year.
The developers have also not revealed what other restaurant or retailers will join Chipotle in the center. According to the developer's filing with the city, the center could have space for restaurants, retail stores and a medical office, along with 82 parking spots.