DECATUR — The effects of a U.S. Supreme Court ruling could lead to some relief for Decatur taxpayers by helping to stabilize the city's biggest revenue source after years of losses.
The high-court decision allows states to collect sales tax on more online purchases. The proceeds could trickle down to local governments like Decatur's, which have come to rely on a cut of video gambling profits in a struggling market for physical businesses. Brick-and-mortar businesses see an opportunity to compete with online sellers, who had long enjoyed the advantages of selling tax-free.
Sales tax proceeds bring in more than $20 million every year for the city, making up nearly a third of its general fund. But while expenses from pensions, salaries and the cost of doing business continue to rise, sales tax numbers have been falling.
"Not having that revenue coming in hurts every taxpayer, because we have to go back and say, 'Um, we still have to pave the roads,'" said Mayor Julie Moore Wolfe. "When we don't have sales tax money, we have to get the money from someplace else to fund operations."
Thursday's ruling could change that. It allows states to make online sellers charge sales tax, even if they don't have a physical location in the state.
The change could bring an additional $200 million to Illinois annually, according to the Illinois Department of Revenue. Lawmakers have already put measures in place to collect the money and dole it out to local governments. Moore Wolfe said Decatur could see an extra $200,000 to $250,000, although estimates are preliminary.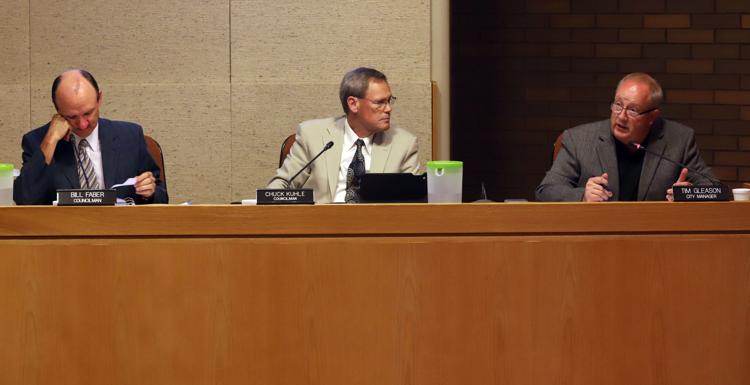 City Manager Tim Gleason described the ruling as a potential game-changer. "In local sales tax, we've seen a continued decline, like all other communities," he said, "and I think most of us attribute that to online sales."
For shoppers, the decision means that they'll pay a few extra dollars online when buying from websites like Overstock and Wayfair. Local businesses say the move could level the playing field with online retailers, who for years could offer lower prices because they didn't have to charge sales tax.
The rise of online sales not only changed the way people shop, it also affected the vitality of communities, said Mirinda Rothrock, president of the Greater Decatur Chamber of Commerce. She sees the court ruling as a major win.
"Retail sales tax helps support our infrastructure, our job creation, our economic development," she said. "Being able to capture the sales tax truly helps to spread the cost of funding those roads, water, police and fire departments.
"It helps to spread the cost of funding those entities, and really lowers the burden on all of us."
Court reverses course
The high court's 5-4 ruling overturns earlier decisions that said retailers couldn't be forced to collect sales taxes in states where they don't have a physical presence. As online shopping grew more popular, states said they were losing billions of dollars annually in potential sales tax revenue.
"Each year the physical presence rule becomes further removed from economic reality and results in significant revenue losses to the States," Justice Anthony Kennedy wrote in Thursday's opinion, saying the court's earlier decisions had been incorrect.
The previous rules also gave companies an incentive to avoid expanding operations in new states, Kennedy wrote.
At the heart of the case was a South Dakota law passed in 2016. It required any retailer that conducts at least 200 transactions or has at least $100,000 in annual sales within its borders to collect sales tax, regardless of whether the business has a location in the state. The state later sued online retailers Wayfair, Newegg and Overstock, saying they failed to comply.
In anticipation of the ruling, Illinois lawmakers included language in budget bills passed last month to allow collection of sales tax from more online purchases. E-commerce giant Amazon has collected sales tax from Illinois shoppers since 2015.
The Illinois provision, which goes into effect Oct. 1, mirrors the South Dakota law. It's estimated the change will bring in $150 million in additional revenue to state coffers this budget year and $200 million in future years. The law will not apply retroactively.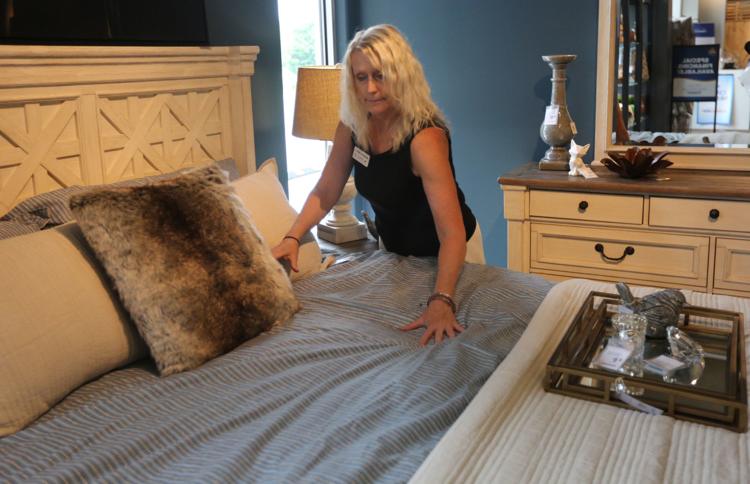 Despite predictions of more revenue, the Illinois change doesn't impose a new tax. Consumers are supposed to pay use tax to the state if sales tax isn't charged on a purchase, but experts say few actually do.
'A win' for Decatur
The ruling represents a sign of relief for local governments in Illinois, which have been battered by state funding cuts and a slew of brick-and-mortar retail chain closures.
You have free articles remaining.
Sales tax revenue has generally declined in Decatur for years, with the past few budget projections showing flat levels or a very slight increase. Gleason is hopeful that the additional revenue from online sales could help plug the gap.
"If we can get back to neutral, that's a win for the city," he said.
Decatur's 2018 budget contains a $3.2 million deficit, about $1.5 million of which stems from state cuts to cities' proceeds of income and sales taxes. State lawmakers this year took steps to reduce those cuts but did not restore previous funding levels. City leaders are considering a number of options to fill the void, analyzing their contributions to local nonprofits and exploring a move of city offices into the Decatur Public Library.
City leaders have long worried about how online shopping threatens local business and robs city coffers of sales tax revenue. Moore Wolfe said that concern has accelerated in the past few years.
"You look at retail giants that are closing their stores. You look at malls across the country that are struggling," she said. "(It's happening) very fast, much faster than I would have anticipated."
Despite its financial challenges, the city is in the midst of several large-scale projects, including community revitalization and infrastructure improvements to dilapidated roads and sewers. Gleason said city council members recognize they have momentum and want to push forward.
A new revenue stream, he said, could allow that momentum to continue. It could also help the city increase its cash reserves, kept on hand for an emergency or delayed state payments, and build a replacement fund for aging equipment.
It could also allow the city to rely less on another revenue source: video gambling. From May 2012 to last month, more than $1.2 billion has been played on video gambling machines in Decatur. The city's cut of the profit was nearly $4.9 million.
Without that revenue, the city would have felt the sales tax decline even more acutely, officials said.
"I'm not a huge proponent of gaming," Moore Wolfe said. "But at the same time, we've become dependent on it, in large part because of what's happening with sales tax revenue."
Fair shake for retail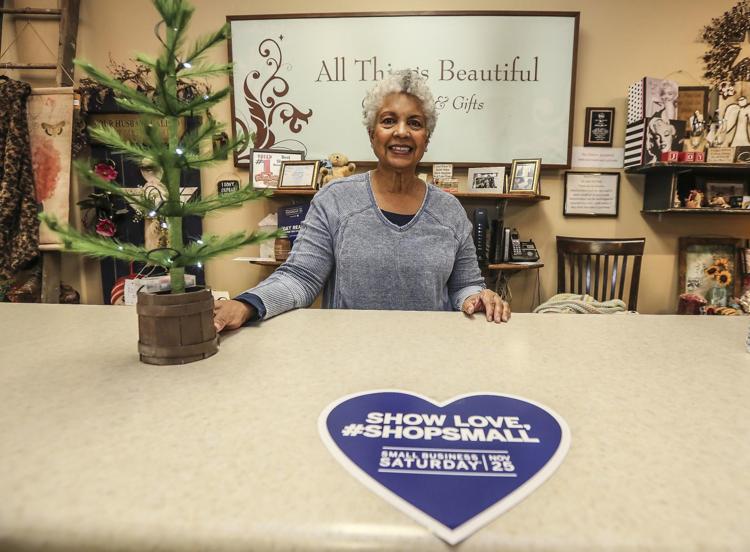 Just how big a difference consumers will notice depends on where they shop. In Illinois, whether a shopper is charged sales tax at online checkout has depended on whether the retailer had a large enough physical presence in the state to trigger collection requirements, such as maintaining a store, office or warehouse.
Not everyone is pleased. The ruling has angered some small online retailers and advocates for small companies because it will increase their expenses, mostly from the cost of software and services to help sellers collect the taxes and send the money to state authorities.
But Harrison, of Ashley Furniture HomeStore, is hopeful the changes will bring more customers back to shopping locally, where he contends they'll find a better experience overall.
"They don't take care about customer," he said. "The customer foots the bill if they have to return it."
Both Harrison and Jerry Jenson, owner of Jensen Home Furnishing in Taylorville, said they didn't understand why customers would shop online for a major purchase, like furniture, without being able to see and feel it.
Jensen isn't anticipating a boom in business as a result of the online sales tax, but he was still pleased with the ruling and what he hopes will be a boost to the economy.
"I'm not positive it will get us more business," he said. "But it will help the state, which it is long overdue."
Sheryol Threewit, owner of All Things Beautiful in downtown Decatur, said she focuses on selling one-of-a-kind items with a small stock in her specialty store.
Trying to compete with online retailers isn't her style, but she hopes the changes could entice more customers to stop in her gift shop and see what she has to offer.
"It will at least even the playing field," she said.
The Chicago Tribune, Associated Press, and Donnette Beckett and Ryan Voyles of the Herald & Review contributed to this story.