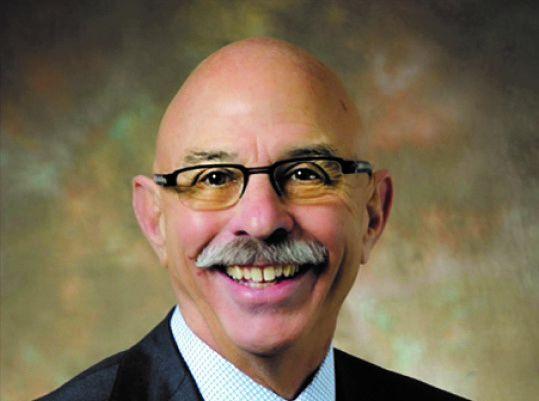 "My biggest hope in all of this is, regardless of who wins, that we stop being so concerned about being right or trying to convince others we're right, but can learn to listen to each other and understand where we're coming from," said Power, a Biden supporter. 
Laura Zimmerman, chairwoman of the Macon County Democratic Party, was cautiously optimistic that Biden will yet win enough votes to push the outcome of the presidential race beyond doubt. She brushed off legal challenges by the Trump campaign. 
"I think he'll have won in so many states that it won't be a problem," said Zimmerman.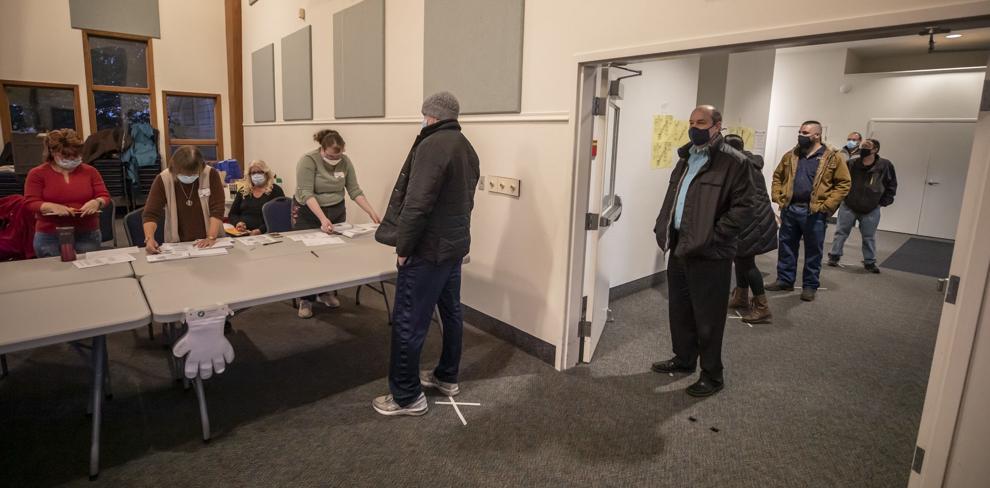 Still, she said, she can't help but be a bit nervous watching the legal maneuverings she said Trump has already locked into place. "No, I don't think he's got a credible claim," she added. "But that doesn't mean he won't try and he put those people on the Supreme Court for a reason. So, yes, it is a concern."
By Wednesday night, the campaign had lawsuits filed in Pennsylvania, Michigan and Georgia. 
Moweaqua resident Fran Lower woke up early Wednesday morning just as confused and frustrated as she was the night before. "It's been a long evening," she said. "I got up at 4:30 and went and walked in the park in the middle of the night, because I'm so anxious."
The election results are only part of her frustrations, she said. She supported one candidate throughout the campaign. "It matters if Joe Biden wins. That would be the best thing," she said. "But still 65 million people could vote for (Donald Trump). I wonder what I'm not seeing."
Zimmerman said she hopes the situation remains calm and political unrest doesn't spill over into violence. She said she also hoped cooler Republican political heads will prevail "and step in and stop that" if Trump is seen stirring up trouble that could deteriorate into physical confrontations.
'Such a big divide' 
A self-described "political junkie," Tim Spinner, of Decatur, had hoped for a decisive Trump victory, but was beginning to think the tide was turning in Biden's favor in a very close race.
"If I had to put money down as to whether or not (Trump) would win, I would probably say no at this point," Spinner said on Wednesday morning. "I think there are a number of avenues still available, but I also think that door is closing more and more as the hours go by."
Spinner said he expects challenges and possibly court cases before the outcome is settled.
Power said she is a novice and knows very little about politics. She said she just hopes the winner will try to unite the divided country and that people will try to set their differences aside.
"It seems to me like President Trump plays on the fears of others and incites hate and violence," Power said. "He seems to appeal to his base and I don't necessarily see him being interested in bringing our country together, I hope I'm wrong about that, but I feel much more hopeful for our future with Biden as president." 
---
---
The community's clear split between the presidential candidates has created negative reactions between family members and friends, which is frustrating and heartbreaking to Lower. "How is there such a big divide?" she said.
The important topics during the election year are understandable, including the economy. "I care about it too," Lower said. "But COVID was at the bottom of the list, and racial inequality. I feel hopeless right now."
If Biden is the winner, Spinner said, he will have a Democratic House to back his agenda, though Senate Republicans could prevent some things from going through.
"There's plenty of things that Joe has said during the election that make me concerned for the direction the country is going in, and individuals in the Democrat party – Bernie Sanders, Alexandria Ocasio-Cortez and Ilhan Omar – are beginning to gain a large share of power in the Democrat party, which is pushing them very far to left," Spinner said. "I don't think that's good for our country or any country."
The tax factor 
Then there was the ballot question about the graduated income tax. The proposal, a marquee item for the Pritzker administration, would have amended the Illinois Constitution, which requires that income be taxed at a flat rate. It's currently at 4.95% for individual payers. Pritzker campaigned on switching to a graduated rate, contending he could raise $3 billion extra a year while not imposing higher taxes on 97% of taxpayers.
But it failed to get enough votes. 
Power was in favor of it, with some reservations.
"In theory, I support those who have the most paying more," Power said. "I do understand there are implications for the state as far as pushing those people to move out of the state and what that does to the rest of us. I do think that those who have more can give a larger percentage because those at the bottom are struggling to make ends meet as it is, so I voted on that one somewhat hesitantly."
State Rep. Dan Caulkins, R-Decatur, said the tax referendum was defeated because people are sick of politicians wasting their tax dollars. He said they have seen promises before about how state finances would be helped by cannabis sales or schools boosted by income from the state lottery.
"None of that ever happened," he said, claiming the money gets syphoned off for other purposes and is not used to boost education or pay down the state's vast backlog of bills.
Lower voted against the tax amendment. "We have to balance our budget in our homes," she said. "I believe the state should too."
Spinner was against the amendment with no reservations.
"That was one bright spot in the evening (on Tuesday)," Spinner said. "It appears as though Illinois citizens, regardless of which party they tend to vote for, are still very leery about giving Springfield more money, regardless of who they claim will pay those additional taxes. Our state budget and pension funds are a complete mess at this time and while taxes may have to increase across the board in the near future, contractual obligations for pension levels will have to be renegotiated to lower levels or we will go bankrupt."
"It's always a shell game and people remember that, they are not stupid, our voters are not gullible; they understand, they pay attention," Caulkins said. "And they watch their own pocketbook while they see the State of Illinois squandering their tax money."
As for the in-flux state of the race for the presidency, Caulkins said Trump and Republicans are right to be fearful of the way elections are held in some states. He said there were many and credible reports of unfair practices and voter harassment.
"There are three co-equal branches of government and the judicial branch is in place to resolve disputes, legal disputes," Caulkins added.
"And so if the president and his team feel that there has been corruption and shenanigans or whatever to deliberately toss the election to the other side, they have every right to pursue that legal avenue."
---
Election 2020: Decatur-area political signs
Election 2020: Decatur-area political signs
Pritzker sign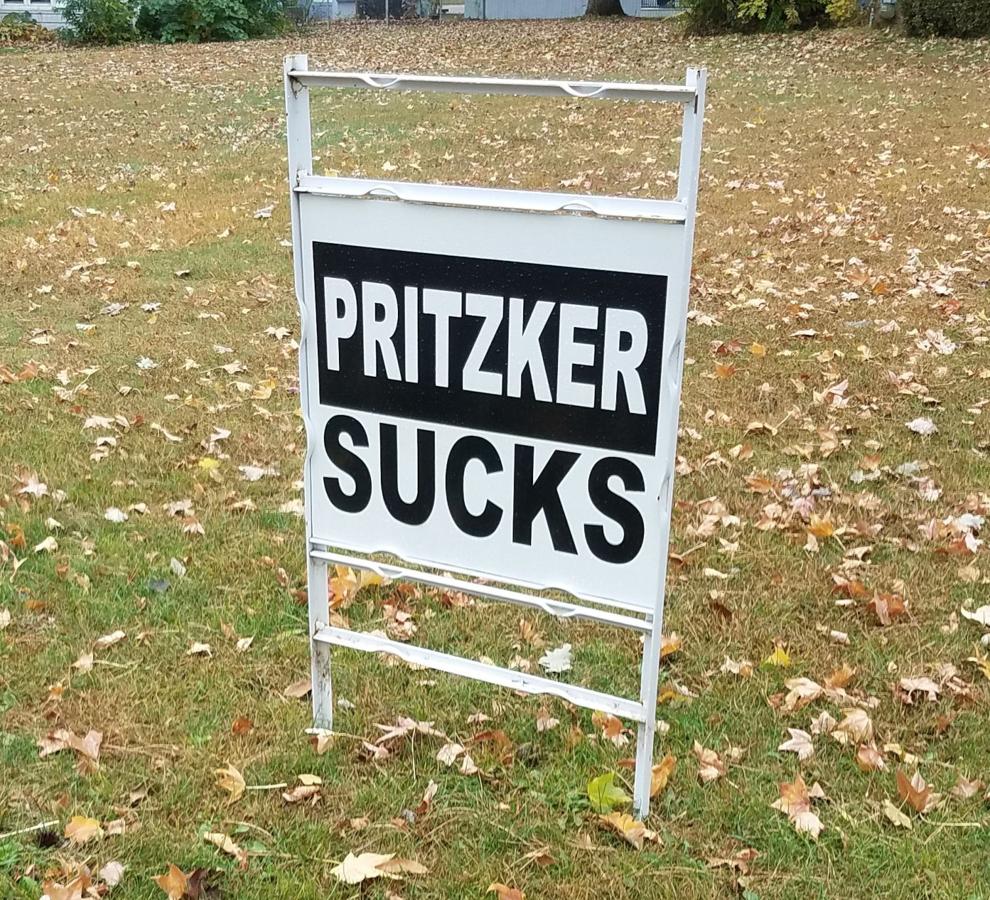 Betsy Dirksen Londrigan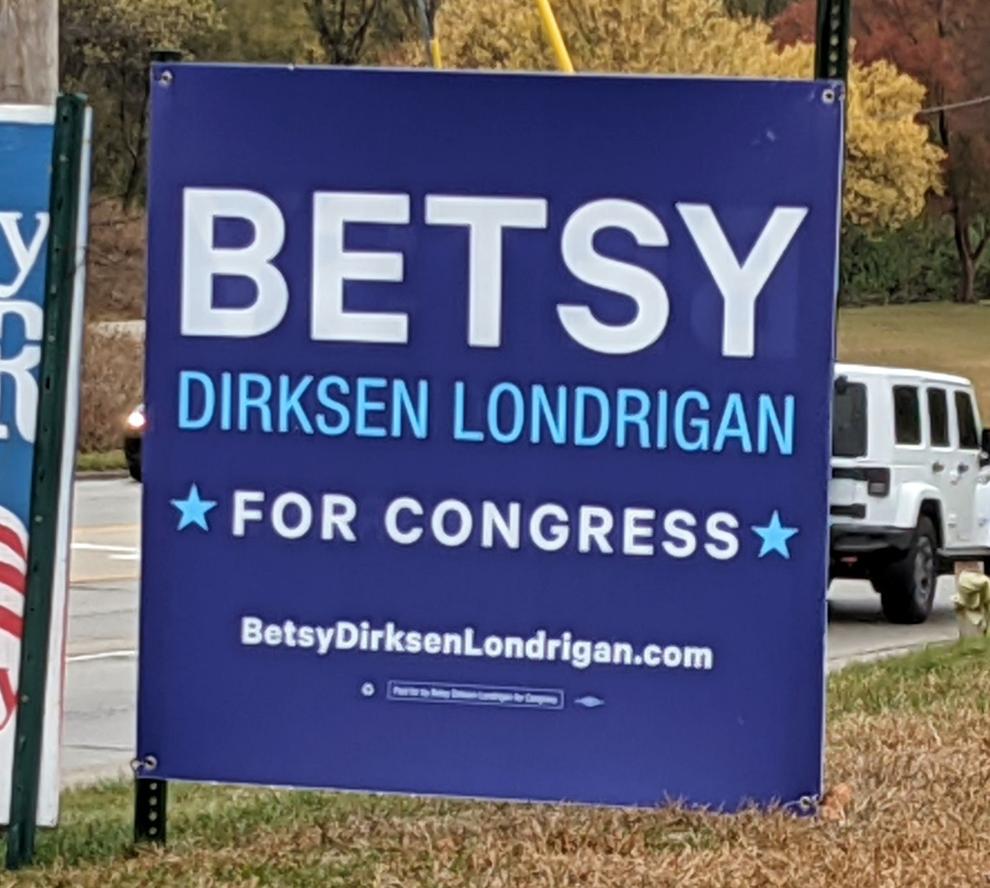 Charlie McGorray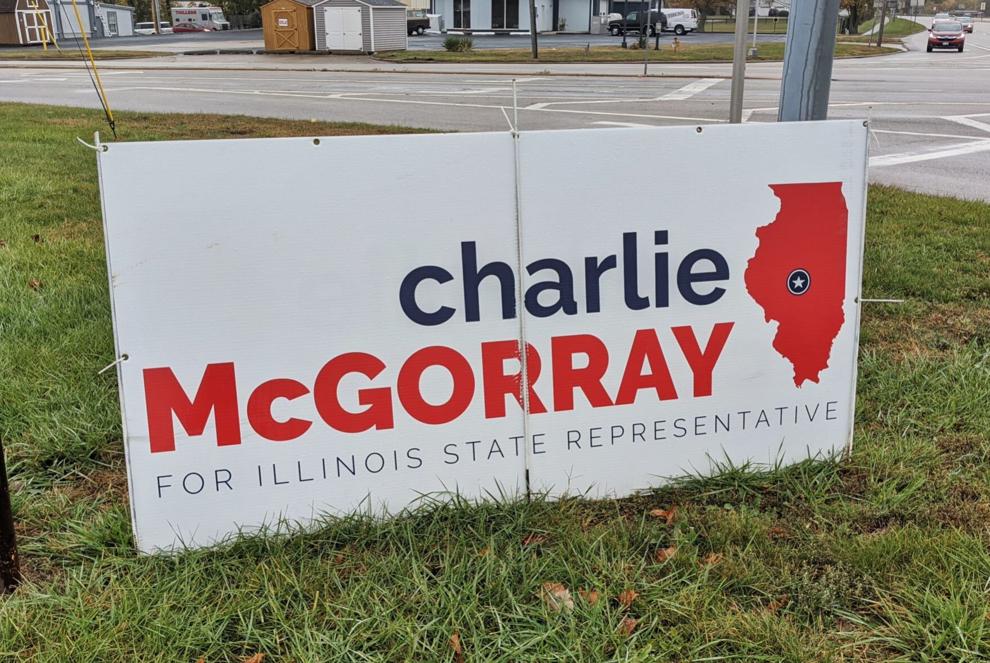 Tammy Wagoner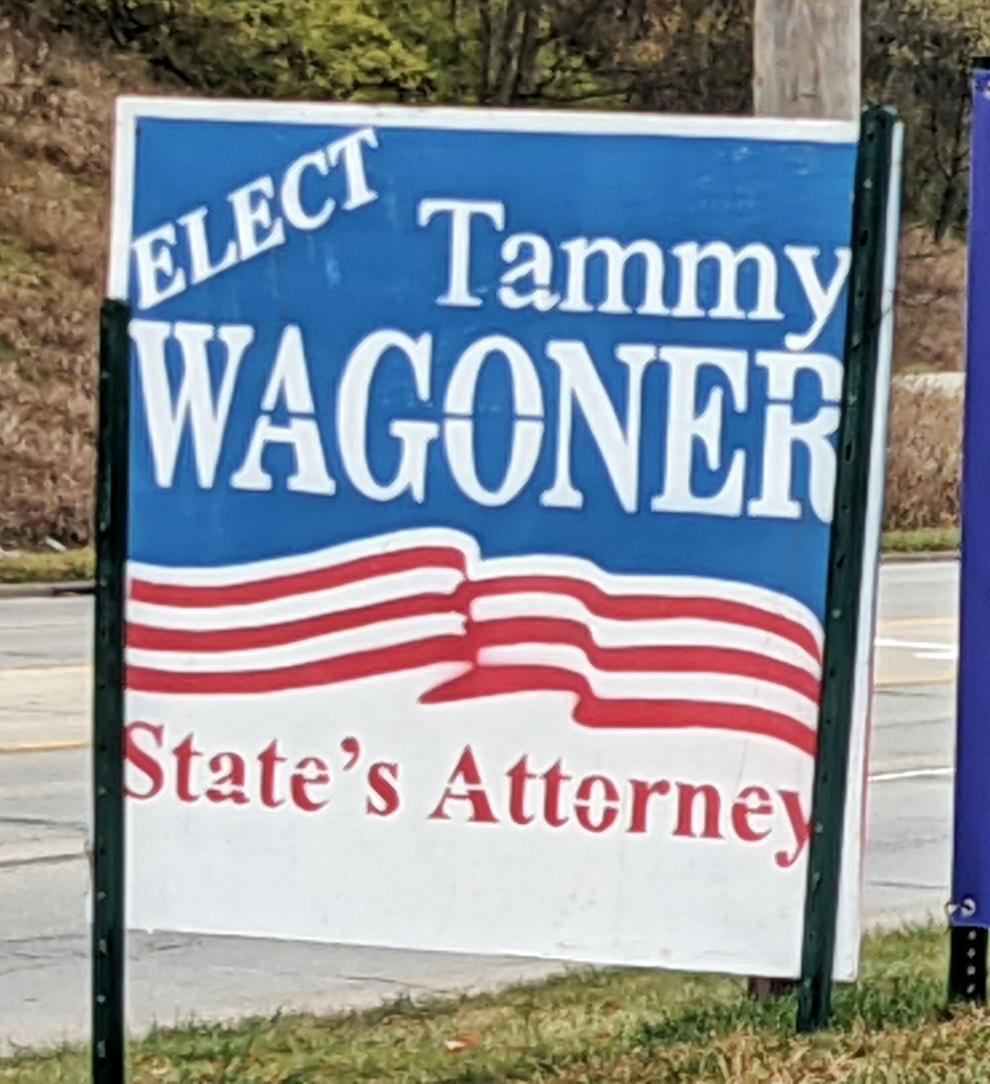 Trump 2020 - It is what it is
Sue Scherer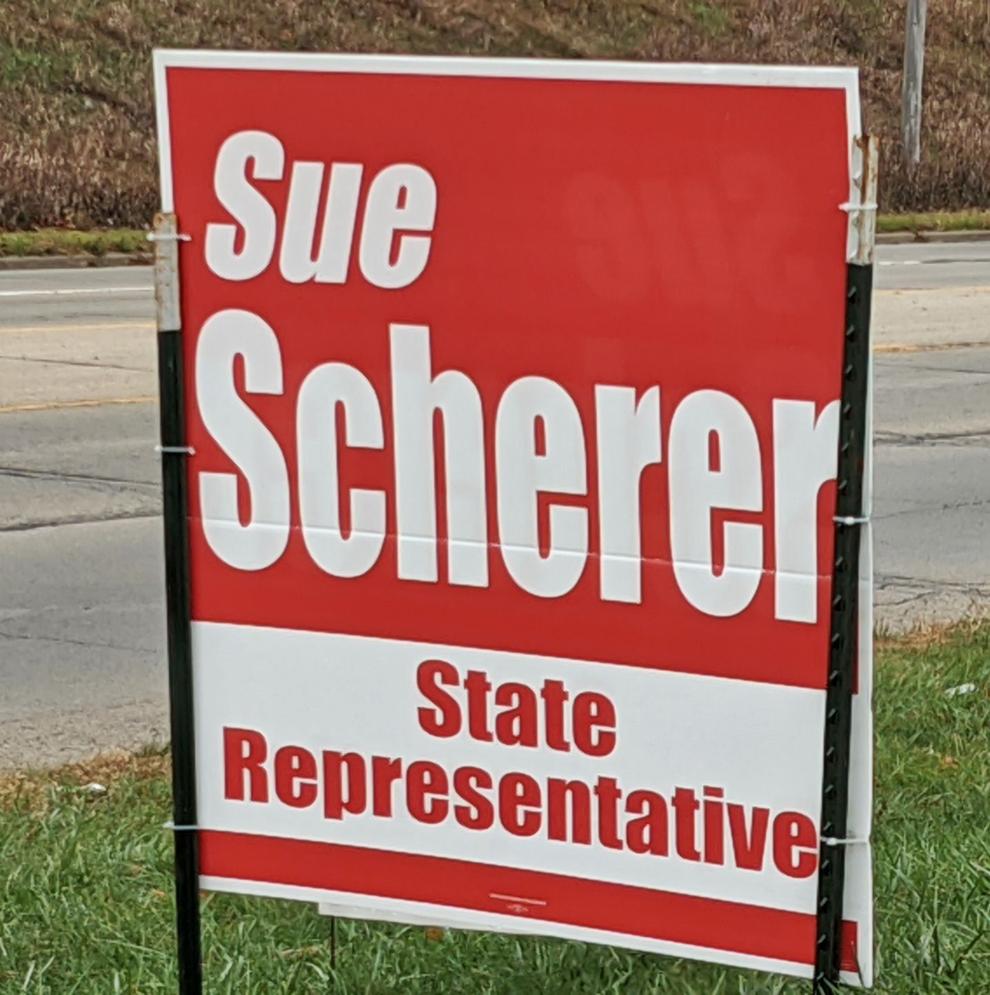 Trump 2020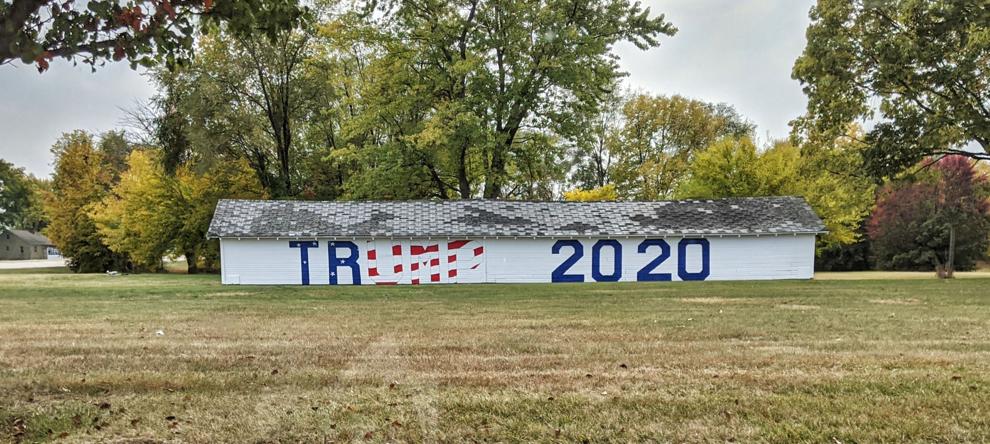 Any Functioning Adult 2020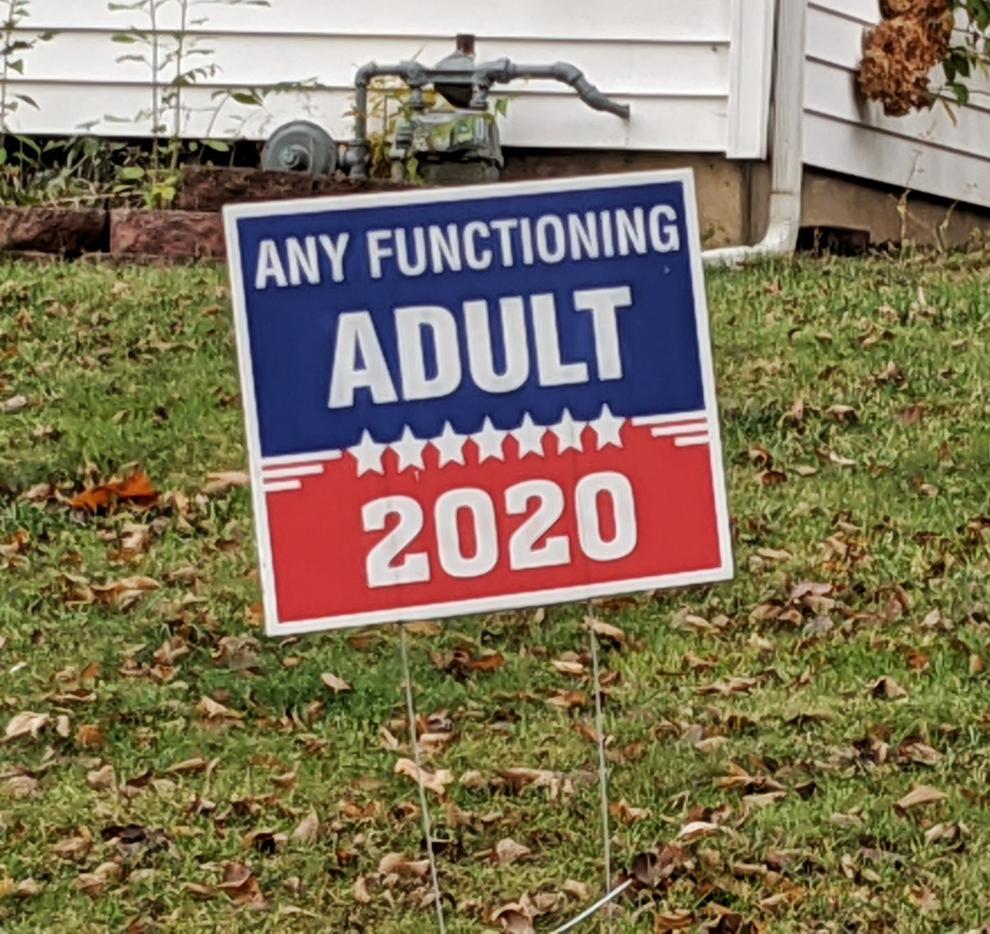 Jody Fronk, Vote No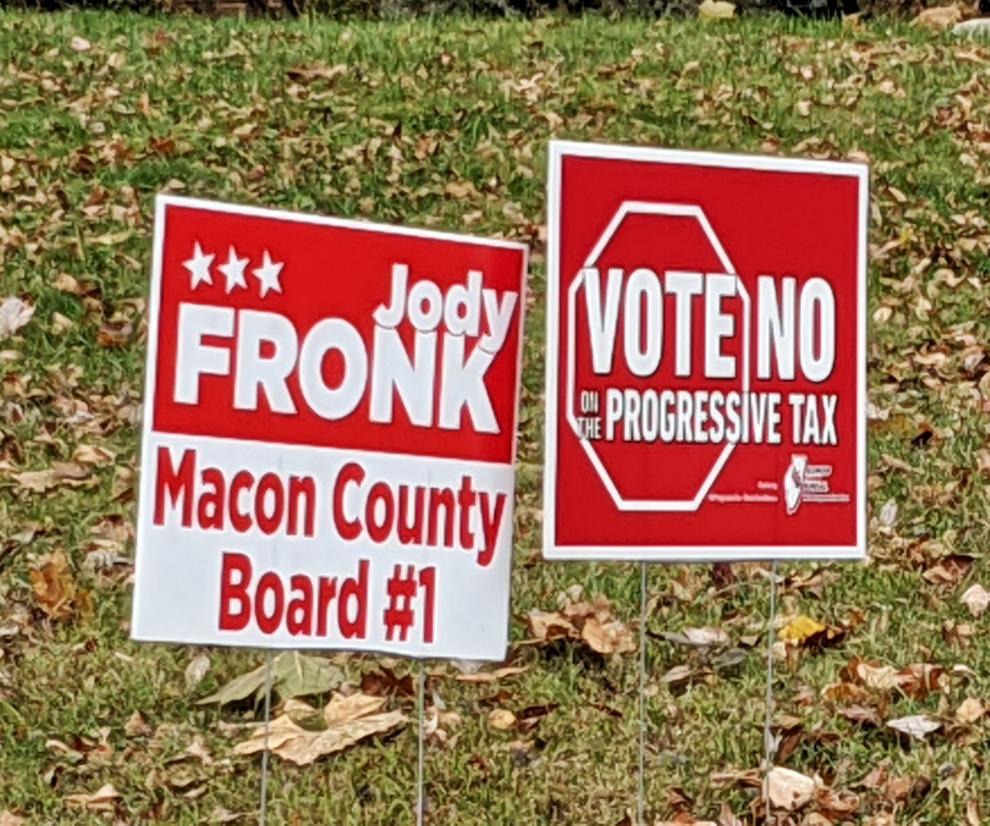 Nope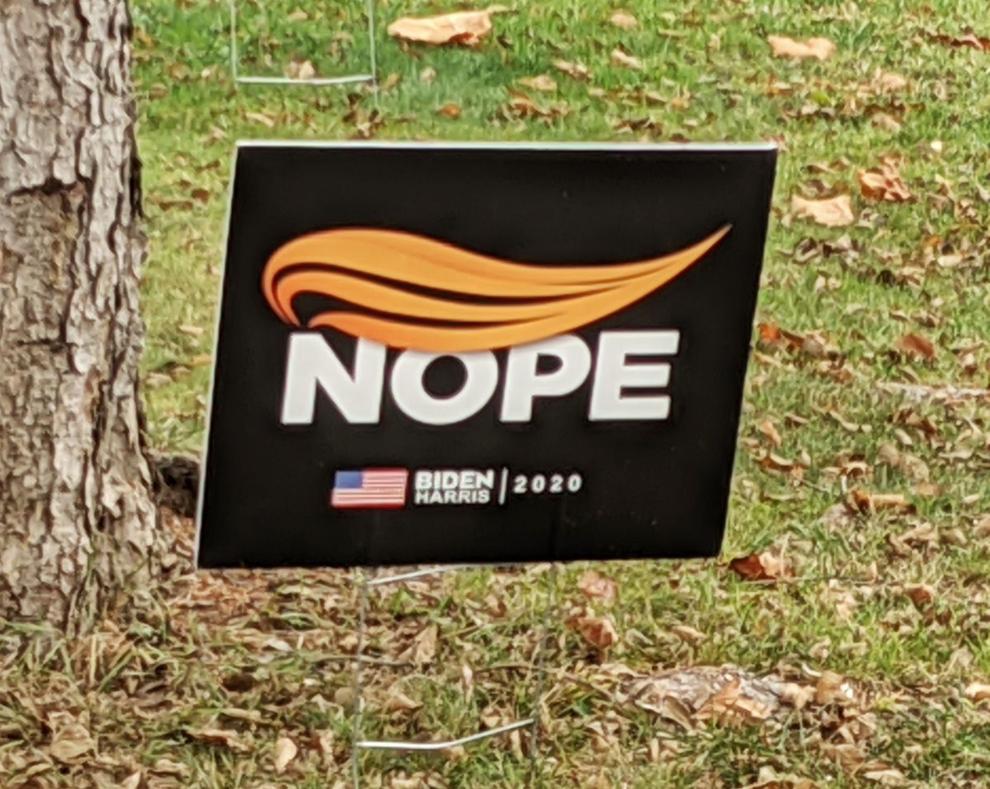 Scott Rueter, Pray For Our Nation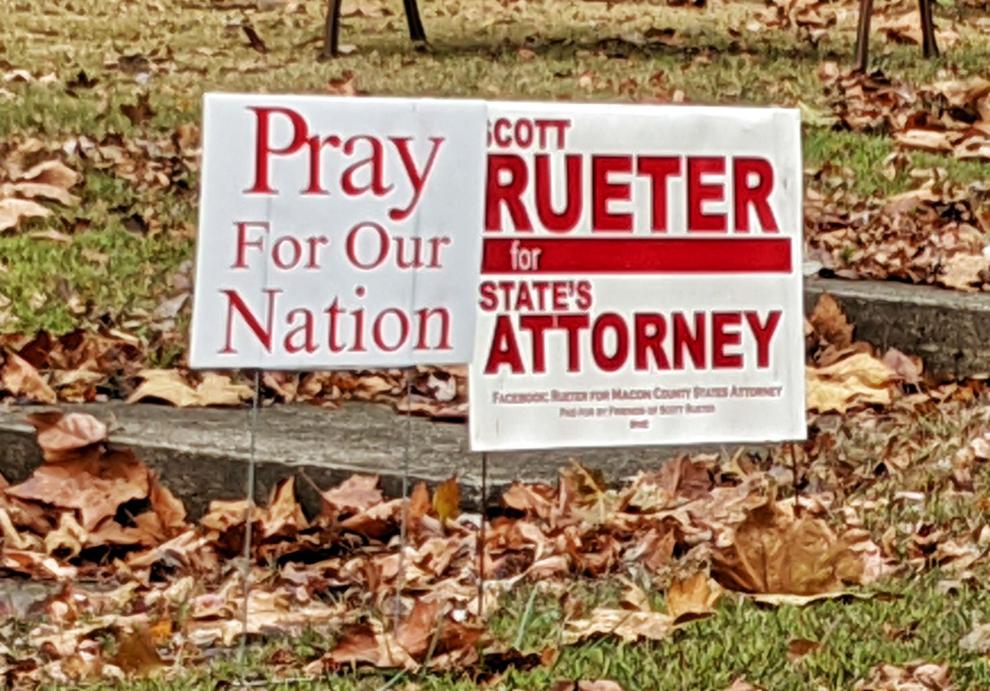 Jesus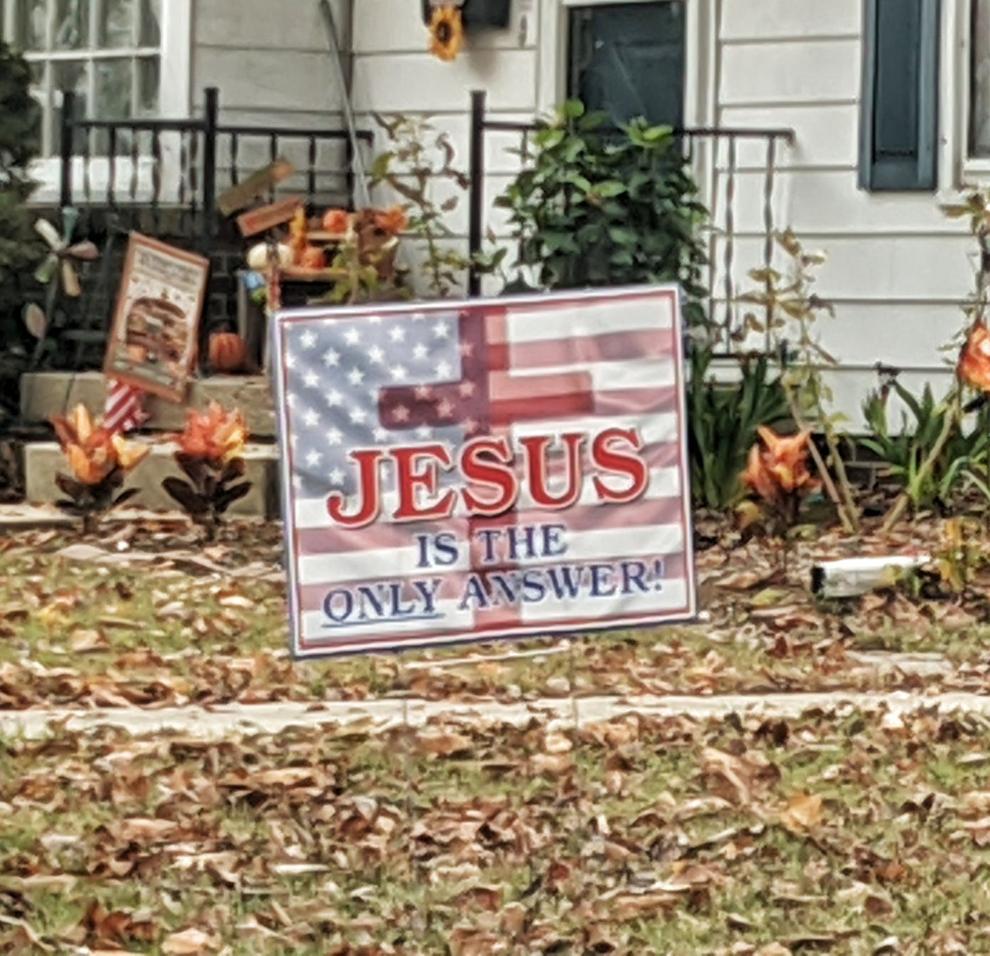 Submitted by Gail Clendenen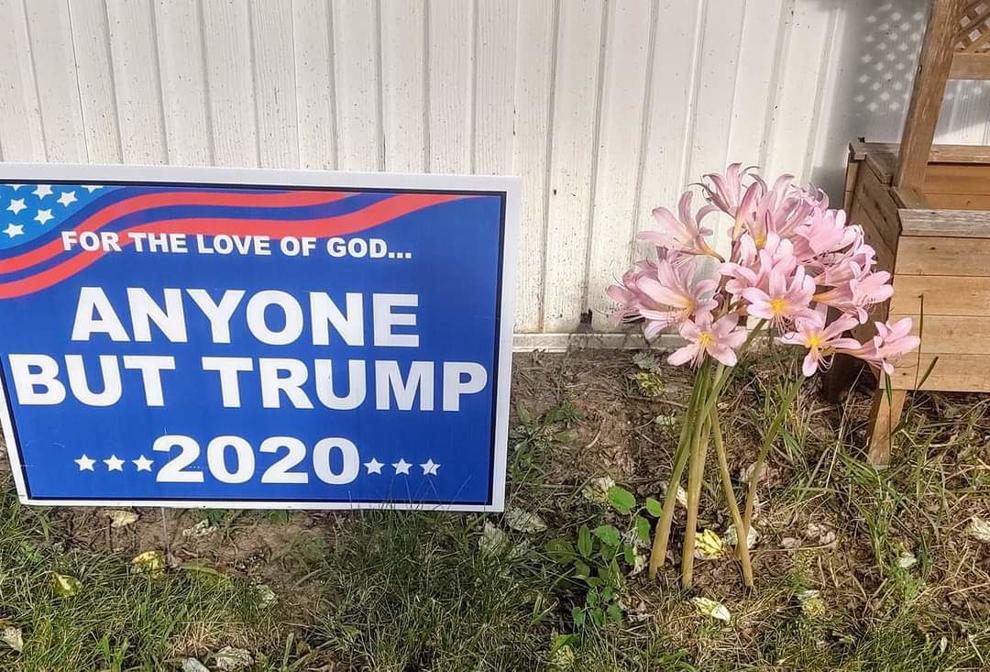 Submitted by Kylah Poland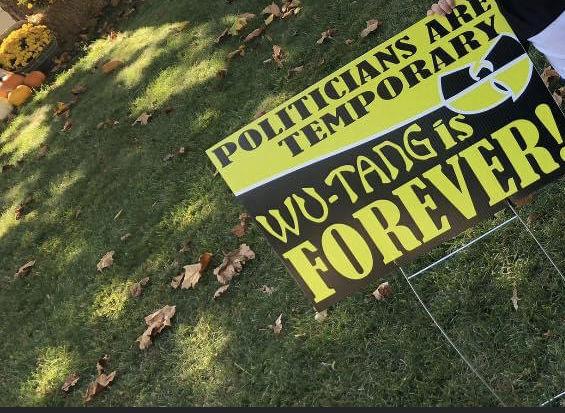 Submitted by Bryan Smith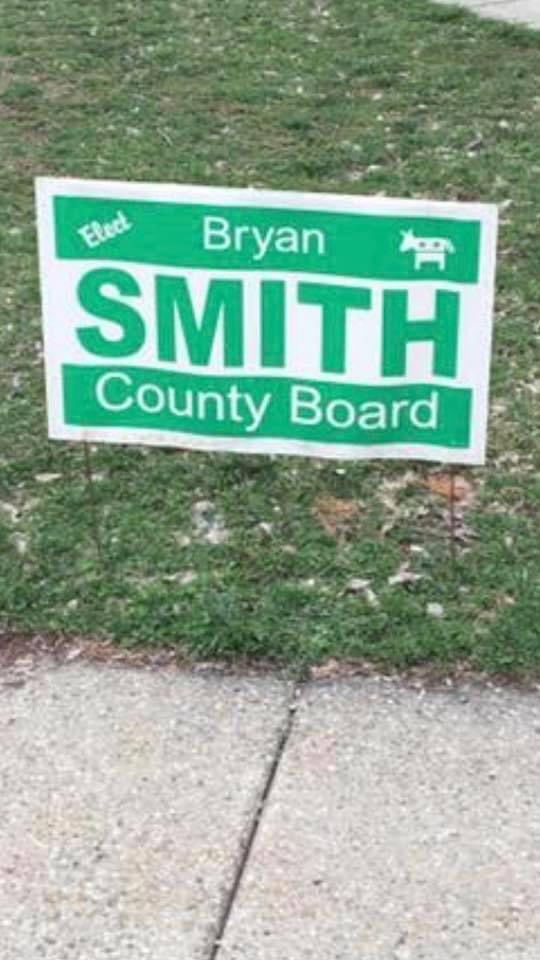 Trump lies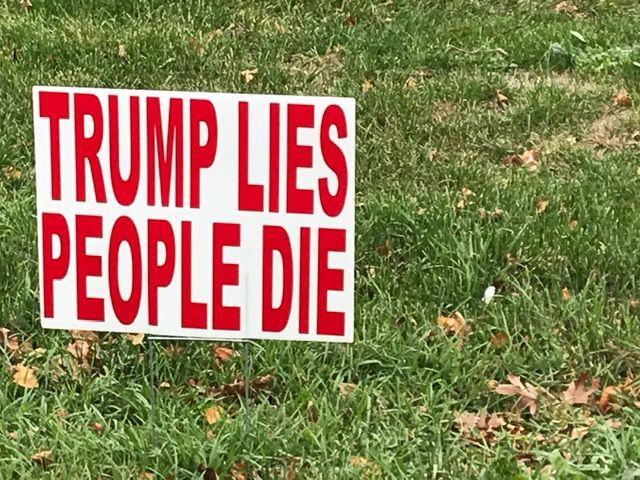 Thank you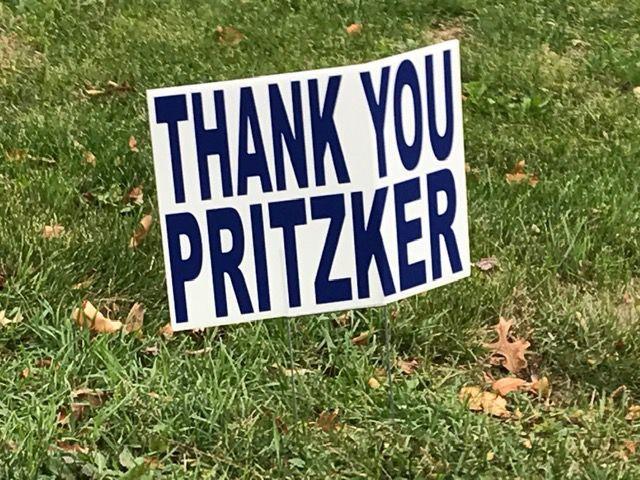 Contact Donnette Beckett at (217) 421-6983. Follow her on Twitter: @donnettebHR