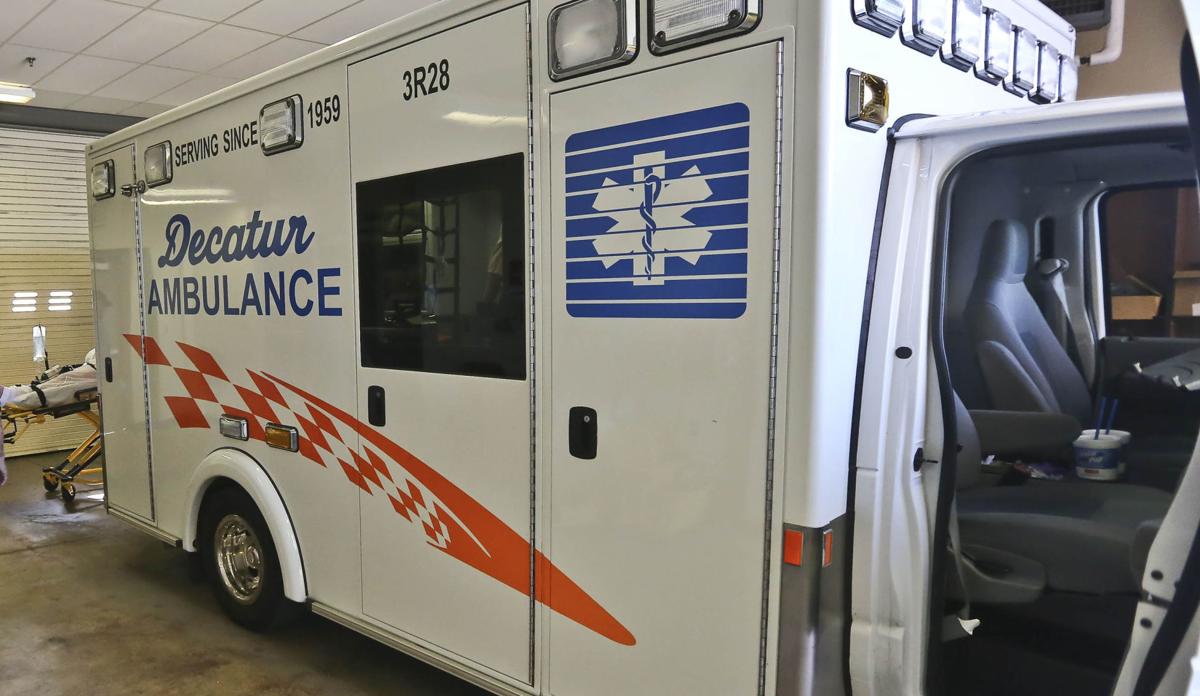 DECATUR — HSHS St. Mary's Hospital on Thursday said competitor Decatur Memorial Hospital used misleading information at a public hearing to advocate for a second ambulance service in Decatur.
The comments from St. Mary's officials came after the hospital and Decatur Ambulance Service filed a request for the city council to review a public hearing officer's August findings that Champaign-based Carle Arrow Ambulance should be able to get an ambulance license. Hospital Sisters Health System, the parent company of St. Mary's, acquired Decatur Ambulance Service in a deal announced in June.
E.J. Kuiper, the area's division president of and interim CEO of St. Mary's Hospital, said the statistics DMH officials provided to the city on the response times of Decatur Ambulance Service to their hospital included non-emergency calls, such as transports to other facilities after a patient is stabilized — a service not part of the city's license.
"The data they represented was flawed," he said. "I'm concerned, quite frankly, that Tim Stone or DMH feels the need to partner with (Arrow) and fragment the system (in Decatur)," he said, referring to DMH's president and CEO.
The public hearing officer's findings, made public Aug. 27, cited a 12 percent to 13 percent increase in demand for services. Statistics provided by St. Mary's say Decatur Ambulance Service saw a 3 percent increase in calls over the past year with an average response of 5 minutes, 19 seconds.
St. Mary's in a press release issued Thursday morning said: "In the August 16 public hearing on issuing this additional ambulance license, HSHS was blindsided by the erroneous information presented by Arrow and Decatur Memorial Hospital (DMH) about their issues with the quality of DAS' emergency response efforts."
DMH spokeswoman Anne Davis in an email Thursday said that the hospital supports Arrow Ambulance in its application for an ambulance license and "believes that a public need exists for these additional services. DMH looks forward to attending the public hearing on this matter, at which time any questions or concerns by any party can be addressed."
Asked about the data questions raised by St. Mary's, Davis later Thursday said hospital officials had no additional comment beyond the emailed statement. 
In an emailed statement from public relations coordinator Laura Mabry, Arrow said, it looked forward to "working through questions and concerns related to the appeal ..."
The decision of whether to approve the license for Arrow now falls on the city council.
You have free articles remaining.
"We will make a decision when it finally comes to the council," Councilman Pat McDaniel said.
Kuiper said that before HSHS acquired Decatur Ambulance Service in June, the service never heard any complaints from DMH or the city in regard to its service and response times.
"I believe that our colleagues across town at DMH perhaps feel that somehow we have a covert agenda" in buying Decatur Ambulance, Kuiper said. "We do not, it's to take care of our patients, and this is not going to be any different than before."
For decades, Decatur Ambulance Service has been the only ambulance operator licensed by the city. The fleet has six vehicles in operation 24 hours a day, St. Mary's officials said.
At its Aug. 20 meeting, the city council unanimously approved sweeping changes to rules for ambulance service operators in Decatur. Mayor Julie Moore Wolfe, who previously was director of community and government relations at DMH and took a similar job at St. Mary's this summer, abstained.
Under the new rules, ambulance calls in Decatur would be overseen by the city's fire department and folded into the department's emergency incident command system.
Ken Johnson, a chief physician executive at St. Mary's, said hospital systems with ambulance services can't direct patients to their own facilities.
"It's up to the patient where to go, and we will honor that," he said. "And if the patient has no preference, then they're taken to the closest facility."
DMH does receive more emergency patients with serious traumatic injury, since the hospital is a designated Level 2 trauma center, Johnson said.
City officials have not yet announced a date for when the city council will make the final review of Arrow's license application.
Jaylyn Cook, of the Herald & Review, contributed to this report. 
This story has been corrected. Ken Johnson is a chief physician executive at HSHS St. Mary's Hospital.
Contact Tom Lisi at (217) 421-6949. Follow him on Twitter: @tommylisi