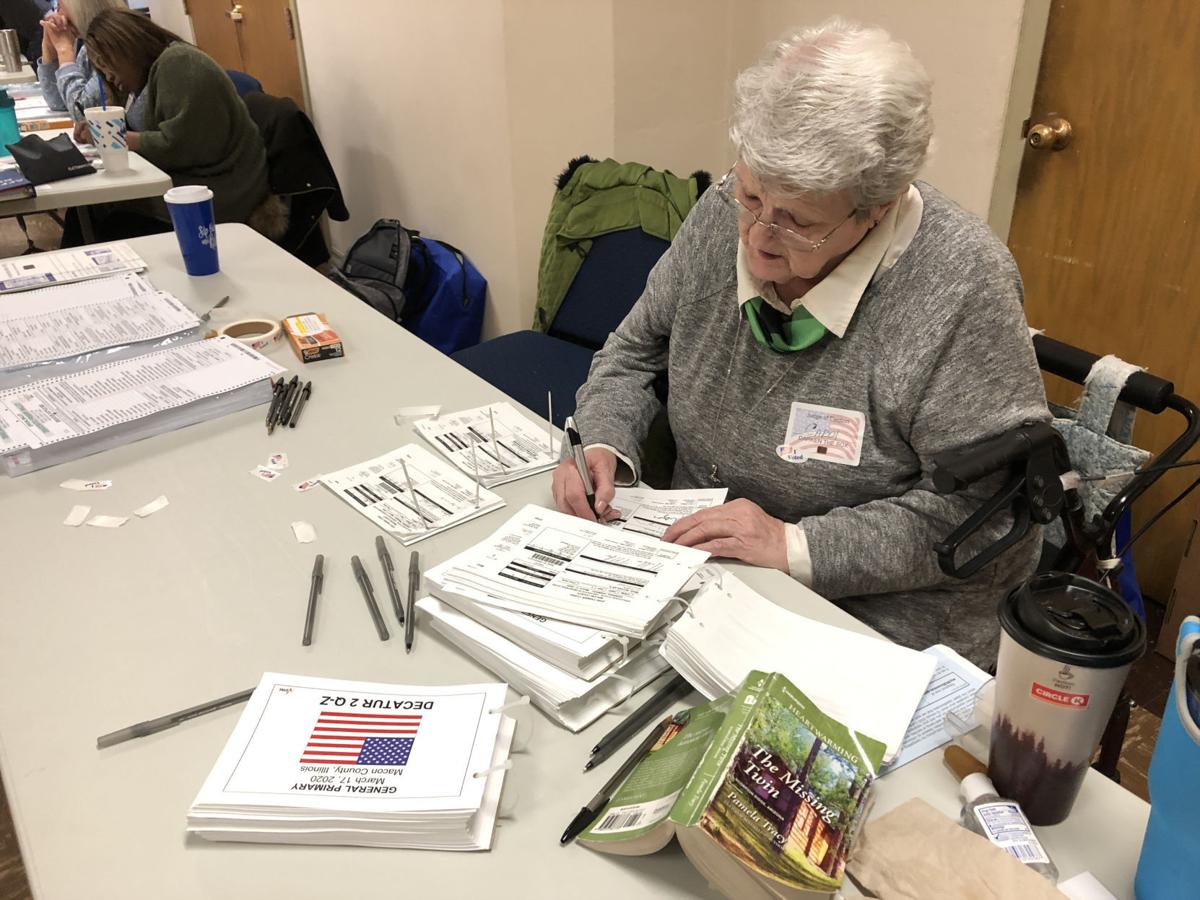 SPRINGFIELD — Election authorities across the state are closely monitoring COVID-19 levels to gauge the possible impact on staffing for Election Day. 
The coronavirus caused some election judges to pass up coming in for the March primary. 
Yet given the unpredictability of the virus and recent indications that efforts to slow its spread in Illinois may be stalling, officials aren't taking anything for granted.
Shelby County has 155 judges of the 165 needed across its 33 precincts, Clerk Jessica Fox said. Officials are aiming to have five judges per precinct, but some only have three, she said.
"We're sitting pretty good with one particular party," Fox said. "We're just a little short in another."
Fox said she's spoken to several people to try to spread the word that county and party officials are looking for more election judges. She worries that the judges currently signed up might drop out the closer it gets to Election Day.
"If we can't find judges to work in those precincts … the election judges that are working will have to ask people in line if they want to serve," Fox said.
Macon County Clerk Josh Tanner said there was some concern going into the summer. After having the usual trouble filling spots for the March primary election made even more difficult with coronavirus concerns, calls started coming from people saying they were "just not interested in working any more," Tanner said.
The tide has since turned, with numerous emails coming in through the website workelections.com from people interested in working the polls.
"So at this point, we will have all our polling place open on Election Day," he said, with "quite a few new election workers."
DeWitt County Clerk Dana Smith said they have 125 election judges, but are always looking for additional staff. Election officials in Coles, Cumberland and Moultrie counties shared the same sentiment.
Election judges sign in voters, distribute ballots, answer questions and transmit results once the polls close. State law requires each polling location to have judges from both of the major political parties. The judges are separate from poll watchers, who are recruited by political parties, civic organizations, and groups for and against ballot measures.
One challenge in recruiting election judges amid a pandemic is that the people who traditionally work on Election Day tend to be older adults, including retirees — precisely the people who are among the highest risk groups for COVID-19.
There's some indication that a younger generation is becoming interested in assisting voters at the polls on Election Day, due at least in part to a temporary state law in effect just for the Nov. 3 election that allows people as young as 16 to sign up.
The law, signed by Gov. J.B. Pritzker in June and passed in response to the pandemic, also makes Election Day a government and school holiday statewide, freeing up high school students, teachers and other public employees to be election judges.
In Chicago, more than a quarter of this year's poll workers are between the ages of 16 and 24, the largest percentage for any age group. Fewer than 20% of city election judges were in the youngest group in 2016. Conversely, a quarter of judges in the last presidential election were in the 55-64 age group. That's down to about 16% this year.
In southern Illinois, Washington County election officials hope to increase election judge pay or recruit younger people in schools because of a slight shortage.
The county has 96 election judges of the 100 it needs, Washington County Clerk Nancy Heseman said.
"I think COVID's having an impact," Heseman said. "Just a lot of fear -- they've called and said we just don't feel comfortable with the situation right now."
Washington County is part of a seven-county region near St. Louis that has been under tighter coronavirus-related restrictions than the rest of the state since August. Public health officials lifted those restrictions at 5 p.m. Friday because the region's positivity rate on coronavirus tests has sufficiently lessened.
Heseman said county election officials want to raise pay for election judges to help with recruitment, but the county board has to approve a hike.
"It's been very busy and crazy, but we're doing the best we can," Heseman said.
While each election jurisdiction is responsible for recruiting its own judges, the State Board of Elections has partnered with Facebook to help election authorities find the workers they need.
The social media giant gave the board $130,000 in ad credit specifically to help recruit election judges, State Board of Elections spokesman Matt Dietrich said.
The ads went live at the end of September and beginning next week will be targeted toward areas that are still reporting a shortage of judges, Dietrich said.
The Chicago Tribune contributed to this report. 
---
---
 31 photos from the Herald & Review archives
31 photos from the Herald & Review archives
Get Election 2020 & Politics updates in your inbox!
Keep up on the latest in national and local politics as Election 2020 comes into focus.