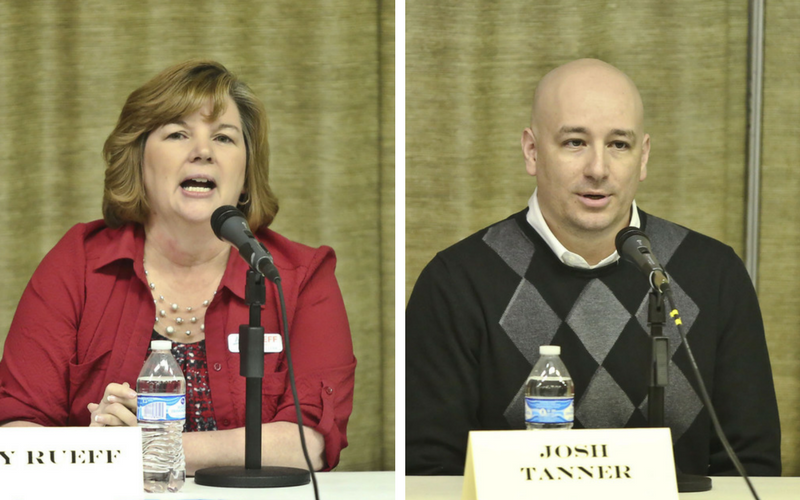 DECATUR — The role of county clerk — overseeing elections, maintaining public records and computing some tax rates — has generally been thought of as largely administrative.
But both candidates agree the stakes of the position are higher after the 2016 general election, when state officials found that Russian hackers had breached the Illinois State Board of Elections voter database.
"Voters need to know their vote is safe, and the county clerk is protecting that vote that they do give us," said Amy Rueff, resource director for the Illinois AFL-CIO and the Democratic candidate for Macon County clerk.
The Nov. 6 election will decide whether Rueff or Republican candidate Josh Tanner will take over from Steve Bean, who is stepping down from the position after 28 years.
"All the way down from the Department of Homeland Security to the state, the government is devoting more resources to to this, so the county is taking election security very seriously," said Tanner, the county's supervisor of assessments, about the hacking in summer 2016. 
State election officials have reported that hackers stole the private information of about 76,000 Illinois voters two years ago.
According to Tanner, his years working for the county, often with the clerk's office, and with the Illinois Department of Revenue give him more experience for the job than Rueff.
"The difference is I'm ready to start Day 1," he said. Based on the number of petitions people have taken out to run for city council and mayor in Decatur, Tanner said, the clerk could have to oversee a local primary election within weeks of taking office in January.
You have free articles remaining.
But Rueff says her administrative experience and election work with the Illinois AFL-CIO have made her familiar with every voter precinct in the county. "I think the big difference between the two of us that I am very community-oriented, and I'm a big believer in education and community outreach," she said.
Rueff would like to create more programs to initiate young people to voting and the election process, "help high schools do mock elections, so when they become 18 they're not afraid of the process," she said.
On the idea of voter outreach, Tanner said he didn't think that was really part of the county clerk's job. "Increasing voter turnout, that's something that the parties should be doing, and citizens at large have to decide to come out and vote," he said. "The job is ensuring a fair and open election, and those that come out to vote are able to vote."
It's unclear whether a primary election for the city of Decatur will be take place, but so far at least 17 Decatur residents have taken out forms from the city clerk's office to collect petitions for running for city council or mayor.
To force a primary for mayor, at least five candidates must file petitions to appear on the ballot; for city council, there must be at least 13 candidates. Decatur's municipal elections are nonpartisan.
"I think I'll be ready for it," Tanner said if a city primary is needed. "But these are actual jobs, the county clerk doesn't just come in and manage people, he comes in and works every day."
Rueff said she would be ready for a primary race as well.
"Absolutely, I will be ready," she said. "The staff that works in the county clerk's office is highly experienced, and I've been told that they're ready to go at any moment, so I'm sure I could step right in and get through it, no problem at all."
Contact Tom Lisi at (217) 421-6949. Follow him on Twitter: @tommylisi