DECATUR — State cuts to probation funding could lead to an even greater workload for officers who supervise sex offenders and other criminals, and fewer services to help prevent them from committing other offenses.
In Macon County, the 31 staff members juggle more than 2,000 juvenile and adult cases, interview offenders and write reports for the court. Their job is to oversee people placed on probation by judges and ensure that the conditions of their release — such as substance abuse treatment, community service, restitution to victims and sex offender registration — are being met.
The cuts for Macon County amount to $257,989, nearly a quarter of the probation department's budget, said Pat Berter, director of probation services. Either the already-strained county government will provide an additional $150,000 to its funding or three department employees will lose their jobs.
"I know the county's situation," Berter said. "It makes me sick to my stomach."
County board members will hear from the probation department at a special Finance Committee meeting today. Wednesday The full board will make a final decision on its roughly $72 million budget by November.
Law enforcement works closely with the department to investigate any suspected criminal activity by people on probation. It's a partnership that Decatur police Chief James Getz and Macon County Sheriff's Office Lt. Tony Brown said helps keep the community safe.
"It is a very good tool to have," Getz said. "I hope that the funding does not affect that."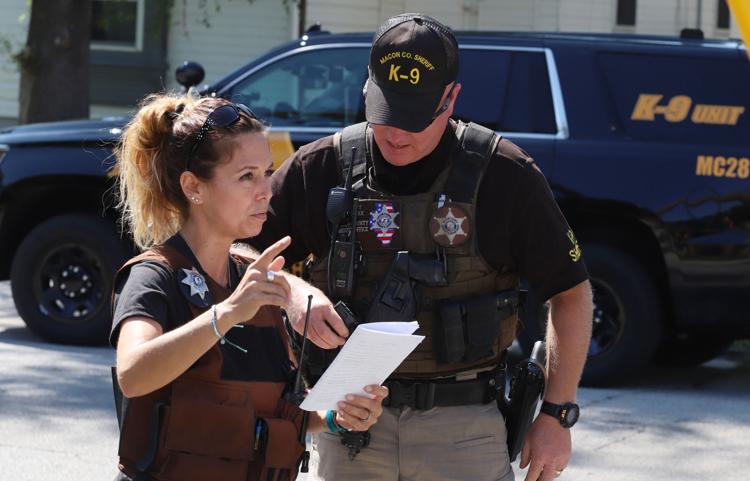 Brown said probation alleviates overcrowding at the Macon County Jail as well as food and housing costs. Conditional release helps people who "don't need to be incarcerated but need to be held accountable, and the probation department holds these people accountable," he said.
The services help keep families together, while lowering the risk that a client will commit another crime, he said.
"I don't think the community realizes the importance of the probation department," he said.
State funding falls short
DECATUR — People in Macon County who are required to complete community service hours as part of a court sentence have a choice between giving…
Probation services are part of the Administrative Office of the Illinois Courts, which is required to reimburse the county for the officers' salaries. Last year, the courts were only able to pay back counties for 81.5 percent of the salaries, Chief Justice Lloyd Karmeier told lawmakers in April.
That's because the judicial branch was funded at a flat $344.8 million for the past four years, he said, while the expense of judicial salaries and other court services continued to rise. While Karmeier asked lawmakers to increase the amount to $410.6 million, the budget for this fiscal year sets the funding at $344.8 million — a flat rate for the fifth year.
"This is a true detriment to the safety and wellbeing of Illinois taxpayers," Karmeier said. "Shorting probation resources is also wasteful, as probation is, by far, the corrections model that provides the most 'bang for the buck.'"
Karmeier said it costs taxpayers about $24,000 a year to house someone in state prison, but only about $1,100 for the same person to be supervised by a probation officer.
Across the state, probation departments are funded in three categories: grants and aid, pretrial and salary subsidy. The grant positions were funded at 69 percent, the pretrial at 58 percent and the salary subsidy is capped at $12,000, while the county picks up the rest.
For some clients on supervision, the probation department requires a $25 monthly fee.
The formula does not take into account the type and volume of services each department offers when distributing the money, Berter said.
"What needs to be changed is this funding formula," he said. "It is not consistent, it is not fair and it is not evidence-based."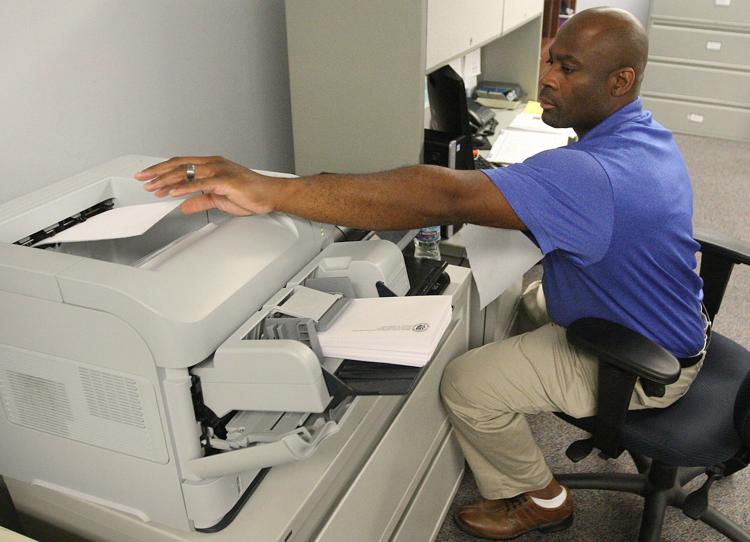 Probation officer Yvonne Glover said she has seen a major expansion in the department's role during her 20 years in the job. Politicians just don't understand the importance of these services to the criminal justice system, said Glover, chairperson of the union that represents the probation offices.
Part of the union's role moving forward will be to educate lawmakers and the public about services they provide, she said.
"We are not trying to be selfish. We know it is not only us," Glover said. "It is something that needs to be changed on a state level."
Berter kept three positions vacant this year in the hope of avoiding layoffs if there were state or county funding cuts. He thought he would be able to eliminate the empty spots. Instead, the state cut $160,000 from the budget because the positions were not filled.
"To be honest with you, I don't think the state cares; they don't care if you are cutting," he said.
The Administrative Office of Illinois Courts said in a statement "As you may know, the Judicial Branch has received flat funding from the Legislature for the past five fiscal years. For the current fiscal year, this has resulted in a 15 percent cut to probation reimbursements for reimbursable filled positions that were in place at the time of the allocation."
While most Macon County departments were asked to freeze their budgets this year, Chairman Jay Dunn suggested Berter request an additional $150,000 from the county to prevent layoffs. Dunn praised the steps that Berter has already taken to keep his expenses in line.
"Since he was already laying off people to make his budget, I didn't agree he would have to lay off three more because of the state's actions," Dunn said.
Already stretched thin
While the state continues to provide the probation department with less money, it has also required more work. Lawmakers began to require in 2010 that the chief judge of each judicial circuit develop a drug court for people with nonviolent offenses whose crimes are related to drug or alcohol abuse. Probation officers supervise participants, who must comply with substance abuse treatment, have weekly reviews on sobriety and pass random drug tests.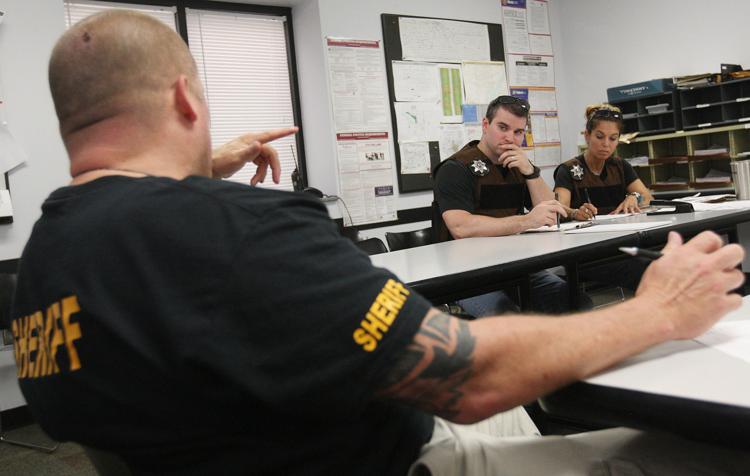 In Macon County, the program is called Hybrid Court because it deals with drugs and driving-under-the-influence charges. Because the county had no way to pay for the court, Sheriff Howard G. Buffett has agreed to pay for the court through 2019 through his private foundation, Berter said. Buffett, son of billionaire investor Warren Buffett, is a Decatur philanthropist who has given millions to local organizations and agencies in recent years.
"We are very fortunate to have support from the Buffett Foundation," Berter said. "If the state would give us the funding we need, I wouldn't have to rely on that; I wouldn't have to ask him for that."
The Hybrid Court graduated its 10th class in May. Probation officer Brian Cope is looking forward to the next graduation in November, even though it could be one of his last tasks for the department. His job is among those that would be eliminated if the county does not provide additional funding for the department.
Cope works with participants in the hybrid court program to help those with substance abuse problems get their lives back on track. The primary focus is to fix the base cause of their crimes, the substance abuse, to rehabilitate the person, Cope said.
"Some days we are probation officers, other days we are a counselor, other days we are a shoulder to cry on," he said. "We are all human in this, and we are here to help them."
The staff underwent deep cuts in 2002 following the closure of the Decatur juvenile detention center and has continued to shrink, Berter said. When he took over as director in 2014 after 19 years at the department, he made a five-year plan. He wanted to reduce the number of positions through retirement and attrition rather than layoffs.
"The idea was that I have a seat for everyone who wanted to be here," he said.
This plan took some restructuring. Officers are already stretched thin, juggling multiple jobs and responsibilities, Berter said.
"We look at the puzzle pieces, and we move them around," he said. "It gets harder to figure it out."
For example, probation officer Michael Warnick oversees probation for adult and juvenile sexual offenders. In the past, there was an officer directly assigned to oversee juvenile sex offenders. This means it is Warnick's job to keep track of his 85 cases.
Each Halloween, Warnick must go into the community to ensure no registered sex offenders have their front porch light on during trick-or-treating hours for children. Now, he needs the help of another officer to get this work completed in the two-hour time span.
Part of the sexual offender probation requires the clients to stay off the internet except for purposes of school or work and to stay away from pornography and sexual suggestive material, Warnick said.
"I've knocked on doors at midnight, and I've knocked on doors at 6 a.m. to make sure sex offenders are complying with the law," he said.
Two of the three support services positions would be eliminated by the budget cuts. These employees complete paperwork, track court cases and arrests, and provide reports to the state's attorney's office, public defenders, probation officers and courts. Officers would have to take on some of those duties in addition to their own.
A probation officer is not someone who just sits across the table and sees a client, Berter said. They face people in crises nearly every day.
Support services staff Janie Young and Connie Bublitz said they see this firsthand. One officer gave his personal shoes to a client who did not have any. Employees often bring clothes from their own closets for homeless clients.
"We see a lot of good from the officers," Bublitz said. And after cuts, "they won't be able to do their specialty, which is dealing with people."
Field Officers Teena Berter and Lil Mantay supervise adult and juvenile clients respectively. They meet with people at the office and check up on them in the community to make sure they are following the terms of their release.
The officers in the field and the staff at the probation see the impact they make on people's lives. They also understand what funding cuts could cause.
"It is a little bit frantic actually," Teena Berter said. "It is going to deteriorate communities from the top of the state to the bottom."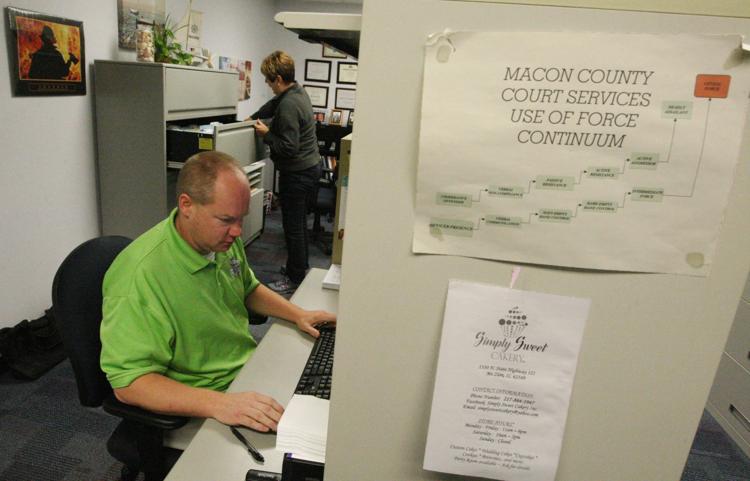 Berter and Mantay say they are worried about how they will continue to get their work done, while doing what is best for their clients.
"I can't even imagine how we would piece everything together," Mantay said. "Will people become numbers instead of a person, instead of a relationship?"
"How do you keep up?" she continued. "It is going to be hard. I don't know."