DECATUR — The Decatur City Council's choice for the next city manager says he can be a "change agent" for the community and provide outside-the-box thinking to help find solutions for the city, once he takes the helm in the coming months.
"If you're looking for someone who can just mind the store and make sure the bills get paid, then hire somebody else," said Scot Wrighton, who Mayor Julie Moore Wolfe introduced Wednesday as the next city manager for Decatur pending council approval next week. "Because helping the governing body make some fundamentally different directional changes, policy changes is what I can hopefully help them to do and bring together different elements in the community."
The pick comes almost seven months after former City Manager Tim Gleason announced he would be leaving the position to take up the same role for the city of Bloomington. A special meeting for the council to approve the hire is scheduled for Monday, and Wrighton's proposed contract will be made public on Thursday, the mayor said. Officials have not yet determined Wrighton's starting date, though it will likely be somewhere near late March, Wrighton said.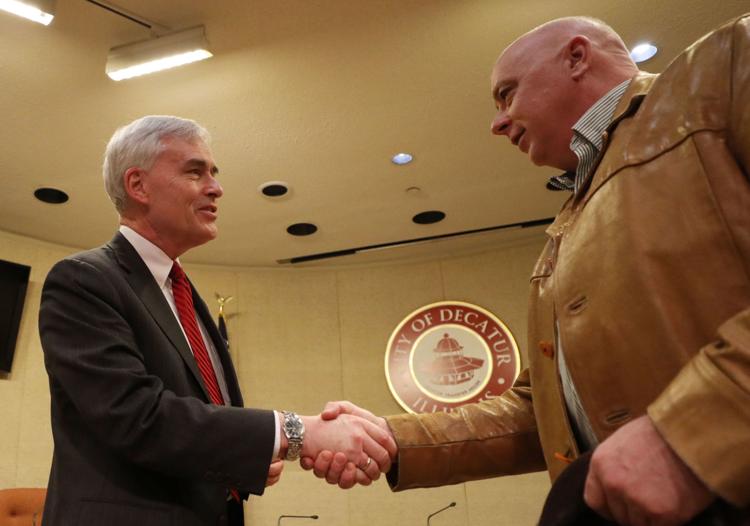 Over the summer, the city council hired the Northbrook-based consulting firm GovHR USA to conduct a national search to fill the position, in a contract not to exceed $18,500. Early in the process, officials provided a public comments portal on the municipal website for residents to give their input. In meetings closed to the public, the council conducted candidate interviews at the Decatur Conference Center and Hotel in December after meeting with the recruiting consultant from GovHR USA, former Bloomington City Manager Mark Peterson, to narrow their search the month before.
Wrighton's salary will become public Thursday when city officials release his contract ahead of next week's vote.
Wrighton, who said he was born in 1957 in Chicago but would not give his exact age, graduated from Rocky Mountain High School in Fort Collins, Colorado, before moving onto Sterling College in Kansas. He later earned a master's degree in public administration from the University of Kansas. He became village administrator of Mount Zion when he was 26.
"It was a long time ago, but it was a good learning experience," Wrighton said.
Wrighton said he's been described as a change agent in the past and hopes to be the same in his position.
"We can't wait for him to actually get here and start," Moore Wolfe said. "We really want someone to move this community forward and we think Wrighton is the right kind of leader to make that happen."
Wrighton said Wednesday he was excited to help with finding new solutions to challenges facing Decatur. "Cities all across America are struggling with the fact that they can't be what they might've been at the zenith of their economic success in the 20th century," he said. "Successful cities have to remake themselves — sometimes in very structural and fundamentally different ways in the 2st century — so I look forward to working with this governing body and a very talented staff that's here in Decatur to figure out what some of those things might be going forward."
Wrighton has been city manager in Streator for more than four years and also was city manager there from 1987-1994. Wrighton also was as the city manager of Kirksville, Missouri for nine years; on the faculty of the University of Georgia's Carl Vinson Institute of Government for six years; and as the city manager of a private new urbanism development project in India for five years.
The news also comes on the heels of the announcement Monday that Interim City Manager Bill Tyus will be leaving for the the deputy city manager in Bloomington, beginning Feb. 7. He will be in the same position under his former boss, Gleason.
Streator, a city of about 13,000 people in LaSalle County, has been working through similar challenges as Decatur, something Wrighton said he thinks will help him in his new role here. The Decatur position "seemed like the right alignment of skills and backgrounds, and it was an opportunity for me to do some of those things on a larger canvass than the community that I currently serve," he said.
Streator Mayor Jimmy Lansford said Wrighton will be an asset for Decatur. "I hate to see him go, but I also know professionally when these opportunities come around you have to make those decisions," he said.
Wrighton said it would take time to learn the community and come up with a strategic plan on what policies the city council will pursue this year.
"It's not my agenda, it's the city council's agenda, and there's going to be some learning curve that I have to get over before we can articulate that to a larger community," he said.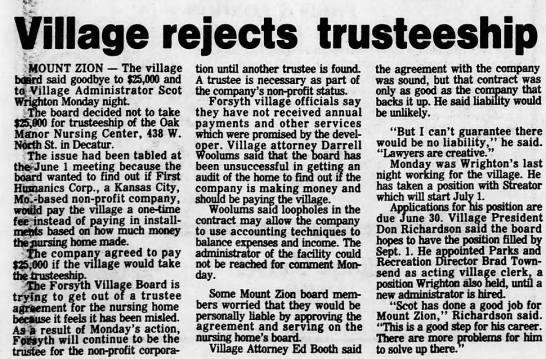 One priority of the city council that he said he was aware of was its neighborhood revitalization project, first launched in the fall 2017 with a wide-ranging effort to gather community feedback. Tyus in June presented a number of proposals to the council related to improving not just the appearance and value of properties, but also quality-of-life and the area's economic health. Progress has slowed in recent months as Tyus has filled the interim manager position and the council searched for Gleason's replacement. 
"I can certainly confirm neighborhood redevelopment is a priority," Wrighton said. "How those objectives are achieved given the limited financial resources of the city is part of the interim process we'll work together on."