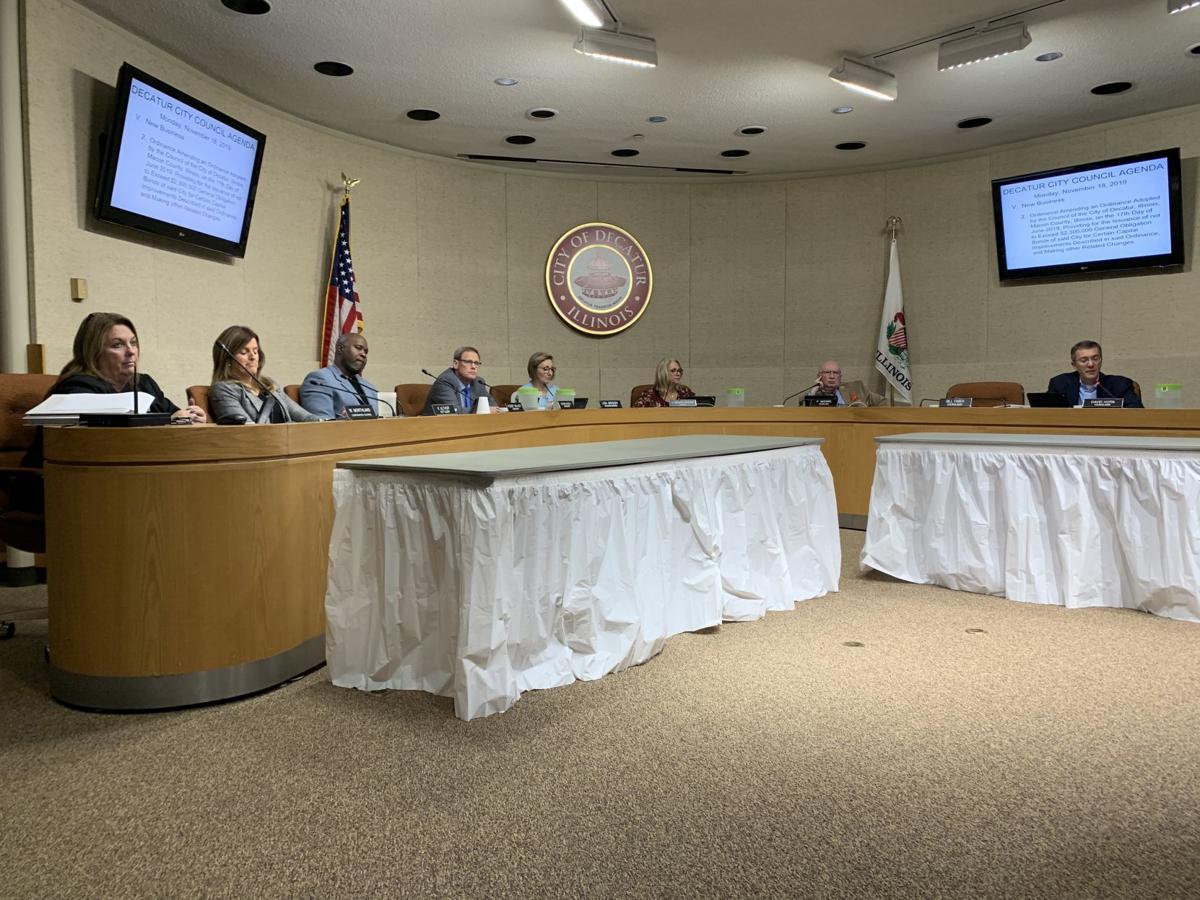 DECATUR — Neighborhood revitalization tops the list of priorities that Decatur City Council members approved Monday in a strategic plan meant to guide their priorities in the coming years.
City leaders for years have stressed the need to strengthen the city's core, where years of population loss and disinvestment have taken a toll on residents' quality of life and property values. In 2017, officials launched a wide-ranging effort that included an extensive gathering of public feedback. This year, council members have moved more aggressively toward demolition of vacant properties, and their vote Monday to approve the priority list proposed by City Manager Scot Wrighton signaled that more neighborhood-focused measures would follow.
The discussion was part of a meeting that lasted more than three hours and also included the hiring of a retail consultant, sale of a portion of the Decatur Public Library parking lot and approval of multiple contracts to tear down vacant properties.
Wrighton said the list of city priorities was created using points discussed during study sessions earlier in the year, when the public also provided input.
"Any strategic planning document by a local government is a work in progress and something that you will be reviewing and referencing and making changes to," Wrighton said.
Another part of the plan discussed Monday includes a market study for a downtown hotel, something that the council could pursue as part of a larger goal to "take downtown Decatur to the next level." Some speaking during the public comment period questioned whether the potential addition would serve residents' best interests.
One resident, Sandra Lindberg, asked if any local groups weighed in on the matter and if they specifically asked a hotel be added within city limits. Councilwoman LIsa Gregory said several community groups expressed interest.
"We have had individuals come to the podium and ask why we never considered having a hotel downtown," Gregory said.
Wrighton said no single neighborhood group was being catered to and that all residents could benefit. "We believe that a hotel would also help the (Decatur) Civic Center and other activities downtown," he said.
Besides neighborhoods and downtown, other goals that are part of the plan include:
Grow, enhance and better prepare the local workforce to meet current and future demands
Implement selected new technologies that will improve municipal service delivery and create operational efficiencies
Implement new revenue initiatives and cost reduction measures designed to make Decatur more financially secure and its operation more sustainable
Collaborate with other stakeholders so that the management of Lake Decatur and adjoining public open spaces is integrated into a coordinated plan
Create an inspirational vision for Decatur and chart a pathway that ensures current and existing strategic plans are linked so that future visions are implemented and realized
"This is helpful for your staff to have these identified so they will know where they want to put their energy and attention over the next few years," said Mark Peterson, vice president of the consulting firm GovHR, which helped Wrighton craft the plan.
"As this document is updated and revised, as it will be in the coming months and years, it is an opportunity to look at those goals that didn't make the final cut and make them a priority," he said.
The strategic plan will also help inform the city's spending priorities, which are being discussed as part of its 2020 budget proposal. Council members reviewed a portion of the proposal during a study session following Monday's meeting, and a public hearing on the tentative budget is set for Dec. 2. Council members are expected to take a final vote on the spending plan Dec. 16.
Retail consultant
In other business, council members voted 6-0 to hire a consultant that would work to fill Decatur's vacant shopping centers and other buildings with retail businesses, an effort that aligns with the strategic plan.
The three-year agreement with Retail Strategies, LLC entails a first-year salary of $45,000 with a salary of $40,000 in subsequent years. Duties of the new position include providing a market analysis and work with city staff to target and prioritize existing retail locations,rather than new development.
"The other benefit of our partnership with retail recruitment will be for retail retention and expansion," said Deputy City Manager Jon Kindseth.
You have free articles remaining.
Officials said the consultant would also work to help existing businesses by providing data that could help them to tailor their product lines to changing customers desires.
The city relies heavily on sales tax proceeds as a revenue source. Citing research, Councilman David Horn said Decatur gets 21 times more income from sales tax revenue at the state and local level than it does from hotel tax.
"This is stopping retail leakage," he said, referring to Decatur residents buying products outside of the city, "and is a critical way for us to gain revenue for the city."
Library parking lot
The council voted 5-1 for owners of local bookstore, Novel Ideas, to purchase a portion of what would have been green space in the Decatur Public Library parking lot. The owners were approved to buy an area at the southeast portion of the lot for $30,000; they would also be responsible for paving and striping the lot. The space is about .3 acres.
Kim Deatherage, Novel Ideas co-owner, expressed concerns earlier this year about the $1 million project to revamp the lot. She said the public was not involved in the decision-making process, though city officials said residents had ample time to weigh in.
Councilman Chuck Kuhle said he first recommended the owners purchase the property when they first raised concerns. "I think this is a win-win," Kuhle said.
Wrighton said the owners approached the city for the sale. No appraisal was conducted but a local realtor was consulted before negotiations, he said. It would be difficult to build anything other than a parking lot on the area because of two main sewer lines that run underneath, Wrighton said.
"I am very happy that we could come to a solution and we appreciate the support of the community," said Deatherage speaking before the meeting Monday. "That has made a difference, which will help the shop's stability long-term."
Horn was the only council member to vote against the measure. He said he is concerned about the future of the property should Novel Ideas owners choose to leave, particularly about whether a video gambling business could end up there.
A critic of the move, Decatur resident Jim Spaniol, said the decision was coming with no public input. He cited that the notice of the sale was first made public in the posting of the council agenda last week.
Spaniol said dimensions of the property had not been made public, and residents did not know the fair market value of the property in question and whether there would be a reduction in price for the contractors working on the lot now.
"The failure to keep the public involved and informed contributes to feelings that have been expressed as 'lack of transparency,'" Spaniol said. "Without accurate information and time to consider it, residents may assume that backroom closed-door deals are being made. This is bad for Decatur."
Demolitions
Council members also approved moving forward with 14 demolitions of vacant residential properties deemed unfit for human habitation.
Bidders were allowed to express that they would lower the price for the work if they were awarded multiple properties, Wrighton said. "We will continue to use this bidding method as we move forward from here," he said.
Ray Lai, city's community economic development director, said this bidding method the city would save over $33,000.
Drew Laney, president of the Young Democratic Socialists Chair for the Central Illinois Democratic Socialists of America, asked the council what would happen next with these properties once the buildings are demolished.
Councilwoman Lisa Gregory said each property would be handled differently and community members of various neighborhoods have expressed their ideas for those properties, to the council.
"It is not going to be a cookie-cutter approach," Gregory said.
Contact Analisa Trofimuk at (217) 421-7985. Follow her on Twitter: @AnalisaTro