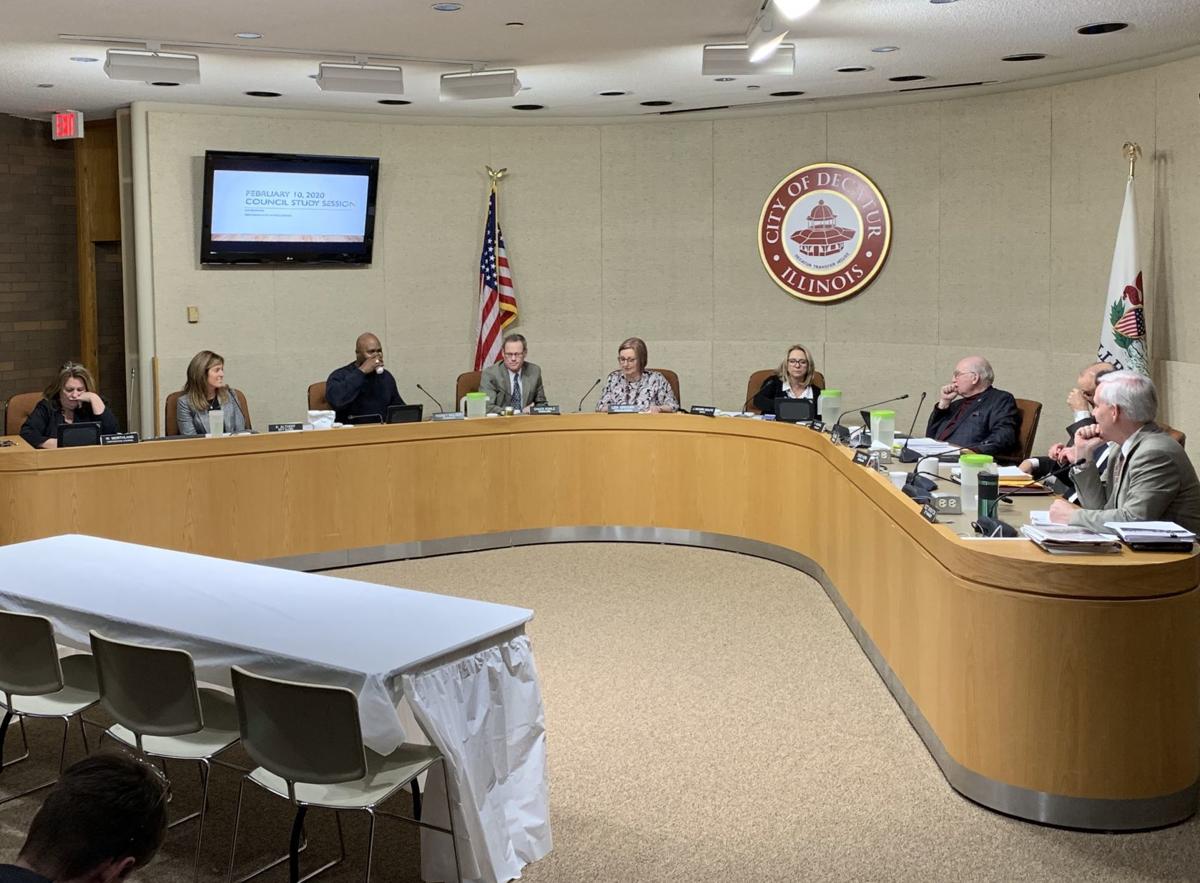 DECATUR — City leaders this year could create a new tax increment financing district, an economic development tool for improving blighted areas that might not see investments otherwise.
The new broad area TIF district was among several steps toward neighborhood revitalization discussed during a study session Monday, when Decatur City Council members also agreed to move forward annexations.
City Manager Scot Wrighton said the city staff has been working on neighborhood revitalization strategies developed by the council and community during study sessions last year.
The proposed new TIF district would encompass much of the inner city, touching the existing Grand Avenue, Near North and Olde Towne redevelopment areas.
"TIFs are best utilized when there are organic property value increase across the board even without new investments," Wrighton said in a memo.
TIF districts were established by state law as a tool that local governments can use to create economic growth in certain areas. The city has seven: Southeast Plaza, Olde Towne, Near North (Wabash Crossing), Eastgate Commons, The Pines, Grande Avenue and Southside.
The property value at the time a TIF district is established is considered its base amount. The city, school district and other entities would continue to college property taxes based on this amount.
When property owners make improvements, they pay higher taxes. However, the proceeds — taxes paid on the difference, or "increment" — are put into a special fund. This money can be used either to reimburse a developer for certain costs or to invest in infrastructure for the area, as the city of Decatur did for its downtown several years ago.
"The city has taken a 'pay-as-you-go' approach for most TIF incentive agreements in the past," Wrighton said. With council approval, that approach would continue, he said.
The Olde Towne TIF district, which encompasses the downtown area and stretches west toward Millikin University, is currently "underwater," Wrighton said. The city could choose to merge it with another contiguous district so that work could continue. TIF districts expire after 23 years.
Councilman Bill Faber mentioned federal and state programs that could serve a similar purpose to TIF districts.
"The TIF is being proposed as a spark for development. There are a couple of other tools that are used to spark development," Faber said. "One is Opportunity Zones and the other is Enterprise Zones." Faber also mentioned that the city has not always had good experience with TIFs.
"We are dealing with a very dismal track record for TIFs in our community, and we are being asked now to consider a very large one," Faber said.
Deputy City Manager Jon Kindseth said while those are options for development, the city has more control over TIF districts.
You have free articles remaining.
Speaking during the public comment portion of the meeting, resident John Phillips Jr. said he was not in favor of the measure.
"The TIF process arguably leads to favoritism for politically connected developers, implementing attorneys, economic development officials and others involved in this process," he said.
Also during the study session, council members discussed the city's growing list of dilapidated properties that are deemed unfit for human habitation. Wrighton asked council members to consider changing some of the language that could speed the process of tearing down some decaying properties.
Under the proposed measure, the city would be able to accept applications for voluntary demolition, meaning property owners could agree for the city to pay to tear down the unsafe structures. The city typically attempts to recoup its costs through a legal process that includes placing a lien on the property, but would not do so in the case of voluntary demolitions.
If an application is approved, the city would demolish the property in accordance with current standards for site clearing.
The Herald & Review highlighted the issue of vacant properties in a two-part series in August, reporting that nearly 200 homes were on the city's demolition list and some had been identified as unsafe as far back as 2012. Neighbors say the vacant houses pose a public safety threat, attracting criminal behavior and wildlife, and have hurt their property values and quality of life.
Nearly a quarter of the homes on the list belong to out-of-state owners, such as Daniel Van Gasken, who owns nearly 50 properties in Decatur, with 15 of them on the demolition list. City attorneys struggled for months to serve Van Gasken, who lives in Washington, with a summons to appear in court.
"We don't want to be taken advantage of, but if they do walk away from the property, we have to go through all this rigmarole that costs us thousands of dollars more per lot," Wrighton said.
Some council members expressed reservations about the changes but informally agreed to give them a try.
The city could also consider later this year a side-lot program that allows for property owners to purchase land adjacent to their lots.
Speaking after the meeting, Kindseth said the program allows for homeowners to raise the overall value of their properties.
"Homeowners could expand their yard or do a number of things with that property," he said. Wrighton said property owners could add a permanent garage however, that cannot be sold separately from their original lot.
Also during the study session, the city council reviewed the roughly 200 annexations that occurred in 2019 in preparation for the upcoming U.S. Census. Wrighton proposed that the city continue to move forward with annexations so that properties that are contiguous with city limits or are under a prior water agreement become a part of the city.
Newly annexed residents have expressed in previous council meetings that they were not sure they would be able to maintain their current lifestyle under Decatur ordinances. For example, the city has certain limitations on allowing chickens on their properties. Councilman Pat McDaniel asked if an agricultural zone was in the works for these residents.
Wrighton said that within the next three months, city staff would come forward with an agricultural zoning proposal to address issues of this nature.
The council rescheduled its Feb. 17 meeting to Feb. 24 at 5:30 p.m. in the council chambers at the Decatur Civic Center.
Contact Analisa Trofimuk at (217) 421-7985. Follow her on Twitter: @AnalisaTro