CENTRAL ILLINOIS OUTDOORS
85 percent of Decatur parks ash trees destroyed by beetle
DECATUR — The beetle battle is continuing, and Decatur's once-thick canopy of ash trees shading neighborhoods and parks are losing the fight – possibly for good.
"We've cut down probably 30 to 40 this last season," said Josh McGrath, horticulture supervisor for the Decatur Park District. "We will be busy all winter cutting down ash trees."
The invasive emerald ash borers are crippling Decatur ash trees so rapidly that there may be few left soon. Eighty-five percent of the park district's are already choked out, and those last ones are expected to perish in two years.
Randy Callison, Decatur's forestry and property maintenance supervisor, said the citywide infection rate in ash trees is half. More than 700 have been removed from city property. In the spring, 68 were cut down and 21 more will be felled in the fall, he said.
The infiltration rate has been creeping higher in the six years since the beetles were first detected here, despite treatments and other techniques.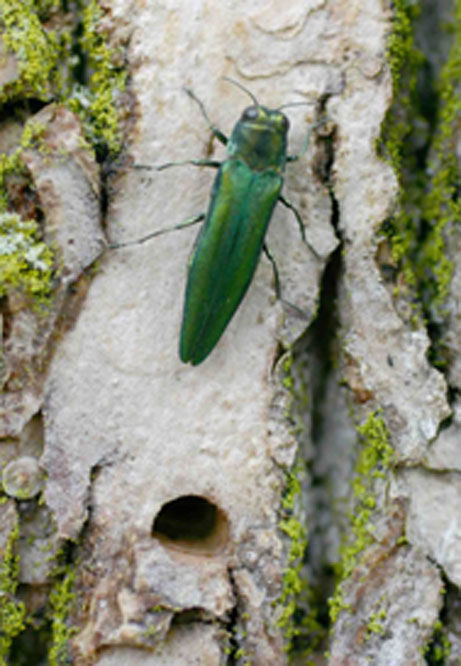 "People are noticing it now," said Kevin Mabry, an arborist who owns Tree MD, a Decatur company, "even if they didn't know about it before."
The pest originated in Asia and appeared in the U.S. in 2002, most likely in lumber on a cargo ship, according to the federal Department of Agriculture. Without any natural predators, the insects – identified by a bright green, metallic exterior and bulging eyes -- spread like wildfire, usually in firewood transported across state lines.
They are destructive by design. A female one can travel up to 2 miles to lay eggs in a new ash tree. Burrowing into the trunks and branches, it eats until nothing is left. About a year later, the adult comes out through a D-shaped hole, and the cycle repeats.
It can take about four years for a healthy tree to turn into a skeleton, which has happened across North America as the species has spread. One of the most expansive areas hit by the insect is Minnesota. St. Paul's mayor in August sought $2.5 million for addressing infected ash trees.
Maine entomologists found emerald ash borers for the first time earlier this summer. Texas is on alert. At the Illinois State Fairgrounds, the Illinois Green Industry Association donated more than 200 trees to replace ruined ones.
Champaign, Urbana and Bloomington are all struggling to cut down the ash trees as they die.
"There are dead ash trees everywhere. Municipalities and homeowners are scrambling trying to come up with the money to get them down," said Dan Coffin, who used to own the business Heartwood Tree Solutions in Mahomet.
Before he retired, Coffin treated the largest ash tree in Illinois to protect it from the emerald ash borer. The Clinton tree was more than 150 years old, but did not show any signs of the disease. Mother Nature had the final say.
"That tree actually got destroyed," Coffin said. "A storm came and tore it to pieces. It was a shame."
'The cost will go up'
Not all ash trees will die, but the expected mortality rate is about 90 percent. The ones that will survive are the ones the bugs couldn't find.
Mabry said the beetle doesn't fly far to lay eggs, so the disease can spread slowly in some areas. He encouraged property owners with ash trees to call and have their tree examined.
Affected trees can be treated. Mabry said his costs $7 to $10 per diameter inch, and it must be repeated every two to three years, he said. The same size tree could cost $1,000 or more to cut down, depending on where it is located.
When people notice a tree is already dying, with its crown devoid of leaves and new branches sprouting from the lower portion of the trunk in a futile attempt to survive, the infestation is widespread, and the tree can no longer be treated. This is often a good time to cut the tree down, because it is safer for him and cheaper for the customer in the long run, Mabry said.
"A dead tree is much more difficult and dangerous, especially if it is close to the house or something," he said. "The cost will go up."
Property owners are allowed to plant trees along a city street, Callison said, but they need to plant an appropriate tree and check for utility lines.
"We want to put out quality trees that are going to last a while," he said. "Tell me what kind of tree you are going to plant, and I will tell you good tree/bad tree."
Red Maple, Golden Rain Tree, Chinese Elm, Lacebark Elm, Kentucky Coffeetree, Sugar Maples, Crabapple, Redbud and dogwood are all good trees to plant, he said.
Infestation has impact on budgets
The Decatur Housing Authority paid $60,900 to take down 90 ash trees last year. Mabry is removing 22 ash trees from Archer Daniels Midland Co. property.
In Decatur, city workers cut down small trees, but large ones are removed by contractors for $1,000 a tree on average. They budget $125,000 annually. Decatur Park District employees follow the same procedure and have a $15,000 budget.
The park district and the city typically cut down a tree once it reaches 50 percent die-off. Officials can tell by looking at the tree and noticing that half of it is without leaves.
"It is a huge problem mainly because the danger of dying trees and tree limbs falling down and causing issues," McGrath said.
Some trees can be saved through treatment, but it is not guaranteed to work, Callison said. The city did not have money to treat the trees, he said, but it does have money to take them down. Callison has been treating an ash tree at his home for 11 years, he said. This year, the first branch died and had to be removed, he said.
"The treatment is not expensive, and it is not difficult," he said.
Callison uses a chemical called Dominion 2L in the spring. He mixes two-tenths of an ounce of the chemical per diameter inch of the tree and mixes it with five gallons of water. Then he adds two more five-gallon buckets of water to help spread the chemical evenly around the root of the tree.
"The tree looks pretty good compared to everyone else in the neighborhood, which is dead or half dead," Callison said. "Anything that is not being treated will succumb to the bug."
The park district received a grant from the Canadian National Railway. The company has funding to plant replacement trees for those killed by the ash borer. Over the next few years, 250 trees will be planted, Callison said. The goal is to plant native trees, which are heartier.
"We try to at least replace every tree that is lost in a 1 for 1 ratio, in some parts we are planting two or three trees for every one lost," he said.
A key is to vary what's being planted.
"We are trying to plant a diverse selection of trees so if another disease comes in and wipes out something else we will still be left with a lot of trees," McGrath said.
The city does not have enough money to plant new trees to replace the dying ash trees, Callison said. The city has not done a neighborhood-wide planting since 2009 when the budget was slashed because of the Great Recession, and the budget never returned, he said.
"I have enough money for Arbor Day plantings at school, and that's about it," he said.
Mabry, the Tree MD owner, said the decline is becoming more and more obvious.
"It is hitting hard," he said.
---
Contact Claire Hettinger at (217) 421-6985. Follow her on Twitter: @ClaireHettinger