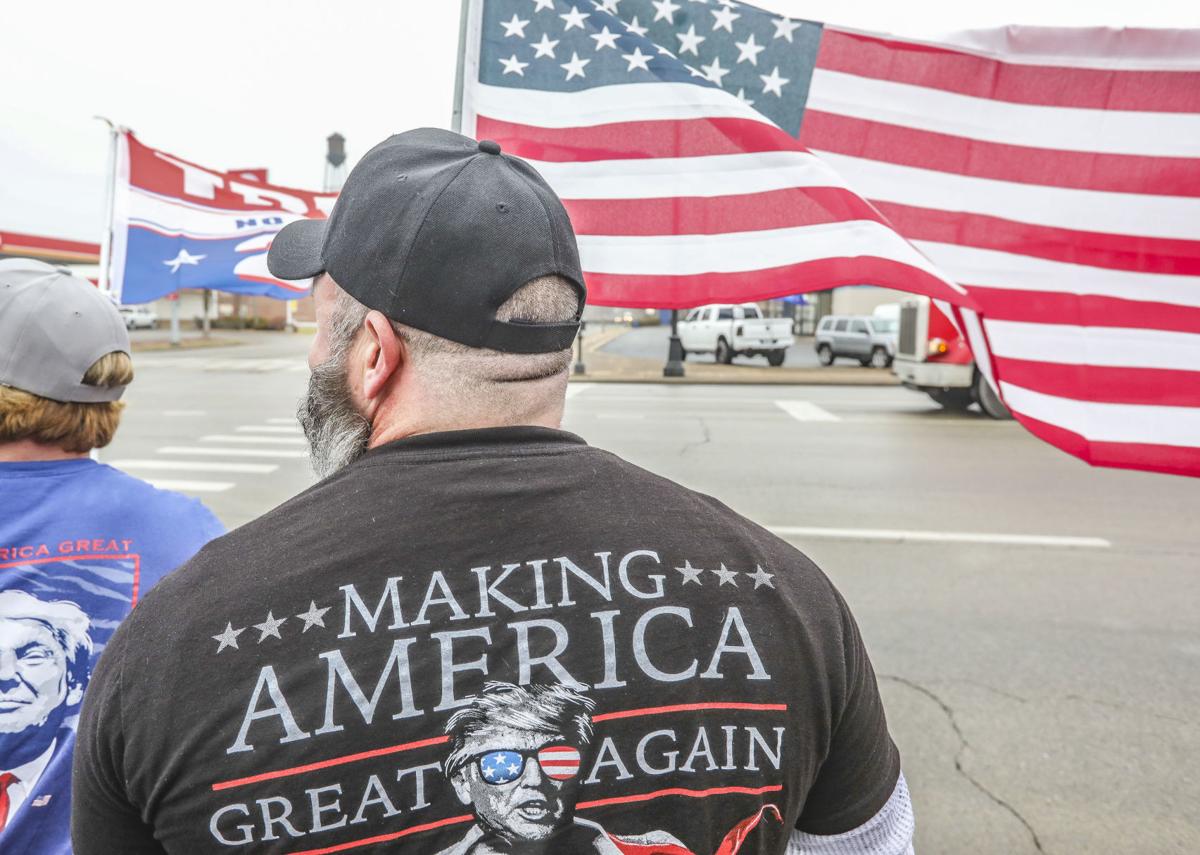 DECATUR — Dozens of supporters of President Donald Trump gathered downtown on Saturday afternoon, waving American flags, wearing T-shirts with his name or face and holding signs with sentiments like "Honk 4 Trump 2020."
Members of the group said they had stationed themselves at Eldorado and Main streets in a show of support for the 45th president as impeachment proceedings are pending in the U.S. Senate. The U.S. House of Representatives voted along party lines earlier this month to impeach Trump, a Republican, over charges that he abused the power of his office and obstructed Congress in its investigation. Trump has emphatically denied wrongdoing and said the charges were politically motivated. 
Democratic House Speaker Nancy Pelosi is holding up sending the articles of impeachment to the Republican-controlled Senate. She has said she is waiting until she receives more clarity from Senate Majority Leader Mitch McConnell about what a trial will look like.
Local support for Trump was strong in the 2016 election, when he carried 56% of the vote in Macon County. That support was on display again Saturday, but there were detractors, too, as another group gathered two blocks away holding signs in support of impeachment. 
The Republicans' event — organizers stressed that it was not a protest — was meant "to show support for our president in light of the impeachment," said Susan Reynolds, vice chairwoman of the Macon County Republican Party. 
Standing on the corner, Reynolds sported an elephant suit, while Jennie Hord, 62, of Decatur, held a cutout photo of Trump's face. The back of David Blessent's T-shirt showed Trump wearing patriotic sunglasses, with the words "Making America Great Again."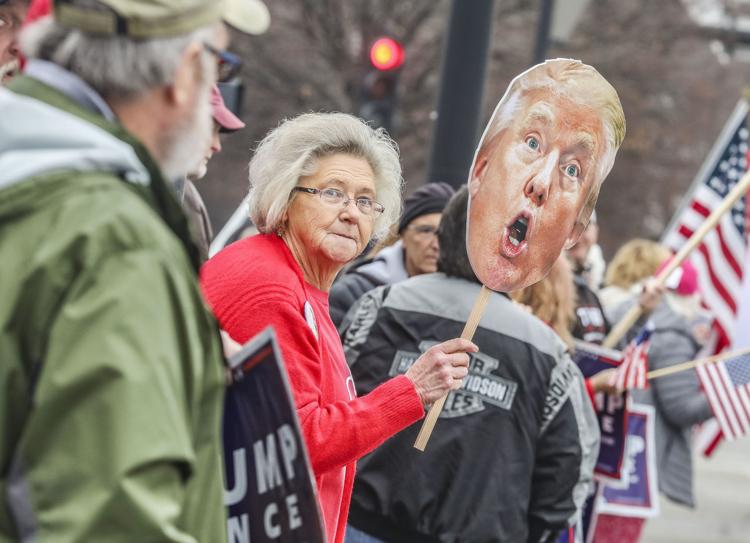 Blessent, of Decatur, said he is an avid supporter of the president and appreciates how Trump stands up for his beliefs. He said Trump's successes have come despite the media's spotlight. 
"The pressure he's been under and still doing what he's done," Blessent said. "A lot of the times the media has not recognized what he has done and has not been fair to him, yet he still pushes forward and he still pushes strong."
He said he doesn't agree with the way the country is heading right now.
"I think there needs to be some changes. A good example would be the hearings they just had and the way that was conducted," Blessent said, speaking over loud honks. "...you can see most of it was just hearsay, just hearsay, hearsay."
He said the government office was meant to be achievable by the average, ordinary citizen to fight for the rights of people and better the country.
"And I believe Trump stands for this," Blessent said.
Two blocks east, the counter-rally was hosted by the Central Illinois chapter of the Democratic Socialists of America. Members held signs with phrases like "Merry Impeachment" and "Flush Trump."
"We are pro-love and we are for acceptance and equality, but it's also an anti-Trump rally in response to (the pro-Trump) rally," said Ana Taylor, member of the Central IL DSA chapter. "All the stuff that Trump seems to stand for are not things that we stand for."
A person danced around in a dinosaur suit and held a sign that read, "One Nation. One planet. One love for all." Decatur residents Marc Summerlott and Justin Weaver, co-chair and founder of the Central IL DSA chapter, sported flags and shirts with the Democratic Socialist symbol.
"The main goal is to show this is not just Trump country," Weaver said.
Shouting into a megaphone, Weaver told those gathered that Trump should not have been allowed to run for office. "He should have been in prison for the numerous sexual assaults he has committed over his career of just being famous."
Cortezia Peoples stressed the importance of the Central Illinois DSA chapter's rally as a way to "just get the word out" to vote.
You have free articles remaining.
"I think it's just important to see that there is a voice and that it needs to be heard, because if you go down there all the Trump supporters are out, because sometimes Democrats don't show up," Peoples said while gesturing to the street corner two blocks west.
Both rallies generated plenty of honks and shouts from passing traffic, either in support or opposition.
Chris Roberts, of Decatur, was at the pro-Trump rally to support the president and said he has been a fan of Trump's since he ran for election.
"(Trump) doesn't like abortion," Roberts said. "That's one of my main ones." He also agrees with Trump's stance on fair trade and enjoys Trump's part in improving the stock market.
Chad Hodge, of Decatur, also attended the pro-Trump rally and said he was there to support the country.
"I wanted to come here today to support the president," said Hodge, who described himself as American and not belonging to either political party. "I supported Obama through his eight years. Not everything he did I agreed with, but he was still our president so I supported him in that."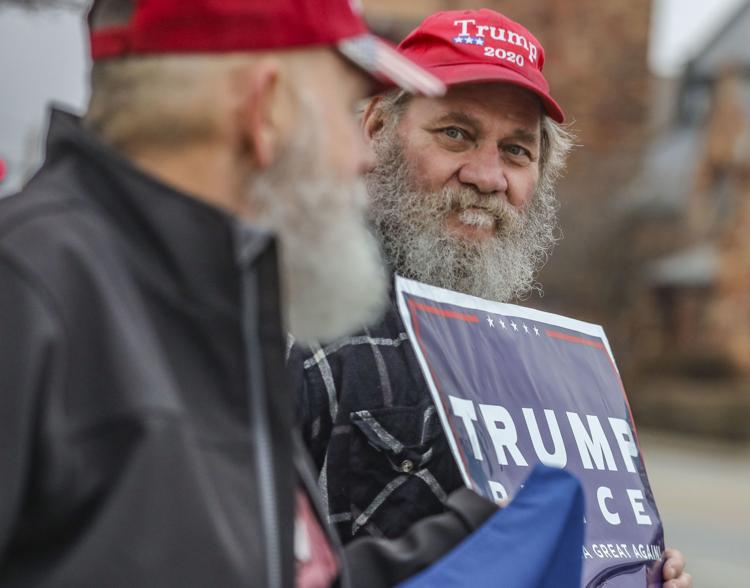 Hodge said he was enticed by Trump's push to get rid of corruption. 
Attendees at both rallies expressed hope for the future and for progress in the years to come, although each side had a different idea of what that means. 
"I think we're on the right path," Hodge said. "We need to just get back on the right track, if it's one small step of progress at a time. 
"I don't think we need more legislation. I don't think we need more laws. I think we need to enforce what we have and quit trying to throw the Constitution out," he said over loud honks of approval at the busy intersection.
Peoples, who plans to vote for Bernie Sanders next year, said she would like to see the growth of acceptance of all people. "I think that's the big thing for me," she said. "Acceptance and not so much hate."
Blessent said he would like to see change in how some tax dollars are spent and changes to government assistance programs. 
"I'm a big believer in welfare, but it should be something that helps people to get back on their feet, but not something they live on," he said.
Summerlott, who says he's been on the left side of politics his entire life, said everyone deserves to be fulfilled. He said he'd like to see a national healthcare program and easier access to clean energy options.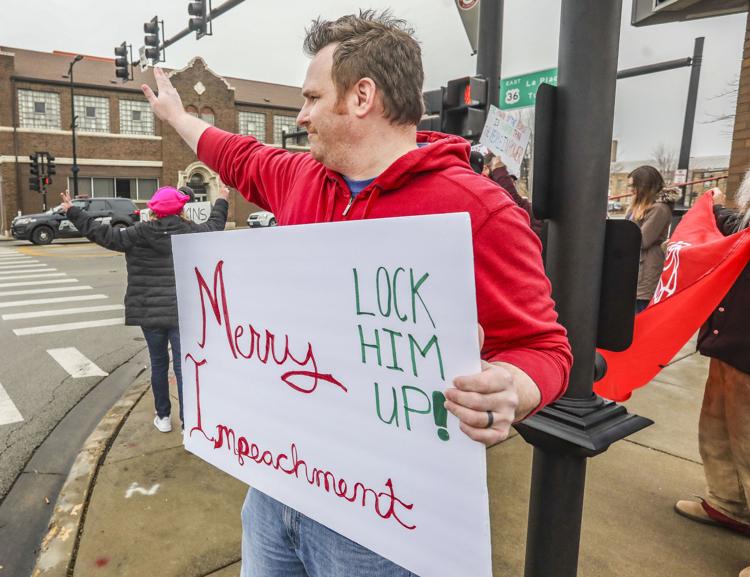 "We shouldn't have to jump through hoops to use solar power, wind power," Summerlott said. 
Hodge and Blessent agreed Trump has endured a lot of criticism.
Hodge, 45, said he'd never seen a president ridiculed as much as Trump. 
Blessent said he doesn't agree with everything the president says. But, he said, "you take any person who posts on social media.
"If our posts were under the light of the media, how would we be viewed?"
Contact Kennedy Nolen at (217) 421-6985. Follow her on Twitter: @KNolenWrites