DECATUR — Road and bridge improvements across the state could face delays because of a budget cut to the agency that studies how the work might affect environmental resources. The reports are required for hundreds of state and local projects each year.
One of those is a narrow gravel bridge on Schellabarger Road near Warrensburg, west of the intersection with Glasgow Road. The span had been closed because of its poor condition, but was later allowed to reopen with a weight restriction, County Engineer Bruce Bird said.
Among those who'll benefit from a refurbished bridge is Danny Krall, a farmer who has property nearby who knows well the inconvenience that results from deteriorating structures.
"If your field is on one side of the (closed) bridge, to get to it you have to drive all the way around the section," Krall said. "It is time-consuming."
Bird said plans to fix the bridge have been in the works for two years, but it will likely take longer because of the delays announced last month by the Illinois Department of Transportation. IDOT released a memo saying a 25% budget cut could stall some surveys, which analyze wildlife habitats, historic property and geology of a potential project site. The reviews are required for projects that use federal funding, as well as those that involve a state highway or state right-of-way. The studies typically take three to six months.
"This is the first time they've formally announced delays" in Bird's 20 years on the job, he said. "So we are expecting this to really set things back."
Long way around
Environmental surveys are conducted by IDOT in partnership with the Prairie Research Institute (PRI) of University of Illinois. IDOT said in the memo dated March 11 that the budget cuts had caused staff reductions at the institute, and less available money means fewer surveys can be completed.
The department "will likely soon be unable to provide the environmental clearances and associated actions and documents required for all projects to meet established schedules" that might be expected, according to the memo, which was sent to county and city public works directors and engineers.
It's unclear how many roads and bridges could be affected. Every year, IDOT performs some type of assessment on about 650 state and local projects, said Jessie Decker, bureau chief of communications services. The department looks at how the work could affect cultural, biological and wetland resources or whether certain substances, like petroleum or some metals, might be present.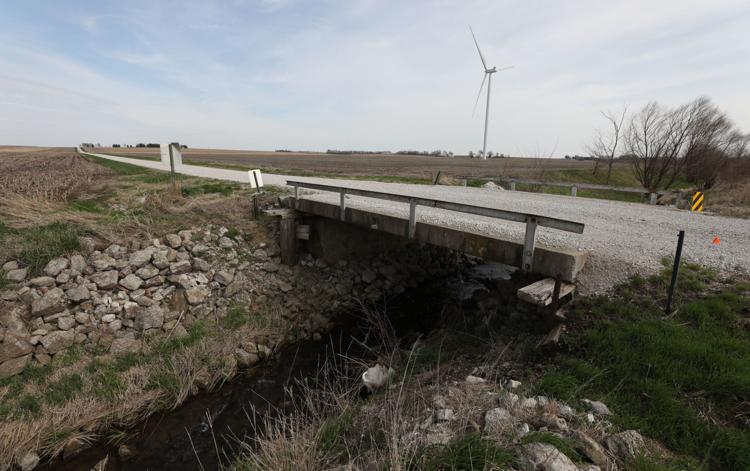 Some projects can be screened out from further review if they are determined not to have those potential effects, Decker said. Those that cannot are subjected to a more thorough study from the PRI, which conducts surveys annually for about 125 biological and wetland issues, 200 cultural issues, and 250 projects for regulated substances.
Decker confirmed that fewer of the required surveys could be completed each year as a result of the cuts. She did not specify a number or elaborate on the cause of the funding reductions.
Bird said most Macon County road projects require the state environmental surveys, regardless of the funding type, because they involve state rights-of-way or require work in streams.
Another scheduled bridge project affected by the delay is on Lake Fork Road near Argenta, about three miles north of Friends Creek Conservation Area. The bridge has been closed almost four years, Bird said, also because of its poor condition.
Both it and the bridge near Warrensburg are estimated to cost around $250,000 to fix and include state money set aside for township bridge projects.
For Krall and other farmers, such closures often mean traveling several extra miles with large equipment. There are seasonal consequences, too. "If they spend all summer on the bridge, not only during planting, but spraying or anything else and the harvest, there's a problem too," he said.
The county began seeking the environmental surveys for the two bridges late last year, Bird said. Construction could begin after the results are received, but that is not expected to happen until August. Work is expected to take two to three months.
Decatur City Engineer Paul Caswell said the state cuts do not directly affect any city projects in the pipeline, as most are funded locally.
Funding puzzle
The budget cuts affecting IDOT represent just one part of a larger puzzle for federal and state lawmakers: how to fund major infrastructure investments. Roads and bridges across the country are deteriorating faster than governments can fix them for several reasons, including the rising cost of such repairs and diminishing revenue from motor fuel taxes.
The Federal Highway Administration in 2017 identified 48 bridges in Macon County as structurally deficient, meaning they are not in danger of collapse but need significant help. Nationally, over 54,000 bridges are considered structurally deficient out of a total 612,677, according to a 2018 study done by the American Road and Transportation Builders Association, a trade group that used FHA figures in its research.
That data shows Illinois had 2,303 structurally deficient bridges in 2017, making it fifth in the nation in the number of needed repairs.
Democrat Gov. J.B. Pritzker has also said an infrastructure plan is part of his agenda, and the state's transportation officials say its needs are massive. Acting Secretary of IDOT Matt Magalis told lawmakers earlier this year that 79 million square feet of bridges need updates. Over the next year, he said, the state needs an additional $13 to $15 billion for highway maintenance, and another $30 billion for upgrades and improvements to aviation, public transit, freight and passenger rail and new highways.
It's unclear where the money would come from. State lawmakers generally support a capital bill, but methods of paying for the work are more controversial. Chicago Mayor Rahm Emanuel last year advocated for an increase in gas tax by 20 to 30 cents per gallon to pay for road construction, but some lawmakers have signaled opposition to that idea. The state's motor fuel tax costs drivers 19 cents for every gallon pumped. It has been flat since 1990.
Another piece of legislation, which was tabled in February, would have created a pilot program to test a 2 cents per-mile driving tax. The plan brought strong opposition when Pritzker proposed it as a candidate.
As lawmakers continue to debate road funding, IDOT has advice for those county and city engineers who are moving ahead with projects: Request your environmental survey as early as possible, and follow instructions to avoid errors and keep the process moving.
The department "will continue to provide the environmental clearances ... as effectively and efficiently as possible," it wrote in the memo. "Your cooperation in this joint effort is greatly appreciated."