SPRINGFIELD — The 2020 campaign season is starting early for Central Illinois, as Democrat Betsy Dirksen Londrigan announced Thursday she plans to challenge U.S. Rep. Rodney Davis again next year.
In announcing her candidacy among supporters at state AFL-CIO headquarters in Springfield, Londrigan focused heavily on healthcare, a theme of last year's campaign. She spoke about her own family's experience in 2009 when her son Jack, then 12, was battling a rare illness in pediatric intensive care.
"I ran last year to protect all families like mine whose access to good care and insurance were the only thing standing between them and financial ruin or, God forbid, the loss of a loved one because of an illness or medical emergency," she said. "I'm running for Congress in 2020 because we have unfinished business."
A spokeswoman for Davis said voters rejected Londrigan in November because of "liberal policies" she supports.
"Democrats in the House are being pulled further and further to the left by their caucus and Londrigan and anyone else running for Congress are going to need to tell voters where they stand," spokeswoman Ashley Phelps said in a statement. "Londrigan is already on the record supporting Medicaid for All, she was endorsed by co-writers of the Green New Deal, and been supported by multiple candidates running for president."
Londrigan last year fought back against Republican ads that characterized her as supporting a single-payer system, also known as Medicare for All. She has said she supports a "public option" that could compete with private insurance companies. Phelps last year pointed to a February 2018 candidate survey in which Londrigan said, "There are good options, such as Medicare X and Medicaid-for-All, being discussed," while calling for other solutions. 
The 2018 race was among the most-watched in the country as both parties poured in funding and brought national attention to the district. Vice President Mike Pence visited Springfield to campaign for Davis, while U.S. Rep. John Lewis, a Georgia congressman and Civil Rights icon, came to Decatur to campaign for Londrigan.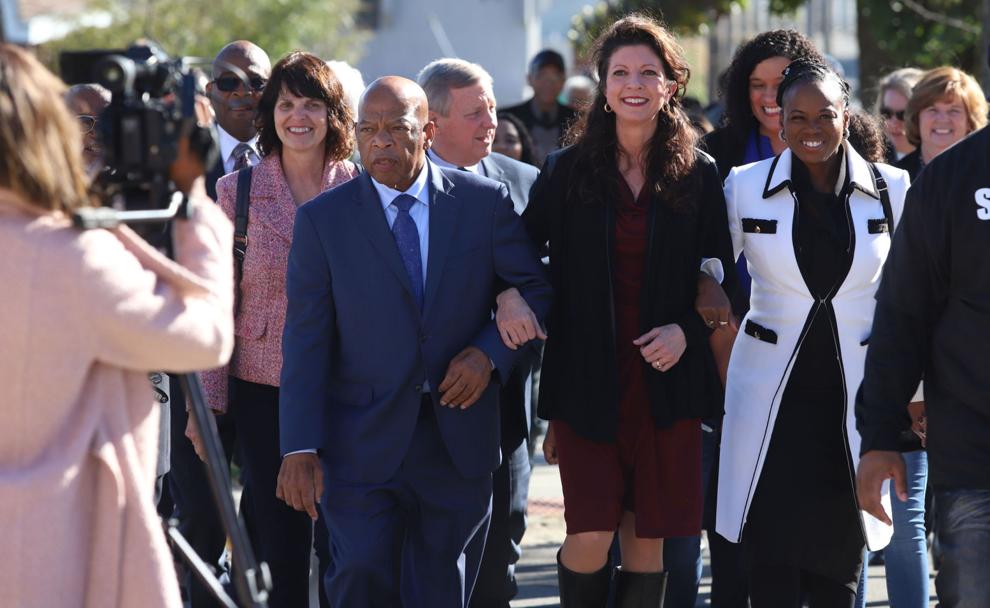 Brian Gaines, a political science professor at the University of Illinois at Urbana-Champaign, said it's not extraordinarily unusual for someone to announce his or her candidacy so far ahead of an election.
"It's not crazy to try and get your name out earlier," he said. "… The only real advantage is trying to get a jump on other potential challengers to try to scare them out of the race."
It also is a way for candidates to get the jump on fundraising in case of a strongly contested primary, according to Kent Redfield, a professor emeritus of political science at the University of Illinois at Springfield. Determining what issues the 13th Congressional candidates will focus on, as well as predicting how people will vote, will likely depend on what national topics shape the election season — including healthcare, trade and consensus regarding President Donald Trump.
Gaines said that while it's far too early to tell, it might be harder for Democratic challengers to win some 2020 races due to the presidential and U.S. House of Representatives races sucking up donor funds. He said that because of this, Republicans like Davis might have an advantage in the election.
"Rodney Davis, having survived 2018, is in no means home free," Gaines said. "But he's safer in 2020."
Throughout last year's campaign, Davis touted the accomplishments of the Republican Party since Trump was elected in 2016, specifically tax reform and a national unemployment rate just under 4 percent.
Londrigan said she was motivated to join the race after Davis voted to support the GOP's American Health Care Act of 2017, which would have given states the authority to allow insurers to waive certain protections, specifically one that prevents them from charging higher premiums to those with health issues.
On Thursday, Londrigan said she has continued to be disappointed by Davis' position on the issue. 
"It's long past time we had someone representing this community who has our best interests at heart," Londrigan said. "It's time we have a representative who meets constituents, whether they agree with her or not. And it's time we had someone whose words are backed up by their actions and their votes."
Londrigan had criticized Davis last year for not having open town hall meetings. Davis has said he regularly meets with constituents. 
Bruce Pillsbury, chairman of the Macon County Republican Party, declined to comment specifically on Londrigan's announcement, as he wasn't aware of it Thursday afternoon.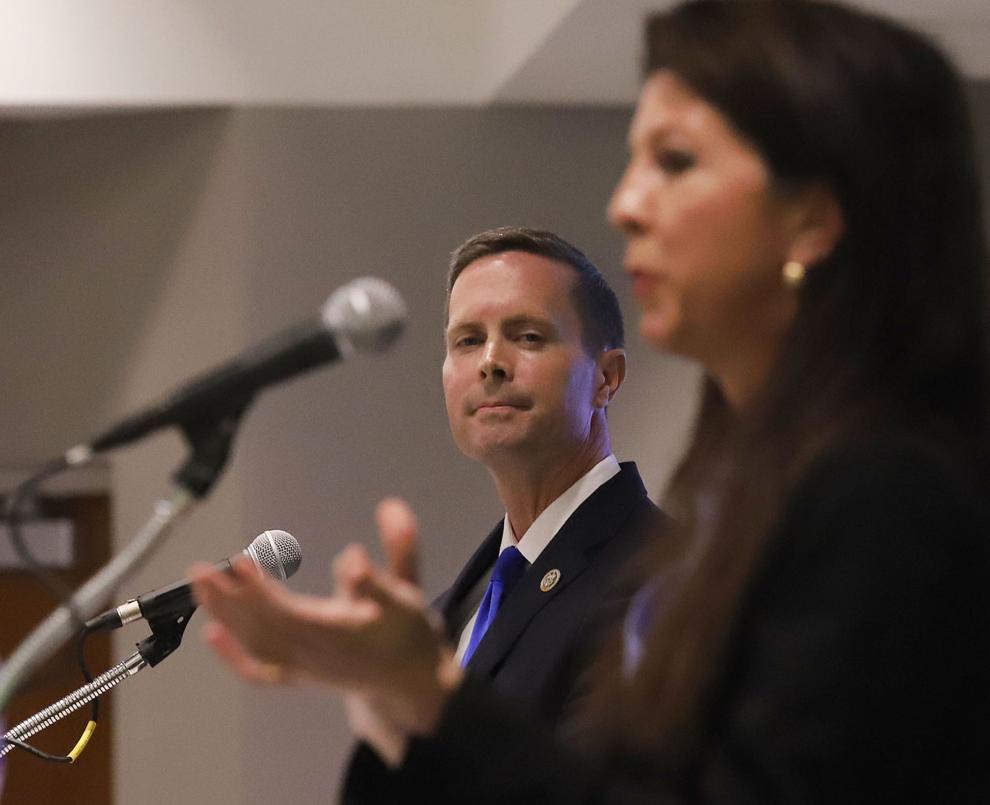 However, he said he wished her well in her attempts and commended Davis for being accessible and responsive to his constituents during his time in Congress.
"He's worked his way up and has done very well for himself," Pillsbury said. "He does a wonderful job representing us."
Macon County Democratic Party Chairman Jim Underwood did not respond to a request for comment Thursday. 
The Illinois Republican Party on Thursday tied Londrigan to what it described in a statement as the "rapidly growing socialist wing of the Democratic Party."
"In a lame attempt to distance herself from her past statements and the Democratic Party's march towards socialism, Betsy Londrigan says she's 'absolutely not' a socialist, but voters in the 13th District won't be fooled," Illinois Republican Party Spokesman Aaron DeGroot said in a statement, adding that Londrigan should let voters know whether she would seek to impeach Trump, support the Green New Deal, Medicare for All and "a radical expansion of abortion."
The 13th District takes in parts of the Metro East outside of St. Louis and heads northeast to include Springfield, Decatur and the Champaign-Urbana and Bloomington-Normal areas.
Contact Jaylyn Cook at (217) 421-7980. Follow him on Twitter: @jaylyn_HR