BLOOMINGTON — Two more businesses have been fined by the city for allowing "indoor consumption" when stricter state-imposed mitigations aimed at curbing the spread of the coronavirus were in effect. 
Spotted Dog Tavern, 1504 Morrissey Drive, and Parkview Inn, 1003 S. Morris Ave., were fined a combined $1,300 after each pleaded guilty to single violations of Tier 2 COVID-19 resurgence mitigations, which prohibit indoor service at bars and restaurants. 
"The first two matters...relate back to violations of the executive orders prohibiting indoor consumption that were in effect in the first half of January," assistant city attorney George Boyle said Tuesday at the Bloomington Liquor Commission's monthly meeting. 
Spotted Dog Tavern received a $500 fine after admitting wrongdoing, while Parkview Inn received a $800 fine after pleading guilty. 
Commissioners and representatives of the establishments did not comment further Tuesday on the violations. 
A cited business can either admit wrongdoing, and accept a fine for each alleged violation, or argue its case before the commission. If the commission rules against the business, the commission may impose a fine. 
Eleven other establishments within city limits have been fined by the commission since October for violating state COVID-19 mitigations, resulting in over $5,000 in collected fines. 
They include Cadillac Jack's, Daddio's Pub, A&P Tap, Eastland Suites, Garden of Paradise, Cheeks Bar and Grill, Applebee's, Joe's Pub, The Knights of Columbus, Fiesta Ranchera Mexican Restaurant and Crawford's Pub.
Another establishment's case — the Western Avenue Tap, at 1301 N. Western Ave. — is still pending before the commission. 
Unremitted food and beverage taxes 
The commission also fined four bars and restaurants a combined $2,400 for failing to remit revenue collected through the city's 2% food and beverage tax.
Aroma Indian Restaurant, 716 S. Eldorado Road; Hacienda Leon, 407 N. Hershey Rd.; Cheeks Bar & Grill, 1206 Towanda Ave.; Las Margaritas Mexican Bar N Grill, 3805 Ballybunion Road have since remitted the outstanding taxes and paid accrued interest, Boyle said.
As first offenders, they also all each paid a $600 fine, Boyle added.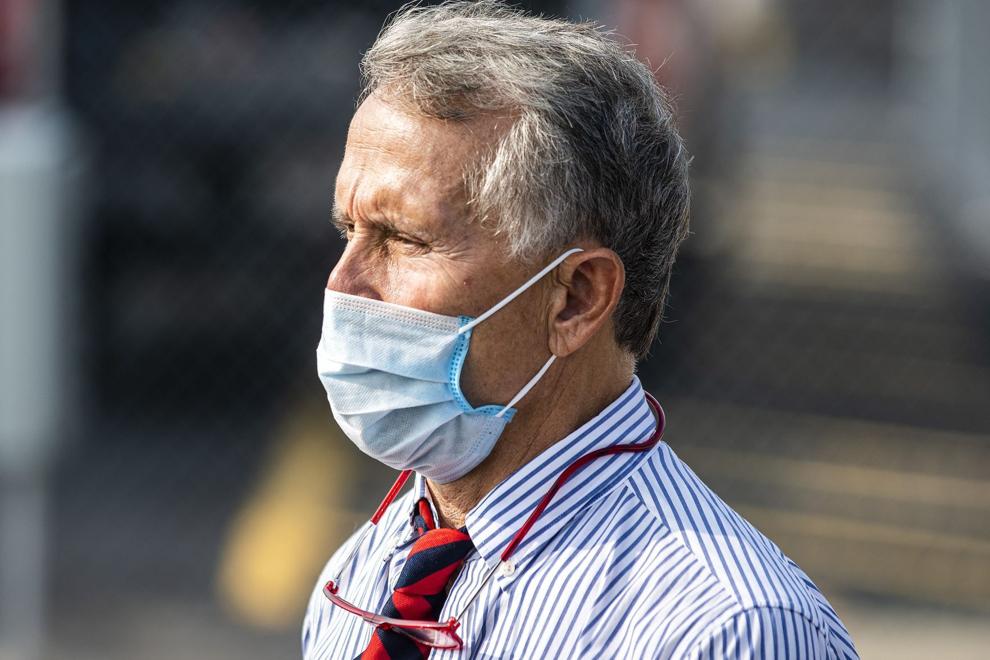 Drifter's Pub, 612 N. Main St., admitted to similar allegations Tuesday, but has yet to remit the taxes and pay the interest and fines. A resolution will be reached between the business and the city before the commission's March 9 meeting. 
Mayor and commission chairman Tari Renner said the establishments failed to forward the revenue collected from the tax as they are required to under city statute. 
"These are establishments that have taken money from their clients, from their patrons, and not forwarded it to the city for the reasons that the money was collected," Renner said. "This isn't money necessarily coming out of someone's pocket, they're actually collecting this cash and not forwarding it to the city as they're supposed to." 
City code requires a bar or restaurant to remit all food and beverage taxes collected in the previous month by the 25th day of the next month.
If a business fails to remit the taxes, the city applies a 5% late payment penalty fee and a 2% interest charge for each month the payment is not received. 
Boyle did not disclose how much revenue each business failed to remit, or how long they waited to remit it. 
He did update the commission on the case against Mickey's Kitchen, 1709 S. Veterans Parkway, which has been pending since the commission's Dec. meeting.
As now, "there have been some notice issues and some issues with respect to getting the witnesses and records involved," Boyle said, adding that the business has relinquished its liquor license. 
A resolution is expected before the commission's March 9 meeting.