DECATUR — City council members decided to drive ahead and spend an extra $576,000 to bridge a gap in engineering design costs for a major project to lift Brush College Road traffic clear of train traffic.
Officially known as the Brush College/Faries Parkway Grade Separation Project, work is due to start in 2021 on a bridge to elevate Brush College over Faries Parkway, along with other improvements.
But rising costs keep threatening to derail everything, and still might.
The council decision to meet the extra design costs, taking the total design bill so far to $3.925 million, does remove one immediate hurdle. City Manager Scot Wrighton said the city will seek reimbursement from the Illinois Department of Transportation and the Illinois Commerce Commission to cover the additional expense.
On the other hand, though, there is no guarantee that money will be forthcoming, potentially leaving the city saddled with the extra tab at a time when it's already grappling with a projected $5 million budget deficit.
But in approving the extra design costs, council members were persuaded by Wrighton who said getting the finished design out ready for construction bids on time would help control future building costs.
"The prospect of stopping the design... I find to be an even higher risk because it has the prospect of almost certainly pushing back unacceptably the bid letting on this project which has been timed so far to reduce our costs as much as possible," the city manager added.
The design bill has jumped due to added requirements and unforeseen problems with the engineering work, and isn't the only bill to increase. Briefing documents presented to council members showed the projected cost to build the project has jumped from a previous estimate of $25.35 million to more than $42 million, a 67 percent increase.
The city is now working to bring that bill down by trimming costs wherever it can and seeking state and federal regulator help to lean on railroads and persuade them to back off design specifications they have insisted on. Commenting in a briefing document, Wrighton called the railroads' demands "excessive." The city is also seeking more funding help from state-allocated federal funds designed to pay for major transportation improvements; money from these sources was already lined up to pay the bulk of the original $25.35 million cost estimate. 
If the final construction bill remains stubbornly elevated and insufficient extra cash can't be found to meet the cost increase, however, then the ambitious plans to relieve Brush College Road congestion may yet prove to be a bridge too far.
"The city has not committed to the project beyond the design of it," said Deputy City Manager Jon Kindseth, speaking to the Herald & Review before Tuesday's meeting. "So should construction costs just become too extraordinary and there are no identifiable funding sources, the city will ultimately have to decide 'Are we going to move forward with the construction of it?'"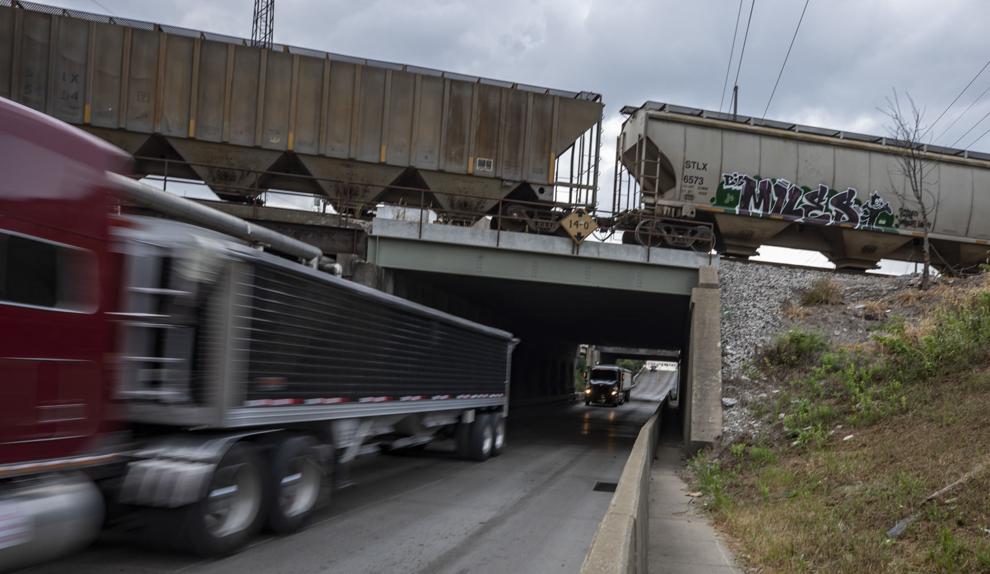 In other business, council members agreed to rezoning changes for 1326-1336 West Eldorado Street, the current home of Temple B'Nai Abraham, to allow light retail development. The synagogue's dwindling congregation have said they need to sell their building and wanted it rezoned to permit limited retail use to make the lot more appealing. 
Council members had balked at this in a meeting in July, worried that any commercial development might spoil the approach road to scenic Fairview Park. They voted to table the zoning changes to give more time for public comment, but Wrighton told them Tuesday that no "written or official objections" had been received.
Council members, however, then tied on a vote considering a similar proposal to change the zoning for the neighboring property at 1308 West Eldorado Street, home of the Decatur Fire Department's Station 3 which is due to move to a new home on nearby Fairview Plaza. The tied vote meant that the zoning change for that property failed to pass. 
Council members also approved a revised city ordinance allowing for the keeping of farm animals on rural properties recently annexed into city limits.
---
Recognize these Decatur places? Take our aerial photo quiz
Contact Tony Reid at (217) 421-7977. Follow him on Twitter: @TonyJReid