DECATUR — John Jackson traveled across the globe in his role at Archer Daniels Midland Co., executing various optimization projects everywhere from South America to Europe. 
"Everything that I've done, you've had to meet a goal to keep a job," Jackson said. "So if you don't meet the expectation, somebody else takes your place." 
It's safe to say Jackson's next project will be closer to home, though perhaps no less challenging than the rigors of international business. 
Jackson was sworn in as Macon County treasurer after the county board voted to approve his nomination at its monthly meeting Thursday evening, entrusting him to restore trust in an office that has lost it over the past year.
Jackson, 56, previously the board's vice chair and a member since 2014, succeeds Ed Yoder, who retired last month after more than 10 years in the elected office.
After a swift vote to confirm his nomination, Jackson was sworn in by Macon County Clerk Josh Tanner and later doused with cheers from his former colleagues on the county board.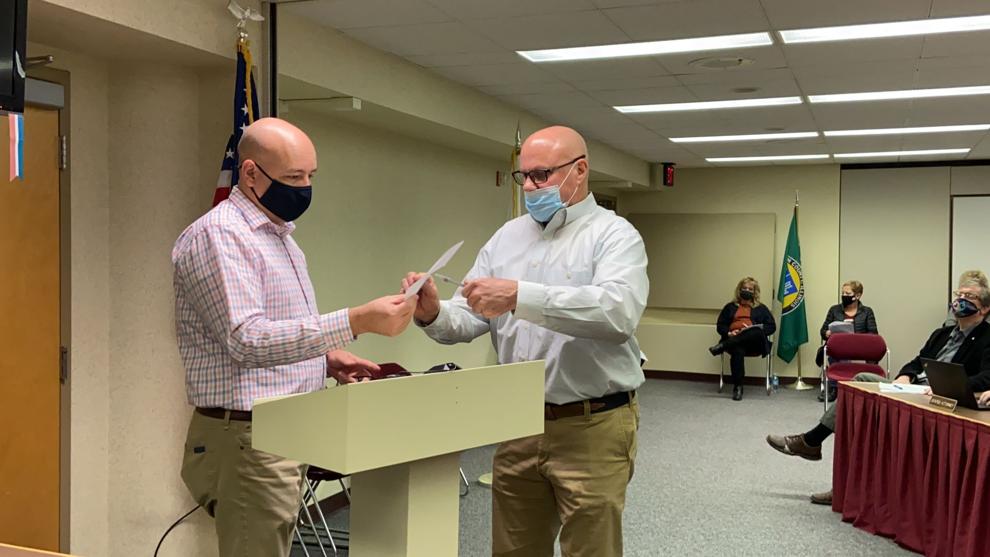 The treasurer oversees the collection of property taxes, invests county funds and disburses tax revenue to school districts and other municipalities.
Though Jackson, in an interview following the meeting, was light on specific changes he intends to make, he said "the office needs to be efficient and effective," something it has not been viewed as at times in the past.
"All the time I've been a board member, nobody's ever come in and said, 'my taxes are too high.' So that tells me everything's pretty good. They're happy," Jackson said. "But when I see that the treasurer can't answer a question, or there's inefficiencies, we could do better for the citizens. You can give back more."
"Basically, there's an opportunity to maybe change an outdated, antiquated process and procedure," Jackson said.
Other practices under Yoder were also placed under the microscope, including significant delays depositing property tax payments, which should happen within two business days.
The office also only made three annual property tax distributions to local taxing bodies instead of the once every 30 days that's recommended.
This led Macon County Board Chairman Kevin Greenfield to nominate Jackson instead of any internal candidates that were interested. Greenfield said the office needed a "new set of eyes, new set of goals, new set of work ethics and (to) start out fresh."
Greenfield said that Jackson would probably have been the guy last year if the board had followed through on a threat to remove Yoder from office. 
Months later, Greenfield said Jackson is "still a good fit" for the role.
Jackson, a Republican from Dalton City, was elected to the Macon County Board in 2014. He's served as the board's finance committee chairman since 2018 and became vice chair in 2020.
A Mount Zion native and graduate of Millikin University, Jackson has worked in transportation and logistics management for more than 25 years.
He's worked in a variety of roles for ADM since 2007. Most recently, he's been a category manager overseeing global procurement, real estate and fleet.
Jackson said he will leave his position at ADM within the next few weeks in order to devote his time to the treasurer's office. He plans to run for a full four-year term in 2022.
Jackson is married and has an adult son. His annual salary will be $90,000.
Also at Thursday's meeting, the county board approved an agreement authorizing the city of Decatur's purchase of 67 Macon County trust properties for $10,050, or $150 per property.
The county-maintained properties in question, taken from those delinquent on their property taxes, did not sell at a tax sale this fall.
The city council in 2019 previously authorized the purchase of 750 Macon County properties for $75 apiece. Decatur city manager Scot Wrighton said city ownership makes it easier to maintain the properties and integrate them into community revitalization efforts.
---
Look up! The stories of Decatur's tallest buildings