DECATUR — Tornado sirens could be heard blaring in the background as the Decatur City Council wrapped up its meeting just before 7 p.m. Monday evening.
The Decatur Civic Center auditorium provided a bunker-like safe shelter for those in attendance.
Still, new Councilman Ed Culp joked that it was "bad karma" on his first night.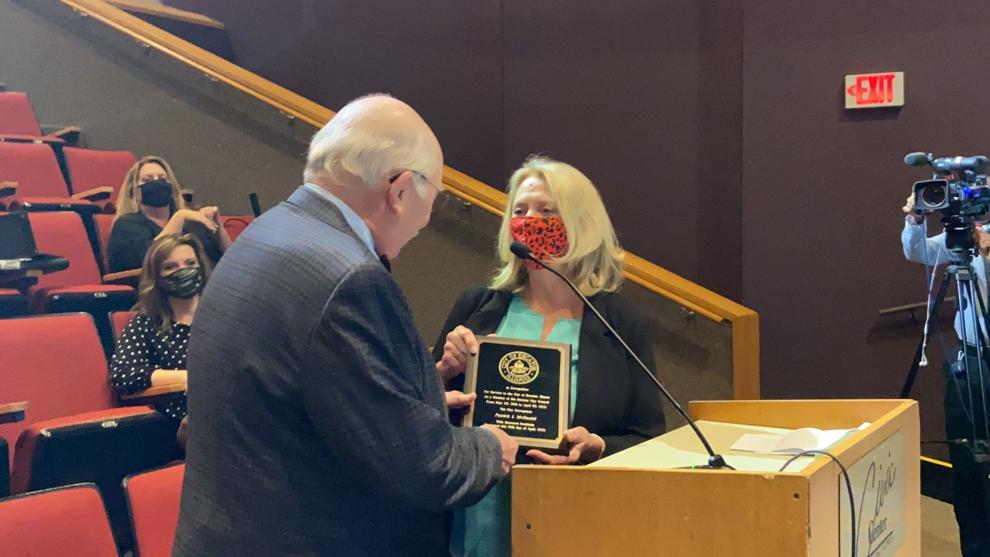 "This is exactly what I've missed over the last several years since I retired from law enforcement — the day-to-day interaction," Culp said. "And I truly love Decatur. And I feel that I have a lot more to offer and I'm truly honored to be here tonight and that the voters put me back into the community service and I can't thank them enough."
Culp said he's "kind of observing right now" as he gets used to his new role. He replaces former Councilman Pat McDaniel.
McDaniel, who served 10 years on the city council, including as mayor pro tempore, was recognized at the meeting. Mayor Julie Moore Wolfe bestowed him with a plaque.
Moore Wolfe commended McDaniel as the "best prepared councilor we've ever had" and thanked him for standing in for her at city events she could not attend.
"Pat has probably attended more events, large and small, than any councilman ever," Moore Wolfe said. "And that means a lot to those people, and his representation has meant a lot to this community."
McDaniel said he tried to bring common sense to the council and to listen to as many people as possible before making decisions.
"It's been an honor and a privilege to represent all the citizens of Decatur," McDaniel said. "As with any elected leader, everybody's not going to agree with how you vote. I tried to do the best I could to listen to the information from the city staff (and) talk to (people). That's why I get out to as many events as possible to listen to the public, because that's very important."
McDaniel will serve on the city plan commission. He will also continue to serve as liquor commissioner for the time being. Moore Wolfe will eventually assume that responsibility.