SPRINGFIELD — State Sen. Doris Turner, D-Springfield, was in the midst of what she described as her "legacy term" on the Springfield City Council.
Turner, 67, who is also the Sangamon County Democratic Party chair, has given her legacy much thought over the past few years. Elected to the council in 2011, she had been working to wrap up unfinished business before her three-term limit was to expire in 2023.
"When you're talking about things that an elected official does, you always want to be able to have an impact and do those things that are going to outlive your time in whatever that office is," Turner said. "So, I always try to look to that: What can I do while I'm here to make everyone's life better after I'm gone?"
Among the items she checked off in Springfield: securing a dedicated funding source for infrastructure using video gaming tax revenue; setting aside adult-use marijuana sales tax revenue for economic development purposes on Springfield's underprivileged east side; and crafting the local legislative response to the protests calling for racial justice and police reform following the police killing of George Floyd in Minneapolis last spring.
But now, Turner is looking to set a new legacy down the street at the Illinois State Capitol.
Andy Manar resigned Jan. 17 after eight years in the Illinois Senate to become a senior advisor to Gov. J.B. Pritzker, departing the chamber with just under two years left in his term.
She was unanimously selected by her fellow county Democratic Party chairs on Saturday to fill the Illinois Senate seat held by Andy Manar, who resigned last month to become a senior advisor to Gov. J.B. Pritzker.
She beat out seven other candidates, including Decatur Mayor Julie Moore Wolfe, former Councilman Shad Edwards and Macon County Assistant State's Attorney Ruth Waller.
The appointment is historic as it makes Turner the first Black person to represent Springfield and Decatur in the state legislature.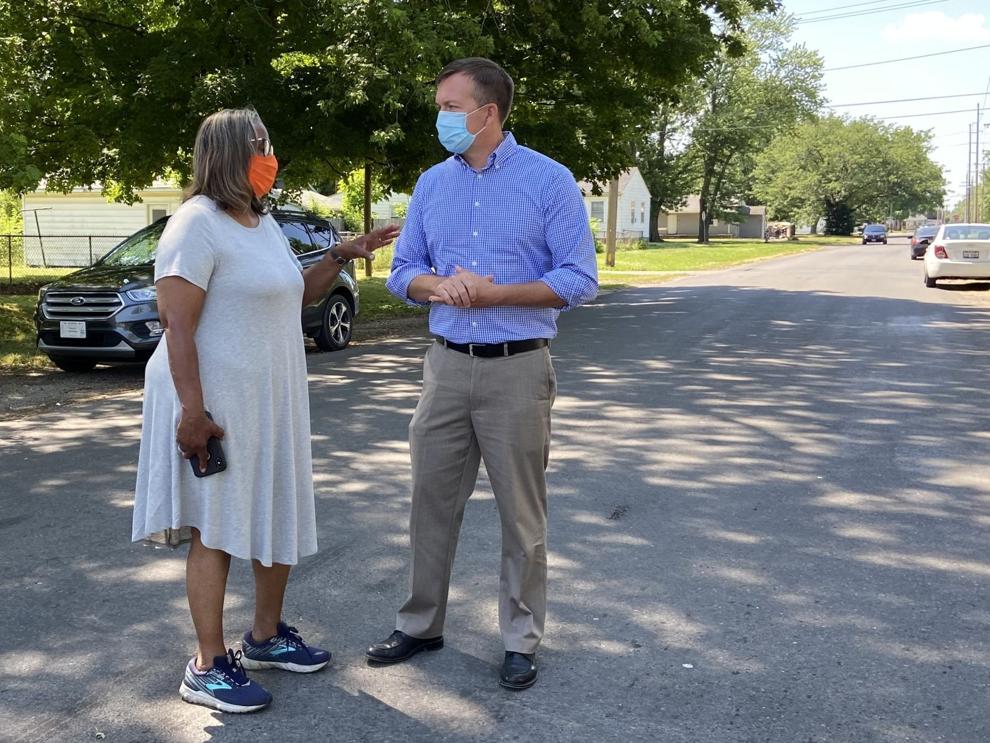 It continues a string of firsts for Turner. In 2012, she became the first Black woman to lead a county party in the state. And in 2015, she became the first woman and person of color to be named mayor pro tempore of Springfield.
"I don't look at it as a badge of honor for myself, because it doesn't do me any good to be the only anything," Turner said. "I look at it as an opportunity for others who may not think that they can aspire to be a state senator to say, 'wow, if she can do it, I can do it, too.' And it also provides an opportunity for mentorship and for me to reach back and bring others along with me."
Karl Coleman, a Democratic member of the Macon County Board and a former Manar aide, said he was "excited" by Turner's appointment.
"This is a beautifully historic moment," Coleman said. "The cities of Decatur and Springfield have never been represented by an African American in the Statehouse. So it's truly a blessing to see someone of Sen. Turner's caliber at that. And filling the shoes of Sen. Manar is definitely a big role, so I'm glad that we have probably one of the most qualified candidates to fill into those shoes."
Turner was not the only one who made history Saturday. In Chicago, Democratic Party officials selected Mike Simmons to replace retiring state Sen. Heather Steans.
Simmons is the first Black senator to represent the city's north side and the first openly gay man to serve in the Senate. 
Simmons' district, which includes several neighborhoods on Chicago's north side and parts of Evanston, is among the most diverse in the state.
Turner's district, which includes all or parts of all or parts of Christian, Macon, Macoupin, Madison, Montgomery and Sangamon counties, is about 80% white and only 14% Black. Though it includes the urban cores of Decatur and Springfield, it is otherwise rural.
"I've always represented a district that individuals thought was not favorable to me, whether it was because I'm a woman or a Democrat or an African American," Turner said. "And I believe that when you reach out and connect with people and show them the hard work that you're putting in and address their issues and address their needs, they will vote for you."
Before serving on the council, Turner was a member of the Sangamon County Board for a decade, serving as Democratic floor leader. She's also been a delegate to three Democratic National Conventions.
Turner worked for the state of Illinois for 33 years, including 22 years at the Illinois Department of Public Health, where she was chief of the center for minority health services.
Springfield Ward 8 Alderman Erin Conley, Turner's colleague on the council for two years and a current employee at IDPH, said her background with the agency "that oversees the state's response to COVID-19 is going to be a real benefit to her."
---
---
"She has the legislative and political skills and ability to really hit the ground running," Conley said. "So I don't think there's going to be a learning curve for her. She's going to get in and get engaged and be very effective."
Still, Turner will face some headwinds, including a significant portfolio of opposition research — for her votes as an elected official, activities as party chair and for her personal connections.
For example, Turner's husband Cecil, the former director of physical services for the Illinois Secretary of State's Office, served time in federal prison after a jury convicted him in 2006 of participating in a scheme that allowed janitors in the office to be paid for hours they did not work.
A federal judge in 2011 vacated Cecil Turner's four wire fraud convictions but upheld two counts of making false statements to investigators.
Turner told The State Journal-Register at the time that the report made characterizations that she called "not exactly accurate."
Another challenge will be the changing political dynamics of the district. Though Manar won each of his three races by double-digit margins, the district has been trending Republican for years.
Former President Barack Obama carried the district by a couple points in 2012, but it went for President Donald Trump by double-digit margins in 2016 and 2020. Pritzker's fair tax proposal failed by a 34-point margin in the district.
Turner said she plans to run for a full term and expects the district to look different following redistricting, perhaps including more of Springfield and less of the district's most rural, conservative areas.
She said she hopes the map will be "most favorable as possible."
"When you look at it, Springfield is the only city in the district that has been trending blue," she said, noting the gains the party made in 2020 on the city's traditionally-Republican west side and the seats it has picked up in recent cycles on the city council, county board and park district board. "And so hopefully we'll be able to capitalize on that and have a spectacular map."
In the Senate, Turner said her first priority will be addressing the COVID-19 pandemic from a public health and economic standpoint.
And, as she did as the alderman representing Springfield's east side, Turner said she will be a fierce advocate for her constituents throughout the district.
"I think that that is the most important thing that an elected official can do is to be responsive and responsible to their constituency and act as quickly as possible to solve any problems or issues that they may have," Turner said.
Manar, in a Tweet following Turner's appointment, described her as a "compassionate, accomplished leader who gets things done" and stood with him "and the small towns and urban neighborhoods" in the district during his eight years.
"Doris knows the turf," Manar said.
Turner said she will step down from her role as county party chair in order to focus full time on her Senate responsibilities. 
Her selection also means Decatur will keep its mayor. 
Moore Wolfe, reached Saturday, said her "true love and passion is for Decatur" and that she put her name in to ensure the region had a voice. She plans to run for reelection in 2023. 
"I've known Doris and I told her in the beginning that if she were the one selected, she would be my new best friend because Senator Manar set the bar very high for what he was able to deliver to the people of Decatur and Macon County," Moore Wolfe said. "And so Doris and I are going to get to know each other very well. So I'm looking forward to introducing her to the Decatur community."
---
Photos: State Sen. Andy Manar