DECATUR — Mayoral and city council candidates squared off in a pair of debates Thursday about the transparency in the city manager hiring process, economic development and other issues.
While the candidates running to become Decatur's mayor or join the city council may differ in experience and ideas, their collective desire to help bring positive change to the city was showcased during the debates.
"You folks are very blessed this election that you have a bunch of great candidates to choose from," city council candidate John Phillips Jr. said to an audience at Richland Community College. "Every single one of these people is a good person."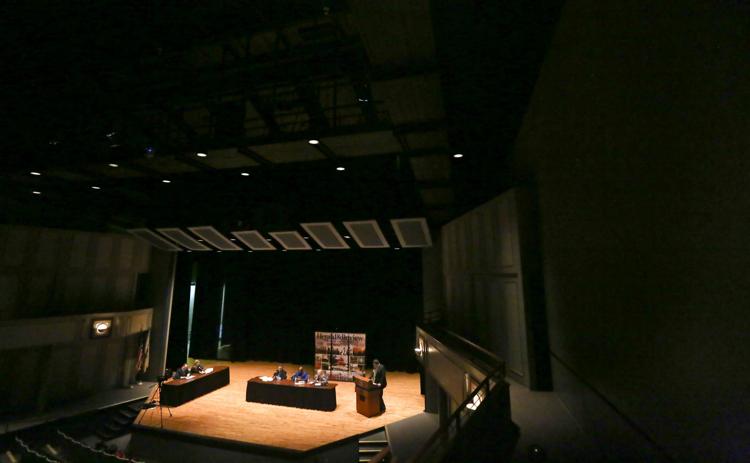 Faber, a Decatur attorney, and SkyWalker International Sports Complex CEO Walker were unable to attend the city council debate Thursday.
Both debates were moderated by Herald & Review Central Illinois Editor Chris Coates, who asked the candidates to speak about various topics currently affecting the city. 
One question posited to the city council candidates revolved around the seven tax increment financing, or TIF, districts established in Decatur. TIF districts are a tool created by state law that allow municipalities to divert local property tax dollars to fund for public and private development.
Gregory, Francis, Watkins and Hansbro showed support for the establishment of TIF districts within the area, saying that they can help bring new business opportunities to Decatur. Phillips disagreed.
"I don't think we should have TIF districts," said Phillips, an auto mechanic and chairman of the Libertarian Party of Macon County. "If you want businesses to grow, cut their property tax … TIF districts can help, but they hurt as much as they help."
Gregory, who was elected to the city council in 2015, said successful TIF funds must be managed well by city government.
She listed the implementation of a high-speed fiber optic broadband system and sewer improvements as examples of how Decatur has managed some of its tax revenues.
"Every day I make a decision, I make it with (the public) as the center and the core of that decision," Gregory said. "You have seen that investment."
Looking to the beginning of incoming City Manager Scot Wrighton's tenure in Decatur, Francis said she believed that the public should have been allowed more opportunities to have a say his hiring process. Wrighton, currently the city manager in Streator, will start in Decatur on March 19.
"At the end of the day, the city manager is working for the constituents," said Francis, an accountant for Archer Daniels Midland Co. "The constituents definitely need to be more involved."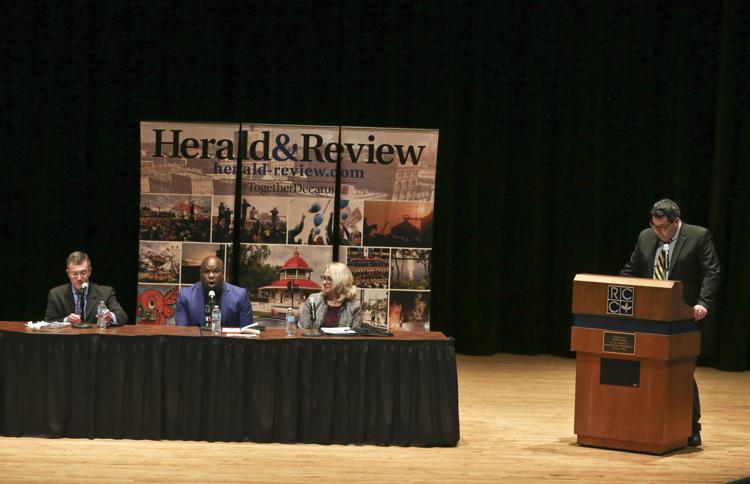 The same question was posed to the mayoral candidates. Jenkins, an employee of the Illinois Department of Human Services and chairman of the Greater Decatur Black Chamber of Commerce, said he also did not believe the public was involved enough in Wrighton's hiring. He also said he believed that there weren't enough women or minority candidates considered for the job.
Horn, a professor of biology at Millikin University, said he felt similarly.
"We want to strive to have a process that's open and transparent," he said. "A large part of the city manager's job is interacting with the public, and we want to make sure they're interacting in a positive manner."
Moore Wolfe said the city did seek public feedback in the search for a city manager to replace Tim Gleason and interim City Manager Billy Tyus, both of whom left to take new posts in Bloomington. Ultimately, she stuck by the hiring process that the city initiated.
"It's not a popularity contest," Moore Wolfe said. "We're looking for a professional hired to oversee the day-to-day operations of the city."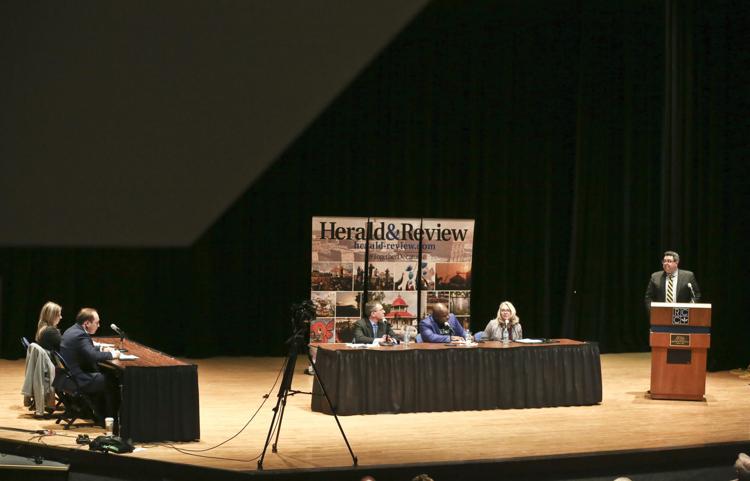 Speaking on the topic of developing small businesses within the city, Watkins said it's important for small businesses of all kinds to be promoted and supported. He also said he supports the city's minority business enterprise, which aims to encourage diversity and inclusion in the workforce. 
"The city still needs to work really, really hard to get to its goal of having 10 percent of its contracts given to businesses that are minority-owned," said Hansbro, who serves as warden at the Taylorville Correctional Center and formerly was the warden at Decatur Correctional Center. 
When asked where they stood on the possible legalization of recreational marijuana, Horn and Moore Wolfe both expressed concerns about legalizing it due to societal costs and issues with law enforcement. 
Moore Wolfe said she wasn't certain if she would support allowing recreational use in Decatur if it were allowed statewide, but "right now I'm leaning toward no." She said she didn't want to regulate what adults do in their leisure time if they aren't hurting anyone, but "I'm concerned about all of the challenges it's going to bring," including issues for law enforcement and employers.
Horn compared the legalization to marijuana to that of video gambling, which he has vehemently opposed. "I am generally not in favor of initiatives that are being driven because we need revenue and that have significant societal cost," he said. 
Jenkins was critical of his opponents' positions: "I think we have two candidates here who are part of the 'Reefer Madness' crowd," he said, referring to a 1936 propaganda film. He said the city should follow the lead of states that have legalized marijuana and have experienced positive benefits as a result. He also said any revenue brought in from taxes of legalized marijuana should be used for an educational campaign to prevent children from using the drug. 
"But for responsible adults, I think they can do it, and I think it also alleviates this need for having law enforcement in over-policed communities," said Jenkins, referring to statistics that show disparities in prison sentences that African-Americans have received for marijuana-related convictions. 
Watch the debates here >>>