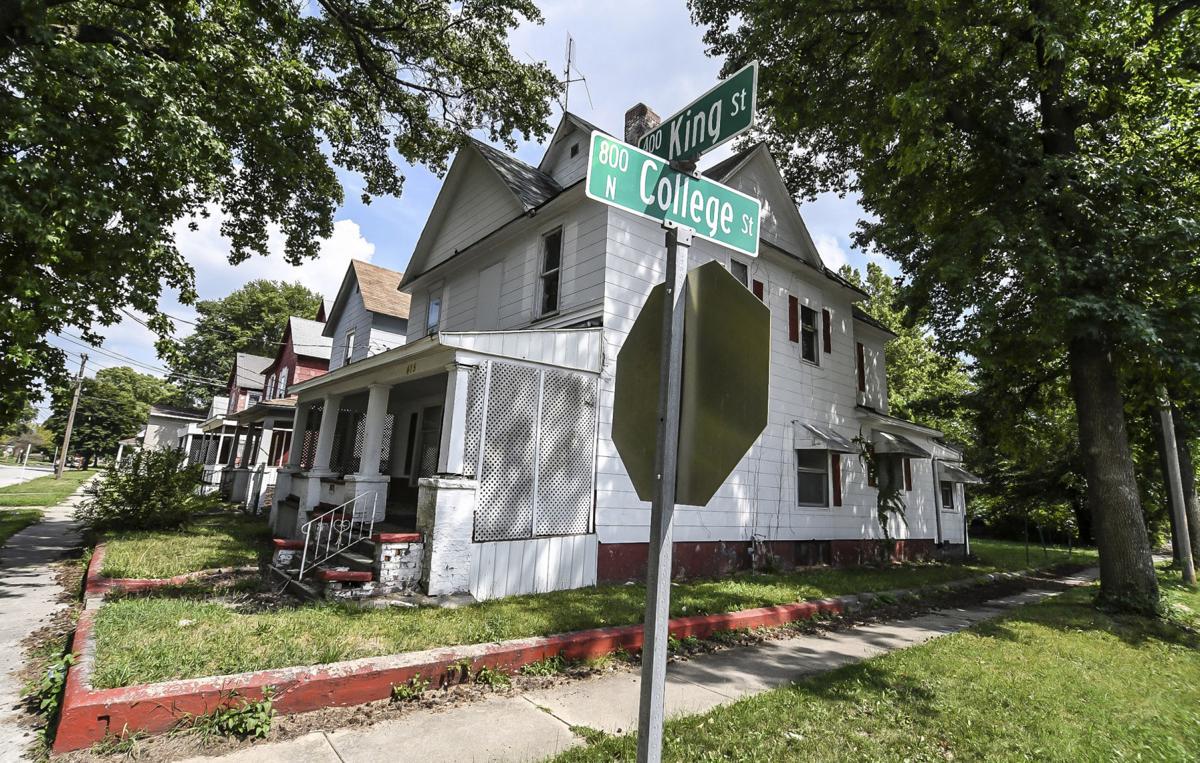 DECATUR — The arrival of new faces in the city's top administrative positions could mean changes in the direction of the council's much-discussed neighborhood revitalization project.
Interim City Manager Billy Tyus, who was heavily involved in overseeing development of the plans in his prior role as deputy city manager, said Monday that he was leaving next month to become deputy city manager in Bloomington. He will reunite with his former boss, Tim Gleason, who left the city manager position in Decatur in June to take the same job in Bloomington.
"As we get a new team in place, it may evolve a little bit because we're going to have to bring somebody up to speed," Mayor Julie Moore Wolfe said Monday night, speaking after the Decatur City Council's regular meeting. "But that doesn't mean it's coming to a standstill, it's just it may have a whole new look."
Tyus previously said that he was unable to keep the same pace on the neighborhood project while simultaneously serving as interim city manager. "Unfortunately there has been a slowdown — but it is completely on our radar," he told the council in November. 
Several council members acknowledged that the next steps could be further delayed by the transition to new staff. 
"Now he's leaving, so now what?" Councilman Chuck Kuhle said Monday night before the meeting. "Is that going to slow us down? It could, because (Tyus) was overseeing" the neighborhood revitalization project.
Tyus said he had no concerns about the initiative moving forward in 2019 and that staff has been been meeting regularly to continue the momentum of putting forward a comprehensive plan to council members.
"That will continue, that has to continue," he said, "and it's happening now, outside of me, frankly."
City officials kicked off the initiative with a period of resident input in late 2017 and early 2018, when they gathered dozens of volunteers to brainstorm and identify possible solutions to the persistent and growing economic struggles of Decatur's core neighborhoods.
In June, Tyus presented to the council a wide-ranging report on possible programs and initiatives the city could undertake, from tax incentives for city homeowners to make improvements to their properties to a city student loan forgiveness program to attract younger residents from elsewhere.
In older residential areas, population decline and job losses have given way to abandoned homes and decay spanning decades — a trend that has led to financial challenges for the city, as revenue through local taxes and fees have stagnated.
Councilwoman Dana Ray said Monday before the meeting it was premature to share a plan for the next steps of the initiative before the city hired a new city manager and deputy city manager.
You have free articles remaining.
"I think we can still make some progress this year, but without those two key positions filled, I think it's premature to come up with a plan," she said.
Recently, city staff have moved forward on contracting out dozens of demolitions to remove blighted properties left abandoned by their owners.
City officials still plan to have no less than 47 homes demolished or out for bid by next month, paid for, in part, by federal grant money from the U.S. Department of Housing and Urban Development.
The mayor said demolitions continue to be her top priority for making headway on neighborhood revitalization this year.
"Demolitions are the first thing we're going to do, but we've got some really bad houses that regardless of what our overall comprehensive plan is, they have to come down because they are that much of a hazard and they have been that much of a problem for so long," Moore Wolfe said.
City staff, council members, local landlords, homeowners, renters and Decatur School District officials all consider dilapidated properties to be an economic drag on the city. Their appearance brings down surrounding property values, and they tend to attract crime and undesirable behavior.
Other council members, when asked, said Monday they wanted a comprehensive proposal from the new city manager on how the initiative would go forward in the ensuing years.
"I'd really like the see the revitalization plan complete with strategies and achievable timelines" by the end of 2019, Councilwoman Lisa Gregory said.
Councilman Pat McDaniel said having a new permanent city manager in place in the near future will allow city administration to put together an actionable plan. "I'm willing to wait — March, April or whatever — and make sure we have a fairly good, comprehensive plan and make sure we can start moving on some of these neighborhoods," he said.
Councilman David Horn, who has expressed frustration at council meetings with the pace of progress on actions related to neighborhood revitalization, has specific policy measures he'd like to see implemented before the end of the year.
"I would like us to move forward on demolition of abandoned, boarded up houses, the re-purposing of vacant lots, as well as encouraging current residents to improve properties through incentives and to encourage new residents to move to Decatur through incentives," said Horn, who is challenging Moore Wolfe for mayor in the April election. The two also face Jacob Jenkins, an employee at the Illinois Department of Human Services. 
Councilman Bill Faber said his goal for 2019 is a debate in the city council on establishing a minimum wage for Decatur residents.
"If we want good neighborhoods, we need good jobs," Faber said.
Kuhle, for his part, said he would like to target the city's efforts into certain areas to avoid spreading work like demolitions too thin. "You want to have a win somewhere, and going around haphazardly tearing houses down is important, but it's not going to revitalize anywhere, in my opinion."
Contact Tom Lisi at (217) 421-6949. Follow him on Twitter: @tommylisi