DECATUR — Dalton Gentry's time as a legal smoker is running out — at least for a year.
The 20-year-old Decatur resident in three weeks won't be allowed to light up under state law. Gov. J.B. Pritzker in April signed legislation banning the sale of cigarettes, cigars, chewing tobacco and nicotine-based products to anyone under 21 starting July 1. The current age is 18.
No one disputes the dangers of addiction and the benefits of quitting, but for young smokers like Gentry who have been puffing away legally, the sudden shift in age presents an odd predicament.
The rules changed. The smokers didn't.
"Changing the age is not going to do much," Gentry said. "If anything it is just going to push young people to find someone else to purchase the stuff for them."
Illinois will become the eighth state and the first in the Midwest to lift the age to 21, a major victory for public health advocates. About two dozen Illinois communities, including Chicago, have already put the limit in place.
"For Illinois, it will reduce costs for our state, it will make our schools and communities healthier places to learn and live, and — most importantly — it will save lives," Pritzker said after signing the legislation.
Chicago had a 36 percent decline in cigarette and e-cigarette use among 18- to 20-year-olds after raising its legal purchasing age to 21 in 2016, according to a 2017 Chicago Department of Public Health survey.
Nationally, Senate Majority Leader Mitch McConnell, R-Ky., and Sen. Tim Kaine, D-Va., have introduced the Tobacco-Free Youth Act, which would increase the age to 21 and require states to follow suit or lose money for substance abuse programs.
Walmart last month also announced it would stop selling products to customers under 21. Walgreens previously said it would adopt the policy starting in September. CVS did the same in 2014.
Illinois lawmakers this session also passed a $1 per-pack cigarette tax increase. The state tax now totals $2.98, the second-highest in the Midwest after Minnesota. Additionally, e-cigarettes will be taxed at 15 percent. Both taxes start July 1.
No 'grandfather clause' for Illinois
The group Tobacco 21, part of the Preventing Tobacco Addiction Foundation that has been pushing lawmakers to change rules, counts more than 475 cities and counties in 29 states that have prohibited sales to those under 21.
The vast majority of the policy changes do not have "grandfather" clauses, which would allow smokers between 18 and 21 to continue purchasing. Two exceptions are Hawaii County in Hawaii and Massachusetts.
The Public Health Law Center in an October 2016 report said that whole "grandfather provisions might seem feasible, they pose enforcement challenges not present with a universal … law and minimize the law's immediate public health benefits."
Similar situations happened when states increased drinking ages in the 1970s and 1980s, although states like Alaska, Florida, Iowa and others had grandfather clauses.
You have free articles remaining.
The Centers for Disease Control and Prevention estimates 10 of every 100 adults 18-24 are smokers, a rate that has been steadily declining.
In Illinois, a plan to increase the purchasing age to 21 in 2018 was vetoed by GOP Gov. Bruce Rauner, who said a change would send smokers to bordering states or to unlicensed sellers.
Sen. Dan McConchie, R-Hawthorn Woods, at the time said that at 18 people are allowed to marry, buy property, borrow money and vote.
"But you are not wise enough to determine whether or not to buy and use this particular product," he said. "I have a serious issue with drawing a line at a place essentially for adulthood that is different from 18."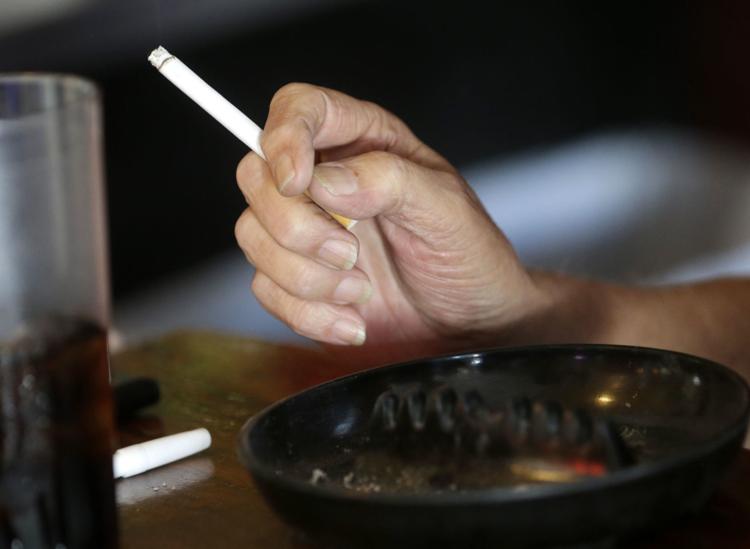 Samuel Allen, 20, of Mount Zion, is also one caught in the loophole. He started smoking e-cigarettes when he joined the Illinois National Guard.
Every winter, Allen said, he looks forward to going hunting with his dad.
"We always smoke a cigar while we are out hunting. It's our tradition," Allen said.
The e-cigarette factor
The legislation also is aimed squarely at the burgeoning popularity of e-cigarettes. The U.S. surgeon general in December issued an advisory calling teen vaping an epidemic.
But Joshua Taapken, 27, said vaping can be used by smokers to step down from cigarette usage. He was a heavy smoker and tried to stop unsuccessfully. He switched to vaping when he was 20 and his second child was born.
"I never smoked in front of my kids, but you think about how it lingers on your clothes and in your hair and that that can't be good for them," said Taapken, who used to work at the store Spacin' Vapors in Decatur.
Said Taapken: "If this law was passed back then when I was 20 and was trying to quit, it would have taken much longer for me to quit cigarettes."
Murielle Umuhoza, a 19-year-old Millikin University student, questions how the higher age limit will be effective. "Just like alcohol," she said, "they will find someone else to get e-cigarettes for them."
Gentry, the 20-year-old, said people are old enough at 18 to make their own decisions about smoking and vaping, just as the law allows them to decide whether to fight in the military at that age.  
"We have kids that sign their life away to the military at 18 and they serve, and they can't smoke cigarettes or drink until they are 21," Gentry said. "That makes no sense."
The State Journal-Register and Chicago Tribune contributed to this report.