And there a lots and lots of questions. Here are some answers:
When will the new water park open and where will it be?
The new water park will be at Nelson Park on U.S. 36, just east of Overlook Adventure Mini Golf. The park district's budget for the water park is $9.2 million, a number the board is adamant about not exceeding. Construction will begin this spring, with a projected opening in May 2018.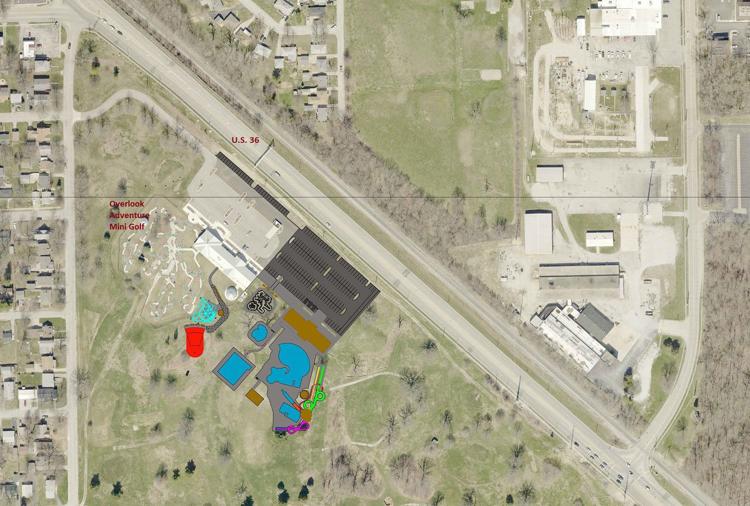 What will be the water park's features?
The design plan is still being firmed up, but the park board on Wednesday agreed to a preliminary plan that included a package of water slides only seen previously in Europe.
The park will have a 4,500-square-foot building with locker rooms, concession stand and administrative offices. Coming out of that building, swimmers will walk up to a 7,800-square-foot leisure pool with zero beach entry. The leisure pool will contain a interactive play structure in about 12 inches of water with smaller water slides for children too young for the bigger slides, as well as other features including water spouts and an overhead water tipping mechanism.
The leisure pool will also have a 1,550 square foot wet deck, where users can sit in shallow water with lounge chairs for sunbathing. Shade area will also available.
Farther out in the leisure pool will be deeper water (about 3½ feet) for open swim, water volleyball and water basketball. In that area will also be a bench seating area and a water vortex — a play area with moving water. At the southwest part of the leisure pool will be a lily pad walk — floatables tethered to the pool floor kids can walk across.
Just to the west of the leisure pool will be a 1,600-foot sprayground/wading pool designed for babies and toddlers with a water depth of 12 to 18 inches.
South of the kiddy pool will be a 25-yard lap pool. It will either be six or eight-lanes.
There may or may not be a separate 1,950 square foot deep water plunge pool. It's not needed for the water slides, and the features it would have — diving board, zip line and climbing wall — could be part of the lap pool.
Instead of the traditional water slides seen at other water parks across the state and nation — open and enclosed winding structures, speed slides, a bowl slide and a drop slide — the park district chose a package of slides that have been popular in Europe for 35 years but not previously seen in the North American market. Counsilman-Hunsacker is an aquatics design firm based in St. Louis. Its president, Scott Hester, spoke to the Decatur Park District on Wednesday and said the slides provide thrills but are safe for users.
The slides are the freestyle stand-up slide, infinity jump slide, multi-racer slide, free fall speed slide and high fly slide. Riders will need to be at least 48 inches to ride most of those slides.
Freestyle stand-up slide: The design is a narrow tube, about 18 inches, with 42-inch walls on each side and railings to hang on to. And, yes, you stand up to use it. Hester said there's no danger of falling out of the slide. He said one of the draws of the stand-up slide — and some of the others in this package — is that users get better at it the more they ride it, which enhances the experience. It also allows users to look down at the entire park while they ride instead of laying on their back staring at the sky.
Infinity jump slide: It's a traditional lay-on-your-back covered slide, but multiple sections will have turns or drops with images or windows that made it look like the rider is, for instance, falling into a shark's mouth or even flying off the slide.
Multi-racer slide: It's similar to mat racer slides, but with no mat. There are three lanes — so three riders can go at once. A green light will trigger the start of the race and at the end a screen will show the time for each rider.
Free fall speed slide: It starts like a normal speed slide, with the rider pushing off an overhead bar, but as it descends, the rider free falls straight down the slide at a high speed through an enclosed tube.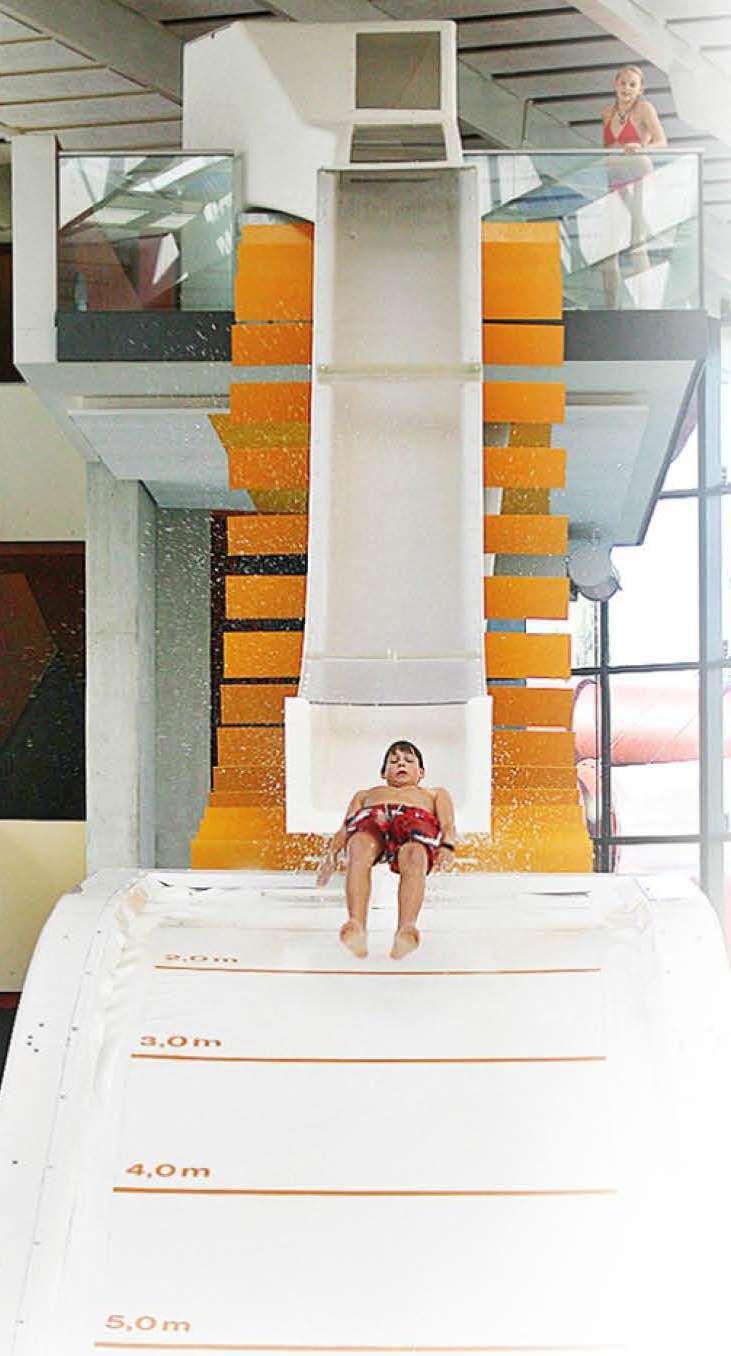 High fly slide: Again, it starts like a normal speed slide, but as the rider drops, they hit a ramp and fly through the air, landing on a softer part of the slide and ending in a pool of water.
How much will admission be?
Preliminary recommendations from Counsilman-Hunsaker:
$8 for Decatur residents taller than 48 inches; $10 for non-residents
$6 for residents under 48 inches and seniors; $8 for non-residents
The recommendations are based on demographics, economics and the attractions provided. Admission at Fairview Pool this summer will be $6 for anyone 18 and older, $5 for anyone ages 3 to 17 or 65 and older.
Season pass price recommendations for the new water park vary by residency. 
$120 for individuals taller than 48 inches
$100 for people under 48 inches and seniors
$200 for a family pass for four 
$150 for individuals
$240 for a family of four
At Fairview this summer, passes are $115 for adults, $140 for couples, $105 for ages 3 to 17 and seniors. A family of five pass is $175 with $15 for each additional member.
Those fees were just recommendations and won't be decided until next year. Decatur Park District Director Bill Clevenger said the district would look at similar venues nearby and compare costs, much like it does for golf. While he said the fees could be different than the projections, he didn't think they'd be drastically different.
But even if the fees are higher than the recommendations, they're likely to be significantly lower than Knight's Action Park in Springfield. Knight's Action Park's water park has more attractions than Decatur's will — seven water slides, 20,000 square foot wave pool and a lazy river — and the prices reflect that. Fees at Knight's Action Park's water park are $27.95 for taller than 48 inches and $21.95 for children under 48 inches and seniors. Knight's Action Park does, though, have daily specials that help lower those fees.
How is the park district paying for this?
The water park will be funded by a $10.7 million alternate revenue bond, which was formally approved on Wednesday with an interest rate of 3.68 percent, to be repaid over 20 years. Park district Chief Financial Officer Rodney Buhr said it's in the district's budget to repay the bond without cutting out other park improvements or raising the tax levy.
The park district won't depend on making money on the water park to pay for it. The alternate revenue bond is paid for by the proceeds from future general obligation bonds.
The budget for the water park is $9.2 million. What is being done with the other $1.5 million from the alternate revenue bond?
How will the district pay for general operating costs?
Running an aquatics center is expensive — there are pumps, filtration systems, lifeguards, utilities and general maintenance. Counsilman-Hunsacker reported that 98 percent of public pool operations lose money or break even at best.
Buhr said general operating costs will be covered by any revenue the water park brings in, with the rest coming from the Recreation Fund and the Park Corporate Fund.
For the last seven years, Fairview Pool has required an average subsidy of $40,000.
Buhr said, using a conservative estimate of 33,290 in attendance per year, the projected subsidy for the new water park would be $94,000.
Buhr said Counsilman Hunsaker estimated likely attendance higher — at about 40,000 per year. Using an estimated per-capita spending amount of $6.97 for each person in attendance, if 43,290 attend, it would lower the subsidy to $24,300.
The old waterslide at Nelson Park had to be taken out because insuring it cost too much. Why will this be any different?
The Nelson Park water slide was built in 1982, but closed in 1986 because the district couldn't afford the liability insurance. It was dismantled in 1989.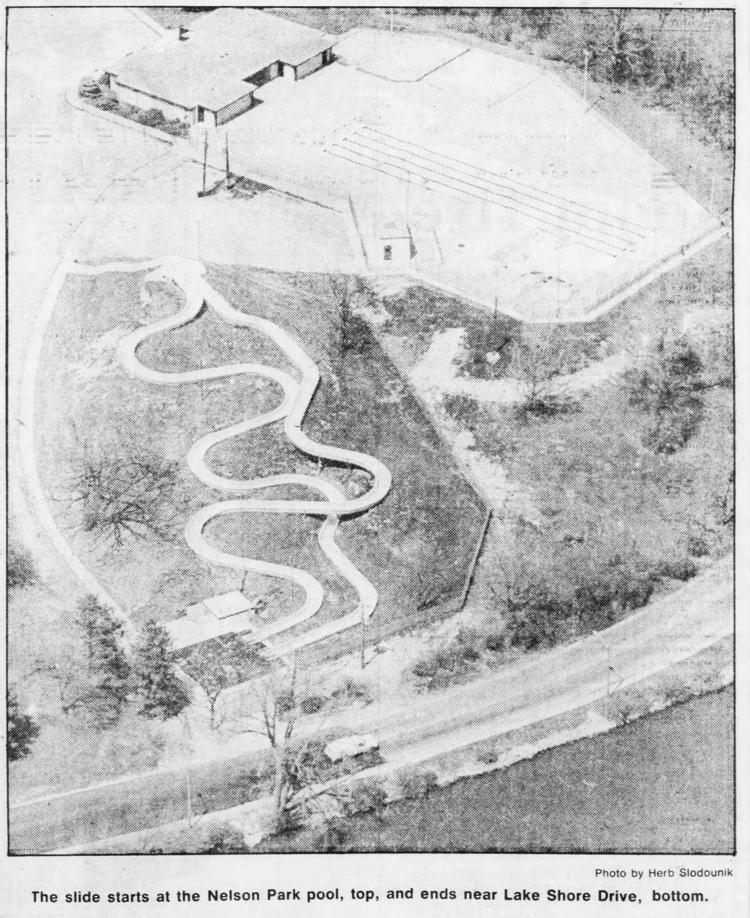 Clevenger said the park district's liability insurance is handled much differently now than it was then.
At that time, the park district used a private insurance company. Now, the Decatur Park District is in an insurance pool with around 150 other park districts around Illinois called the Park District Risk Management Agency (PDRMA).
Buhr said the district's insurance premium is paid from a different fund than anything having to do with the aquatic center and "won't move the needle" as far as its insurance rates.
Will there be six or eight lanes in the lap pool?
That's going to depend on where costs come in. The district's plan at this point is to make a base bid for six lanes, with an alternate bid for eight lanes if it turns out it's in the budget to add the lanes.
Clevenger said the park district chose not to include a lazy river because it wanted to offer different attractions than what other water parks in the region had.
He also said lazy rivers are expensive to operate because every turn requires a lifeguard, significantly driving up operating costs. But he didn't rule out a lazy river if the park district decides to expand the property down the road.
What will happen to the Fairview Park pool?
Fairview will be open for this year, then close when the new water park opens in 2018. There are no current plans for what will happen to that site, but it will eventually be razed and repurposed.