A year later, both Davis and his daughter Morgan have a permanent investment in the museum. Davis, a Farmers Insurance agent, clued Hansen into a Farmers program that could grant $2,500 to a teacher. Mount Zion was able to secure the grant and on Monday, the exhibit that money helped pay for — and in which Morgan had a painting of Rosa Parks looking out the window of a bus to go along with — debuted.
Breaking Barriers: The Civil Rights Movement Begins is the sixth exhibit Hansen's African-American Experience class has designed and constructed for the museum.
In the first five years, the Mount Zion Educational Foundation funded the exhibit. But for both this year and next year, the Foundation instead funded technology — each student was given access to a Chromebook.
"I told the class, 'Here's the project, but this is what it's going to cost and we don't have much,' " Hansen said. "So I told them I'd need them to help raise money."
Davis is a former school board member and when he heard Hansen needed money for the project, he sent Hansen an email about Farmers' "Thank America's Teachers" program.
To get the money, a school had to garner votes in the month of October and finish in the top 60 among the schools entering the contest. Each of the home pages in those new Chromebooks was set to the page to vote for Mount Zion, and Hansen reached out to everyone he knew to vote.
"We put those Chromebooks to good use," Hansen said. "We had 800 students voting three times a day, and their parents and parents' friends and their friends voting."
Davis surprised Hansen with the money at a veterans' event in Mount Zion.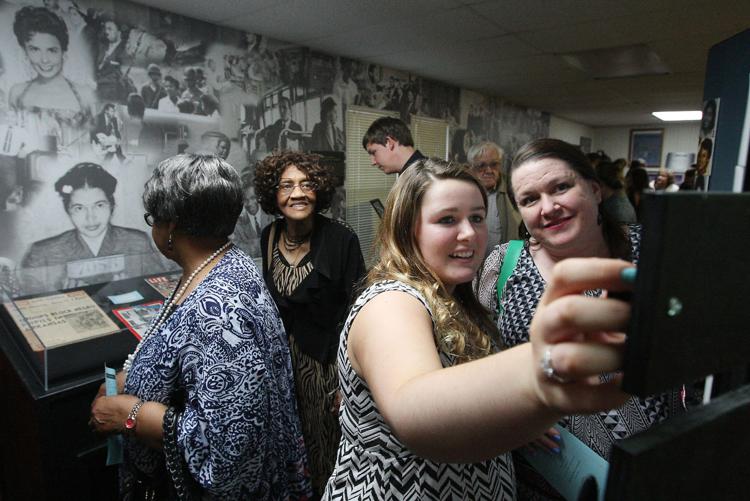 "It was a big community event, and I came from backstage with a big, oversized check," Davis said. "They called me up and we surprised him in front of everyone."
The exhibit is a semester-long project. Responsibilities, delegated to everyone in the class, included raising additional funds through donations and sponsors, researching, designing and building the exhibit.
Kelsi Hayes, a Mount Zion senior, was among the group that helped find the photos that made up the new collage wallpaper in the upstairs with the exhibit, which features images of African-Americans from the era. The wallpaper was printed by DynaGraphics in Decatur.
"We tried to find images of people who had the courage to break barriers — African-American nurses, soldiers, musicians and just anyone who helped break through," Hayes said. "And I also learned it's not just national people. That happened locally as well with people like Ottis Livingston and Evelyn Hood."
Senior Tory Parkhurst was the head of the fundraising committee second semester. The money other than the grant the students helped raise paid for new carpet in the upstairs and the collage wallpaper, along with anything else the project needed.
"I really didn't know much about things like Brown v. the Board of Education," Parkhurst said. "I knew it ended segregation in schools, but I didn't know how it happened."
Senior Ali Valdez also worked on the wallpaper. She said she loved knowing something she helped produce would be a permanent part of a museum.
"I feel like I'm part of it and left my imprint on something," Valdez said. "I hope more people come out and see it and the work we did on it."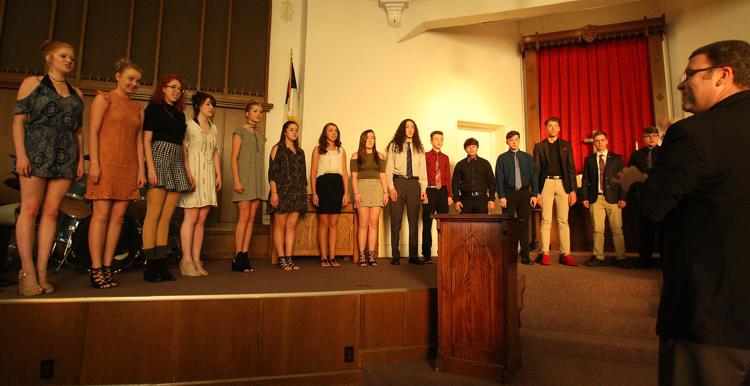 Museum founder and curator Evelyn Hood said she loves working with Hansen and the predominately white Mount Zion students.
"It thrills me to know you're trying to learn about our culture," Hood told them. "That's what's it's all about, learning about each other's culture so we can communicate."
The foundation won't be able to fund the exhibit next year, either, and the same teacher can't win the Farmers Insurance twice. But Davis is still on board to help raise the money.
"I was just talking to Mr Hansen about what we're going to do — we have to get to thinking," Davis said.