DECATUR — Food and jobs for the homeless, nutrition for diabetics and a community beautification project all in one program, with real possibilities for expansion.
Social service programs providing those benefits don't grow on trees, but in Decatur, there's a movement growing in a gardens with just those gifts.
The community garden movement is in its early stages, but already Mercy Gardens/DIGG provides healthy food to a low-income population, teaches job skills, offers employment opportunity and improves the environment of appearance of the community.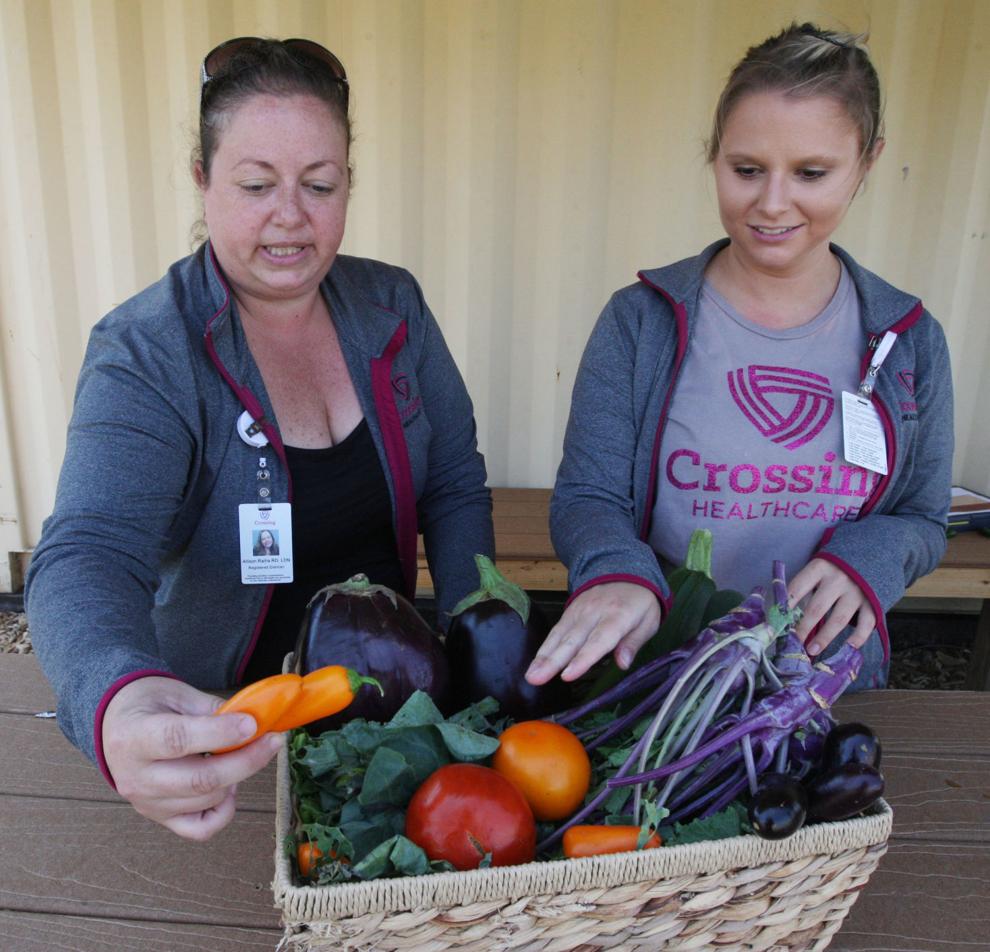 The community garden movement has been around since the 1970s, and there are several successful ones nationwide, including in California, Texas and, more nearby, St. Louis.
The recent movement in Decatur started in 2009 when Decatur is Growing Gardners (DIGG) organized from a committee in the Decatur Jobs Council.
DIGG began planting gardens in urban areas of Decatur. Then, in 2015, DIGG merged with the Good Samaritan Inn at 920 N. Union St, where they planted Mercy Gardens.
Today there are nearly four acres of gardens in the program, with six current employees at the Good Samaritan Inn having graduated it.
350 people in need served a day at the Good Samaritan Inn's Noon Meal Program, which features heavily the fruits and vegetables grown at the gardens.
43 diabetes patients at Crossing Healthcare being prescribed fresh produce from Crossing's garden program.
Mary's Garden at HSHS St. Mary's Hospital, the largest single garden, which supplements area food banks and offers a buy-in program to help expand the garden and supplement the Mercy Garden apprenticeship program.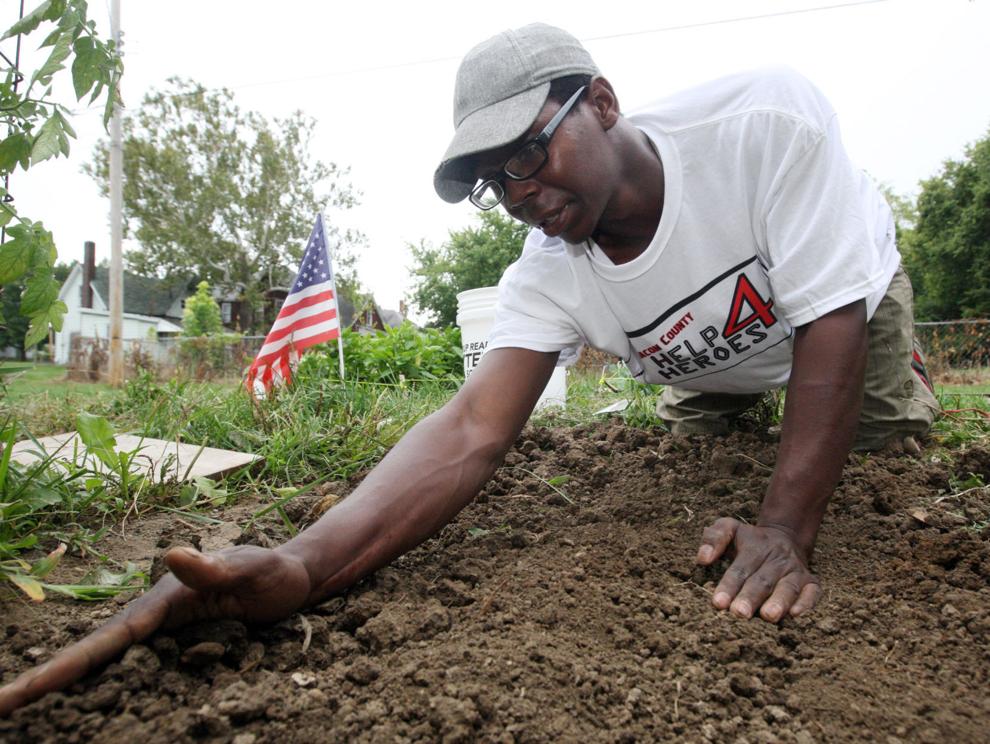 Not just for 'old people'
Had you asked Shawn Taylor two years ago about gardening, his reply would have been: "Gardening is for old people."
But, at 35, an injured, homeless Army veteran, Taylor needed a way to put his life back together, and he knew he didn't want to cook fast food.
Through the Salvation Army's temporary housing program for veterans, Taylor learned about Mercy Gardens from John Buckles, who's in charge of supportive services for veterans' families.
"He told me, 'Now you have a place, it's time to find you a job,'" Taylor said. "I told him I didn't want to cook, and he told me about this program.
"I didn't know anything about growing, but it sounded better than cooking, so I told myself I'd figure it out. I was skeptical, but I put in my application."
Taylor not only started the program, he threw himself into gardening. He began reading about urban gardening at the library, and on his second day of class in the DIGG/Mercy Gardens job skills program, he planted a seed.
"It was cauliflower, and it grew," Taylor said. "That lit a fire under me.
"I started getting more and more hand-on experience and knowledge about soil health and how things grow.
"And I started learning about how urban gardens are changing communities. I became curious and I wanted to learn more and more. Now it's my passion — all because of this program."
Like popcorn
Evelyn Fonville recently adopted two of her grandchildren, and the rest of them are often her dinner guests.
Fonville is diabetic. Not only does she want to live long enough to see her grandchildren grow, she wants them to avoid the behaviors that caused her to develop Type 2 diabetes — one of Macon County's most prevalent health risks.
Through a $21,000 grant from the United Way of Decatur and Mid-Illinois, Crossing has developed a garden in collaboration with DIGG/Mercy Gardens, and also purchases fruits and vegetables at a low rate from the Central Illinois Foodbank to supplement the program.
Fonville said her doctor at Crossing told her about the program.
"He said it would benefit me if I wanted to try it," Fonville said. "It's part of the diabetes class, where they teach you how to eat healthier and keeping your numbers together, and how eating the right things help you do that.
"I've learned what to put in my mouth and what not to. But the good stuff is not cheap. That's why I love this program. They give me the food, and also recipes that go with it that are tasty. It helps me and it helps my family stay on the right track."
Fonville said she's discovered some new favorites — she uses her homemade spaghetti sauce with spaghetti squash: "I didn't even know what it was when they gave it to me, but I love it," Fonville said.
Not everything is a hit: "They gave me this purple thing, eggplant. I cooked it and wasn't for us," she said. But there have been plenty of other options that have caught on.
"We love the cherry tomatoes," Fonville said. "I put them in a bowl while we watch Power Rangers and they eat them like popcorn."
Stumbling into it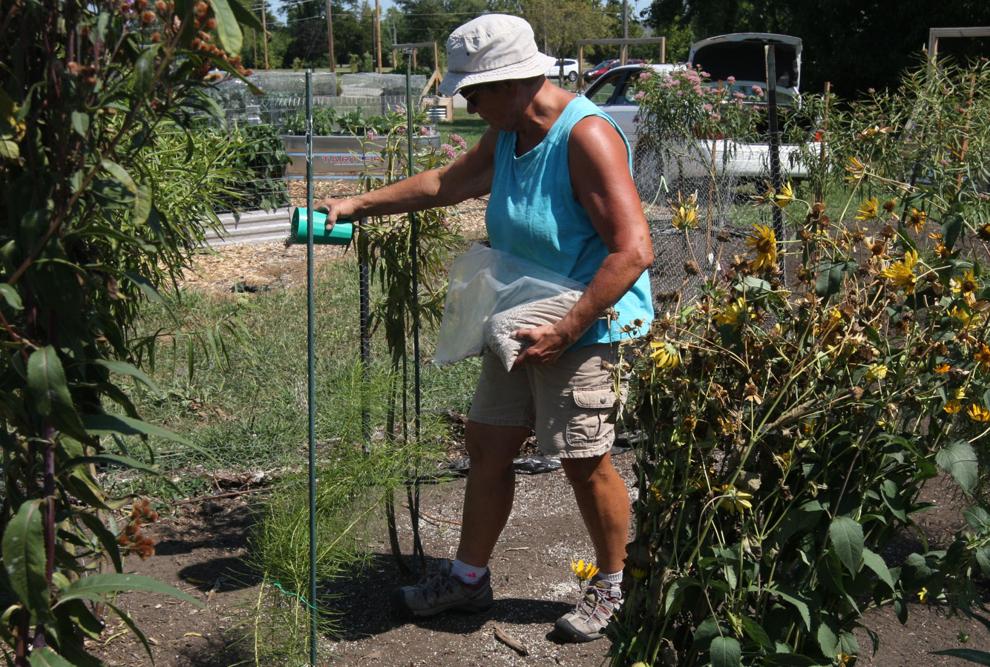 DIGG President and co-founder Sue Hemp wasn't planning on starting any movements when she became a member of the homeless council, which is part of the Decatur Jobs Council.
"We wanted to find something for low-income people who maybe had a criminal record and not much education," Hemp said. "There was the notion in the jobs council that an urban garden that would provide some job training and a chance for low-incoming folks to make money selling vegetables."
Finding vacant lots available for gardening didn't turn out to be difficult, though preparing those locations to actually grow food was a challenge.
"We stumbled into it in a lot of ways," Hemp said. "Fairly early on lots were offered to us. We ended up finding a lot on Edward Street that was owned by God's Shelter of Love. That was our first lot."
Other lots followed. The program helped Old King's Orchard turn property back into orchard, gardened a plot on Decatur Park District land and began a gardening program at Macon Resources.
In 2014, DIGG began working with Good Samaritan Inn to supply the gardens growing there with gardners. Then, in 2015, the two organizations agreed to merge.
Two years later, the Mercy Gardens at Good Samaritan Inn are thriving — several small plots make up a little more than an acre that provides the fruits and vegetables for the Noon Lunch program, and jobs for those struggling to find work.
And the program has expanded to include the gardens at St. Mary's and Crossing.
"We got it going, but what's happening now is so much better," Hemp said. "It's a much more structured program than what we were doing."
Sweat equity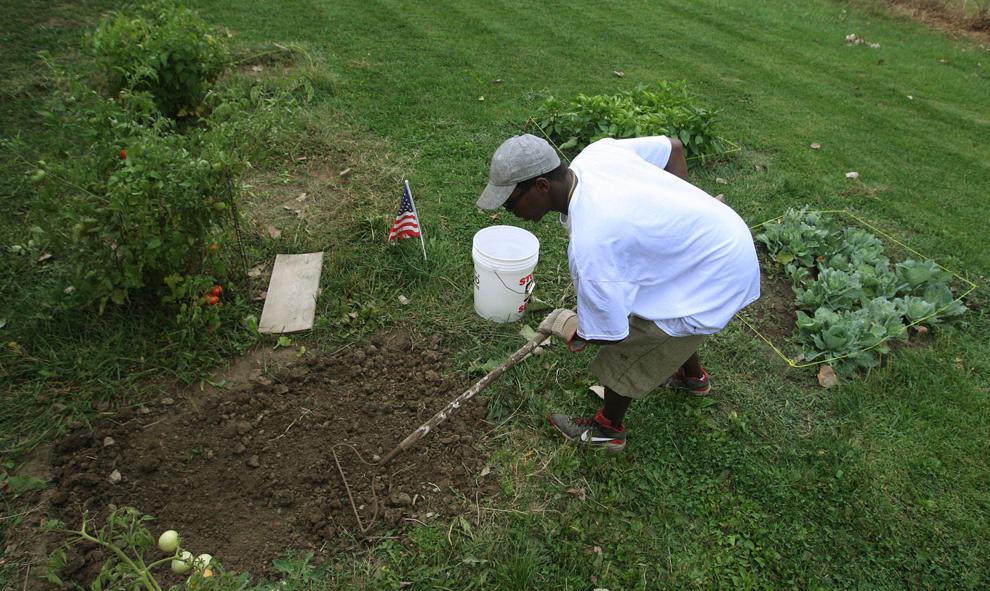 Taylor began the Mercy Gardens apprenticeship in February of 2016 and received his certificate for completing the program on Oct. 28, 2016.
"They really try to educate you so you can get a job in the field of urban agriculture," Taylor said. "You have to take tests and there's paperwork, but there's also a lot of hands-on experience."
DIGG/Mercy Garden's manager, Cindy Jackson, said about five apprentices come through the class each year, then stay on as employees in the garden for two years before a new class is cycled in.
The Mercy Gardens job skills program teaches horticulture, with students learning hands-on how to grow fruits and vegetables, maintain a garden and perform good environmental practices and sustainability.
There's also a farm-to-table program in which students receive training from chefs at Richland Community College's Culinary Institute and earn their food handler's certificates, which allows them to get jobs at restaurants. Good Samaritan Inn's kitchen has already hired two of that program's graduates.
"When we have positions that opens up in our gardens or our kitchen, we call our graduates first and offer them those opportunities first," Jackson said. "It works out, because we know each other, and they're already familiar with the area and the building."
Jackson said once those who come through the jobs program become employed, like with Taylor, it becomes a passion.
"You really see them come out and take pride, and take ownership of it," Jackson said. "There have been some who would come out in the evenings and on weekends and put in their own sweat equity to make sure it's looking nice and growing right."
Those eating at Noon Lunch aren't complaining, either. Jackson said the fresh produce has improved the quality of the meals.
"It tastes better, it lasts longer and it has higher nutrient contents," Jackson said.
Fruits and vegetables pharmacy
Gloria Wilkes is in her second year in Crossing's prescription produce program. She was identified by Crossing staff early as someone who could benefit from the program and would be willing to participate.
"I wanted to do something to be healthier," said Wilkes, a diabetic. "But I didn't think I could afford it. You go in the store, and everything is so high.
"But then they approached me about this, and I love it. It's helped me eat a lot healthier."
The prescription produce program was the brainchild of Crossing dietitian Allison Raiha, who had read about a similar program in Texas.
In it, every month, patients enrolled in the program come into the clinic and are weighed, in addition to their A1C being taken, their waist, arms and thighs measured, and their blood pressure taken. Then they receive four weeks of free prescriptions, which they can have filled every Friday from 10 a.m. to 1 p.m. at Crossing's garden, across the street from the clinic.
There are a couple of conditions to get involved in the program: "They have to be diabetic or pre-diabetic, and they have to have a high motivation level," Raiha said.
The results have been positive. Redemption rates have been 70 percent or higher every week, and about half the patients lost weight and had lower blood sugar.
But just giving people healthy food sometimes isn't enough. Crossing dietitian Elizabeth Shuff provides patients with recipes for how to prepare the healthy food, and Crossing holds cooking demonstrations that show how to prepare the produce in cheap, easy ways. Shuff said her corn salsa is a particularly big hit.
Wilkes said she's used a majority of the recipes, as has Fonville.
"They really help you stick to keeping them healthy, rather than putting a bunch of unhealthy ingredients in with it," Fonville said.
Currently, the program is supplemented by food purchased from the Central Illinois Foodbank, but Crossing has the land to expand, and Raiha and Shuff are motivated to keep going.
"We have this whole area to the bridge, and we'd love to fill it," Raiha said. "We want this concept to keep going and expand. We'd love to eventually have a farmer's market, where we could sell some produce. That's the goal."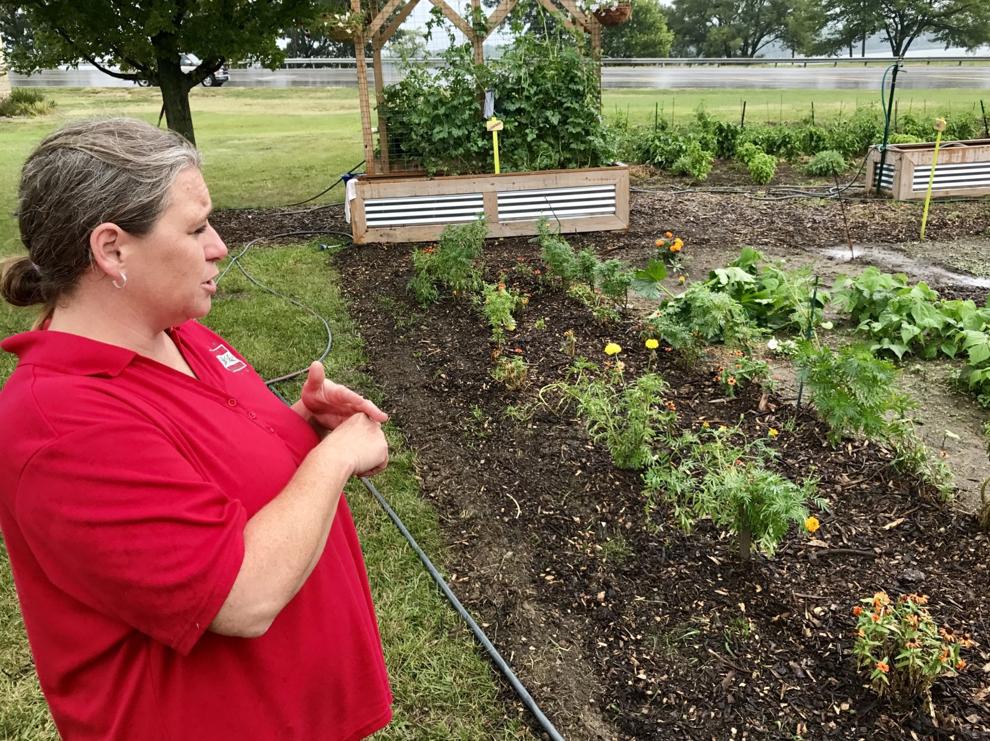 Something new
The crown jewel in the Mercy Garden program is Mary's Garden, with its view of Lake Decatur from the east side of the hospital. At a third of an acre, it's the single biggest plot in the program.
"I love all of our gardens," Jackson said. "But this is the biggest, most open garden. It's nice here, to see it all together and growing."
Wanting to start a garden on its property, St. Mary's reached out to DIGG/Mercy Gardens.
"They turned this lot, which had a lot of rock in the soil, into this beautiful garden," said Kim Luz, HSHS St Mary's divisional director of community outreach.
It took a year to cultivate the soil for growing, but in its second year it began bearing fruits and vegetables. This year, its third, was a breakthrough, and allowed St. Mary's to launch its community-supported agricultural program.
"You buy a share of the garden, and if we have a bountiful season, you get a bountiful bag," Luz said. "You take the risk with us, but you support the garden so that we can pay back into it and grow it bigger next year."
In the pilot year, the offer, open to St. Mary's employees, was $30 per week for a full share, or $15 for a half. St. Mary's had 13 employees who picked up their produce Wednesdays between 9 am. and 1 p.m. Jackson said the bounty has been worth more than the $30 each week, and sometimes double.
"We can supply more," Jackson said. "We wanted to start it slow and soft to make sure we had a grip on it, but we can definitely do more."
The customers have been happy. Beth Dighton, an occupational therapy assistant, said there's always a surprise in the bags she receives.
"The things I've gotten the last couple months are peppers, cucumbers, herbs, tomatoes, corn, green beans … a little bit of everything," Dighton said. "I like that I can come out here every Wednesday morning and it's something new, it's fresh and the quality is great."
Jackson said Mary's Garden has also helped supplement the food reserves at the Good Samaritan and Northeast Community Fund.
Luz said HSHS funded the garden to show how "community and economic development can pair with healthcare for true sustainable population health improvement."
"For every 25 baskets we sell, we create two jobs in the Good Samaritan Inn's apprenticeship program," Luz said. "And we're providing good, healthy food to the community, and making this piece of land more beautiful."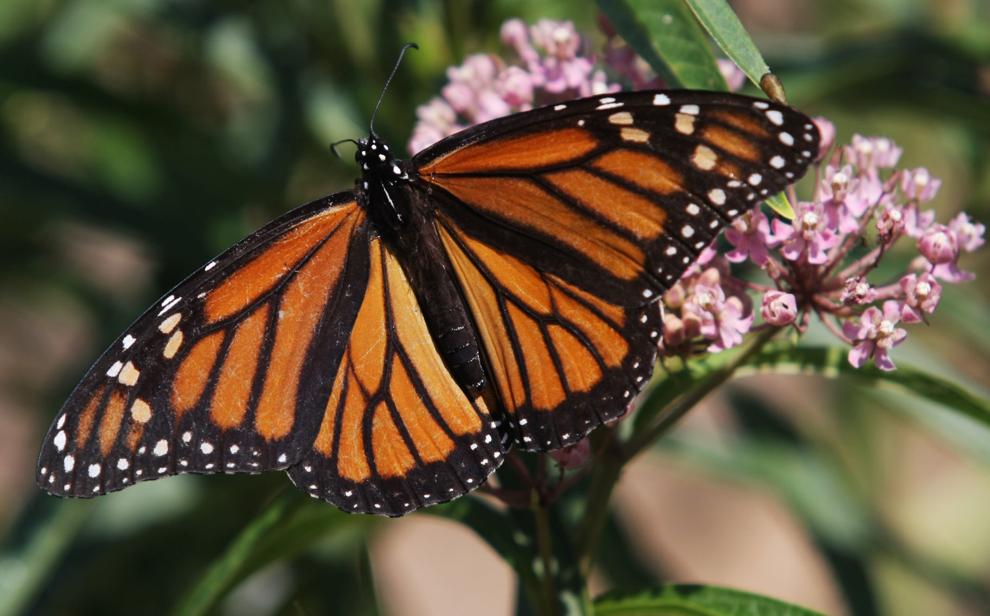 Expand the garden
From the beginning of the movement, there's been a spirit of giving, and it continues to grow. At Crossing, Shuff's family donates to the program from their own garden.
"My dad has always had a garden at our house," Shuff said. "This year we built it up more. It's what he loved to do. This year we had an abundance and my family would rather it go to our patients or to people who can't afford it rather than it going to waste."
Another gardner dropped off a big load of eggplants. Raiha said they take donations.
"If anyone has an excess, bring it here and we'll add it to our prescription program," Raiha said. "If they drop it off here and we don't have room, we can take it to Good Samaritan Inn or Northeast Community Fund to store it."
Recently DIGG/Mercy Gardens started a partnership with Jubilee Farms, a faith-based community supported garden in Clinton, in which Jubilee donates to the Noon Meal program.
For Crossing, DIGG, Good Samaritan Inn and St. Mary's, the goal is clear — make this bigger. That's why the program is now reaching out. On Thursday, Oct. 5, at noon, there will be a news conference in Mary's Garden announcing a dual-credit gardening program between Eisenhower High School and Richland Community College, with Mary's Garden the classroom.
"We can use it as a teaching garden, then Eisenhower students will get dual credit at Richland, and we'll continue to teach and expand the garden," Jackson said.
With more fruits and vegetables, those running the gardens will have to find more people to get the food to. Dighton said she sees a big market for affordable, quality produce.
"A lot of patients I work with have been interested in what's going on out there," Dighton said of the garden. "I know they'd be interested in purchasing the produce if it was open to the public."