ARGENTA — Kris Williamson and her horse, Sonny, have a great relationship.
They are able to communicate without saying a word. When they spend time together, Williamson finds her peace.
"It's just him and I," she said. "Horses can be very intimidating, but he calms me down."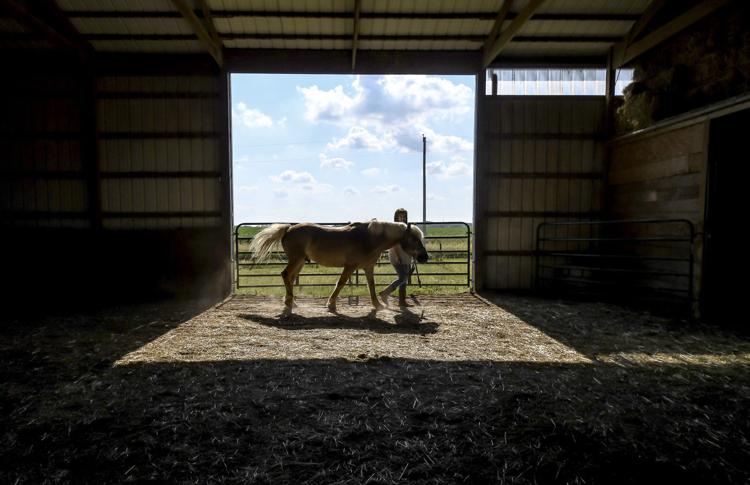 Just three months ago, their relationship was not as peaceful.
Williamson has owned Sonny for almost a year. While growing up, she had horses in her life and felt comfortable around them. After a medication change, Williamson developed panic attacks. She began to fear Sonny and most every situation in her life and outside her home.
"The non-real world became really real to me," she said. "And I became very scared of my horse."
Williamson was diagnosed with severe anxiety panic disorder. Patients with the disorder think ahead of every situation and believe something bad is going to happen.
"Anxiety plays a lot of mind games," Williamson said. "It is pretty frightful."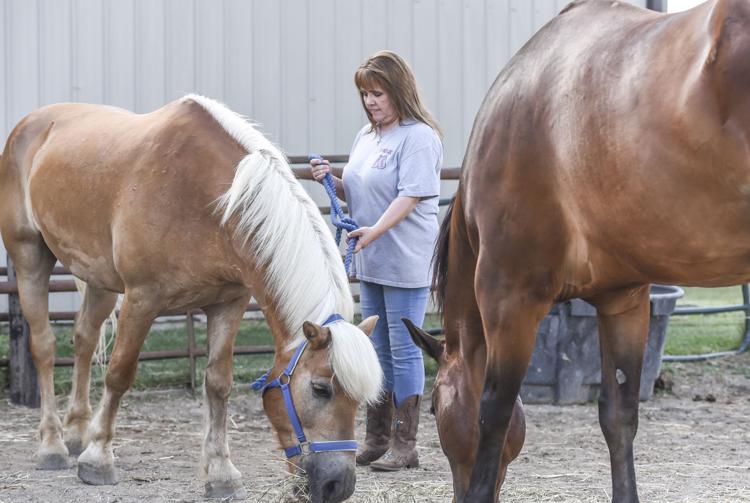 Fortunately, Sonny was being boarded at Stout Horse Farms. Kim Brown is an instructor on the family farm. She is also an equine expert with Healthy Strides, an equine-assisted psychotherapy practice.
Brown works with Dan Giers, a licensed psychotherapist, to help diagnose and treat patients with various disorders and mental illnesses, including depression, addiction and post traumatic stress disorder.
"Even to some affect, bipolar disorder," Giers said. "Also OCD, eating disorders, and we provide family counseling.
Brown and Giers said their team approach makes a difference in their brand of therapy. While Brown is watching the horse, Giers is watching the client.
"It is unbelievable how fast you get to the truth," Giers said. "In the office, it could take weeks or months to get there."
All patients receive a personalized approach to their treatment. The horses are tools for analysis. Brown and Giers said the people without horse experience make the best clients.
"They are blank to the whole experience," Giers said.
Brown can see a patient's reaction, mood and demeanor in the horse. The patients may say what they are doing or how they feeling, but the horse tells Brown something different.
"I found the horse is more reliable," she said. "I can tell when the horse is tense by looking at their eyes, tail, ear, their body language."
The approach has shown enough promise that the Department of Defense issued a report in 2016 assessing its usefulness for treating soldiers with post-traumatic stress disorder. The report acknowledged successes but concluded not enough research had been done to evaluate its effectiveness.
More research is coming, though.
According to the Washington Post, Columbia University is currently conducting a study at Bergen Equestrian Center in Leonia, N.J., into equine therapy with veterans and hopes to have a report by the end of the year.
Giers said empowerment is the focus of the therapy. The client has control. For example, a patient is asked to simply walk up to the horse.
"We do not tell a person how to approach the horse, other than safety suggestions," Giers said. "It is up to their style how they approach the horse."
How the encounters goes may give Brown and Giers a glimpse into their patient. The patient can try as hard as they can to lie to the horse, but the horse senses the truth.
"Some deep and profound things that could take me months in the office to come out, sometimes just get blurted out," he said.
Brown often witnesses her clients attend therapy with a negative attitude, but her horse Rudy tells her there is nothing to worry about. On the other hand, a horse will become nervous around people who can be hurtful.
"They can read someone easily," Brown said. "They each respond differently, though."
Brown has the choice of 10 horses to be used during therapy, but they are not specialized in training. Brown said the horses just get to be horses.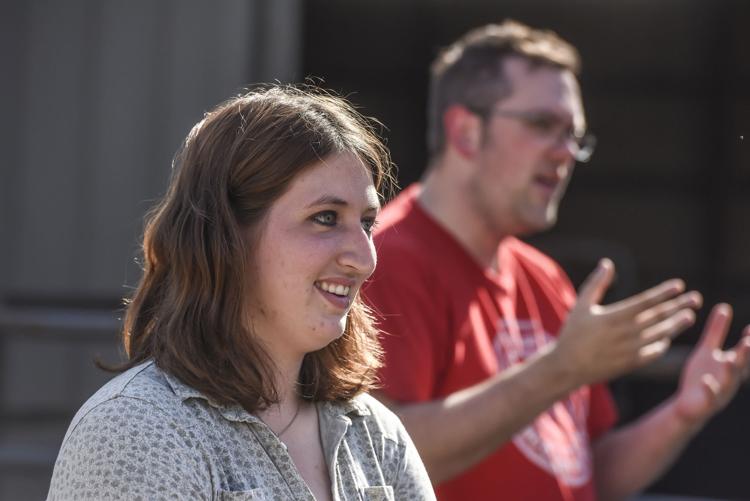 "They have day jobs," she said. "They are lesson horses, show horses; they moonlight as therapy horses."
Williamson found Sonny was feeling her frustration and struggles during their therapy sessions. His anxiety would rise when her's would.
"And we were clashing," Williamson said.
While working with Williamson, the team was able to see a change in her attitude within the first hour. Giers, Brown, Williamson and Sonny met together in the horse arena as often as possible, until horse and owner were able to walk and eventually trot together. Williamson stayed on the ground during therapy until she felt comfortable. The two worked together about a month before she could get on Sonny.
"Now we are best friends," she said.
Williamson gives credit to the team for helping her regain her confidence and control her fears.
"By the time she was done, she was recognizing things that she hadn't for years," Giers said.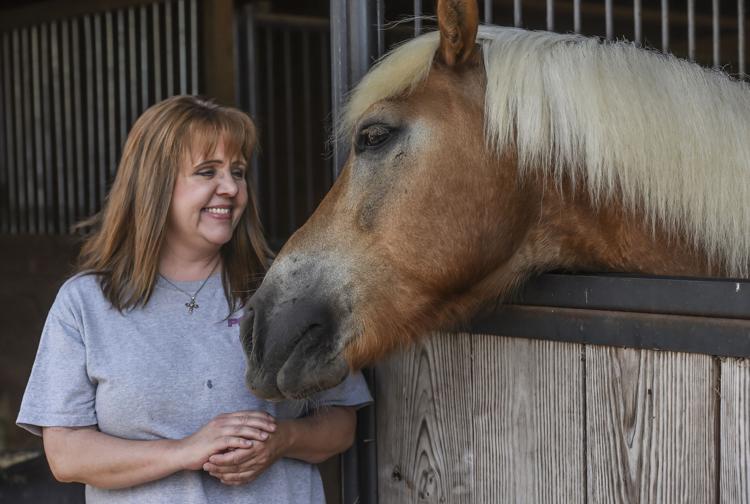 Three months have past since she began therapy. Williamson has been going to the stables on her own to visit Sonny, a feat that previously would have brought about a panic attack, she said.
Brown and Giers have seen the therapy used as a faster approach to an otherwise difficult struggle for health. They use equine therapy to address many issues, including corporate team building and family communication therapy.
"All of the work addresses how we communicate," Brown said. "And if everybody acted more like horses, we would have a lot less mental illness in the world."