DECATUR — What's the secret to a long and happy marriage? 
The answer may be different for everyone, of course, but it's a question worth asking on Valentine's Day, the traditional day for expressing affection, especially for a romantic partner. 
The Herald & Review stopped by the Central Baptist Association's Senior Love Banquet at Tabernacle Baptist Church on Tuesday afternoon in search of some perspective from area couples who have enjoyed at least five decades of commitment to each other. All told, the five couples interviewed represented 297 years of marriage.
Here's what they had to say. 
Kay and Charles Antrim of Decatur
Married 50 years
The couple said church is a big part of their lives.
They credit the Christian teachings for helping them have a long and successful marriage.
Plus, Charles Antrim said, "She does all my talking."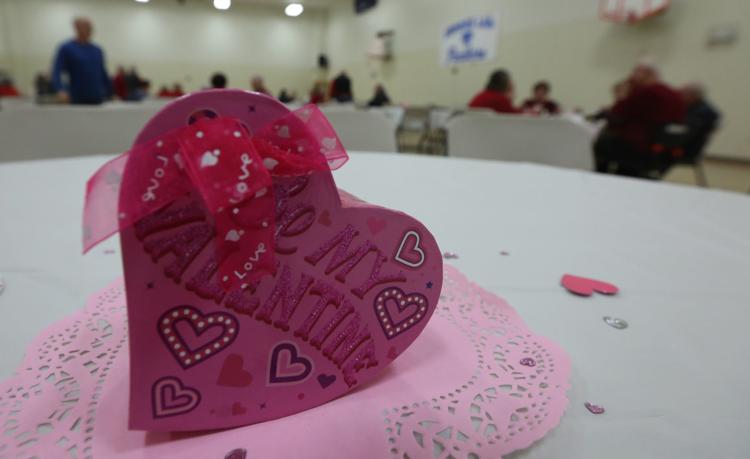 David and Ruby Kahler of Decatur
Married 54 years
"If we have a problem, we tell each other," David Kahler said, adding, "I don't know what the last problem was."
The pair said attending church services is another positive aspect of their relationship.
They said spending time together can strengthen any relationship.
"We went out together and when we had a child at home, we left them with a babysitter, and did something, just us," David Kahler said.
Nancy and David Cooprider of Decatur
Married 60 years
David Cooprider said he learned to say three things over the course of his marriage. First, "I'm sorry," second, "You're right," and third, "I won't do it again."
He tells his wife he loves her, and once in awhile she'll ask why. His response is, "You're fun and you're funny."
The couple said they try to end each day on a positive note.
Even if there are disagreements, "we smile and laugh about it," Nancy Cooprider said.
"It's been a short 60 years," she said. "Time flies when you're having fun."
Marjorie and Arlen Fowler of Decatur
Married 65 years
The couple has two children.
They think it is important to spend time together and do activities they both enjoy, Marjorie Fowler said.
Plus, Arlen Fowler said, "For 20 years, I was a truck driver, so I was out of her hair." 
Mary and David Hanley of Decatur
They got married between World War II and the Korean War, and have three children.
"Just keep on keeping on," she said. "That's what it takes."
Donnette Beckett contributed to this story.