DECATUR — Granny Giggles, the energetic co-host of the Fletcher Park Kids Club, has hung up her cap and apron after 20 years of entertaining children.
"I talk to the puppets," said actress Kim Whitt. "That's what I do."
Before her retirement, Whitt worked alongside various puppets, including Doodles the Dragon and the Gary Strong's Marionettes at the Fletcher Park Kids Club, previously known as the Super Kids Club.
Granny Giggles has a unique way of interacting with the children and puppets, encouraging imagination. Granny has found some children are shy. She encourages them to be part of the group.
"There are a lot of kids that have built up their confidence and come out of their comfort zone," Whitt said.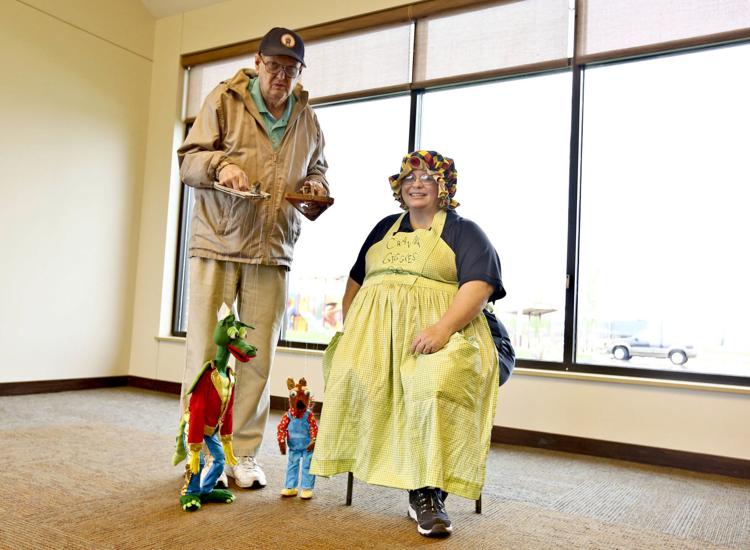 Amy Young has taken her three children, ages 8, 7 and 4, to many of the club's monthly shows.
"Granny Giggles is warm, friendly and engaging," she said. "She encourages the children to laugh, have fun, participate and interact with her."
Granny Giggles came from humble beginnings.
Whitt's experience included working with kids at her church and as a candy store manager. "And I like kids in general," she said.
Whitt met Strong at the time his last co-host was leaving for college. The character of Granny Giggles was created through their conversations.
"I just kind of opened my mouth and inserted foot," Whitt said. "And it's all history from there."
The club is part of the Mount Zion Park District. In the past, the children's program entertained families at the Avon Theatre and Lincoln Square Theatre, both in downtown Decatur. For the past six years, they have met at Mount Zion's Fletcher Park. They have also entertained children at Decatur Celebration, Scovill Zoo and other special events.
As the years have gone by, Whitt's life changed along with the audience and her character.
Granny Giggles started out with a white wig and an apron: "She was a grandmother at 20 something years old," Strong said.
"When I got married, Granny had to go away for her honeymoon," Whitt said.
Now 43, Whitt wants to devote more time to her children.
"My daughter will be a senior in high school next year, and I don't want to miss a moment," she said. "Sometimes, those more important things next year are going to be harder to get to."
Whitt's daughter is 17. "Which means Granny was pregnant," she said. "Twice, because I have two kids."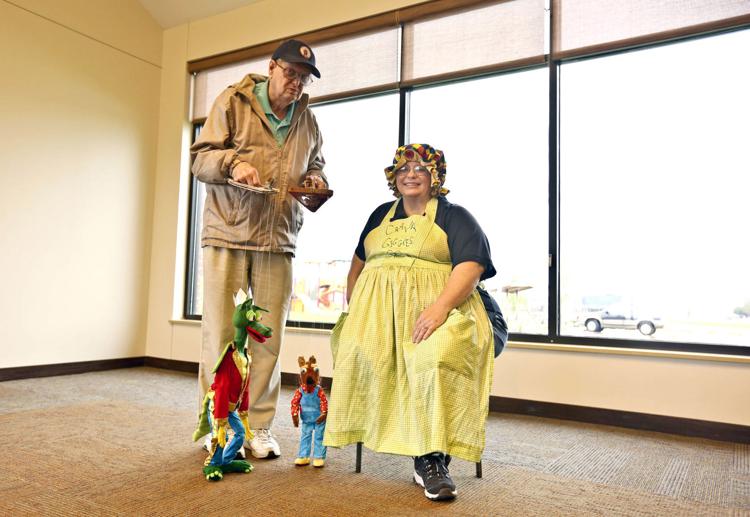 Whitt eventually eliminated the wig from her costume and began pulling her hair up into a nightcap. According to Whitt, the children didn't notice. "It's the face that they recognize," she said.
Granny Giggles is often spotted in public by children when she is wearing her everyday clothes. Whitt has heard them whisper to their parents, something she appreciates about her fame. Whitt once overheard a child explain to his mother that Granny Giggles was wearing a Mommy costume while shopping. "Because she's really Granny Giggles," Whitt remembered the child saying.
Strong and Whitt have performed to multiple generations.
"It is so fun seeing the kids grow up," Whitt said, adding the decision to leave the kids' club was difficult for her.
Although Granny Giggles is retiring, she explained to the children during the last show that she has not gone away.
"I can make appearances here and there," she said.
Plans are in the works for a couple to take Granny Giggles' place as co-host of the monthly shows.
"It will be the same program, but with new faces and characters," Whitt said. "The same fun and games."
The Young family said they will miss Granny Giggles.
"We were saddened to hear this news," Young said. "Our children love her."
The monthly program was based on the popular children's television shows from years past, such as "Captain Kangaroo" and "Bozo the Clown." Granny Giggles was considered a co-host to the marionettes.
"She has spent the 14 years talking to a squirrel and the last six years talking to a dragon," Strong said.
The show's topics and themes encourage healthy habits or positive behaviors. Children play games, win prizes, sing and dance. The audience also celebrates monthly birthdays.
Strong said he is going to miss Granny Giggles along with the children.
"She's a natural," he said. "Most of it is just her being herself."
The duo said they perform for the kids club simply for the fun of it.
"We work for smiles," Strong said.