TAYLORVILLE — The stunned residents of Taylorville were picking up the pieces Sunday after a freak Christmas season tornado delivered them a hellish gift of destruction.
An estimate from the Christian County Emergency Management Agency said the Saturday evening storm damaged more than 100 homes and resulted in 21 people needing hospital treatment; three of the injured were transferred from Taylorville Memorial Hospital to other facilities for specialist treatment and one person had suffered critical injuries.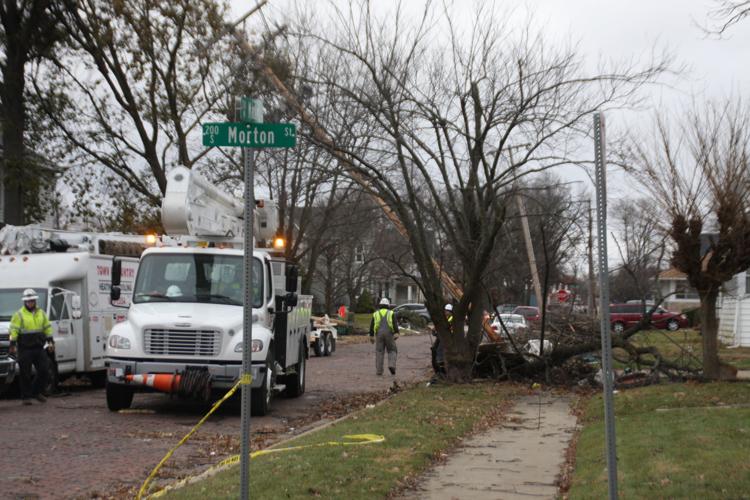 Ameren Illinois crews numbering more than 100 swarmed over the city fighting to restore disrupted power supplies. Ameren field representatives told the city that at least 100 power poles had been destroyed.
Gov. Bruce Rauner arrived to see the damage for himself Sunday afternoon as displaced families found help at a designated shelter set up with the American Red Cross at Crossroads Apostolic Ministries.
"I was born and raised around here and I've never seen anything like this," said Cindy Ridgeway, 59. She lives about 8 miles from Taylorville but was in town with her boyfriend to inspect the damage inflicted on a relative's house at 801 West Market Street.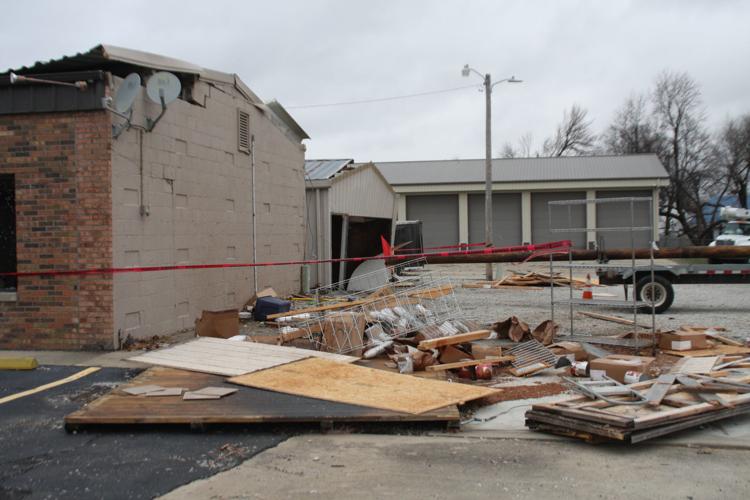 The roads for blocks around were choked with downed limbs, roofing debris and smashed and twisted siding. Power poles were either snapped off or leaning at drunken angles as power crews labored to install new poles and chainsaws whined to clear a path through the mess.
Parker Stokes lives at 727 West Market Street, just across the road from his grandfather's home which had gaping holes in the roof and the upper windows blown out. He dashed back to help from college in Edwardsville and was shocked by the scene he found in Taylorville.
"A whole bunch of trees just looked like they had been cut in half along the path of the tornado, it was just unreal," said Stokes, 20.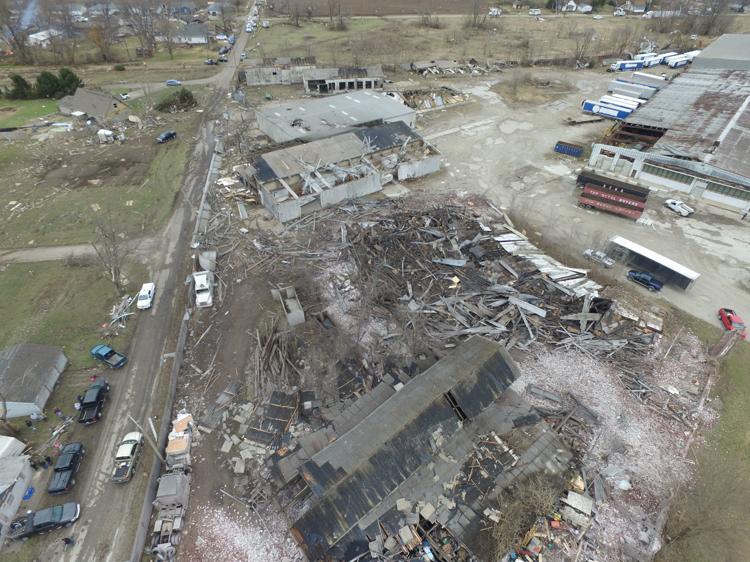 His cousin, Jared Misiorek, said his house had escaped unscathed but the tornado had scored a direct and devastating hit on the city. "It seems like it came through the middle of Taylorville and just ripped it apart," he said.
The city's public schools will be closed today because of the storm damage and to ensure the safety of students and staff, said a statement from Mike Crews, Christian County Emergency Management Coordinator.
Crews said help had poured into Taylorville for both initial search and rescue for people trapped and injured and for the aftermath and cleanup. Fire departments from Assumption, Edinburg, Midland, Moweaqua, Mount Auburn, Morrisonville, Owaneco, Pana and Nokomis had lent a hand.
Other help came from many and varied organizations including "Team Rubicon," which is what Crews described as a veteran-led disaster response organization. And Crews said the Southern Baptist Response Team and the Lutheran Ministries Early Response team had also arrived to help, along with many state and local resources.
Taylorville Police Chief, Brian Hile, said Sunday evening that the offers of help had been so overwhelming some had to be turned away "because we had more than we could handle."
He said the clean-up and repair crews heroic efforts had transformed the chaotic scene of destruction that he had seen at first light Sunday morning.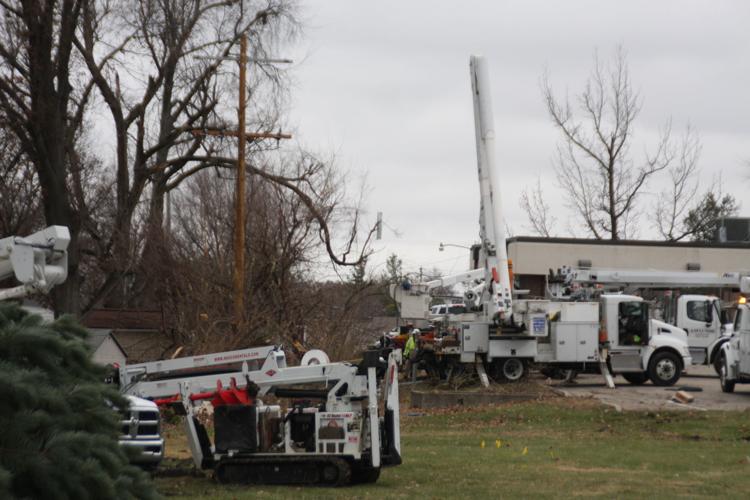 "They have made tremendous progress in getting the roads clear," he added. "We are getting a little bit of normalcy back over here."
But for shocked and numbed residents struggling to get back to their own sense of normal, recovery is clearly going to take awhile no matter how much help arrives.
"This kind of storm, happening now, it's probably the craziest event I've seen," said Parker Stokes. "As for Christmas? It's not very Christmas-like around here."
Contact Tony Reid at (217) 421-7977. Follow him on Twitter: @TonyJReid
Get local news delivered to your inbox!
Subscribe to our Daily Headlines newsletter.