DECATUR – Central Illinois said goodbye to fallen sailor Logan Palmer on a bright and sunny fall Monday, a day already filled with patriotic emotion on the 16th anniversary of the September 11 terrorist attacks of 2001.
Palmer, 23, had died Aug. 21, one of 10 sailors lost on the warship USS John McCain after a collision with a tanker near Singapore. Pastor the Rev. Mark Cooper told hundreds of mourners at Decatur's Life Foursquare Church, including U.S. Rep Rodney Davis, R-Taylorville, that he had heard Palmer died a true hero, surviving the initial collision but staying in harm's way to try and help his fellow shipmates.
The pastor said his wife, Lynn, had talked of Palmer's heroism with the sailor's sister, Madison. "When Lynn asked what she thought about Logan placing himself in harm's way, Madison responded 'I wish he hadn't,' " he said. "Then she went on to say 'But that's what Palmers do.'"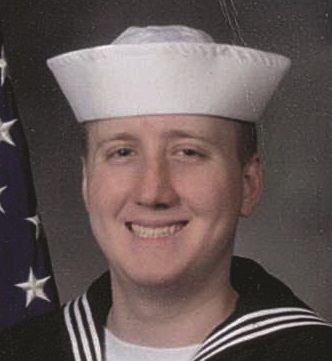 Looking out at the Palmer family in the front pews — Decatur parents Sid and Theresa, sister Madison, brothers Austin and Kaleb, grandparents and other relatives — Cooper said it was hard not to wonder what the last moments of the sailor's life were like.
"Perhaps you wish you could have been there with him as he breathed his last: with him to comfort and console him, with him to express your love and affection, with him to say goodbye," Cooper told the hushed sanctuary.
"But this was not possible and, in this way, Logan's sacrifice is also your sacrifice. You have given a son, a brother, a grandson, a friend, to a grateful nation. That nation and its citizens owe you and Logan a debt of gratitude."
Palmer's flag-draped casket was carried into the church by a Naval honor guard in dress uniform. Navy officers and sailors saluted the casket that lay at the front of the cavernous church sanctuary, surrounded by sprays of flowers in red, white and blue. The sailors were followed by troops of Boy Scouts who also saluted in turn, marking the loss of one of their own: Palmer had achieved the rank of Eagle Scout.
Two scouts, Tanner Owens and Mark Reed, stood before the congregation to perform the Ceremony of the Broken Arrow, symbolizing farewell to a fellow Scout who had distinguished himself. Snapping an arrow in half, they said the act was "symbolic of the end of strife and the beginning of peace."
Music for the funeral service included a medley of "Over the Rainbow" and "What a Wonderful World", requested by the Palmer family, and sung by Foursquare Church worship director Christian Sandel who accompanied himself on ukulele.
Palmer's casket was carried out to the haunting John Williams music "Hymn to the Fallen" which was part of the "Saving Private Ryan" movie score.
Mourners entering and leaving the sanctuary passed tables laden with treasured fragments of Palmer's short life: His Eagle Scout Badge and pinewood derby racing cars; his fishing rod and a treasured LEGO toy; and a blizzard of captured memories in pictures, showing him at every stage of life from smiling baby to proud and newly-minted sailor.
After the service, his funeral procession, escorted by police and fire vehicles, passed under a vast American flag held suspended between two tower trucks from the Decatur Fire Department. Police halted traffic and even passers-by stood with their hands over their hearts as the gleaming white hearse made its slow progression towards Harristown Cemetery, where Palmer was buried with full military honors.
The funeral route was lined with well-wishers, many of whom did not know who Logan Palmer was until they were told, and then they were happy to wait and pay their respects. They included people like Billie Kay Dugger from Springfield, who watched the procession near Sharon United Methodist Church at Center street and Wyckles road. 
"I just saw the flags and I didn't know what it was, but I just felt in my heart it was something I needed to sit here for," Dugger said.  "My family is a military family, my father was in the Navy. 
"It's a shame that our country is as bad as it is, and it's wonderful that there are people, who are young, who are out there fighting for us," Dugger added. "I wish I could help them all, but I can't. All I can do is sit here and pray."  
Marshall Sperry from Decatur also watched the procession near Sharon United Methodist Church. He does know one of Palmer's older brothers and has been following events closely. He set up a tripod to take pictures of the procession going by.  
He's attended other processions before to honor fellow citizens.  
"I want to honor Logan and the rest of his family," Sperry said.  
Donna Kerfoot from Harristown watched near the cemetery and said she came to the procession out of respect for Palmer and for the flag.  
"I went through this for Vietnam people so it's very emotional," she said. "It's about paying respect to the young man for his service and to the flag, since so many people aren't respecting the flag anymore."