Decatur voters approved making the city "dry" in 1908, a movement that even attracted attention from famous evangelical preacher Billy Sunday, who visited the city.
But the booze ban didn't last long.
Liquor was back in 1910 after voters decided to reverse course.
"​Decatur was the only city of its size in the state, except Rockford, to have kept such a law on the books for two years," according to a 2000 story in the Herald & Review.
Voters again banned alcohol in 1914 and then nationwide Prohibition started on Jan. 17, 1920.
There are still legends about bootlegging and backroom drinking in Decatur. The ban also gave rise to crime syndicates, bootlegging and other crime.
Raids were common. Decatur newspapers were filled with headlines such as "Police, sheriff raid 10 more places; arrest 12."
You have free articles remaining.
"Attention first went to speakeasies in northeast Decatur," said the story, in the Oct. 1, 1930, Decatur Herald, which counted "three squad cars filled with police."
One family on North Woodford was found to have "50 quarts of brew, a 12 gallon jar of brew mash working, a 10 gallon keg of wine in process of fermentation, a quart of alcohol  and almost 100 empty beer bottles," the story said. 
Mount Pulaski became unofficially known as "Vinegar Hill" because liquor was shipped into town in kegs marked "vinegar."
"Conductors called out, 'Vinegar Hill, next stop,' to alert thirsty passengers the town was approaching," according to a June 2011 story in The Pantagraph.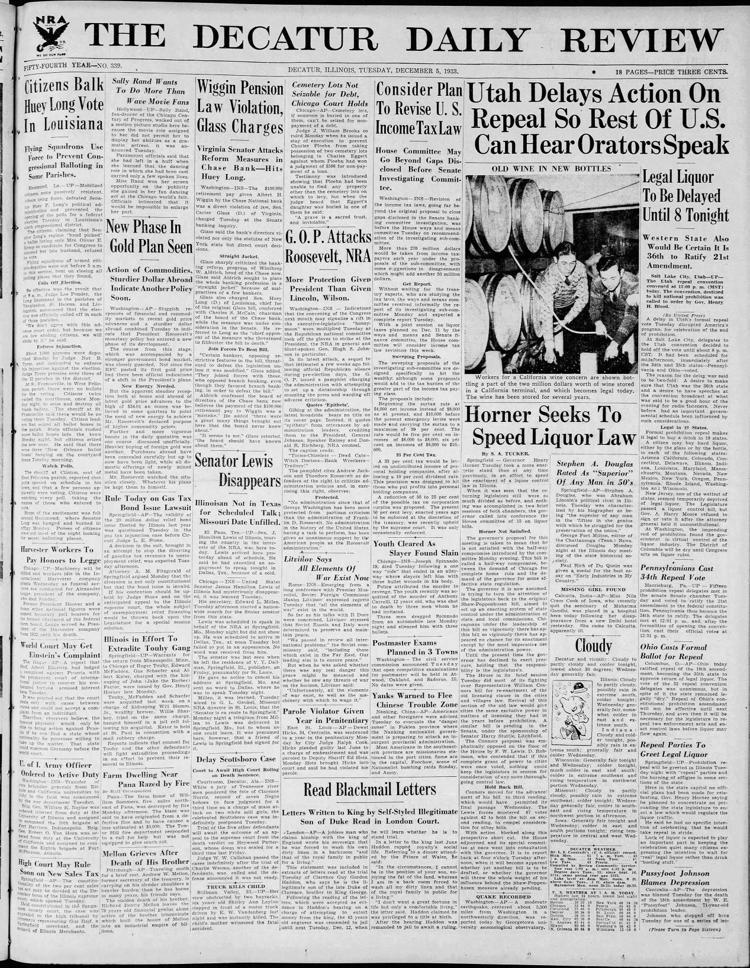 ​The 18th Amendment was repealed by the 21st Amendment in December 1933. On Feb. 1, 1934, Illinois followed suit.
Legend has it the Lincoln Square Tavern — now the Lincoln Square Lounge — on North Main Street secured the third liquor license issued by the state in 1934.
On the first day of legal liquor, "drug stores came to the rescue of retailers who couldn't obtain immediate supplies from out of town warehouses," the Decatur Herald reported on Dec. 6, 1933, "and whisky, wines, gin and even a little champagne flowed over several bars in the city."
---