DECATUR — The career fair at Richland Community College on Thursday came at an opportune time: Data just released by the state showed higher unemployment in the Decatur metro area, with an estimated 3,100 people looking for work.
Preliminary data showed Decatur's unemployment rate in February was 6.2 percent, up half a percentage point from 5.7 percent in February 2018. The area also lost 100 nonfarm jobs, although several sectors grew employment, according to the Illinois Department of Employment Security.
A slight rise in the unemployment rate is just natural "churn," said Andrew Taylor, economic development officer for the Economic Development Corp. of Decatur and Macon County. And a rate of 3 percent or lower actually means the economy is in trouble, he said. 
"If nobody's looking for work, how does somebody starting a business find people to hire?" he said.
During the first part of the year, unemployment does rise somewhat due to the end of seasonal hiring for the holidays. Caterpillar Inc. hired a large number of new employees last year, he said, and that caused some turbulence in the numbers as well. However, he said that more people in the labor force looking for work is actually good for businesses that are in search of people to hire.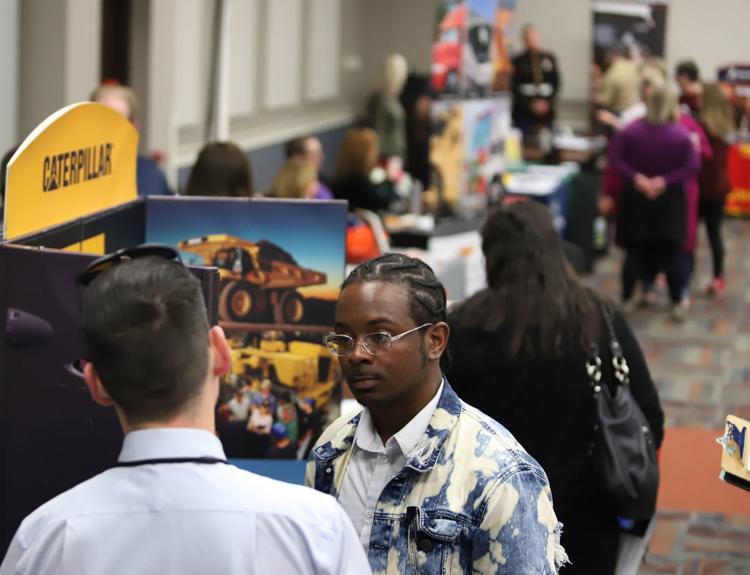 And the region does have jobs available, according to the state report. Employers advertised for 7,200 positions last month for the area that includes Decatur and Springfield, and 76 percent of those were full-time.
Those looking for work on Thursday could explore opportunities offered by more than 40 companies and organizations at the career fair, hosted by Richland and Illinois Worknet. It's an annual event, one appreciated by job seekers like Derlen Manney.
Manney, a second-semester student at RCC, said he had been looking for a job for quite awhile. "I would like to work for a factory. Really, anywhere that pays well," he said.
Manufacturing was among the sectors that saw job growth in February, according to the state report. More than 600 manufacturing jobs were added in the Decatur metro area over the prior year. The biggest Decatur-area decreases came in professional and business services and retail trades, which each reported losing more than 300 positions.
Statewide, unemployment fell two-tenths of a point, to 4.7 percent. The Chicago, Elgin and Lake County-Kenosha County metropolitan areas accounted for nearly all of the employment growth over the past 12 months, while the Springfield, Decatur, Champaign-Urbana, East St. Louis and Bloomington metropolitan areas all had net job losses.
You have free articles remaining.
Nine metropolitan areas besides Decatur saw increases in the unemployment rate. 
Clarice Thomas, career at completion coach at Richland, said it was hard to tell Thursday if there was a trend among the type of work attendees were seeking. But there was variety in the sectors represented there: manufacturing, media, social organizations, non-profits, state agencies, armed forces, financial institutions and medical groups.
"It's really a good opportunity to work with people who are currently seeking employment or receiving unemployment benefits to come out and network," Thomas said, "as well as our students who may be looking for summer work or graduating and looking to transition into a career."
One of those soon-to-be-students is Jahree Finley, who will start at the college in August. He came to the fair to see what jobs opportunities were available.
"I want to work in a warehouse or a factory job," Finley said. He would prefer to do manual labor.
Walmart employees had a table set up at the fair, and Human Resources employee Pam West said both Decatur locations were looking to fill 20 to 25 open positions. The available positions include those like openings in the stocking program, tire lube express, self check-out hosts, customer hosts and cashiers.
"Walmart is a nice place to get started," West said. "It does have a career path, and there is room for growth."
CSL Plasma employee Amber McCullough was also at a table seeking prospective employees. The company is a plasma donation center, which not only allows for on-site training and education for certain positions, but also tuition reimbursement, she said.
Medical reception screeners, phlebotomists, processing lab technicians and medical staff are all open positions, McCullough said.
Finley has one main piece of advice for people like himself who are looking for a job: Don't give up.
"You have to be focused," he said.
Capitol News Illinois and Valerie Wells contributed to this story.