DECATUR — Barbara Gray's blue-eyed Husky Crystal is a rescue, so she already has a soft spot for both dogs and rescues.
When she stopped in to Northgate Pet Clinic on Wednesday for supplies for Crystal, she found furry friends Sig and Todd manning a kissing booth and raising money for the Humane Society of Decatur and Macon County and Hudson's Halfway Home. The kissing booth will be open again 8 a.m. to noon and 1 p.m. to 5 p.m. today.
"I can't be around a dog for more than a few minutes without spoiling him," Gray said, laughing as Todd kissed her. Holding the pit bull/beagle mix's face in her hands she said, "I love you. You're so cute."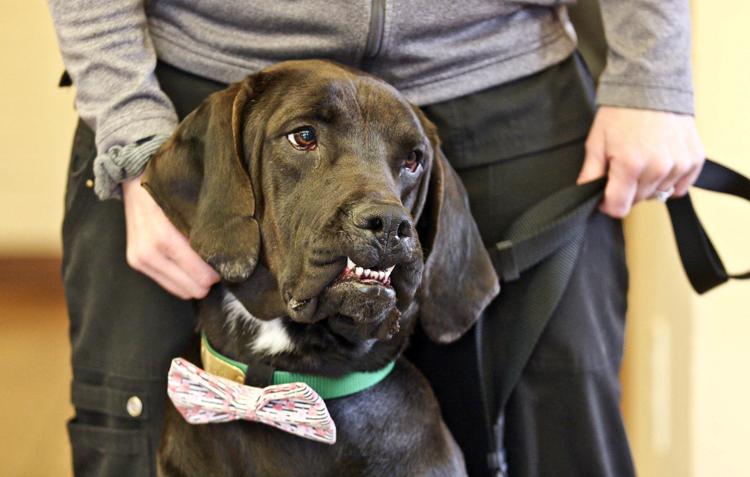 "I was in the market for a puppy, so I got him," Litz said, laughing in her turn as the very affectionate Todd covered her face with kisses, his tail wagging madly all the while.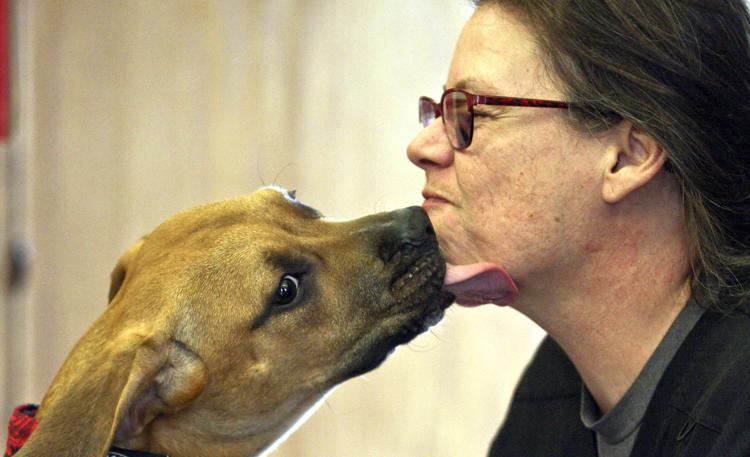 Northgate employees put their heads together to come up with a fun event for Valentine's Day and the kissing booth won the majority vote. Tori Leeper, clinical trials assistant coordinator, built the booth from a couple of crates, and included a Peanuts-esque sign that says "the dog is in" — or out, depending on the situation.
Her dog, Sig, a 2-year-old hound and Lab mix who survived parvo, came from the Humane Society. He has a charming underbite thanks to having had his incisors removed because they were damaging his lower gums, but that doesn't slow him down in the least.
Sig is a little shy about having his head touched, but once he's had a chance to meet someone dog-style — a thorough sniffing — then he's more than willing to share kisses.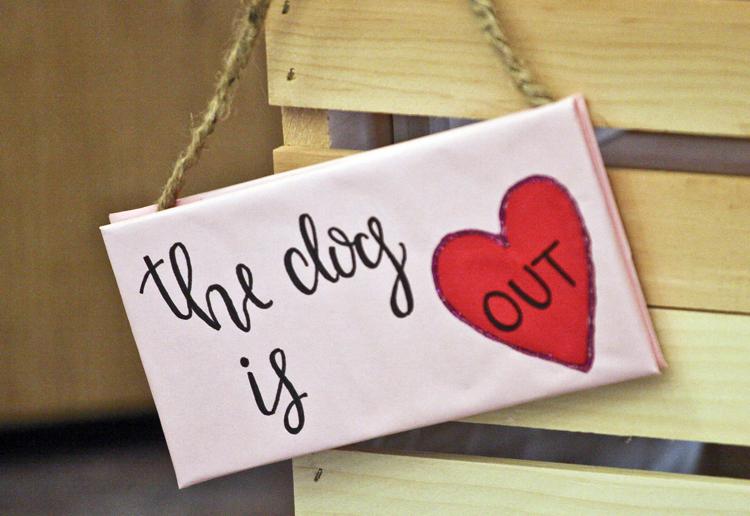 Business at the booth was a bit slow on Wednesday afternoon, Leeper said, but they knew that was a possibility because it was during business hours, when a lot of people are working.
"We really just wanted to do something fun for Valentine's Day," Leeper said. "We don't usually do anything around the clinic, so we kind of took a vote and this is one of the ideas we came up with."
Two plastic donation containers, one for each of the two rescues, sat on the kissing booth, and Gray, for example, couldn't decide which one to donate to, so she put money in both containers. She also got kisses from both dogs.
Todd and Sig never met each other until Wednesday morning, but spent as much time as possible playing together all day. Two different dogs will be in place on Thursday. All the dogs are owned by Northgate employees and known to be friendly to humans and other dogs.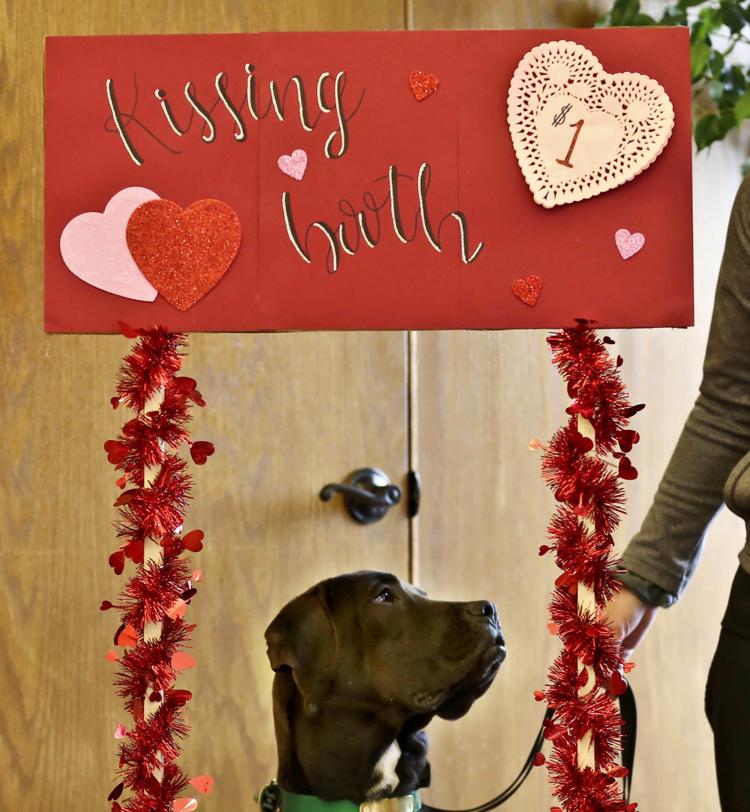 "(Crystal) would look really cute here," Gray said. "She's going to know I cheated on her. I could spend all day here."