DECATUR — Hundreds of solar farm projects across Illinois, including several in Macon County, are vying for tax credits that will be decided in a lottery scheduled for next month.
Four have been approved by the county board. The tax credit lottery will determine which projects go forward, part of a massive expansion of renewable energy in Illinois. A 2016 state law called for a quarter of Illinois power production to come from sources such as wind and solar by 2025.
Developers responded to the law's promised incentives by combing the state for potential sites. Farmers agreed to host solar panels on their property, with some driven by the need for stable income in a field marked by economic uncertainty.
The lottery is tentatively scheduled for March 21, according to the Illinois Power Agency, which is responsible for disbursing the tax credits.
Jay Edgecombe's land northeast of Decatur was the first solar project to receive county approval last spring. He said the project covering about a quarter of his 80-acre plot could help pay bills, but until the lottery, it will be "business as usual."
"My relatives can continue to farm, it won't affect me until it gets built," Edgecombe said.
The solar farms use photovoltaic panels that turn sunlight into electrical power, which can be put back into the power grid.
More than 3,000 projects totaling over 1.8 gigawatts of solar projects were submitted to the state agency by the deadline. The number was significantly higher than what was initially planned for, and how many projects receive credits remains to be determined, said agency Director Anthony Star.
"We're still looking at best how to allocate those credits," he said.
In areas like Macon County, pending applications fall into the "community solar" category, or those that produce a couple megawatts of power. Twenty-two of those types of project are slated to receive credits in the current round of bids for the region that includes Ameren Illinois, and the agency can award additional credits to projects of different sizes.
Once the lottery is complete, the Illinois Commerce Commission will sign off on each lottery winner. Solar companies will have 18 months to make their projects operational.
A new state law that took effect July 1 said that solar farms can be assessed at the value of $72,659 per megawatt, consistent with expectations that the solar farms would not generate as much tax revenue as wind farms. One megawatt can power 750-1,000 homes.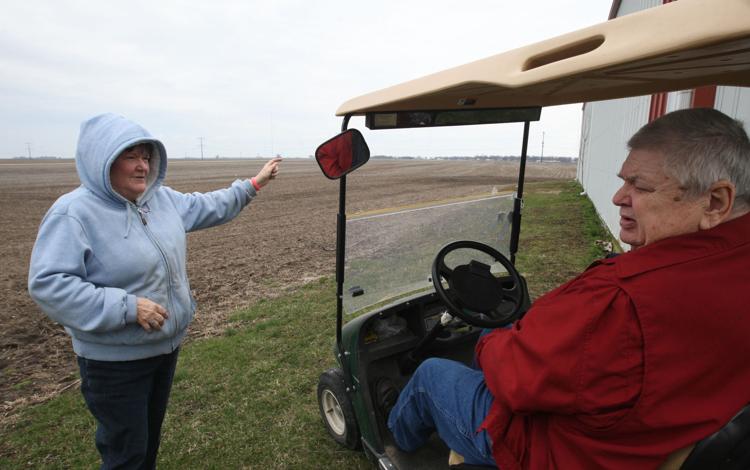 By comparison, state law has wind energy assessed at $119,988 per megawatt. Radford's Run Wind Farm, which went online in early 2018, is expected to generate $6.1 million in property tax revenue over the next three decades.
The Solar Foundation, a national advocacy group for green energy, found the state has added 1,308 solar jobs in the past year, the second most of any state. Its total 4,879 solar jobs are the 13th highest in the nation.
"As evidenced by these new jobs numbers, markets follow smart policy," said Sean Gallagher, vice president of state affairs for the national Solar Energy Industries Association. "The opportunity is ripe here in Illinois to build on the foundation established by the Future Energy Jobs Act and cement the state as a national clean energy leader."
While the number of solar jobs has grown, developers have said they need renewable energy credits to make their solar projects financially viable.
The hope was the credits would have been distributed by last year, but Star said the scope of the effort caused months of delays.
Some have raised concerns about the environmental impact and how the panels look.
The pushback on solar projects depends on where you go in the state.
Some Kankakee County residents opposed the number of solar projects that came before its county board.
Champaign County has been more supportive of even larger-scale solar investments, such as a recent proposal to build a 150-megawatt solar farm on 1,609 acres of land.
In Macon County, the projects have been met with a general mix of curiosity and minor quibbles. Four proposals have been approved by the county board, each one in the rural parts of the county and none expected to produce more than three megawatts of energy.
For officials at the county farm bureau, solar farms do raise some concerns about the loss of farmland. Yet Mike Stacey, president of the Macon County Farm Bureau, says there is also the benefit to the landowner of having a guaranteed income to assist in what can be a volatile revenue in the agriculture industry. There are also advantages to replacing farmland with a temporary green project like solar, rather than a permanent road.
"It's up to each person what they want to do with their property," Stacey said.
The other local solar projects include a 10- to 15- acre development at the northeast corner of Brush College and Cundiff roads, a 20-acre one near Kirby Road in Oreana, and a 22-acre project near the intersection of Wesley and St. Louis Bridge roads in southwest Decatur.
The projects are not nearly the cash generator of a project like Radford's Run Wind Farm in the northwestern part of Macon County, but solar could bring in some additional revenue for the cash-strapped county.
As they wait to see if any of the four proposed solar projects become a reality, Macon County board Chairman Kevin Greenfield said they know the revenue amount will be minimal. The state is facing a budget shortfall for the coming fiscal year at possibly over $1 million.
"Any revenue generated would be greatly appreciated," he said.