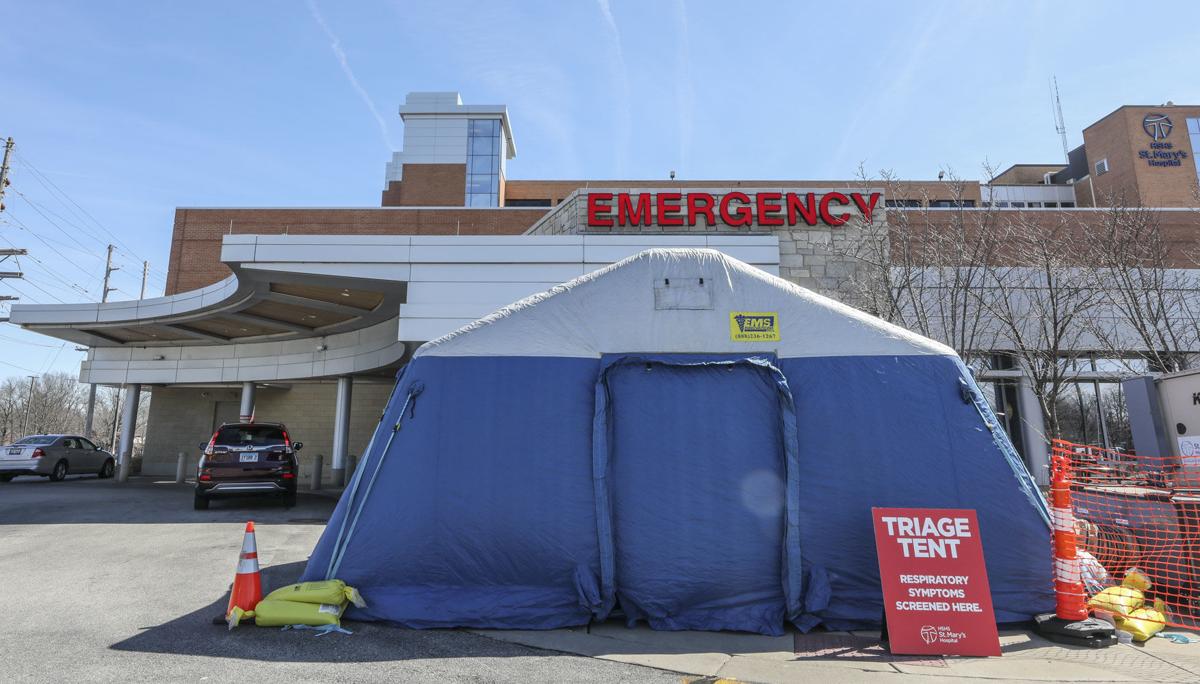 DECATUR — Fifteen tests for COVID-19 have been completed in Macon County, with nine negative results and six pending results, officials said Thursday. 
Additionally, six Macon County residents have been tested outside of the county. All of those results were negative. 
However, officials continued to stress that testing remains limited. 
"It is safe to assume that COVID-19 is in our community," the county's Crisis Communication Team said in a statement. "Because testing is not widely available to the general public, it is imperative that community members, whether feeling ill or well, implement social distancing best practices to limit the spread and contraction of COVID-19. This means staying home and away from as many people as possible as often as possible."
---
---
Many people with symptoms do not meet the state criteria for testing, and experts say people can spread the disease for days before they ever show symptoms. That's why officials say it is crucial to continue to practice social distancing and other precautions, regardless of the data. 
The county's Crisis Communication Team is made up of local government and health care leaders, including both Decatur hospitals and Crossing Healthcare. 
"It remains true that Macon County will inform the press and public as soon as possible at the time of a confirmed case of COVID-19 in a Macon County resident," the team said. 
For most people, the coronavirus causes mild or moderate symptoms, such as fever and cough that clear up in two to three weeks. For some, especially older adults and people with existing health problems, it can cause more severe illness, including pneumonia, and death.
WHY HASN'T MORE TESTING BEEN DONE?
This is a frequent question coming from Herald & Review readers on social media. Here's what we know:
Tests are completed according to criteria from the Centers for Disease Control and Prevention and the Illinois Department of Public Health. 
Testing criteria outlined on the state health department website, which you can see here. It says that because test kits and supply constraints are limited, the state labs will only accept:
Specimens from hospitalized patients with severe acute lower respiratory illness (e.g., pneumonia) or
Specimens from clusters in a congregate setting that serves more vulnerable populations such as a supportive care facility, assisted living facility, group home, homeless shelter, or correctional setting.
There is also a possibility that a health care provider may have submitted tests to a private lab and Macon County may not be notified. In that case, the county's health department would be told if a private lab test were confirmed as positive, officials have said. 
Gov. J.B. Pritzker said earlier this week that laboratories in the state are now processing about 2,000 tests per day, up from about 50 per day at the start of the outbreak, which partially accounts for the rapidly rising number of confirmed cases. Officials have repeatedly stressed that because many people have not been tested, the actual number of cases is probably much higher.
Herald & Review Central Illinois Editor Chris Coates talked to Decatur Memorial Hospital Chief Medical Officer Dr. Ted Clark about testing in a video interview Monday. Here's what he said:
"Testing's a big question. The short story, is we don't have enough tests.
"Some of that is based on how this occurred throughout the world, where other areas were affected first and they were collecting the items needed essentially to do this testing. There's a lot more to it than just a simple test. There are specific items that you need to be able to perform this test, specific equipment. We do have good testing equipment at DMH.
---
LISTEN TO OUR CORONAVIRUS PODCAST 
---
"We are currently testing through IDPH. There are also some commercial sources, LabCorp being one of them regionally that's testing. So there is testing available but we're following the CDC criteria. They're really keeping us to the high-risk patients as far as patients who have traveled internationally or have a known exposure to COVID-19, also patients that have a specific clinical presentation that looks like COVID-19. That gets pretty detailed.
"We have algorithms in our emergency departments that allow us to put together a picture of what a COVID-19 case looks like and if we identify one, we make sure we get them in the appropriate precaution area and we also initiate testing."
HSHS St. Mary's Hospital declined interview requests and responded to a list of questions with the following statement: 
"Please be assured that HSHS St. Mary's Hospital is monitoring all developments associated with COVID-19 (coronavirus) in the Decatur community. We are continuously evaluating how to best align our staff and supply resources with the evolving patient demand. We are assessing the situation at all of our sites in the local community to ensure we can meet patient needs across our collective service areas, and we are closely coordinating with public health officials. Given our commitment to patient and employee safety, we are all currently deferring elective care and procedures, which has enabled us to redeploy staff and resources to our area's COVID-19 response.
"Please realize that as this COVID-19 pandemic progresses, we will likely be working with additional resources from state and federal government that could expand the amount of care that we can provide. Your local healthcare providers are prepared to respond to any and all developments related to COVID-19, as well as any other infectious disease outbreak.
"Additionally, St. Mary's Hospital is part of a larger organization, Hospital Sisters Health System (HSHS), which includes 15 hospitals in Illinois and Wisconsin and nearly 200 specialty care clinics through our three physician groups: HSHS Medical Group, Prairie Heart Institute and Prevea Health. HSHS is also looking at how we as a health system can best allocate staff and resources based on how this pandemic advances across the communities we serve."
Macon County Public Health Administrator Brandi Binkley also addressed the testing situation in a video on the health department's Facebook page on Sunday. 
"Testing capacity is very limited, so those kits have to be used for the people who absolutely need them," she said, adding, "In most cases, about 80% of people that have this are able to recover safely at home."
Here are other messages from the county's Crisis Communications Team:
EQUIPMENT DONATIONS
The Macon County Crisis Communication Team is accepting donations of homemade masks and other personal protective equipment (PPE) from 1 to 3 p.m. on Thursdays, March 26, April 2 and April 9, at the Decatur Civic Center drive-thru, 1 Gary K Anderson Plaza.
These donations will be distributed to Crossing Healthcare, Decatur Memorial Hospital and HSHS St. Mary's Hospital.
The donations can include boxed, unused surgical type masks (including N95 masks); clean handmade, sewn masks; unused, wrapped or boxed gowns and exam gloves; hand sanitizer; bleach wipes and alcohol wipes to help with the national shortage during the COVID-19 outbreak. The community should be assured that these donations will be received in accordance with CDC guidelines.
For those who wish to make masks, please use this link (which includes instructions for elastic ties) or this link (which includes instructions using cotton ties) as a guide. The Crisis Communication team suggests putting them in Ziploc bags in quantities of 25.
Community members should only drop off donations at this designated location at the Decatur Civic Center. Do not bring them to the hospitals or clinics.
QUESTIONS ABOUT STAY-AT-HOME ORDER
The health department has been receiving many calls from community members regarding whether or not their businesses can remain open during Governor Pritzker's Executive Order.
Business owners are encouraged to contact the Illinois Department of Commerce and Economic Opportunity (DCEO) to discuss the specific details surrounding the Executive Order and what it means for their individual business. The DCEO can be reached via phone call at 800-252-2923 or email at ceo.support@illinois.gov.
BLOOD DONATIONS
A Message from the Central Illinois Community Blood Center: We are encouraging blood donations now and in the next 8 weeks to ensure adequate supplies during the Coronavirus Pandemic (COVID-19). We are working to prevent shortages locally. We are monitoring credible health agencies for updates on COVID-19 and are responding accordingly. For blood drive sponsor groups that are considering cancelling drives, please work with us on potential options to re-direct donors. There is no known risk to the safety of the nation's blood supply except for lack of donations and there are no reports of spread of this respiratory virus by blood transfusion. Giving blood is critical to ensure an adequate supply to meet patient needs. Learn more about how you can help by donating blood, time, or money by visiting their website at https://www.bloodcenter.org/; emailing impact@mvrbc.org; or calling (800) 747-5401.
The American Red Cross is facing a severe blood shortage due to an unprecedented number of blood drive cancellations during this coronavirus outbreak. Healthy individuals are needed to donate now to help patients counting on lifesaving blood. For an appointment, please visit RedCrossBlood.org or call 1-800-RED CROSS (1-800-733-2767). Please also note that the American Red Cross Blood is hosting a blood drive every Tuesday from noon to 6 p.m. at Decatur's American Red Cross Chapter on 2674 N. Main St. in Decatur.
IF YOU HAVE SYMPTOMS
Symptoms of COVID-19 can include fever, cough, and shortness of breath. Symptoms may appear two to 14 days after exposure.
Do not go to a hospital emergency room or doctor's office unless it is a true emergency. Instead, call your primary care doctor.
If you do not have a primary care doctor, you may call DMH Medical Group at (217) 876-2856, Crossing Healthcare at (217) 877-9117 or SIU at (217) 872- 3800.
HSHS Medical Group Family Medicine Forsyth is operating a regional respiratory hub. Their hours are 7 a.m. to 7 p.m. Monday through Friday, and Saturday 7 a.m. to 5 p.m. Please call your primary care provider before seeking care at the respiratory hub and if you have any questions.
Memorial Health System is operating a respiratory screening clinic at its DMH Express Care East location to screen people for the COVID-19 virus. The clinic at 4455 U.S. 36 East will operate from 8 a.m. to 6 p.m. daily. People coming to the respiratory clinic should call (217) 876-1200 before they arrive.
Patients and visitors to healthcare facilities should be prepared to be screened before entering.
---
Contact Allison Petty at (217) 421-6986. Follow her on Twitter: @allison0512
Concerned about COVID-19?
Sign up now to get the most recent coronavirus headlines and other important local and national news sent to your email inbox daily.