DECATUR — Judy Rexroad has been a volunteer for Macon County's Meals on Wheels for nearly 10 years.
"They get blessed, but we get blessed more," said Rexroad, who with her husband delivers lunches twice a week in Decatur. "It is a way of giving back to a community that we love."
This year, Meals on Wheels is celebrating 50 years of deliveries to Macon County residents. Volunteers were treated to a breakfast last month, honoring their services.
"The program connects with people and builds relationships," said Rollanda Pinckard, former volunteer coordinator. "It's something about being in service."
Meals on Wheels relies on more than 500 volunteers to deliver meals to area shut-ins. Volunteers deliver once or twice a week, or even once a month.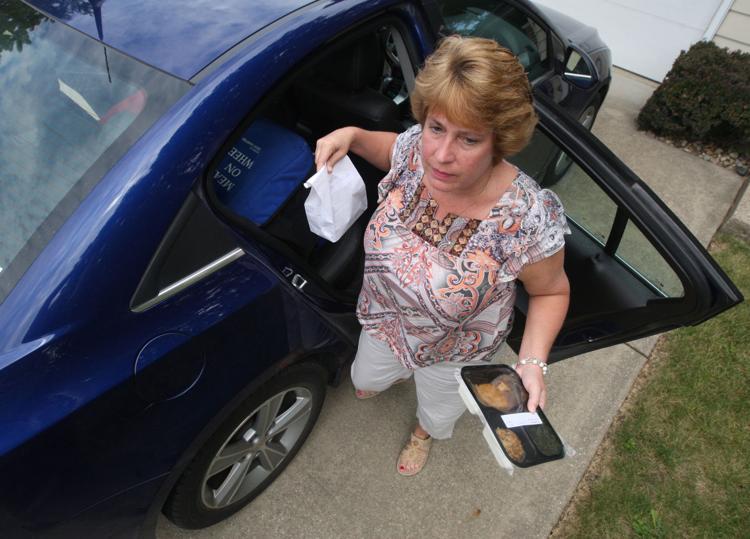 Twenty-three routes cover nearly 300 clients a day. Each route takes about an hour. Deliveries are Monday through Friday, beginning at 10:30 a.m. Registered dietitians at Decatur Memorial Hospital plan and prepare the meals. Businesses, individuals, churches, and Macon Resources Inc. provide the volunteers.
"It is a cross-section of Decatur," Pinckard said.
The cost of the meals is based on a fee scale based on income, but no eligible client is turned away.
Tracey Kelly receives Meals on Wheels meals every weekday. She has had a chronic illness for 25 years. She began receiving her meals in January after she suddenly lost 73 pounds in 10 months.
"They wanted to make sure I get nourishing meals," she said. "And they have been great meals."
Volunteers often add special touches such as decorative napkins, or they bring their own grandchildren for an extra smile. Kelly said all of the volunteers who deliver her meals have been wonderful. Along with her food, she has received inspirational books, pictures and other trinkets.
"Everything that they give me, I'm grateful," Kelly said.
People at the receiving end may be appreciative of the meals and visits, but, Pinckard said, the effect is greater.
"We are impacting the loneliness, as well as emotional, financial and physical issues," she said. "The program keeps them in their homes."
You have free articles remaining.
Such are the relationships that Meals on Wheels says many volunteers visit their clients on weekends and other days after their route.
"You actually become part of their family," volunteer Karen Bachman said.
Like many other volunteers, Bachman delivers to many seniors who have no family living nearby. She has often returned to a client's home after the delivery to help with a chore and to drive them on an errand.
"We've taken them to doctors appointments or get them groceries," she said.
Meals on Wheels is on pace to deliver 77,000 meals this year. Greg Fritzgerald, senior services supervisor, said the need continues to grow. Volunteers are important to the program's success. Along with the food, the visits have proven to be life-saving.
"We've had to call ambulances and the families," Fritzgerald said. "It is a great safety check."
Marsha and Larry Donnel have volunteered with Meals on Wheels for five years. They see it as a way to pay back the help they received.
Larry's mother was a client for years. One day, a volunteer found her after she had fallen and called an ambulance.
The Donnels were appreciative of the help Larry's mother received, and during a visit, Larry found a client of his who had fallen.
"It was scary," he said. "But everybody gets involved."
For those who would like to volunteer for Meals on Wheels, volunteer coordinator Samantha Helt is always looking for help.
"People who are outgoing and like talking to people, and the weather shouldn't be factor," she said.
Potential volunteers will be undergo a screening and a background check every five years.
"It is community service for the residents," she said. "And they have a blast."
Carl Nave works with mri to deliver the noon meal whenever he can. The deliveries are a highly coveted job. Nave said the work is important for everyone, not just for him.
"I like to see their faces light up when I give them their meal," he said. "I say, 'You have a blessed day,' and that makes them a lot more happier."