DECATUR — It was about two hours after midnight when Milo Janes was welcomed into the world.
The 8-pound, 1-ounce boy was the first baby born at Decatur Memorial Hospital in 2018. Parents Joe and Priscilla Janes beamed with joy as Milo's grandmother Debbie and older sister Priya met their newest loved one for the first time Monday afternoon.
"It was overwhelming to hold him for the first time," Priscilla Janes said. "It was so sweet."
Milo was born via cesarean section at 2:07 a.m, Joe Janes said, the same way 1-year-old Priya was born 22 months ago. Both he and his mother are healthy and well after the procedure, according to DMH spokeswoman Bailey Broderick.
As of Monday evening, no babies had been born at HSHS St. Mary's Hospital in the new year.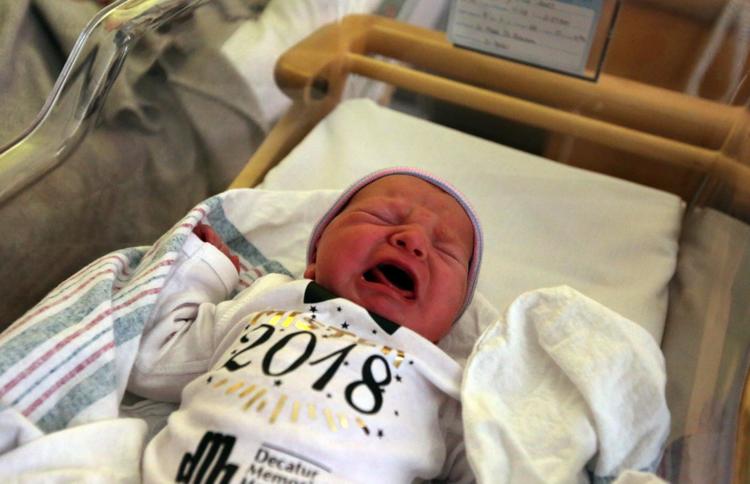 Milo is in rare company, statistically speaking. Jan. 1 is actually one of the least common birthdays of the year, ranking 364th, according to a 2006 Harvard University study that examined birth data between 1973 and 1999. Sept. 16 is the most common. 
Despite only being a few hours old on Monday, the youngest Janes already showed signs that he appreciated all of the love and attention that surrounded him that day. Milo would smile and coo whenever someone held him in their arms, and surprised his parents with his mostly calm and quiet presence.
"The fame's already going to his head," Joe Janes said.
While Milo's birth would have been a joyful occasion for the Janes family on any day of the year, Debbie Janes said it places a more positive emotional significance on Jan. 1. Her husband, David Janes, who would have been Milo's grandpa, died on New Year's Day six years ago, she said. Milo was given the middle name David in his memory.
"Having him be born today is going to make this day happy again," Debbie Janes said. "I feel like finally, after 6 years, we can rejoice again on Jan. 1 because it's not been a good day for us."
Broderick said four New Year's babies had been born at DMH by Monday afternoon. The first 30 babies born in 2018 at the hospital were dressed in special onesies that say "Mr. 2018" for boys and "Ms. 2018" for girls, she said.
"When I saw the picture of him in that onesie on Facebook, I just started bawling," Debbie Janes said.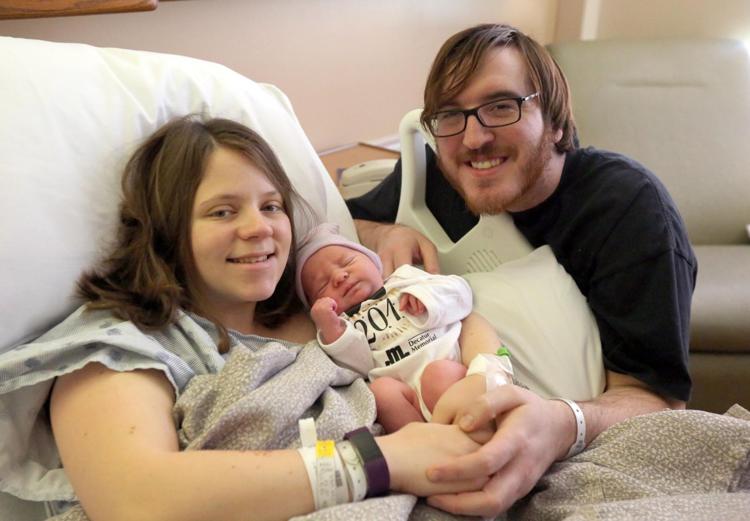 Baby Milo will most likely be able to head home with his family on Wednesday, Priscilla Janes said. Before then, he'll get to meet many more of his excited relatives as they make their way to DMH's neonatal wing.
Regardless of the day, Milo's parents said they could barely contain how excited they were about him being a part of their lives.
"We're just really happy that he's here," Priscilla Janes said. "We feel like we've waited forever for him to come, and I'm sure all pregnant women feel that way. It's just so exciting."
Joe Janes agreed. "The second baby is just as exciting as the first."