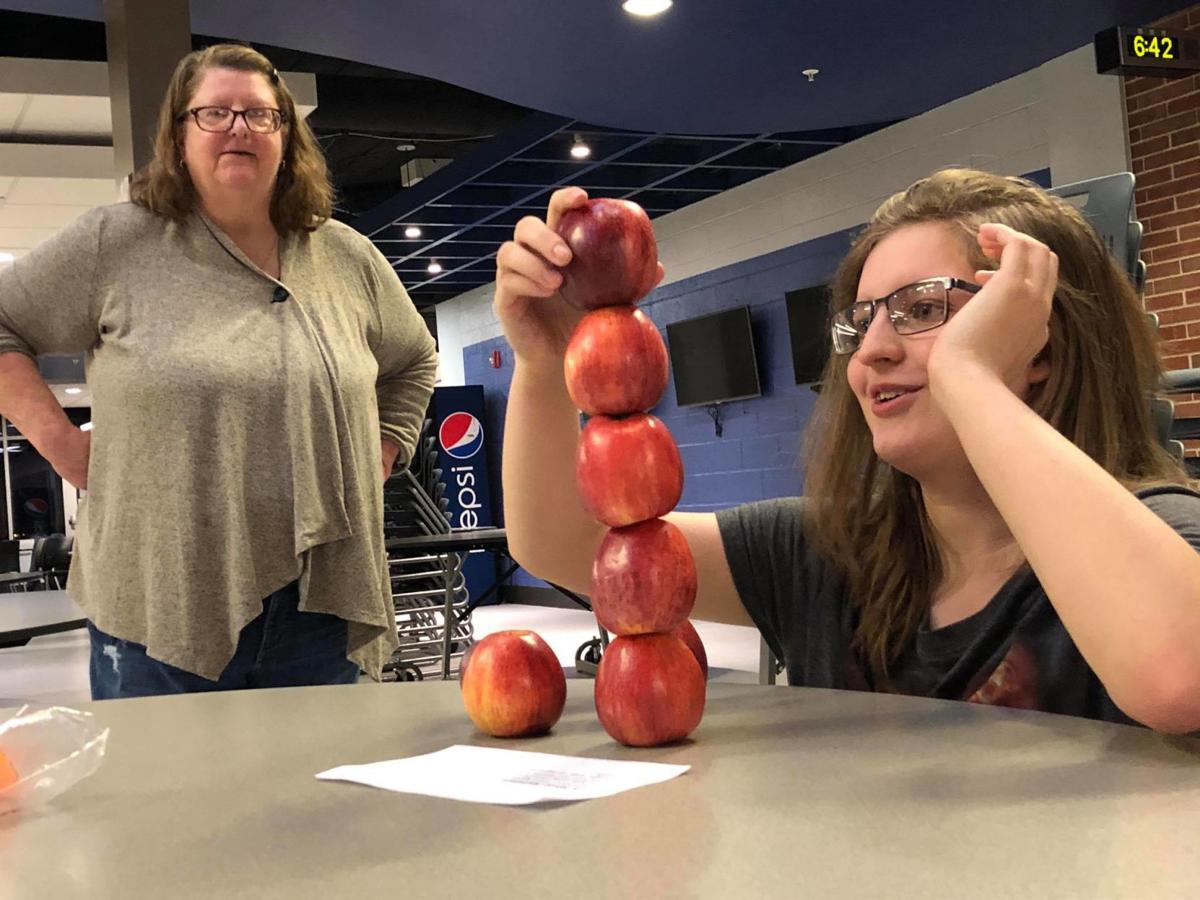 DECATUR — Lillian Distelrath, 15, describes herself as fairly shy, but some guidance from her Big Brothers Big Sisters mentor has helped her come out of her shell.
"She just now realizes how awesome she is," said Sally Woller, 62, her mentor. "She's talented, an amazing artist and very motivated. I'm a little socially awkward myself so it helps me get to know somebody." 
Distelrath, a sophomore, said they had been in the program together for about a year. The student joined the program as a freshman as a way to receive guidance from someone a bit wiser while getting through school. Some conversations between the two involve college opportunities, finding a job and sharing personal experiences.
"She's come in at lunchtime and eaten with me," Distelrath said. "I've enjoyed listening to stories about her daughter and where she's gone around the world. It's really interesting."
January is National Mentoring Month for Big Brothers Big Sisters of Central Illinois. The organization hosted a get-together Thursday evening at MacArthur High School as part of its Mentor 2.0 program, held once a month. It's designed to appoint an older mentor with a high school student to encourage the students while getting through school and encourage a future college education.
Mentors and mentees spent the evening talking, eating and playing games. Laughter accompanied by Solo cups, dice and other objects spilling onto the floor filled the cafeteria. The groups were playing challenges inspired by "Minute to Win it," a television game show where contestants have to beat challenges in a minute.
You have free articles remaining.
Challenges involved getting an Oreo into their mouths without using their hands, seeing who could stack the most apples without the stack falling and keeping a balloon from touching the floor. The purpose was to ultimately challenge mentors and mentees to work together. 
Mentor 2.0 is a four-year high school program to focus on high school preparation for college and career readiness. A class is taught once a week at MacArthur for any students involved in the program. The curriculum includes skills like building a resume, how to be resilient, optimism about the future and self-advocacy skills. After school, mentors and mentees chat about the lesson plan over the Mentor 2.0 online platform. The program is only offered at MacArthur so far.
Jeanne Stahlheber, chief executive officer of Big Brothers Big Sisters of Central Illinois, said the program lets mentors add to the lessons by incorporating their own life experiences, like how they approach building a resume, for example. As the student gets older, classes gradually start to focus more on college preparation.
"Even if they don't go to college, there are a lot of apprenticeships in this area," Stahlheber said. "They're learning a lot of those soft skills as well in the curriculum."
Tyler Orme, a 17-year-old senior at MacArthur, will be one of the first mentees to graduate from the Mentor 2.0 program this year. Ken Von Qualen, 54, became Orme's mentor four years ago. A lot of their conversations started with the monthly meetups and online, but has since grown to texting to share how their day is going. The two have even met up for mini golf games a few times. 
"My goal was to simply help Tyler in any way I can help him," Von Qualen said. "I really try to encourage him to think beyond high school and think as big as his dreams will take him."
Stahlheber has spent some of her 27 years with Big Brothers Big Sisters as a mentor, attesting to the impact a mentor makes on a kid. She said some favorite activities with past mentees were cooking together and watching a movie, all the while learning more about each other. A big impact to this day is seeing how mentees go on to make a positive impact on others, she said.
"They affect the kids around them, in the classroom and in the community," Stahlheber said. "There's really a ripple affect of having a positive impact on a kid. They have a mentor there to really help them go down the right path, make the right choices." 
Contact Garrett Karsten at (217) 421-6949. Follow him on Twitter: @GarrettKarsten