DECATUR — A Millikin University teacher's recent allegations of sexual harassment have started an investigation into the director of a prominent Chicago-area theater company. 
Tom Robson, an associate professor in the School of Theatre & Dance at Millikin, wrote on Twitter on Thursday that he experienced verbal and physical harassment in 2003 by Michael Halberstam,the co-founder and artistic director of the Writers Theatre in Glencoe.
At the time, Robson was as assistant director and dramaturg for the world premiere of "Crime & Punishment" at the theater, he said. 
The Chicago Tribune reported Monday that the Writers Theatre board of directors said in a statement that they had hired a human relations consultant to investigate the claim against Halberstam, who was cooperating. Halberstam told the newspaper he had nothing to add. 
Robson declined to comment further when reached by the Herald & Review on Tuesday. On Twitter last week, he said Halberstam made sexual comments and touched him inappropriately. 
"I did not know how to respond. I was a 23-year-old unpaid intern and he ran one of the most respected companies in the city," he wrote. "For 14 years I have blamed myself for not stopping it. It wasn't my fault."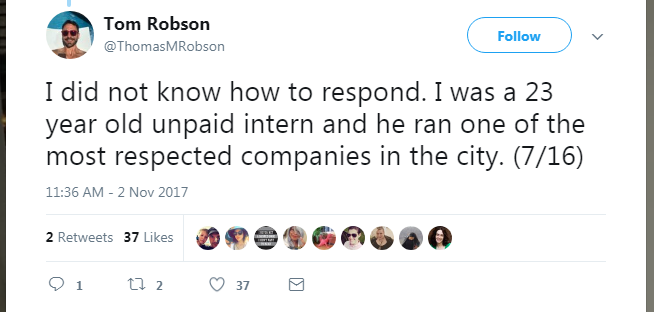 Robson cited his work as a teacher as part of the reason for coming forward, saying he wanted to create a better work environment for his students and future generations, he said.
"As a teacher I owe it to my students to try to send them into a better industry than I found," he wrote. "We must all do better. And we must look out for each other."
Robson's tweets come after weeks of highly publicized sexual harassment and assault allegations against a number of well-known men in the entertainment industry, spotlighting the issue in Hollywood and the theater world.
Thousands of people have participated in a social media campaign, #MeToo, in which they shared personal stories with the hashtag to show the widespread scope of the problem. 
Robson is currently directing the musical "9 to 5" with Millikin students. The play, based on the 1980 film starring Dolly Parton, focuses on mistreatment in the workplace by a chauvinistic boss. 
Millikin directors have been working for nearly a year to develop their version of the musical, long before the most recent national attention on the subject of workplace abuse and harassment.  
"The work that we are doing might be set in 1979, but the audience is viewing it in 2017," said Robson told the Herald & Review in October. "What does it mean for an audience to watch a play about workplace sexual harassment, to watch a play about not feeling like they are being listened to by their bosses? What is it like for a woman to be silenced?"