DECATUR — Since Crossing Healthcare opened at its new location in Sept. 2015, CEO Tanya Andricks said the federally qualified healthcare provider has dealt with narrow margins.
Just one tough month for the clinic, which serves primarily low-income residents, could mean fiscal disaster.
But thanks to a $3 million donation from the private foundation of Macon County Sheriff Howard Buffett, Andricks said the center can now pay off its significant debt and start to look at expanding the care it provides to the community.
"We can reinvest directly into the services for this community and improve the care of the low-income individuals that we serve," she said Friday. "This is a very exciting day, and I'm really grateful to be here and thank you to all the people who have helped this happen, and thank you to Sheriff Buffett."
The donation was announced during a visit from Republican Gov. Bruce Rauner and several Central Illinois lawmakers. Crossing, at 320 Central Ave., serves Macon and surrounding counties, providing care to more than 19,000 patients in 2016.
While the center's board of directors will have to evaluate how to take advantage of the new financial stability, Andricks said that expanded dental and vision, increased psychiatric care and substance abuse care were all issues she hoped to address in the future.
Ground was broken on the then-Community Health Improvement Center in December 2014, with the original plan calling for half of the $6 million facility  being for paid by the state's Illinois Jobs Now! capital projects program, and the remaining half coming from loans, donations and operating revenues.
But shortly after taking office, Rauner froze all state capital grants and the eventual budget impasse left Crossing with a half-built facility and no cash to finish it. The center's board of directors decided to move ahead with construction, which Andricks said meant borrowing the $3 million expected from the state, bringing the center's total debt amount to $6 million.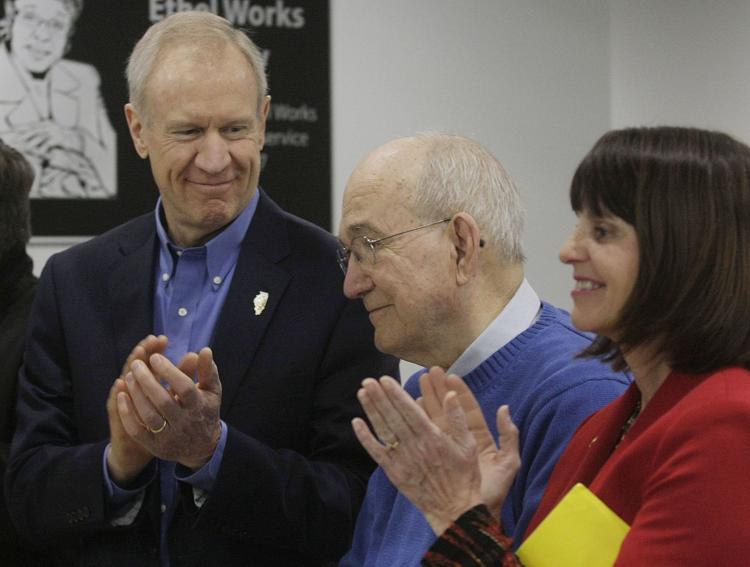 That lingering debt required staff to be extra vigilant about meeting their targets to stay on-budget, Andricks said. Joseph Schrodt, president of the Crossing board of directors and a retired orthopedic surgeon, put up his own assets as collateral to make sure the center could borrow the full amount.
But last fall, Buffett reached out to the center about addressing the increasing problem of opioid addiction in Central Illinois. Buffett toured the facility and talked with staff and clients about the services being offered and the existing debt problem, he said.
You have free articles remaining.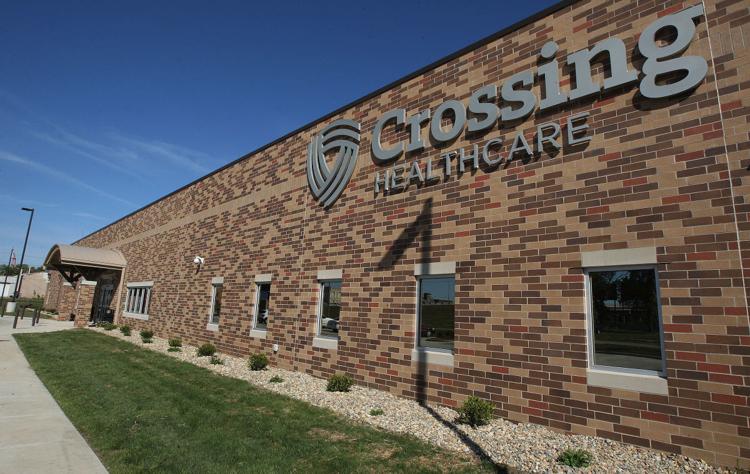 In a phone interview Friday afternoon, Buffett said he was impressed with the work done by Andricks, Chief Medical Officer Dana Ray and others at the facility. He wanted to find a way to help. That led to a meeting with Rauner in December, in which Buffett offered to put up $3 million if the state would match the contribution by releasing the $3 million from the initial grant.
"He liked the idea and he told me he'd get back to me," Buffett said. "So that's how we ended up with where we are today."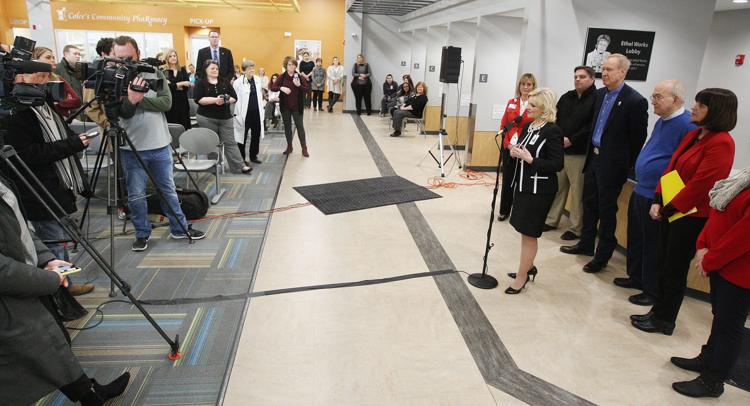 Buffett heaped praise on the center and said he had no doubt the money would be put to good use.
"The biggest thing is, I have 100 percent confidence in the decisions they are going to make there at Crossing," he said. "I know it will have a positive influence on the community."
There was a message of bipartisanship throughout Friday's announcement, with Rauner, state Sen. Chapin Rose, R-Mahomet, and state Rep. Sue Scherer, D-Decatur, taking turns praising the effort to pay off the debt and get Crossing to a place of financial security.
Andricks praised for Rose and state Sen. Andy Manar, D-Bunker Hill, for working on the project for years and getting it across the finish line.
"They both stepped up and advocated for this," she said. "They advocated extensively for this, they spent hours of the past three years to make this happen."
Manar, who was not at Friday's event, thanked Buffett for the donation in a statement sent Friday afternoon.
He also leveled sharp criticism at Rauner for freezing the original capital grant that would have helped pay for the center's construction and for vetoing several budget bills that would have provided funds for Crossing and 13 other federally-qualified health centers and hospitals in the 48th Senate District.
"It takes a lot of nerve to do what the governor did today – and by 'nerve' I don't mean bravery," Manar said. "Gov. Rauner seems to not understand the connection between his actions as governor, being in charge of the state of Illinois, and press conferences like the one in Decatur today."